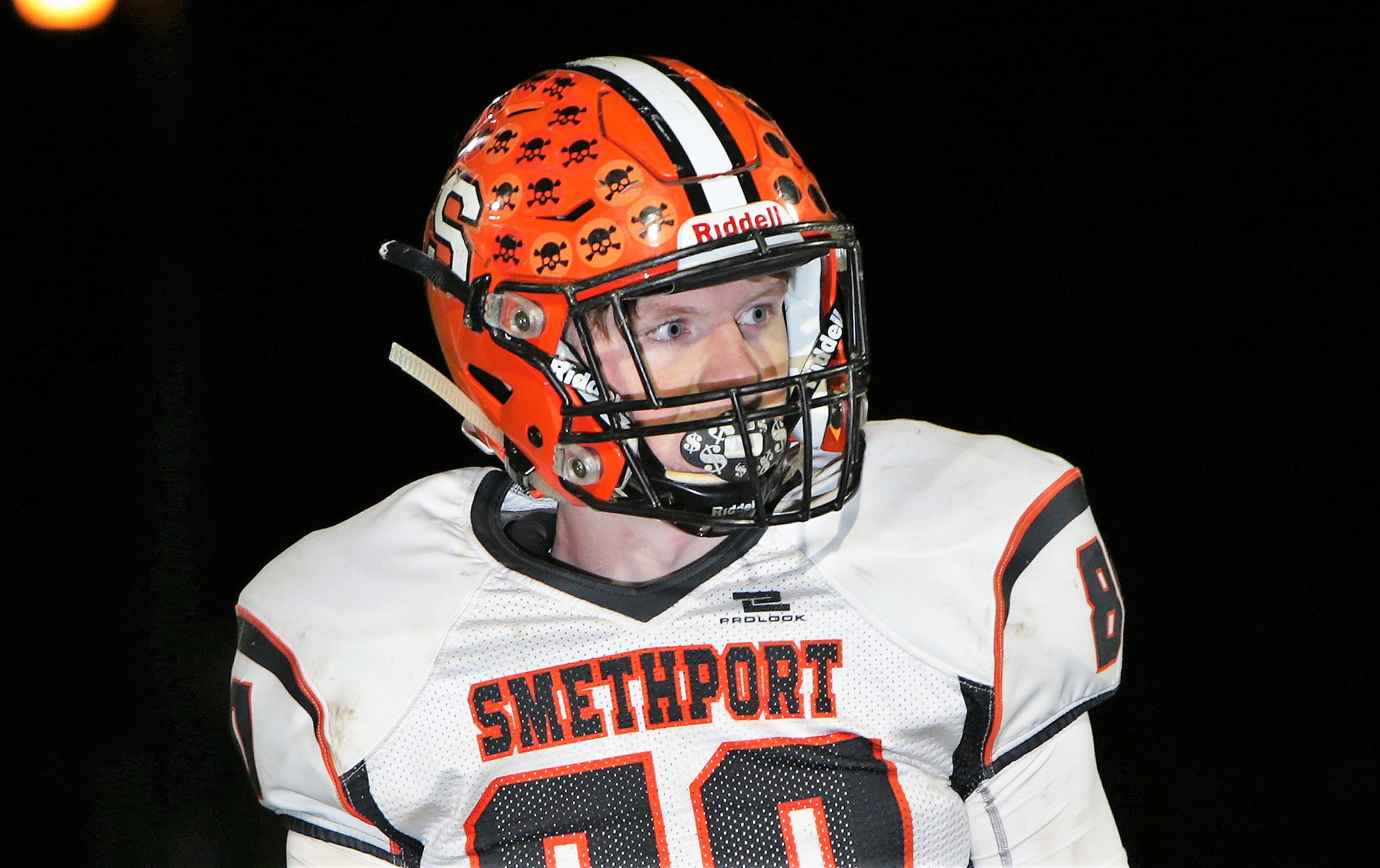 Oct. 19-20 football recaps.
(Photo: Dale Burdick came up with the game-winning fumble recovery for Smethport to give the Hubbers the D9 League Small School North Title. Photo by Paul Burdick. Check out more of Burdick's work here)
SMETHPORT 21, COUDERSPORT 20
COUDERSPORT, Pa. – Smethport's improbable regular season finished perfectly with one of the most improbable finishes in Hubber history in a 21-20 come-from-behind win at Coudersport that clinched the D9 League Small School Division North Title for the visitors.
Smethport (9-0, 5-0 D9 SN), which finished an unbeaten regular season for the first since 2001, trailed the rival Falcons (5-4, 4-1) 20-7 with under six minutes to play but scored twice in a span of 59 seconds late in the fourth quarter to pull out the victory.
A 41-yard Grant Ognen to Alex Sanderson touchdown pass with 5:36 to play got the Hubbers within a touchdown, 20-14.
The Smethport defense then rose to the occasion when Coudersport tried running an option from inside its own 20-yard line and Blake Kinner batted the pitch causing a fumble that bounced all the way into the end zone where Dale Burdick recovered for the game-tying score for the Hubbers with 4:37 to play. Noah Costa then hit his third extra point of the game to give Smethport the lead for good.
The Hubbers defense then had to overcome a strange sequence at the end of the game to preserve the win.
Coudersport drove down after the Burdick touchdown and had a third down from the Hubbers 25-yard line. Burdick then appeared to the seal the victory when he intercepted a Hayden Keck pass. But Burdick then fumbled the ball away trying to return it, and Coudersport recovered at the Smethport 20-yard line giving the Falcons new life with around a minute-and-a-half to play.
But again Smethport's defense came up big when Braedon Johnson corralled Stephen Kelly short of the sticks on a fourth-down pass with around a minute to go, and the Hubbers were able to kneel out the clock.
Coudersport jumped on Smethport for 13 straight points in the second quarter to take a 13-0 lead.
Keck scored on a 6-yard run before Keck hit John Minor with a 29-yard pass.
But Ognen hit Sanderson with a 48-yard pass 1:42 after the Minor touchdown to give Smethport life before halftime, and the Hubbers went into halftime trailing 13-7.
Coudersport extended the lead midway through the third quarter when Stephen Kelly broke free for a 56-yard touchdown run.
Ognen was 10 of 16 passing for 191 and two scores with Sanderson being his primary target with seven catches for 142 yards and the two scores.
Kelly ran 21 times for 123 yards for Coudersport with Keck adding eight for 35. Keck was 3 of 10 passing for 61 yards, a touchdown and an interception.
OTTO-ELDRED 47, SHEFFIELD 8
SHEFFIELD, Pa. – Cole Sebastian accounted for five touchdowns to lead visiting Otto-Eldred to a 47-8 win at Sheffield.
Sebastian threw four touchdowns, including two to brother Chase, and also added a rushing touchdown for the Terrors (4-5 overall, 3-2 D9 League Small School North).
Chris Connelly added a pair of touchdowns – one on a reception and the other on an interception return – and Steve Langworthy returned the second-half kickoff 70 yards for a score as well for Otto-Eldred.
Cole Sebastian finished the contest 7 of 12 passing for 205 yards and the four scores while also throwing an interception. He added six carries for 75 yards and the touchdown.
Chase Sebastian had three catches for 113 yards and the touchdowns on grabs of 26 and 44 yards with Connelly adding two catches for 53 yards scoring on an 18-yard strike. Connelly also returned an interception approximately 25 yards for a score.
Otto-Eldred took advantage of great first-half field position to lead 40-0 at halftime. The Terrors worst starting position in the half was their own 41 and they started scoring drives at the Sheffield 32 (following a punt rush that forced the Sheffield punter to run), the Sheffield 21 (following a fumble), the Sheffield 30 (following a blocked punt) and the Sheffield 34 (following a blocked punt).
CLARION-LIMESTONE 46, CURWENSVILLE 14
CURWENSVILLE, Pa. – On a field that has seen some of the greatest rushers in District 9 history, Clarion-Limestone running back Austin Newcomb turned in one of the greatest performances ever by a D9 back rushing for 416 yards and five touchdowns in a 46-14 win at Curwensville.
Newcomb, who also added two catches for 31 yards giving him a total of 447 offensive yards on the night, needed just 28 carries to become what is believed to be the second runner in D9 history to achieve the 400-yard mark. The 416 yards were three short of the D9 record of 419 by Curwensville's Alex Holland in a win at Kane in 2010.
The C-L junior scored on runs of 22, 2, 6, 18 and 80 yards.
Newcomb talked about his performance.
While Newcomb was running all over the Curwensville, the C-L defense was completely shutting down a Curwensville run game that came into the game average 193.5 yards per game to 29 yards on the ground led by 18 from Avery Francisco. The Lions (7-2 overall, 4-1 D9 League Small School South) limited Curwensville's leading rusher, Blake Passarelli to negative 2 yards.
Noah VonGunden threw for a pair of touchdowns for the Golden Tide (6-3, 3-2) hitting Jake McCracken with a 43-yard toss and Thad Butler with a 36-yard toss. VonGunden finished 8 of 19 for 204 yards with McCracken catching five passes for 121 yards.
Ayden Wiles also scored for C-L on a 4-yard run and had 11 carries for 80 yards helping the Lions rush for 514 yards and gained 569 yards on the night thanks to Colby Himes going 3 of 4 passing for 55 yards.
The victory puts C-L in a good spot for the No. 2 seed in the upcoming District 9 Class 1A playoffs.
ELK COUNTY CATHOLIC 36, KEYSTONE 6
KNOX, Pa. – Elk County Catholic wrapped up the first-ever District 9 League Small School Division South title with a 36-6 win at Keystone.
Stephen Bobby ran for 212 yards and three touchdowns on 31 carries scoring on runs of 5, 3 and 35 yards.
Hunter Cashmer (6 carries, 80 yards) added a pair of touchdowns for the Crusaders (7-2 overall, 4-1 D9 League Small School South), who won the title on a tiebreaker over Clarion-Limestone (7-2, 4-1) thanks to a win over the Lions.
Cashmer scored on a 15-yard run and a 5-yard pass from Mason McAllister, who was 6 of 8 passing for 85 yards while throwing the scoring pass and an interception.
Isaak Jones was 12 of 19 passing for 153 yards, a touchdown and two interceptions for Keystone. He found Alex Rapp with a 52-yard scoring pass, Rapp's lone catch of the game.
Brandon Kapp had five catches for 51 yards for the Panthers (3-6, 0-5).
BROOKVILLE 28, RIDGWAY 11
BROOKVILLE, Pa. – Making the upcoming District 9 Class 2A playoffs even more intriguing, Brookville dealt Ridgway its first loss of the season in a 28-11 decision on Senior Night.
The Raiders (6-3) by far turned in their best defensive effort of the season, limiting the Elkers (9-1) to just one touchdown and forcing four turnovers, two of them leading to touchdowns. The Elkers, who clinched the Large School Division title last week, had turned the ball over five times all season going into the game.
Raiders quarterback Robert Keth completed 12 of 29 passes for 230 yards with two touchdowns and one interception while picking off a Paul Gresco pass on defense himself. Bryan Dworek caught both of Keth's TD passes of 15 and 17 yards, the second putting the game away and setting the final score with 9:39 left in the game.
Dworek caught nine passes for 176 yards and ran twice for nine yards, scoring on a 2-yard run in the first half. Tucker Wolfe ran for 68 yards on 10 carries, adding a 3-yard TD run coming two plays after a Braden MacBeth interception and 58-yard return to give the Raiders a 21-7 lead just over two minutes into the second half.
Ridgway then scored two safeties within 90 seconds late in the third quarter, both on bad snaps. Dworek recovered the first one and was tackled in the end zone. The second one tipped off Keth's hands and out of the back of the end zone.
The Elkers, down 10 with the ball at the Raiders' 33 two plays after the ensuing free kick, fumbled it away and the Raiders went 70 yards — actually 83 yards after a 17-yard holding penalty on the first play — and scored on Keth's 17-yarder to Dworek.
After giving up 627 yards rushing in wins the last two games against St. Marys and Kane, the Raiders limited the Elkers to 150 yards with Jake Wickett going for 55 yards on 10 carries with an 8-yard TD run in the first quarter. Quarterback Paul Gresco completed 22 of 37 passes, but for only 128 yards and was intercepted three times.
BRADFORD 34, KARNS CITY 21
KARNS CITY, Pa. – Trailing by eight almost halfway through the fourth quarter, visiting Bradford scored three times in a span of 2:16 seconds to stun Karns City, 34-21.
The Gremlins (3-6) led 21-13 following a Huner Jones run early in the third quarter before Bradford tied the game on a 67-yard Donny Pattison run followed by Pattison 2-point conversion run with 6:40 left in regulation.
The Owls (6-3) then took the lead for good when Caleb Nuzzo hit Jaron Ambrose with a 67-yard pass with 5:02 to go, and then Ambrose scored on a 7-yard run with 4:24 to play to put Bradford up two scores.
Ambrose scored three times in the game also scoring the game's first touchdown on a 17-yard pass from Nuzzo. He finished with eight carries for 48 yards and five catches for 134 yards.
Pattison also scored twice – he had a 23-yard run in the second quarter – and ran for 220 yards on 24 carries.
Jones ran for a pair of touchdowns also scoring on a 53-yard run in the first quarter. Josh Wimer added a 13-yard rushing touchdown for the Gremlins.
The loss gives Karns City six losses for the first time since it went 4-6 in 2010.
BROCKWAY 48, CLARION 19
CLARION, Pa. – Peter Downer accounted for 281 yards of total offense to help Brockway to a 48-19 win at Clarion.
Downer, who threw for three touchdowns, was 10 of 12 passing for 213 yards while adding 10 carries for 68 yards. He completed his final nine passes with three of his final four tosses going for touchdowns.
Touchdown targets for Downer were Tyler Serafini from 19 yards out on a screen pass, Derek Schaffer from 28 yards away and Conner Ford from eight yards out.
Serafini also ran for a 12-yard touchdown and had 18 carries for 105 yards while adding the one catch for 19 yards.
Jon Wood scored twice on the ground for the Rovers (7-2) scampering home from one and four yards away. Wood had 16 carries for 75 yards and caught four passes for 99 yards. Wood also completed one pass for 34 yards on a trick play on Brockway's first offensive play of the game.
Garrett McClintick also returned an interception 31 yards for a score for Brockway and added two catches for 55 yards.
Calvin German threw a pair of touchdown passes for Clarion and was 13 of 24 passing for 116 yards while also being picked off twice. Archer Mills also had a touchdown pass for the Bobcats and went 8 of 13 passing for 82 yards with a pick.
Cutter Boggess (4 catches, 61 yards), Sam Minich (6 catches, 54 yards) and Andrew Guth (1 catch 16 yards) had the touchdown for Clarion (6-3), which has lost three straight games for the first time since losing three in a row in 2007.
MONITEAU 32, PUNXSUTAWNEY 21
PUNXSUTAWNEY, Pa. – Cody Wise ran 24 times for 233 yards and two touchdowns to lead visiting Moniteau to a 32-21 win over Punxsutawney.
Chance Nagy added 14 carries for 80 yards and two scores and was also 2 of 6 passing for 26 yards for the Warriors (5-4) with Trent Kelly adding 17 carries for 94 yards and a touchdown.
Wise led Moniteau's defense with nine tackles.
Punxsutawney stats weren't available. The loss drops the Chucks to 2-7.
REDBANK VALLEY 33, UNION/A-C VALLEY 7
FOXBURG, Pa. – Keaton Kahle threw four touchdowns – two to Hunter Buzard and two to Ethan Hetrick – and Hetrick scored three times to lead Redbank Valley to a 33-7 win over Union/A-C Valley at A-C Valley.
Kahle was 10 of 18 passing for 141 yards. He threw touchdowns passes of 10 and 12 yards to Buzard and nine and 19 yards to Hetrick. Hetrick also returned an interception 70 yards for a score.
Buzard had four catches for 84 yards and Hetrick three for 32. Buzard also ran twice for 25 yards with Kahle running five times for 21 yards. Travis Crawford added 19 carries for 91 yards for the Bulldogs (6-3 overall, 3-2 D9 League Small South)
Karter Vogle hit Colton Hoffman with an 8-yard touchdown pass with 5:12 to go for Union/A-C Valley's touchdown.
Nolan Cumberland led the Falcon Knights (4-5, 1-4) with 10 carries for 99 yards.
CLEARFIELD 62, PHILIPSBURG-OSCEOLA 0
HYDE, Pa. – Brett Zattoni, Caleb Freeland, Jason Plubell and Taye Lynch each scored two touchdowns to help Clearfield roll past visiting Philipsburg-Osceola, 62-0.
The victory clinches at least a share of the Mountain League title for the Bison (9-0 overall, 7-0 Mountain League).
Zattoni ran nine times for 120 yards, Freeland had 10 carries for 83 yards and Plubell 10 for 75 yards. Lynch caught three passes for 112 yards.
Isaac Rumery threw three more touchdown passes and was 7 of 9 for 187 yards. Eli Glass also caught a 47-yard touchdown pass.
P-O fell to 1-8 overall, 0-7 in league play.
HOLLIDAYSBURG 50, DUBOIS 16
HOLLIDAYSBURG, Pa. – Nate Fisher and Hunter Barr each scored twice on the ground, and Brady Walters threw for a touchdown and ran for a touchdown to lead Hollidaysburg to a 50-16 win over visiting DuBois.
Fisher ran 12 times for 66 yards with Barr adding six carries for 39 yards. Walters ran for a game-high 129 yards on 10 carries and was also 7 of 13 passing for 86 yards.
Dylan McCluskey scored all the points for DuBois. He had a 1-yard touchdown run then kicked the extra point before kicking a 29-yard field goal. Finally, he scored on a 42-yard pass from Eric Schneider.
McCluskey ran twice for four yards and had three catches for 55 yards. Schneider was 11 of 26 passing for 142 yards.
KANE 27, ST. MARYS 14
ST. MARYS, Pa. – Outscoring St. Marys 10-0 in the second half, visiting Kane pulled away for a 27-14 win over the Dutch.
Three different Wolves scored with Ted Race finding pay dirt on a 5-yard run, Jake Alcorn catching a 17-yard pass from Zuke Smith and Aiden Hulings running in from four yards out. Aaron Hotel also booted a 27-yard field goal for Kane (2-7).
Todd Taylor hit Cody Ritter with a 45-yard pass and Jackson McClain scored on a 6-yard run for St. Marys (0-9).
Smith was 8 of 21 passing for 99 yards and the touchdown while adding six carries for 19 yards.
Alcorn had three catches for 36 yards and ran five times for 13 yards, while Race carried 11 times for 43 yards and the score.
Taylor was 9 of 18 passing for 141 yards, the touchdown and two picks. Ritter caught two passes for 77 yards and the score with McClain running 10 times for 40 yards and the touchdown.
PORT ALLEGANY 36, CAMERON COUNTY 0
PORT ALLEGANY, Pa. – Josh Rees scored three times to lift Port Allegany to a 36-0 win over visiting Cameron County.
Rees ran for 244 yards and two touchdowns on 19 carries and caught 2 passes for 13 yards and a touchdown.
Trey Ayers threw the touchdown and was 3 of 6 passing for 11 yards.
Collin Smith (12 carries, 79 yards) and Taro Tanaka (9 carries, 23 yards) also scored on the ground for the Gators (2-7 overall, 2-3 D9 League Small School North).
Ebon Jackson had 16 carries for 56 yards to lead Cameron County (1-8, 1-4).