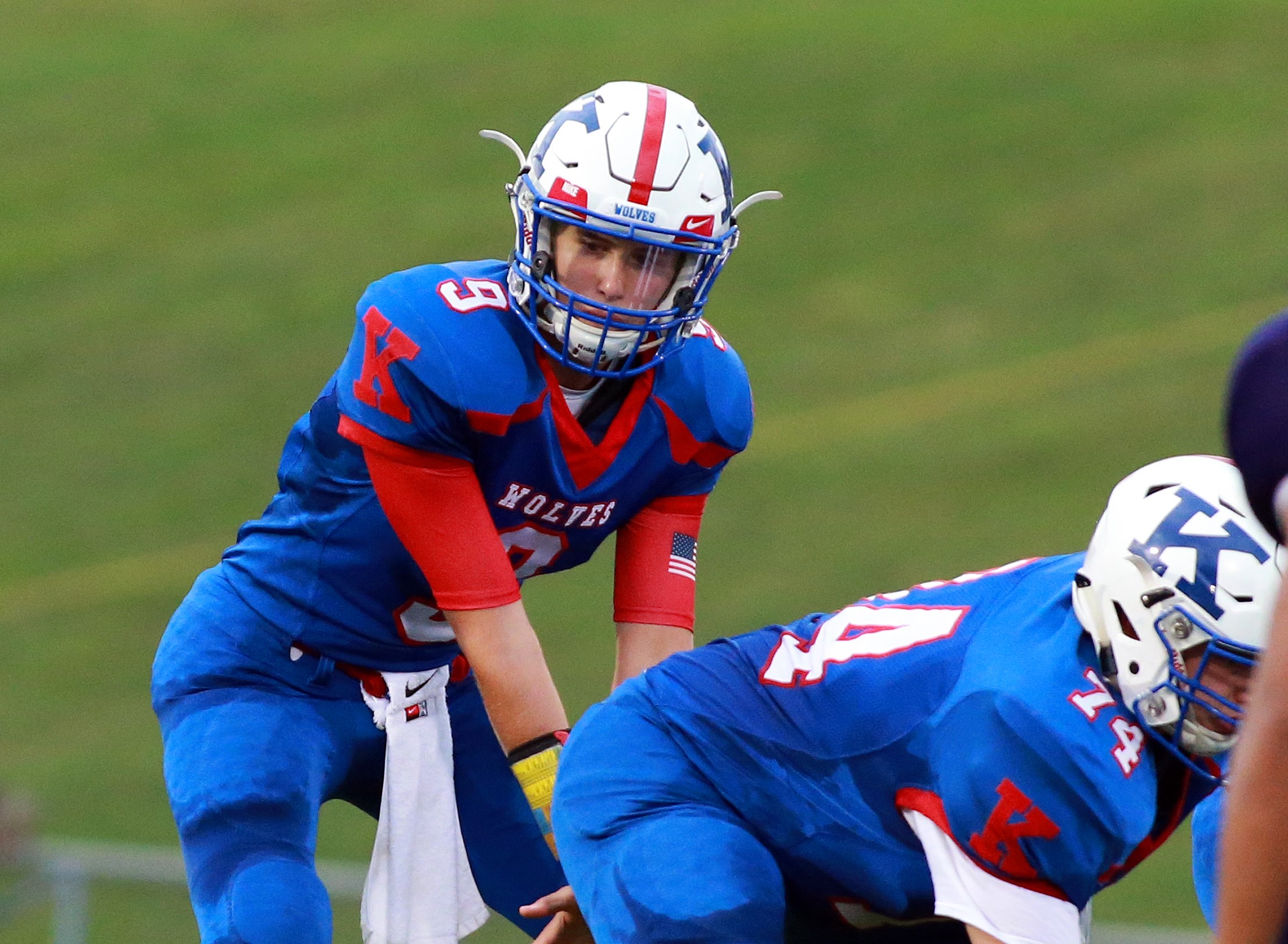 Two weeks remain in the District 9 regular season with this week the final week that all 24 teams are in action.
The Allegheny Mountain League closes up its regular schedule this week and will finalize their championship game foes as up to five teams — Coudersport, Otto-Eldred or Smethport in the North and Brockway or Kane in the South — could secure a berth this week.

Kane quarterback Reed Williams leads the Wolves into Friday's AML-South showdown of unbeatens against Brockway
It'll take both weeks to finalize the district's playoff races. Here is a roundup at what's going on in the four classifications with D9 teams competing. PIAA power rating points are listed, which determine the standings.
PLAYOFF GLANCE
Class A
(Top eight qualify)
Standings: 1. Elk County Catholic (800), 2. Ridgway (780), 3. Clarion-Limestone (690), 4. Coudersport (510), 5. Otto-Eldred (460), 6. Curwensville (450), 7. Redbank Valley (350), 8. Smethport (320), 9. Union/ACV (240), 10. Sheffield (100), 11. Cameron County (100), 12. Keystone (0) and Port Allegany (0).
View: There's plenty of volatility in how these teams could move around the standings, but two things are for sure this week. 1. The Ridgway at Elk County Catholic winner earns the top seed, 2. Redbank Valley and Smethport clinch a top-eight berth with a win AND a Union/A-C Valley loss to Clarion.
Class 2A
(Top four qualify)
Standings: 1. Kane (1030), 2. Brockway (1020), 3. Clarion (730), 4. Moniteau (340), 5. Brookville (240).
View: This week's Kane-Brockway winner earns the top seed and perhaps a first-round bye if a fourth team doesn't enter the playoffs. Speaking of that No. 4 berth, Moniteau clinches it if it upsets Karns City this week or Brookville loses at St. Marys.
Class 3A
(Top four qualify)
Standings: 1. Karns City (850), 2. St. Marys (530), 3. Perry (220), 4. Punxsutawney (180).
View: Yawn. It's looking like a two-team playoff unless 2-5 Perry or Punxsutawney finish strong and believe they're a playoff team.
Class 4A
(Top four qualify)
Standings: 1. Johnstown (950), 2. Clearfield (920), 3. DuBois (690), 4. Bellefonte (450), 5. Somerset (440), 6. Bradford (290).
View: Johnstown and Clearfield have clinched playoff berths and a DuBois win at Newport this week gets the Beavers in. How the top three positions wind up settling will be interesting. Could we see a DuBois-Clearfield semifinal matchup? Or final?
THIS WEEK'S GAMES
Here is a look at this week's 13-game lineup with two Saturday games on the docket:
CAN'T MISS
AML-South
Brockway (8-0, 4-0) at Kane (8-0, 4-0)
It's the fifth time these teams have met since the start of the 2014 season and the Wolves have won the last five in a row dating back to their 2013 regular-season meeting. The past two years, the Wolves beat the Rovers for the Class A title. They could meet again in this year's Class AA final, which would be a sixth meeting in three seasons, although Clarion could have something to say about that.
The winner of this one not only wins the AML-South title, but also secures the top seed for the playoffs, and maybe a first-round bye if Moniteau and/or Brookville decline a playoff berth with losing records.
Kane has won 24 straight games against D9 foes and the Wolves' defense, giving up just seven points per game which ranks 13th in the state, faces a Rovers team averaging 52.6 points per game that ranks fourth in the state behind Steel Valley (55.4), Clairton (54.8) and Thomas Jefferson (54.4).
The Wolves, whose 45.1 points per game is 19th in the state, average 415 yards per game (149 pass, 266 rush) coming off their worst offensive game of the season in a 131-yard effort in a win against Ridgway. They grinded out a win due largely to two return touchdowns from Frank Truden (interception) and Ange Costanzo (punt return). Quarterback Reed Williams (57-98, 1,189 yards, 16 TDs, 2 Ints.) and running back (138-1,158 yards, 15 TDs) are over 1,000 yards. Williams' top receivers are Davis Gardner (22-345, 6 TDs) and Ray Maze (20-526, 7 TDs).
Brockway averages 424 yards (192 rush, 232 pass) per game with quarterback Hunter Miller (80-124, 1,588 yards, 19 TDs, 5 Ints.) leads the way as a dual-threat player who's rushed for 283 yards and 10 TDs as well. Running back Mark Latuska (99-667, 12 TDs) leads the running game while receivers Andrew Trunzo (24-481, 3 TDs) and Dylan LeCates (15-301, 5 TDs) are Miller's top targets.
It's the 20th matchup between the teams since Brockway joined the AML in 1999 and the Rovers own a slight 10-9 edge.
COMPELLING
AML-South
SATURDAY: Ridgway (6-2, 2-2) at Elk County Catholic (6-2, 2-2)
Both teams head into this key matchup with their only losses to Kane (Ridgway 28-23, ECC 32-13) and Brockway (Ridgway 36-16, ECC 30-25).
Impressively, the Elkers nearly lowered their defensive yards per game allowed in last week's loss to Kane, yielding just 131 yards to the Wolves when they came in giving up an average of 122 yards per game. They'll head to Dutch Country Stadium allowing just 8.8 points per game, second in D9 to only Kane. Joey Elinski and Neil MacDonald lead the defense in tackles per game at 9 and 7.8 respectively.
Offensively, the Elkers have modest numbers, averaging 268 yards (221 rush, 47 pass) per game. Quarterback Johnny Mitchell (27-61, 352 yards, 4 TDs, 7 Ints.; 79-410, 7 TDs rushing) runs the offense. MacDonald (93-628, 8 TDs) and Jacob Zimmerman (44-225, 2 TDs) are the leading rushers.
The Crusaders come in at 317 yards (100 pass, 217 rush) per game. Quarterback Nate DaCanal (49-109, 798 yards, 9 TDs, 5 Ints.; 66-378, 6 TDs rushing) is a two-way threat. Two other backs are over 400 yards rushing in Jared Braun (78-584, 8 TDs) and Dan Stauffer (96-492, 5 TDs). DaCanal's top receivers are Brad Dippold (17-256, 5 TDs) and Eric Gerber (11-229, 2 TDs).
Non-Conference
DuBois (5-3) at Newport (8-0)
It's a two-hour trip for the Beavers as they head toward Harrisburg to take on the unbeaten Class 2A Newport Buffaloes of District 3. Newport is located northeast of Harrisburg by about 30 minutes.
The Buffaloes are ranked No. 6 in the state by pafootballnews.com. They're coming off a 10-2 season that saw them lose in the D3 semifinals to eventual champion Berks Catholic. This year, they average 43.3 points and give up 12.5 points per game, using an offense that's near perfectly balanced at 394 yards (200 pass, 194 rush) per game.
Senior quarterback Noah Heimbaugh (91-154, 1,574 yards, 22 TDs, 3 Ints.) runs the offense that also has a 1,000-yard rusher in senior Eli Goodling (105-1,031, 15 TDs).
Newport owns a 55-34 win over Tri-Valley of District 11, the No. 7 team in the state rankings as per both pafootballnews.com and pennlive.com (Harrisburg Patriot-News).
The Beavers tow with them their high-powered offense that averages 424 yards (254 pass, 171 rush) per game with junior quarterback Matt Miller (97-139, 1,403 yards, 15 TDs, 4 Ints., in just 5 games) leading the way. His top receiver Kyle Hopson (71-1,109, 14 TDs) is coming off an 18-catch, 203-yard Player of the Week performance against Franklin. He has 53 catches in five games.
AML-North
Smethport (3-5, 3-1) at Otto-Eldred (4-4, 4-0)
The Terrors are trying to win their first outright conference or division title since 1975 when it won both the Border Conference and the AML, which looked much different then with just four teams — Bradford Central, Port Allegany, Smethport and Coudersport. The Border Conference also included the AML and New York teams Allegany and Portville.
Prior to that, the Terrors won the AML outright in 1974 and 1969, and the Border in 1969. Going back even further, there were Little Four League (Port, Smethport and Coudersport) in 1943 and even the McKean County B League in 1940 and 1941 with Smethport and Port Allegany, if you want to count those.
If Smethport knocks off the Terrors, the division title will go to Coudersport if it beats winless Port Allegany because of the unbreakable three-way head-to-head matchup and the Falcons owning the highest PIAA Power Rating. Smethport's only path to winning the AML-North title is it winning and Port Allegany upsetting Coudersport.
For Otto-Eldred, quarterback Sawyer Drummond (45-81, 576 yards, 5 TDs, 5 Ints.; 69-210, 2 TDs rushing), running back Seth Drummond (127-453, 5 TDs) and receiver Grant West (19-312, 3 TD) lead the way.
Smethport's Austin Crooks ran for 120 yards on eight carries with an 86-yard TD run while quarterback Grant Ognen completed just three passes, but two were for TDs to Bryce Hale and Kevin Long.
OTHER
KSAC Large
Brookville (2-5, 1-3) at St. Marys (5-2, 2-1)
If the Raiders go to the Class AA playoffs, they'll probably have to win at Dutch Country Stadium for the first time since 2003. Meanwhile, the Dutch have won four straight since starting the season 1-2.
St. Marys' running game is led by Matt Marconi (134-710, 5 TDs), Tim Beimel (60-363) and Christian Steffan (59-290). Quarterback Pat Schlimm (38-80, 617 yards, 8 TDs, 4 Ints.) and receiver Jeff Wehler (15-344, 5 TDs) lead the passing game.
Raiders quarterback Seth Ray (40-104, 930 yards, 7 TDs, 10 Ints.) has thrown for 549 yards in the past two games and can become the first Brookville passer since 2010 to go over 1,000 yards. His top receivers are John Frank (19-348, 2 TDs), Bryan Dworek (15-325, 2 TDs) and Nick Keth (5-236, 4 TDs).
AML-South
Curwensville (4-4, 0-4) at Bradford (3-5, 0-4)
The Golden Tide head north looking to end a four-game losing streak and try to move up the Class A playoff standings.
Golden Tide workhorse running back Nick Stewart (196-1,428, 19 TDs) has 30 or more carries in three of the last four games. He's 68 yards shy of 5,000 for his career and he'll be the
Non-Conference
Punxsutawney (2-5) at Redbank Valley (3-4)
The Chucks and Bulldogs meet for the first time since 2011 as the Chucks have won two straight games against Union/ACV and Keystone while the Bulldogs have lost two straight to Clarion and St. Marys.
The Bulldogs' running game is led by Colten (67-422, 3 TDs) and Curtis (66-362, 4 TDs) Mohney while quarterback Keaton Kahle (38-93, 533 yards, 5 TDs, 3 Ints.) runs the passing game. The Bulldogs have picked off 18 passes defensively with Brock Barrett leading the way with seven pickoffs.
For Punxsutawney, it's quarterback Dylan Ishman (55-93, 572 yards, 5 TDs, 6 Ints.) and his receivers Ethan Riley (28-284, 2 TDs) and Jacob Weaver (26-225, 3 TDs) running the passing game while Tyler Richardson (69-320, 1 TDs) is the leading rusher.
KSAC Large
Karns City (7-1, 4-0) at Moniteau (3-4, 2-2)
Obviously, the Gremlins took their Week 0 (yes, Week Zero) loss personally. After giving up 35 points to 5A state-ranked Armstrong, they've allowed just 37 points in the seven games since. Speaking of state rankings, Karns City is ranked No. 6 in Class 3A by pafootballnews.com, moving up two notches from No. 8.
Chandler Turner (72-908, 12 TDs) nears 1,000 yards rushing while quarterback Jacob King (57-104, 883 yards, 9 TDs, 4 Ints.) returned last week after missing one game with an injury.
The Warriors have two games remaining and could clinch a playoff berth even with a loss if Brookville falls at St. Marys.
KSAC Small
Clarion-Limestone (5-2, 2-0) at Keystone (0-8, 0-2)
The Lions head to Knox to take on a Panthers team giving up the third-most points in the state at 52.1 points per game. Keystone has lost nine straight games dating back to the end of last year.
C-L running back Mike Macefe (156-1,004 yards, 12 TDs) and quarterback Brendan Makray (72-148, 1,164 yards, 10 TDs, 11 Ints.) both went over the 1,000-yard season milestone.
Keystone quarterback Nate Wingard is also at the four-digit number with 1,030 yards along with seven TDs and nine interceptions.
Non-Conference
Clarion (6-1) at Union/ACV (2-5), at Rimersburg
The Bobcats try to shake off their first loss of the season against Karns City while the Falcon Knights have stumbled through four straight losses.
Clarion running back Colton Rapp (128-970, 10 TDs) is closing in on 1,000 yards while quarterback Spencer Miller (41-81, 798 yards, 12 TDs, 7 Ints.) runs the passing game with his leading target Ty Burford (15-412, 7 TDs) and Ryley McMaster (11-173, 1 TD).
Union/ACV quarterback Lucas Bowser (66-144, 905 yards, 11 TDs, 13 Ints.) is also closing in on the 1,000-yard plateau with his top receiver Gavin Hawk (28-429).
AML-North
Coudersport (4-4, 3-1) at Port Allegany (0-8, 0-4)
The Falcons will be scoreboard watching as they take on a winless Gators team that's now lost 10 straight games dating back to last year. A Falcons win, as noted above, gets them a division title if Smethport beats Otto-Eldred.
Mountain League
Philipsburg-Osceola (0-8) at Clearfield (7-1)
The Bison can wrap up an unbeaten Mountain League championship run with a win over the winless Mounties, who carry a 35-game losing streak into the Bison Sports Complex. They haven't won since Week 3 of the 2013 season.
Clearfield has won seven straight games, giving up just 10 points over its last four wins.
Last week, running back Seth Caldwell (176-865, 11 TDs) went over the 4,000-yard milestone (4,005)  and became the eighth D9 rusher and third Bison to go over that mark, joining former Clearfielders Dave Richards (5th, 4,641) and Christian Lezzer (7th, 4,269).
AML-North
SATURDAY: Cameron County (1-7, 1-3) at Sheffield (1-7, 1-3)
The Red Raiders head to Warren County Saturday afternoon to take on the Wolverines.
Both teams have wins over Port Allegany, including Cameron County 48-28 last week. The Red Raiders had scored 45 points in their first seven losses. The Wolverines beat the Gators, 33-14, two weeks ago and have scored 42 points in their other seven games.