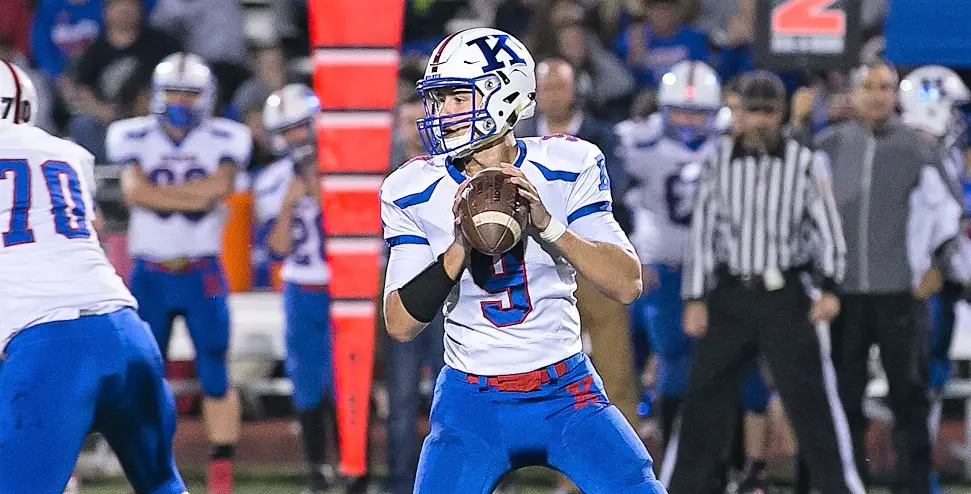 Thirteen more games dot what's the last full week of regular-season action in District 9 football.
So with this week's schedule – all 13 Friday night — and next week's 10-game log that includes the Allegheny Mountain League Championship game, playoff qualifying and positioning are still strong themes in the four classifications in which D9 has teams.
Cover Photo: Kane's Reed Williams became his team's all-time leading passer last week. He and the unbeaten Wolves travel to Brockway Friday before playing in next week's AML Championship game. (Photo by Tessa Boschert. Check out her work here)
Headline games this week:
— There's no strong candidate in the KSAC with both division champs determined. Clarion-Limestone and Keystone tangle in Strattanville for the second automatic playoff berth from the KSAC Small School Division, although both teams are among the top eight Class 1A spots going into the game. Redbank Valley travels to Punxsutawney in a crossover division matchup.
— With unbeaten Kane already the division champion, the AML South has Bradford traveling to Curwensville in an interesting matchup while the Wolves try to finish off a perfect division schedule at Brockway.
— The AML North has to figure out its champion and an Otto-Eldred win at Smethport seals the title for the second straight year for the Terrors and a trip to the conference final next week against Kane.
Check out the schedule breakdown below.
Playoff glancing
Class 1A
Another reminder here that while up to eight teams can fill the postseason bracket, teams do not have to accept a playoff berth. Going into this week, six teams are .500 or better with Keystone (3-4) and Smethport (3-5) rounding out the field.
Ahead of those two are Curwensville (7-1), Ridgway (5-3), Otto-Eldred (5-3), Redbank Valley (4-3) and Clarion-Limestone (4-4). They are ranked by the D9 Power Points system where teams get points for beating an opponent and grabbing bonus points for each win a defeated opponent has for the season.
That being said, it looks like Curwensville and Ridgway are locked into the top two spots in some order. The Golden Tide secure the top spot with one more win this week against Bradford or next week against Philipsburg-Osceola. Assuming Otto-Eldred wins the AML North then goes on and loses to Kane in next week's AML Championship game, the Terrors will likely drop to the five spot with Redbank Valley and Clarion-Limestone moving up to the three and four spots in some order depending on how they fare the final two weeks.
Coudersport plays its final game this week against Port Allegany, so the Falcons will need help to move up and could drop to the seventh spot if Keystone can finish strong in its last two games against C-L and Brookville. Smethport, if it loses to Otto-Eldred this week, would be 3-6 in the eighth spot and its playoff intentions would be at the very least in question.
The predicted quarterfinal matchups, assuming the top eight teams accept: Smethport at Curwensville, Keystone at Ridgway, Coudersport at Redbank Valley and Otto-Eldred at C-L.
Class 2A
Kane (8-0) would have to lose both of its remaining games against Brockway and next week's AML final to possibly yield the No. 1 spot to Clarion (7-0), which looks to be locked into the No. 2 spot ahead of Brookville (7-1) and Brockway (7-1) in what will be the four teams headed to the postseason.
That'll likely see Kane playing the Rovers twice in three weeks with a first-round playoff matchup and a rematch between Clarion and Brookville in the other semifinal. The Bobcats beat the Raiders, 58-22, earlier this season.
Class 3A
Up to four teams can enter the playoffs, but the No. 3 and No. 4 teams in the field are 1-6 Perry of the Pittsburgh City League and 0-7 St. Marys. Karns City (5-3) and Punxsutawney (4-4) appear to be the only possible playoff teams, thus a rematch from the regular season in which the Gremlins held off the Chucks, 42-32. The Chucks could still finish under .500, bringing into question whether they would go at 4-6.
Class 4A
Bellefonte (7-1), Johnstown (7-1), Bradford (6-2) and Clearfield (4-4) have a hold of the four playoff positions at the moment with DuBois (3-5) and Somerset (3-5) looking in. The Beavers need to win out against Newport and Hollidaysburg and hope … and pray … that the Owls lose this week to Curwensville in their final game or the Bison don't win their final two games against Philipsburg-Osceola and Karns City. If DuBois sweeps, and Bradford loses or Clearfield splits, the Beavers have a mathematical chance in there somewhere to make the top four.
Passing milestones of note
Four active D9 quarterbacks are moving up the district's all-time passing yardage leaderboard, led by DuBois' Matt Miller. He's 206 yards shy of becoming the third in district history to hit 8,000 yards, but he's just 146 yards shy of tying Gabe French's school-record yardage of 7,940.
Clearfield's Isaac Rumery, still a junior, just went over 4,000 yards while seniors Reed Williams of Kane and C-L's Brenden Makray should get to the mark this week.
The updated honor roll is posted here. Check out more on those players in the game preview sections below.
Five games, three divisional in KSAC
The KSAC Large School Division has Brookville (7-1, 3-1) hosting winless St. Marys (0-7, 0-3) and Moniteau (2-5, 1-3) traveling to Karns City (5-3, 2-2) while the KSAC Small plays its last game with Clarion-Limestone (4-4, 1-1) hosting Keystone (3-4, 1-1). In crossover games, unbeaten Clarion (7-0) hosts Union/A-C Valley (1-7) and Redbank Valley (4-3) travels to Punxsutawney (4-4).
Brookville has been 8-1 or better just four times in their history, the last two being in 2006 and 2003. They'll face a Dutch team that's given up 38 points per game. Freshman quarterback Jack Krug (127-for-194, 1,934 yards, 28 TDs, 8 Ints) is 47 yards shy of Ben Marzullo's season yardage record of 1,981 he established back in 1999. Krug's top receiving target is Bryan Dworek (64-1,105, 17 TDs). The Dutch ground game is led by Tim Beimel and Carter Julian.
Karns City hosts a struggling Moniteau squad that's given up 132 points the last two weeks in losses to C-L (68-8) and Brookville (64-28). The Gremlins have a balanced backfield with running backs Dalton Beham (80-901), Clay Garing (60-488) and Sebastian Troutman (47-355).
In the KSAC Small, the Lions and Panthers are playing for the second automatic Class 1A conference berth, although both teams are in good position to at least finish in the top eight in the point standings. Lions quarterback Brenden Makray (107-for-169, 2,046 yards, 25 TDs, 9 Ints) and at 3,963 career yards, he's poised to join former C-L passers Hayden Johnston (4,401) and Dan Miller (4,250) in the 4,000-yard club. Riley Hummell's impressive dual-threat season continues as he's the team's leading rusher (69-618, 7 TDs) and second-leading receiver (30-549, 8 TDs). Kyle Kerle (31-796, 9 TDs) is nearing a 1,000-yard receiving season.
For Keystone, quarterback Nate Wingard (65-for-128, 1,031 yards, 13 TDs, 7 Ints) and Corey Rapp (62-325, 5 TDs rushing and 29-482, 7 TDs receiving), the team's top rusher and receiver, lead the Panthers although Rapp was questionable earlier in the week after suffering an ankle injury in last week's loss to Punxsutawney.
The Bobcats have fared well without their injured leading rusher Colton Rapp (63-615, 8 TDs) with Logan Minich leading the way. He's up to 529 yards, averaging over seven yards per carry. Rapp could return this week or next giving the Bobcats a formidable one-two punch in the backfield. Quarterback Spencer Miller has thrown for 491 yards, rushed for 312 and is the second-leading tackler (8.4 per game) behind Zak Bauer (10.0) on a stingy defense that's allowed just 79 points all season.
Quarterback Lucas Bowser (81-for-184, 988 yards, 11 TDs, 8 Ints) and running back Greg Duncan (136-681, 2 TDs) lead the Falcon Knights.
Redbank Valley heads to Punxsutawney in what could be a sneaky good matchup as Bulldogs head coach Ed Wasilowski looks for his 100th career win. Bulldogs running back Clint Thurston (1,239 yards, 23 TDs) needs one touchdown to break a tie with Mark Strothers for the team's single-season TD record and he trails Strothers by 249 yards for the season yardage record.
Quarterback Dylan Ishman (77-for-155, 1,173 yards, 17 TDs, 3 Ints; 281 yards rushing), running back Stone Smith (429 yards, 6 TDs) and receiver Tyler Richardson (43-777, 10 TDs) lead the Chucks.
AML South: Nearly 10,000 yards meet in Curwensville
The Bradford Owls (6-2 overall, 2-2 AML South) visit Curwensville (7-1, 3-1) in a game where opposing running backs with the Tide's D9 all-time leader Nick Stewart (6,456) and the Owls' John Eakin (3,043), who just went over 3,000 career yards last week.
For the year, Eakin (122-1,136 yards, 18 TDs) leads the Owls while Stewart (124-922, 17 TDs), who missed the opener, is near 1,000 yards for the season. While the Owls are almost an all-run team, the Tide are throwing much more than usual with quarterback Bryce Timko (62-123, 1,014 yards, 9 TDs, 3 Ints.) over 1,000 yards passing.
In other division games, unbeaten and AML title-game bound Kane (8-0, 4-0) looks to complete another perfect run through the division schedule with a trip to Brockway (6-2, 2-2) while Ridgway (5-3, 1-3) hosts Elk County Catholic (2-6, 0-4).
For Kane, it has a new all-time leading passer as quarterback Reed Williams passed Zach Anderson's 10-year-old mark of 3,922 yards. Williams is just shy of 4,000 yards with 3,992. For the year, he's thrown for 1,391 yards (81-for-149) with 18 TDs and six interceptions. Ray Maze (25-621, 8 TDs) is his top receiver. In the backfield, senior Erik DeLong (128-1,234 yards, 19 TDs) is over 1,200 yards on the ground and he's also primed to go over 4,000 as well with 3,936 career rushing yards.
The Rovers, losers in two of their last three games including a 40-20 win at Bradford last week, try to bounce back. They're nearly balanced 50/50 in offensive yardage. Junior quarterback Peter Downer (99-for-163, 1,465 yards, 11 TDs, 7 ints), sophomore running back Jon Wood (77-609, 7 TDs), and receivers Dylan Lecates (32-445, 2 TDs) and Noah Vokes (24-439, 6 TDs) lead the Rovers.
The Elkers host the Crusaders with three losses in four games and those losses to Brockway, Curwensville and Kane are by a combined margin of 11 points, including last week's 19-14 loss to unbeaten Kane. Neil MacDonald leads the team in rushing (93-713, 9 TDs), receiving (18-237, 5 TDs) and is second in tackles per game (10.1). Quarterback Johnny Mitchell has thrown for 597 yards while rushing for a second-best 328 yards.
Hunter Cashmer and Alec Bittler ran for touchdowns in the Crusaders' loss to Bradford last week. Bittler (103-630, 9 TDs) leads the Crusaders' running game.
AML North down to wire
If Otto-Eldred (5-3, 4-0) takes care of business at Smethport (3-5, 3-1), it'll win the North Division title and another date with Kane in next week's AML Championship. The other scenarios:
— If Smethport wins and Coudersport loses to Port Allegany, the Hubbers win the division.
— If Smethport wins and Coudersport beats Port Allegany, the Terrors win the title because of a three-way tie utilizing the PIAA point system tiebreaker. That would happen because O-E would edge Coudersport in points in that scenario.
The Terrors have won four straight games, beating Coudersport (24-8) last week. Smethport lost to Coudersport (30-12) two weeks ago. Otto-Eldred senior quarterback Sawyer Drummond (109-172, 1,651 yards, 19 TDs, 13 Ints) is also the team's top rusher (90-378, 2 TDs). The Hubbers put up some numbers in last week's 28-14 win over Sheffield with Blake Kinner running for 152 yards and quarterback Grant Ognen throwing for 229 yards and three TDs.
In the other two AML North games, winless Sheffield (0-8, 0-4) visits winless Cameron County (0-8, 0-4). The Wolverines have lost eight straight and are 3-25 the last three years while the Red Raiders have lost nine straight overall and own a 3-23 mark the last three seasons. Cameron lost 27-26 in overtime to Port Allegany last week. Sheffield lost to Port, 20-7, two weeks ago.
So with no chance at winning the division, Coudersport (4-4, 3-1) hosts Port Allegany (2-6, 2-2) looking to solidify its playoff positioning. Falcons quarterback Jared Green (37-69, 403 yards, 4 TDs, 5 Ints) is second on the team in rushing behind Stevie Kelly (114-596, 7 TDs).
The Gators, after losing 17 straight, have won two straight games including last week's OT win over Cameron County. The Falcons beat Cameron, 42-0, three weeks ago.
Beavers in rematch with D3's Newport;
Miller set to go over 8,000 yards
It was one of the better games involving a D9 team last year as the Beavers traveled east two hours and beat the Buffaloes in a 42-35 slugfest, rallying from a double-digit deficit in the second half.
This year, Class 2A Newport (7-1) comes west to take on the Class 4A Beavers (3-5), coming off its first loss of the year in a 27-14 setback to Line Mountain. Quarterback Nikolas Grabiec (631 yards passing) and running back Ethan Rode (687 yards) were the Buffaloes' stat leaders through six games.
The Beavers could have a new all-time leading passer with Matt Miller (7,794 yards) approaching Gabe French's mark of 7,940 yards. There are only two D9 passers over 8,000 career yards — Port Allegany's Matt Bodamer (10,948) and Brockway's Derek Buganza (9,752).
Once again, the updated District 9 passing yardage honor roll, check here.
For the season, Miller (116-for-220) has thrown for 1,668 yards with 14 TDs and seven interceptions. His top receiving target Kyle Hopson (52-829, 8 TDs) went over 3,000 career receiving yards last week. He's at 190 catches for 3,081 yards and 31 TDs. At least the receptions and yardage are believed to be district records.
Bison travel to Philipsburg-Osceola
Clearfield (4-4, 2-4) heads to Philipsburg-Osceola (1-7, 0-6) to wrap up its Mountain League schedule with a trip to play the Mounties. Junior quarterback Isaac Rumery (124-191, 2,043 yards, 24 TDs, 8 Ints) went over 2,000 passing yards for the season and he also went over 4,000 for his career at 4,009. It's the third Bison over that mark with Chad Kroell (6,088) and Curtis Frye (4,477) ahead of him.
Rumery threw for a career-high 372 yards in last week's loss to Bald Eagle Area. It's his fourth 300-yard passing game overall and third this year, all of them losses. Rumery's top receivers are Micah Heichel (33-637, 8 TDs), Spencer Graham (23-340, 4 TDs) and Jake Lezzer (24-332, 3 TDs).