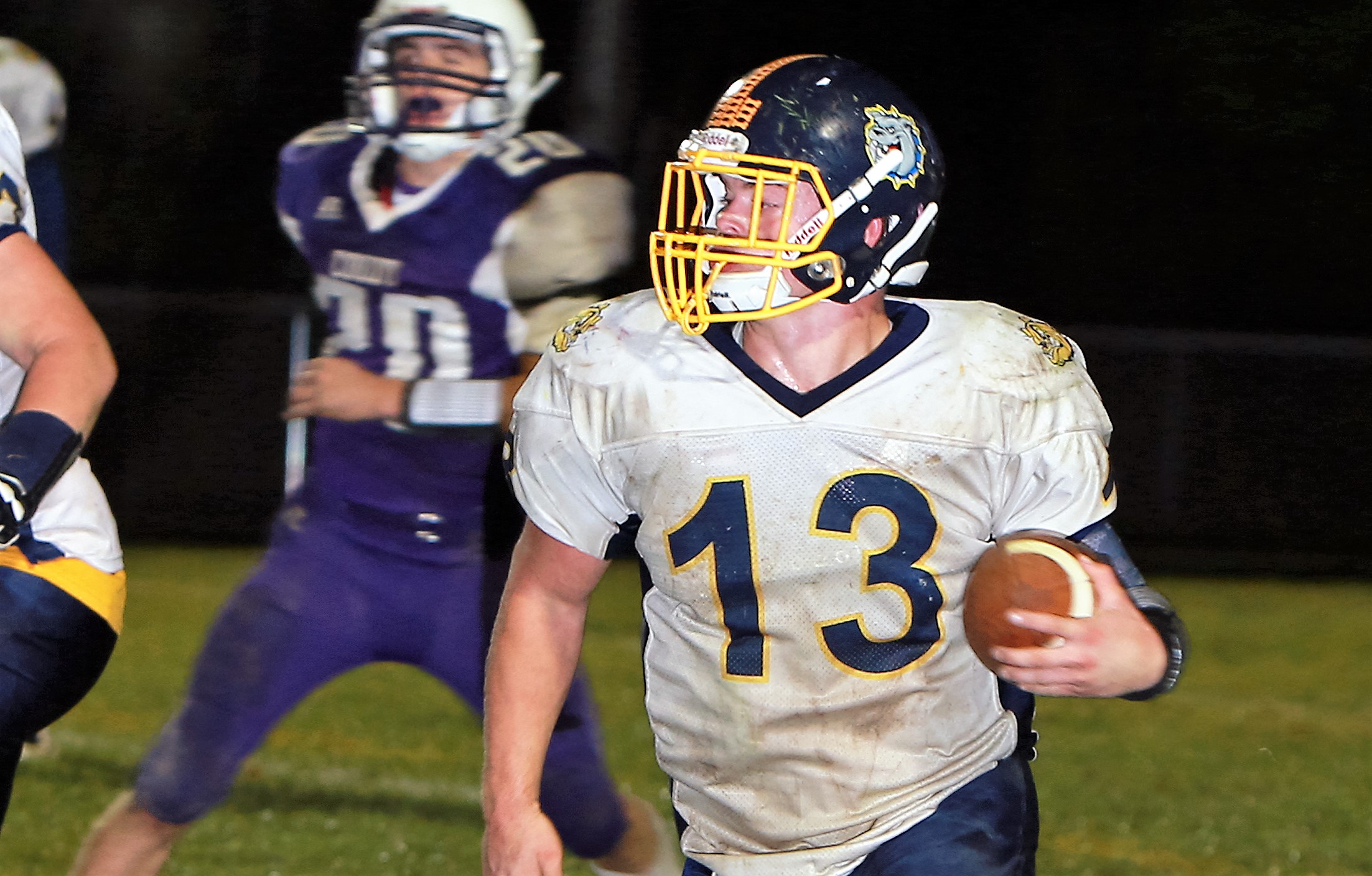 Week Eight football recaps. Recaps updated to through all weekend games. 
(Cover photo of Otto-Eldred's Seth Drummond, who set the school record for career rushing yards Friday night while helping the Terrors to their first-ever AML North title and their first outright divisional/conference title in 41 years. Photo by Paul Burdick. Check out more of Burdick's work here)
RIDGWAY 7, ELK COUNTY CATHOLIC 0
ST. MARYS, Pa. – Joey Elinski's 2-yard touchdown run five minutes into the game turned out to be the only score, as visiting Ridgway secured a 7-0 win over Elk County Catholic in a battle of two of the top D9 1A teams.
In a game dominated by defense, Ridgway held ECC to 149 yards of offense including just 13 yards rushing while picking off Crusaders quarterback Nate DaCanal four times.
ECC's defense was nearly as good limiting Ridgway to 240 yards of offense, all but one yard of which came on the ground with the Elkers throwing just one pass all night.
The victory secures at least the No. 2 seed in the upcoming District 9 1A playoffs for Ridgway (7-2 overall, 3-2 AML South). The Elkers can grab the top seed with a win over Union/A-C Valley in Foxburg next week or a Clarion-Limestone loss to Punxsutawney. Ridgway will also be the top seed even if it loses and C-L wins as long as Sheffield beats Youngsville.
Neil MacDonald led the ground game for Ridgway with 110 yards on 21 carries with Elinski adding 82 on 15 carries with the touchdown. Elinski had two of the Elkers four interceptions with MacDonald and Johnny Mitchell also picking off passes.
DaCanal was 10 of 32 passing for 136 yards with the four picks for ECC. Jared Braun had four catches for 82 yards.
It was the first 7-0 game in District 9 since these two teams hooked up Oct. 28, 2011, in a game won by ECC. Port Allegany beat Cameron County, 6-0, last year (Oct. 3) in the last game between D9 teams in which one touchdown was scored.
SHEFFIELD 26, CAMERON COUNTY 6
SHEFFIELD, Pa. – Darnell Manson ran for two touchdowns and Cale Albaugh threw a touchdown pass and ran for another to lead Sheffield to a 26-6 win over visiting Cameron County.
Manson ran 10 times for a game-high 77 yards and scored on a pair of 13-yard fourth-quarter runs to help the Wolverines (2-7 overall, 2-3 AML North) break open a six-point (12-6) game going to the final 12 minutes.
Albaugh had given Sheffield, which was tied at the half, that slim lead thanks to a 10-yard touchdown pass to Frank Wagner and a 13-yard run.  He finished the soggy day 6 of 15 passing for 101 yards and the score while rushing seven times for 15 yards and the score. Albaugh also picked off a pass.
Kevin Evans added two catches for 65 yards for the Wolverines and also ran for 20 yards on 18 carries and hd an interception on defense. Wagner added two catches for 20 yards and picked off two passes on defense.
Adam Streich gave Cameron County (1-8, 1-4) an early 6-0 lead on a 32-yard touchdown pass to Derek Beldin.
Streich was  7 of 25 passing for 138 yards and the score but was also intercepted four times.
Jared Whiting ran for 71 yards for the Red Raiders, while Derek Rieder had three catches for 35 yards.
OTTO-ELDRED 39, SMETHPORT 0
DUKE CENTER, Pa. – It was a night for records and first for the Otto-Eldred Terrors in a 39-0 win over visiting Smethport.
With the victory, Otto (5-4, 5-0 AML North) claimed its first-ever AML North title, its first-ever berth in the AML Title game and its first-ever District 9 playoff spot. It was also the first outright conference/division title for the Terrors since 1975 when they won both the AML and the Border Conference.
In addition, senior running back Seth Drummond became the school's all-time leading rusher with 2,606 yards passing Same Colebert. Drummond had a big night rushing for 118 yards and a touchdown on 22 carries. He also caught a 19-yard touchdown pass from his brother, Sawyer Drummond, who was 2-for-3 for 31 yards and two scores.
Sawyer Drummond's other scoring pass went to Dylan Close for 12 yards, while Grant West threw an 81-yard scoring pass to Garret Babcock on a jet sweep halfback option. Jordan Sherwood also returned an interception 60 yards for a score, while Close and Chase Sebastian added picks.
Akete Kindle led Smethport rushing for 40 yards on 12 carries nearly half of Smethport's yardage, as Otto held the Hubbers (3-6, 3-2) to 86 yards of offense.
KANE 14, BROCKWAY 3
Read complete story at ExploreJeffersonPa
KANE, Pa. – Davis Gardner caught a touchdown pass and picked off three passes on defense to lead Kane to its second straight AML South title with a 14-3 win over visiting and previously unbeaten Brockway.
Thanks in part to Gardner, Kane's defense limited Brockway's high-powered offense to 205 yards on the night and no points after a 25-yard Jarrett Esposito field goal late in the first quarter gave the Rovers (8-1, 4-1 AML South) a 3-0 lead.
Kane (9-0, 5-0) took the lead for good on an 80-yard Reed Williams to Frank Truden scoring pass before Williams hooked up with Gardner from 15 yards out late in the third quarter to set the final score.
Williams was 8 of 16 passing for 158 yards and the two scores.
Hunter Miller threw the ball 40 times for Brockway completing just 14 of them for 182 yards with four interceptions after entering the game with just five interceptions on the season.
Miller was forced to throw the ball after the Rovers running game couldn't get going. Brockway ran 25 times for 23 yards including just 1-yard rushing from leading rusher Mark Latuska, who carried just seven times including once after halftime. Miller ran for a team-best 46 yards on 13 carries.
Kane, for the second straight week, couldn't get much going on the ground either rushing for 74 yards led by 38 from Austin Labesky on 10 carries and 32 by Erik DeLong on 15 totes.
Gardner had a team-high five catches for 64 yards, while Andrew Trunzo led Brockway with six catches for 85 yards.
DUBOIS 42, NEWPORT 35
NEWPORT, Pa. – Kyle Hopson caught a 12-yard touchdown pass from Matt Miller with 3:16 to play, and Caleb Webster intercepted a pass deep in DuBois' territory in the final minute of play to give the visiting Beavers a 42-35 win at previously unbeaten Newport.
In a back-and-forth contest that saw six lead changes and one tie, DuBois rallied from a 32-21 second-half deficit to get the win.
The Beavers (6-3), who led 21-17 late in the first half before going down 24-21 at the break, were down 32-21 following a 27-yard Noah Heimbaugh to Drew Paden touchdown pass midway through the third quarter.
But a 5-yard scoring run by Dalton Kruzelak followed by 5-yard Miller run put DuBois ahead 35-32 with 7:53 to play.
Newport (8-1), a 2A school in District 3, tied the game on a 40-yard Justin Barlup field goal, his second field goal of the game, with 4:49 to go before Hopson caught his second scoring pass of the night to put DuBois on top.
The Buffaloes drove to the DuBois 11-yard line on their ensuing possession before Webster came up with the game-sealing interception.
Hopson had another big night catching five passes for 221 yards and two touchdowns. It was the second straight 200-yard receiving game for the junior and his third game in a row with 100 yards receiving. He now has 76 catches for 1,330 yards and 16 touchdowns and passed former teammate Dante Dawson (2015: 80 catches, 1,326 yards) for the most receiving yards in school history in a season while passing Bryson Paulinellie (15 in 2013) for the most receiving touchdowns in school history.
Hopson is just 152 yards shy of the District 9 receiving yards single-season mark of 1,482 set by Port Allegany's Nick Conway in 2012. Conway also holds the D9 single-season receiving touchdown mark with 24, while Brockway's Mike Vervoort set the D9 catches mark with 88 in 2009.
Miller, meanwhile, had an up-and-down game. The junior did throw for 330 yards and two touchdowns but was only 12 of 36 passing with an interception.
Brock Adams ran 10 times for 144 yards and two scores for the Beavers but left the game with an injury. Kruzelak added 69 yards on 11 carries. Dylan McCluskey added five catches for 71 yards.
Heimbaugh also threw for over 300 yards going 15 of 36 for 306 yards, two touchdowns and two interceptions.
Paden caught seven passes for 129 yards and a touchdown with Noah Reich adding two grabs for 58 yards and a score.
Also for the Buffaloes, Elias Goodling ran 25 times for 203 yards and two touchdowns and had three catches for 42 yards.
DuBois led 14-10 at the end of the first quarter thanks to the 79-yard Miller to Hopson scoring pass on the final play of the quarter but trailed at halftime thanks to Goodling's two scoring runs.
COUDERSPORT 46, PORT ALLEGANY 20
PORT ALLEGANY, Pa. – Coudersport pulled away from Port Allegany in the second half to secure a District 9 1A playoff berth with a 46-20 win at Port Allegany.
The Falcons (5-4, 4-1 AML North), who were denied a shot at the AML Title game when Otto-Eldred beat Smethport, outscored the Gators (0-9, 0-5) 22-6 in the second half after holding a 24-14 halftime lead.
Brock Wilson and Jared Green each rushed for over 100 yards and two touchdowns with Green adding a punt return for a third score.
Green's second touchdown of the game with 10 seconds left in the first half started to open things up for Coudy, which led by just two, 16-14, before the score.
Green ran 17 times for 111 yards and the touchdowns, while Wilson had a game-high 154 yards on 16 carries. Green also returned a punt 68 yards for a touchdown and caught three passes for 38 yards with Wilson adding a sack on defense.
Aaron Wolfinger, who was 11 of 15 for 78 yards and an interception, added a 7-yard scoring run.
Trey Stiles scored a pair of rushing touchdowns for Port Allegany with Josh Reese adding a scoring run.
Stiles ran 20 times for 110 yards and the two scores and was 4 of 8 passing for 44 yards. Devin Gustin paced the Gators defense with eight tackles, including a pair of sacks.
CURWENSVILLE 37, BRADFORD 8
BRADFORD, Pa. – Nick Stewart ran 38 times for 304 yards and three touchdowns to help Curwensville break a four-game losing streak with a 37-8 win at Bradford.
With the big game, Stewart became the third player in District 9 history to go over 5,000 career yards. He now unofficially has 5,236 yards joining former Golden Tide greats Nick Sipes (5,963 yards) and Alex Holland (5,754 yards) in the District 9 5,000-yard club.
Bryce Timko hit Zach Marshall with a 50-yard touchdown pass, his only throw of the game, while Kaleb Witherite also scored on a short run.
Mitch Vleminckx scored Bradford's lone touchdown late in the game on a 6-yard run.
Curwensville (5-4, 1-4 AML South) outgained Bradford (3-6, 0-5) 432-141 including 382-58 on the ground.
ST. MARYS 35, BROOKVILLE 0
ST. MARYS, Pa. – Tim Beimel ran for three touchdowns and Parker Smith returned one of his two interceptions to the end zone as St. Marys shut down visiting Brookville in a 35-0 win Friday night at Dutch Country Stadium.
The Dutch (6-2, 3-1 KSAC Large) scored on their first four possessions, then got a big play from Smith, who returned his first interception 75 yards to put St. Marys up 35-0 with 3:09 left before halftime. Matt Marconi finished with 98 yards on 16 carries, while Beimel ran 11 times for 62 yards with his scoring runs coming from 1, 7 and 3 yards out. Christian Steffan added a 1-yarder.
St. Marys limited the Raiders (2-6, 1-4) to 31 yards of offense, including 29 yards on 30 rushing attempts. Two plays on bad snaps cost the Raiders 44 yards.
Brookville lost starting quarterback Seth Ray to an injury late in the first quarter when he was sacked by D.J Mertz and lost a fumble that set up Beimel's 7-yarder.
KARNS CITY 44, MONITEAU 10
Read Complete Story at ExploreClarion
WEST SUNBURY, Pa. – Cullen Williams ran nine times for 117 yards and three touchdowns to lead visiting Karns City to a 44-10 win over rival Moniteau.
Williams scored on runs of 3, 38 and 11 yards.
Kaiden Powers, Sebastian Troutman and Eric Dodd also scored rushing touchdowns for Karns City (8-1, 5-0), while Jimmy Thompson caught a 5-yard scoring pass from Jacob King.
Dacota Skiver scored on a late 63-yard run for Moniteau (3-5, 2-3), who also got a 38-yard Steven Fawcett field goal.
Dodd, who had a 60-yard scoring run, ran eight times for 87 yards, while Powers had five carries for 43 yards. King was 7 of 15 passing for 51 yards with Williams catching two passes for 13 yards, Powers 1 for 6, Thompson 1 for 5 and Brian Beabout 3 for 27 yards.
Skiver had two carries for 63 yards to pace Moniteau, while Dalton Anderson caught five passes for 42 yards.
CLARION-LIMESTONE 58, KEYSTONE 8
KNOX, Pa. – Mike Macefe and Chris Peace combined to rush for 306 yards and four touchdowns, as visiting Clarion-Limestone rolled to a 58-8 win at Keystone.
Macefe, who went over 2,000 yards rushing in his career (2,022), led the way for the Lions with 21 carries for 187 yards and three touchdowns with Peace adding 13 carries for 119 yards and a score. As a team, C-L ran for 387 yards and five touchdowns with Riley Hummell adding a 1-yard scoring run and rushing for 55 yards on eight totes.
Hummell scored twice also catching a 10-yard pass from Brendan Makray. He had three catches for 41 yards, while Makray was 5 of 8 passing for 46 yards and two scores.
Sam Leadbetter was on the receiving end of Makray's other touchdown pass from a yard out, and Dan Callen added a 30-yard interception return to open the scoring for the Lions (6-2 overall, 3-0 KSAC Small School Division).
C-L led 14-8 at the end of the first quarter and then outscored Keystone (0-9, 0-3) 24-0 in the second quarter on two Hummell touchdowns and a Macefe 1-yard run plus three 2-point conversions.
Keystone's lone score came on a 49-yard run by Tanner Wilson. Wilson ran eight times for 41 yards, caught seven passes for 70 yards and made 12 tackles on defense.
CLEARFIELD 49, PHILIPSBURG-OSCEOLA 0
CLEARFIELD, Pa. – Seth Caldwell ran for two touchdowns, and Isaac Rumery threw a pair of scores to Ryan Lezzer, as Clearfield blew past visiting Philipsburg-Osceola, 49-0.
Caldwell, who ran 21 times for 172 yards, scored on first-half runs of 5 and 16 yards, while Lezzer caught scoring passes of 36 and 20 yards from Rumery in the opening half to help Clearfield (8-1, 7-0 Mountain League) to a 35-0 halftime lead.
Rumery finished the night 4 of 8 for 97 yards while adding 18 yards rushing on four carries. Lezer had three catches for 64 yards.
Ty Bender also scored on a first-half run of five yards, while Ryan Lazauskas (12 yards) and Eli Glass (26 yards) scored in the second half. Bender finished with 65 yards rushing and Glass 47 yards on the ground.
Philipsburg-Osceola (0-9, 0-7), which was held to 120 total yards, lost for the 36th straight time. Brandon Anderson led the way with 34 yards rushing and 38 yards receiving.
CLARION 54, UNION/A-C VALLEY 0
RIMERSBURG, Pa. – Colton Rapp ran for 220 yards and two touchdowns on 13 carries and passed the 1,000-yard mark on the season to lead visiting Clarion to a 54-0 thumping of Union/A-C Valley in Rimersburg.
Rapp, who has 1,190 yards on the year, scored on runs of 80 and 27 yards.
Spencer Miller, meanwhile, threw three touchdown passes for the Bobcats (7-1) and was 9-for-20 for 115 yards. He hit Ty Burford from 21 yards out and five yards out and Dominic Fleming from 30 yards away. Burford caught four passes for 73 yards.
Kyle Patterson also scored a pair of touchdowns for Clarion, while Sam Minich had one.
Union/A-C Valley (2-6), which has lost five straight, struggled on offense with Lucas Bowser going 2 of 14 for 21 yards and an interception and Lane Chalmers running for 16 yards on eight carries. Gavin Hawk had both catches.
REDBANK VALLEY 27, PUNXSUTAWNEY 6
NEW BETHLEHEM, Pa. – Clint Thurston had a big night, leading Redbank Valley to a 27-6 win over visiting Punxsutawney Friday night.
The Bulldogs fullback ran for 156 yards on 15 carries with four touchdowns on runs of 45, 1, 21 and 1 yards. Thurston also had eight tackles on defense, five for losses, with two sacks while making three of four point-after kicks.
Redbank Valley (4-4) led 14-0 on Thurston's first two TDs, but the Chucks (2-6) found the end zone before halftime when Alexander Neal's interception set up Ethan Riley's 4-yard run with 21.7 seconds on the clock.
But the Bulldogs put the game away with touchdowns in their first two possessions of the second half on Thurston's 21-yarder and 1-yarder that set the final score with 5:03 left in the third quarter.
Bulldogs quarterback Keaton Kahle completed 12 of 17 passes for 95 yards, 10 of those completions going to Brock Barrett for 90 yards.
In addition to his touchdown, Riley had two interceptions on defense and caught four passes for 69 yards while rushing eight times for 19 yards. Dylan Ishman was 6 of 26 passing for 143 yards and an interception.