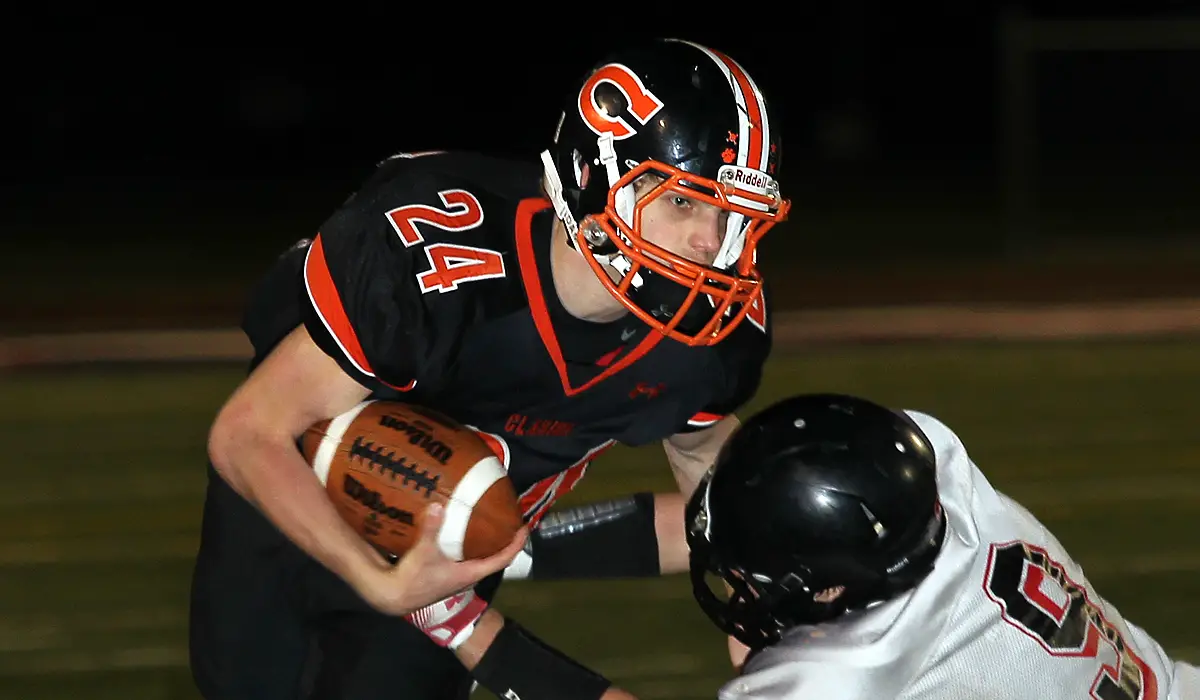 Cover photo of Clarion's Ian Corbett 
Completely updated
PORT ALLEGANY 26, SMETHPORT 19
PORT ALLEGANY – Tre Garzel threw three touchdown passes, and Jordan Seefelt returned an interception for a score to help Port Allegany deal a crushing blow to Smethport's playoff hopes with a 26-19 win over the visiting Hubbers.
Garzel was 13 of 27 passing for 135 yards with scoring passes with Chris Lashway, Dylan Baumgardner and Hunter Freeer.
Lashway had six catches for 84 yards.
Smethport stats were not available.
ELK COUNTY CATHOLIC 13, KANE 12
KANE – Mitchell Smith hit Kyle Huff with a 9-yard touchdown pass with 5:18 to play to lead visiting Elk County Catholic to a 13-12 win at Kane in AML North play Friday night.
It was the second touchdown pass from Smith, who hit Ryan Seelye with a 54-yard touchdown pass with 49 seconds left in the first half to get the Elkers (7-1 overall, 2-1 AML South) within five, 12-7, at the break.
Smith finished 4 of 11 passing for 83 yards, two touchdowns and an interception while rushing 11 times for 24 yards. Seelye had three catches for 74 yards and the touchdown.
John English, who ran 34 times for 178 yards, gave Kane (5-3, 1-2) a 12-0 lead with a pair of first-quarter rushing touchdowns scoring from 1 and 16 yards.
Kane outgained ECC 353-166 but turned the ball over three times to the Crusaders once.
Both teams clinched District 9 Class A playoff berths thanks to results from other games Friday night, but both teams were also eliminated from contention for the AML South title, which was won by Ridgway, who lost a non-conference game, 32-7, to Union.
It marked the second straight 1-point loss for Kane, which had dropped three of its last four contests by a total of three points – the one win was a 2-point victory. Since 2004, no District 9 team had played more than two 1-point games in a season prior to Kane doing it three times in the last four weeks.
OTTO-ELDRED 41, SHEFFIELD 14
DUKE CENTER -Seth Drummond ran for 230 yards and four touchdowns to lead Otto-Eldred to a 41-14 win over visiting Sheffield in AML North play Friday night.
Drummond, who carried the ball 23 times, scored on runs of 15, 58, 22 and 30 yards.
Scott Pollier added a 2-yard scoring run, and Hobie Milliron scored on a 96-yard interception return in the final minute of the game for the Terrors (2-6 overall, 2-2 AML North).
Ja'Sani Marlow and Marquis Clark scored for Sheffield (1-7, 1-3).
Marlow, who ran 14 times for 92 yards, scored on a 58-yard run to give Sheffield an early 7-0 lead, and Clark caught a 65-yard pass from Adam Higby that gave the Wolverines a 14-6 advantage. Higby was 14 of 44 passing for 183 yards, the touchdown and three interceptions with Clark catching nine ball for 137 yards and the touchdown.
After the Clark, TD, which came with 6:08 left in the first half, Otto scored twice in the final 5:11 of the half on a Dummond run and Pollier's touchdown, which came with just 35 seconds left in the half and gave the Terrors a 20-14 lead at the break.
UNION 32, RIDGWAY 7
RIDGWAY – Lane Cicciarelli threw for two touchdowns and ran for a third, as two-win Union stunned unbeaten Ridgway 32-7 in a rare KSAC-AML interleague matchup Friday night in Ridgway.
Two late first-half touchdowns by the Golden Knights gave them a 24-7 halftime lead, and the Union defense shutdown the Ridgway attack in the second half.
Cicciarelli was 8 of 13 passing for 156 yards and the two scores while rushing seven times for nine yards and a score. He threw scoring passes to Chet Carmichaels and Cole Morris. Carmichaels had four catches for 88 yards and the score with Morris adding three grabs for 58 yards and the touchdown. Casey Confer added a rushing score for the Golden Knights, who scored 32 points despite having just 235 yards of total offense.
Tyler Wiser led Union's defense, which limited Ridgway to 153 yards of offense while turning the Elkers over four times, with 11 tackles, including 2 ½ sacks, while Carmichaels and Confer each had an interception and four tackles.
Ben MacDonald scored Ridgway's lone touchdown on a 7-yard run that cut Union's early lead to 8-7. He ran 13 times for 25 yards and was 7 of 17 for 25 yards and two interceptions.
BROCKWAY 31, CURWENSVILLE 14
BROCKWAY – Mark Latuska and Anthony Benson both cracked the 100-yard rushing mark while scoring a touchdown apiece, and Braden Martini threw two touchdown passes to Anthony Isabella to lead Brockway to a key 31-14 win over visiting Curwensville Friday.
Thanks in large part to an 87-yard third-quarter touchdown run that gave the Rovers (5-3 overall, 1-2 AML South) a two-score lead, Latuska ran for a game-high 151 yards, while Benson, who put the game away with a 22-yard scoring run late in the fourth quarter, his 63rd career touchdown, added 109 yards rushing on eight carries. He also caught four passes for 37 yards, while Latuska had two grabs for 10 yards.
Martini, meanwhile, was 13 of 18 passing for 96 yards, two touchdowns and an interception. He threw touchdown passes of 8 and 14 yards to Isabella, who had seven catches for 49 yards.
Jake Terry hit Tyler Lansberry with a pair of long touchdown passes for Curwensville. The duo hooked up on first-half scoring plays of 34 and 72 yards. Terry finished 8 of 17 passing for 177 yards, two touchdowns and an interception with Lansberry catching three passes for 126 yards and the scores.
Freshman Nick Stewart added his seven 100-yard rushing game for the Golden Tide (6-2, 1-2) going for 115 yards on 24 carries.
The loss dropped Curwensville out of the running for the AML South title, and coupled with Elk County Catholic's win over Kane gave Ridgway the AML South title.
CLEARFIELD 49, BALD EAGLE AREA 14
WINGATE – Cody Spaid threw three first-half touchdown passes and Erik Sellers and Corey Shimmel each scored twice to lead Clearfield to a 49-14 win at Bald Eagle Area Friday night.
Spaid was 7 of 9 passing for 131 yards while tossing touchdown passes Nick Kovalick (34 yards), Ryan Lezzer (36 yards) and Josh Sorbera (12 yards) to help the Bison (6-2 overall, 5-1 Mountain League) take a 28-7 halftime lead. The touchdowns tied a career high for Spaid, who also threw three in the Clearfield opener against Keyser, W.Va., and the passing yards were his second most behind the 260 he threw for in the season-opening loss.
Shimmel, meanwhile, ran seven times for a game-best 103 yards scoring on fourth-quarter runs of 8 and 72 yards, and Sellers added 83 yards rushing on 15 carries scoring on runs of 2 and 1 yard. Seth Caldwell also ran 14 times for 74 yards, while Lezzer had four catches for 82 yards and the score.
Bald Eagle (2-6, 2-4) got its scores on a Jason Jones 14-yard run and a 17-yard Jones to Cody Scholl pass. Jones ran five times for 21 yards and was 7 of 13 passing for 83 yards, a touchdown and an interception.
CLARION 41, ST. MARYS 0
CLARION – Ian Corbett scored four touchdowns as Clarion rolled past visiting St. Marys 41-0 Friday night at Clarion University's Memorial Field.
Corbett scored twice through the air, once on the ground and once on defense to help the Bobcats (7-1) win their 17th straight home game.
On the night, the senior running back accumulated 201 yards on total offense. He ran 21 times for 101 yards and the touchdown while catching three passes for 101 yards and two scores including a 59-yard first-quarter strike from Taylor Smith that helped Clarion take a 21-0 lead at the end of the quarter. Corbett added a 10-yard fumble return for a touchdown late in the game.
Smith had a solid game going 4 of 8 passing for 114 yards, two touchdowns and two interceptions, while Thomas Plummer found the end zone twice on the ground rushing for 74 yards on just five carries.
Defensively, Clarion got 10 tackles apiece from Jacob Troutman and freshman Colton Rapp, who added 47 yards rushing on six carries. Destin Strauser had nine stops in his return from an injury, while Rapp had 1 ½ sacks, six tackles and the fumble recovery. Matt Wagner picked off two passes while recording five tackles, and Spencer Miller added an interception.
St. Marys (5-3) was limited to 59 yards of offense with Kyle Glatt rushing eight times for 32 yards to lead the way.
REDBANK VALLEY 26, MONITEAU 14
WEST SUNBURY – Jake Dougherty threw four touchdowns passes, and visiting Redbank Valley was able to hold off Moniteau for a 26-14 win Friday night.
Three of Dougherty's scoring passes came in a 19-point second quarter for the unbeaten Bulldogs (7-0), who trailed 8-7 late in the first half before Dougherty hit Wyatt Hetrick with a pair of touchdown passes in the final 1:14, including a 17-yard strike on the final play of the half to give Redbank a 19-8 lead at intermission.
Hetrick caught three scoring passes in all, Connor Shoemaker had the other one, as Dougherty went 16 of 28 passing for 220 yards and the four scores while also throwing two interceptions. He added 16 carries for 141 yards, while Hetrick had eight catches for 96 yards and the two touchdowns. Connor Shoemaker added three grabs for 30 yards and the touchdown while also picking off a pass on defense.
Redbank Valley's defense, meanwhile, shut down one of the top rushing attacks in District 9 limiting Moniteau to 77 yards rushing on 29 carries and holding Josh McBride, who came into the game as the district's leading ground gamer at 1,108 yards, to three yards on six carries.
Cody Skiver led Moniteau (5-3) with 15 carries for 66 yards and a touchdown. His scored was a 9-yard scamper with just over eight minutes to play that got the Warriors within five, 19-14.
Skiver was also 5 of 11 passing for 75 yards, while Derek Boben went 5 of 7 passing for 81 yards, a touchdown and an interception. His scoring pass was a 29-yard strike to Nick Pflugh with 4:01 left in the first half that gave Moniteau the 8-7 lead. Pflugh caught four passes for 77 yards.
DUBOIS 77, FRANKLIN 21
DUBOIS – Gabe French and the DuBois offense continued to roll Friday night beating visiting Franklin 77-21 in a District 10 Region five matchup.
French had his third 400-yard passing game of the season going 19 of 23 for 431 yards and six touchdowns, all in the first half, while adding 84 yards rushing on six carries with the first-quarter touchdown.
Devin Clark, who ran 12 times for 69 yards and caught two passes for 31 yards, added three touchdowns for the Beavers (6-2 overall, 4-1 D10 Region 5) scoring a 27-yard pass from French in the first quarter while adding touchdown runs of two and nine yards in the second half. Clark added an interception on defense, one of three picks on the night for DuBois.
Dante Dawson caught two touchdown passes for the Beavers and made three catches for 43 yards, while Kevin Foley had a team-best 174 yards receiving on five catches with a touchdown. Nick LaBrasca had five catches for 101 yards and a score, and Cole Kriner had four catches for 82 yards and  score.
Porter Rembold led Franklin (1-7, 0-4) with 233 yards passing on 18 of 32 with a pair of touchdowns. He also caught a 60-yard touchdown pass on a trick play.
It marked the second time in three weeks DuBois has reached 70 points, and it was the fourth time this season the Beavers, who are averaging 55.5 points per game, have topped 60 tallies.
NOTE – DuBois has a chance to set the District 9 scoring-average record of 51.4 points per game set by Clarion in 15 games last season. The Bobcats averaged 56.4 points per game during the 2013 regular season.
KARNS CITY 42, KEYSTONE 7
KNOX – Karns City shook off a sluggish first half by scoring 35 unanswered second-half points in getting a 42-7 win at Keystone Friday night.
The unbeaten Gremlins (8-0), winners of 16 straight regular-season games, found themselves in a shocking 7-7 halftime tie with the Panthers (2-6), who came into the game on a two-game win streak.
Karns City, though, scored 21 third-quarter points to take control of the game.
Collin Dunmyre led the Gremlin with 17 carries for 151 yards and three touchdowns.
Jake Weaver paced Keystone, who led 7-0 at the end of the first quarter, with 106 yards on the ground on 15 carries and an 83-yard touchdown run. Bryce Altman was 4 of 12 passing for 18 yards and ran for 47 yards while making eight tackles and picking off a pass.
More on this game will be posted when it is received.
CAMERON COUNTY 40, COUDERSPORT 7
EMPORIUM — Cameron County clinched the AML North title with a 40-7 victory over visiting Coudersport Friday.
Caleb Burnside rushed for 137 yards and three touchdowns on 17 carries and also added an interception on defense.
Rusty Setzer added 105 yards rushing on 13 carries with a touchdowns and Keith Spehalski threw for 156 yards, including a 31-yard touchdown strike to Erin Garrigan, as the Red Raiders outscored the Falcons 26-0 in the second half. Ethan Visay also hit Corey Clinger with a 14-yard scoring toss late in the game.
Anderson Nicka scored on a 3-yard run for Coudersport in the second quarter.
CONNEAUT 57, BRADFORD 0
BRADFORD — Conneaut clinched the District 10 Region 5 title with a 57-0 win over Bradford Friday .
Hunter Merritt rushed for 108 yards, including a 77-yarder on the Eagles' second offensive play of  the game and also threw a pair of touchdowns passes to Henry Litwin.
Elijah Anderton also went over 100 yards on the ground, finishing with 136 yards and a pair of scores.
For Bradford, Kyle Langdon intercepted a pass on defense.
PUNXSUTAWNEY 42, CLARION-LIMESTONE 6
PUNXSUTAWNEY — Dakota Thomas threw two touchdown passes and ran for two others as the Punxsutawney Chucks blasted their way to a 42-6 win over visiting Clarion-Limestone Friday night.
Thomas scored on runs of 38 yards in the second quarter and 12 yards in the third quarter while throwing two TD passes in the second quarter, a 14-yarder to Ethan Riley and a 37-yarder to Andrew Fedigan. He ran for 74 yards on nine carries while completing 7 of 12 passes for 106 yards.
The Chucks (6-2) led 30-0 at halftime and then scored twice at the end of the third quarter to start the PIAA Mercy Rule running clock. Travis Perry and Alex Young also scored on runs of 38 and 30 yards. Perry's came with 1:53 left in the third quarter to set the final margin.
The Lions (1-7) scored on quarterback Anthony Louder's 80-yard pass to Brady Himes, but the Chucks intercepted Louder four times, twice by Perry Arrington. Himes caught three passes for 101 yards.
BROOKVILLE 26, A-C VALLEY 6
BROOKVILLE — Jonah Sampson ran for two touchdowns and set up one of his scores with an interception to lead the Brookville Raiders to a 26-6 win over A-C Valley Friday night.
The Raiders (2-6) ended a five-game losing streak, their longest in 13 seasons, by limiting the Falcons to just 165 yards of offense. A-C Valley did score first for a 6-0 lead when Zach Muhl threw a 16-yard pass to Anthony Painter early in the second quarter, but the Raiders controlled the game from there.
Sampson rushed for 74 yards on 19 carries, scoring on runs of 3 and 4 yards while John Frank gained 68 yards on six carries with a 28-yard TD run in the fourth quarter. Wyatt Shaffer returned an interception 53 yards to close the game's scoring.