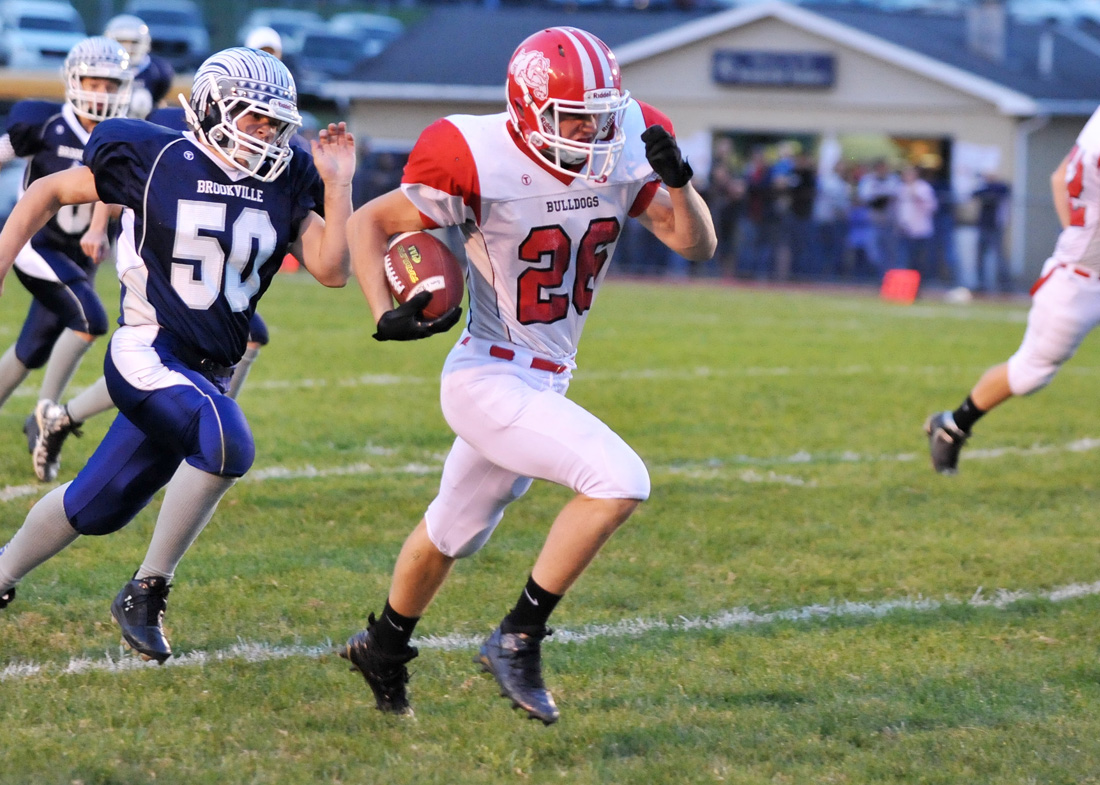 By Rich Rhoades
With three weeks left in the regular season, or two depending on the team, some parts of the District 9 playoff picture are coming together.
My colleague Chris Rossetti got started with playoff scenarios in his Thoughtful Tuesday column.
To note, in Class A:
Redbank Valley, Kane and Elk County Catholic have secured automatic berths. The Bulldogs are guaranteed one of the two berths allotted the Keystone Shortway Athletic Conference while Kane and ECC have grabbed two of the Allegheny Mountain League's four automatic spots.
This week's top-billed game has Kane traveling to Elk County Catholic Saturday night with the AML-South title on the line. A Wolves win claims the division title while ECC could win it with a win over the Wolves coupled with a Brockway loss at Curwensville. The Rovers could stay in the AML-South hunt with a win and an ECC win, but they'll also secure an automatic AML berth with a win over the Tide. Curwensville, at 5-2, is in a good spot with three games left, but it'll need to win one or two games the rest of the way. The Tide visit Ridgway Week 9 and Blairsville Week 10, so it's not easy.
In the Keystone Shortway Athletic Conference's Small School Division, the Bulldogs square off against Clarion next week for the title. The winner takes the crown, but while the Bulldogs are already guaranteed an automatic Class A berth Clarion is not and a Bobcats loss could make things interesting depending on the outcomes of two other Week 9 games — Union/Clarion-Limestone and Keystone/A-C Valley.
Like last year, the AML-North could be left out, even the division champion, as was the case a year ago. The only guarantee any of the AML-North teams have for a Class A playoff spot is winning the AML Championship game in Week 10. Port Allegany clinches the North with a win over Smethport this week. If the Hubbers beat the Gators, then they could win the North if Coudersport loses to Cameron County.
To sum it up, after Redbank Valley, Kane and Elk County Catholic, 10 teams are vying for the final five playoff spots with two (or three) weeks remaining on the schedule: Port Allegany, Smethport, Coudersport, Ridgway, Curwensville, Brockway, Clarion, Keystone, Union and Clarion-Limestone.
In the other classes:
Class AA: Unbeaten Karns City and 6-1 St. Marys appear to be the only locks for the postseason, but 3-4 Moniteau could be in the mix with a solid finish and if the Warriors elect to go perhaps with a 4-6 record. They visit Redbank Valley this week and host St. Marys and Union to close the season. With Brookville at 1-6, it appears three teams at the most, and probably two, make up the postseason bracket.
Class AAA: 6-1 Clearfield and 3-4 Punxsutawney are the only possibilities with Bradford still looking for a win. The Chucks visit Clarion-Limestone this week and host Karns City in Week 10, so their postseason plans are still up in the air. A D9 title game is scheduled for Week 10 with the District 5-6-8-9 sub-regional tournament beginning Week 11. That field includes the trio of D9 teams, defending champion Somerset (6-1), Johnstown (4-3), Bellefonte (2-5) and University Prep (4-3). Four teams make the sub-regional tournament. Sub-Regional playoff standings.
Class AAAA: DuBois (4-3), State College (4-3), Central Mountain (2-5), Mifflin County (0-7) are in the District 6-9 sub-regional and all four could go, but won't be the case with one team winless and another likely headed to a losing season. That leaves the Beavers, assuming they go, and probably the Little Lions for a Week 12 encounter. If more than two teams enter, the tournament begins Week 11. The Beavers finish with games at Franklin, General McLane and Karns City. Sub-Regional playoff standings.
Here's a look at this week's schedule, 14 games in all with two scheduled for Saturday — Kane at ECC and Otto-Eldred at Sheffield:
Allegheny Mountain League-South
Kane (7-0 overall, 3-0 AML-South) at Elk County Catholic (7-0, 2-0)
It's the Saturday night special in District 9 as the Wolves head to Dutch Country Stadium with the division title on the line. It'll be the third matchup in the past two years between the teams as ECC won the regular-season game at Kane, 13-12, but the Wolves had the last laugh with a 39-0 win in the first round of the Class A playoffs on their way to a district title.
After breezing to four lopsided wins to start the season, the Crusaders have grinded out three AML-South wins — 12-8 at home against Curwensville, 21-14 at Ridgway and 21-13 at Northern Cambria thanks to a last-second touchdown.
Kane's three AML-South games haven't been as close — 28-13 at home against Ridgway, 21-14 at Brockway and 35-6 last week at home against Curwensville.
ECC quarterback Nate DaCanal's status is not known after he was hurt before the end of the game. Backup quarterback Brad Dippold threw the TD pass to Eric Gerber at the end.
For the season, DaCanal has thrown for 728 yards and five touchdowns. Gerber, coming off his first 100-yard receiving game, has 11 catches for 234 yards. Noah Werner leads the Crusaders' ground game with 668 yards and 12 touchdowns.
Kane's Tyler Rolick leads the Kane running game with 898 yards and 10 touchdowns while his twin brother Shane has 561 yards and 12 touchdowns. The Wolves average 315 yards per game on the ground, averaging 8.3 yards per carry. Sophomore quarterback Reed Williams has thrown for 296 yards and seven touchdowns despite completing just 19 passes all season.
Brockway (5-2, 1-1) at Curwensville (5-2, 0-2)
It's usually an interesting matchup when the Rovers and Tide get together. The Rovers have won four of the last five meetings, including 31-14 last year at home. Both teams have scuffled lately. The Rovers ended a two-game slide with a 21-10 win over Ridgway last week while the Golden Tide have lost two of their last three games. As stated above, the game has important playoff implications for both teams.
Brockway beat Ridgway without completing a pass. Quarterback Hunter Miller, who has thrown for 703 yards and nine touchdowns, still contributed as he ran for a season-high 126 yards and a touchdown. With Anthony Isabella out with an injury, Miller is the active leading rusher on the team. Mark Latuska has rushed for 329 yards.
The Golden Tide, dumped 35-6 by Kane last week, have a 1,000 rusher in Nick Stewart (1,132 yards, 15 TDs) and passer in Jakob Terry (1,040 yards, 13 TDs). Quamone Newkirk (27 catches, 557 yards, 9 TDs) is the leading receiver.
Allegheny Mountain League-North
Port Allegany (4-3 overall, 3-0 AML-North) at Smethport (3-4, 3-0)
It's a big division matchup for the Gators and Hubbers. For the Gators, it's win and in the AML Championship game while the Hubbers need to win and Coudersport lose to Cameron County.
The Gators have won four of five games, allowing just two touchdowns in the last three games. Mac Tanner (542 yards rushing, 6 TDs; 10 catches, 144 yards; team leader in tackles) leads the Gators. Quarterback Tre Garzel (349 yards, 4 TDs) and receiver Dylan Bumgarner (10 catches, 221 yards, 3 TDs) lead the aerial attack.
The Hubbers are on a roll as well with three straight wins after starting the year 0-4. They beat Cameron County, 25-8, last week. Port beat Cameron, 6-0, in Week 5. The Hubbers' surge is led by running back Adam Shunk (1,109 yards, 11 TDs), who has ripped off three straight 200-yard games against AML-North foes.
Cameron County (1-6, 1-2) at Coudersport (3-4, 2-1)
The Falcons have won three of four games going into Friday's home game with the Red Raiders.
Quarterback Darren Keglovits, coming off a season-best 185-yard passing game against Sheffield, has thrown for 740 yards and 10 TDs. Aaron Wolfinger has rushed for 223 yards and a TD.
For Cameron County, Caleb Burnside (485 yards, 4 TDs) leads the offense. Quarterback Derek Rieder has thrown for 339 yards and three TDs.
Otto-Eldred (0-7, 0-3) at Sheffield (0-7, 0-3)
Something's gotta give with two of the district's four winless teams facing off Saturday afternoon in Warren County.
The home team has won the last five games, including Otto-Eldred's 41-14 win in Duke Center last year. The last time the Terrors won in Warren County was in 2009 when they beat the Wolverines, 35-29, in triple OT.
Otto-Eldred hasn't scored in 15 quarters.
KSAC-Crossover
Keystone (4-3) at Karns City (7-0)
The Gremlins come back to District 9 after an impressive win at Erie Central Tech last week where they amassed a season-high 427 yards on the ground, led by Player of the Week Maverick Kelsea's 109 yards and three touchdowns.
Ten different Gremlins ran the ball, as usually is the case, and for the season four players have rushed for over 400 yards, led by Colin Dunmyre (469 yards, 5 TDs), Kelsea (449 yards, 10 TDs), Chandler Turner (448 yards, 7 TDs) and quarterback Cullen Williams (419 yards, 5 TDs). Williams and fellow QB Jacob King have thrown for exactly the same yards, 341, with three TDs apiece.
The Panthers feature 1,000-yard rusher Jake Weaver (1,145 yards, 13 TDs). Quarterback Brayden Shick has thrown for 566 yards and four TDs.
Karns City hasn't lost to Keystone since 1995.
Brookville (1-6) at A-C Valley (0-7)
The Raiders head to Foxburg trying to end a five-game losing streak against a Falcons team that's lost 29 straight games. Brookville hasn't lost more than five in a row since starting the 2001 season 0-8.
Raiders quarterback Seth Ray (695 yards) and Logan Thrush (14 catches, 352) lead the passing game while John Frank (270 yards, 2 TDs) is the leading rusher.
Lane Chalmers (283 yards) and Eric Pirl (278 yards) lead the A-C Valley running game. The Falcons have passed for just 154 yards.
Brookville hasn't lost to A-C Valley since a 21-0 loss in Foxburg in 1988, a string of 11 games.
Clarion (4-3) at St. Marys (6-1)
The Bobcats head to Elk County on a 10-quarter scoreless streak trying to avoid a third straight shutout loss for the first time since 1983. Meanwhile, the Dutch blanked the Chucks, 14-0, to continue a strong defensive season that has them giving up just 11 points per game in their six wins.
The Dutch running game averages 216 yards per game, led by Christian Steffan (547 yards, 6 TDs), Matt Marconi (544 yards, 7 TDs) and Nathan Straub (398 yards, 4 TDs).
Clarion's Colton Rapp (431 yards) leads the Bobcats' running game and returns after sitting out last week's game following his ejection from their Week 6 game at Moniteau. Josh Kriebel (303 yards, 3 TDs) will also get carries.
Moniteau (3-4) at Redbank Valley (5-2)
The Warriors have rebounded from a slow start, winning three of four games since starting 0-3. They eked out a 7-6 win at Brookville last week after blanking Clarion, 10-0, in Week 5. The Bulldogs, meanwhile, handled winless A-C Valley and have Clarion waiting next week.
Bulldogs quarterback Connor Shoemaker has thrown for 609 yards and 309 yards while Colten Mohney leads the ground game with 321 yards. Wyatt Hetrick has rushed for 296 yards while leading the team with 20 catches for 374 yards. Hetrick also leads the team with 47 tackles and shares the lead with Shoemaker with three interceptions. Devin Bowser has 5 ½ sacks.
Quarterback Derek Boben is at the center of the Moniteau offense. He's rushed for 590 yards while throwing for 699 yards. Shonn Kline has 309 yards rushing.
Punxsutawney (3-4) at Clarion-Limestone (3-4)
It's one of the later homecoming games on the schedule as the Lions host the Chucks in what's probably a must-win game for the Lions in their quest for a District 9 Class A playoff berth.
Lions quarterback Anthony Louder has thrown for 1,470 yards with 17 TDs with Brady Himes (37 catches, 791 yards) and Connor Keth (26 catches, 364 yards) his top receivers.
Chucks quarterback Ryan Jones (1,006 yards, 6 TDs) also leads his team in rushing (385 yards, 3 TDs). His top receiver is Ethan Riley (29 catches, 277 yards, 2 TDs).
The Chucks haven't lost to the Lions since joining the KSAC in 2008, including a 42-6 win last year.
District 10 Region 5
DuBois (4-3 overall, 2-2 Region 5) at Franklin (4-3, 1-2)
The Beavers try to extend their winning streak to four games with a trip to play the Knights, who had their three-game winning streak stopped with a 36-22 loss at Fairview last week.
Meanwhile, DuBois has gotten things going with three straight wins, including a 55-0 win over Bradford last week. Franklin beat the Owls, 56-21, in Week 6. Earlier, Franklin lost to Conneaut (45-22) in Week 2 and Oil City (42-8) in Week 3. The Beavers lost to Conneaut (56-21) in Week 3 while beating Oil City (44-34) in Week 6.
Beavers quarterback Matt Miller (2,366 yards, 23 TDs) has thrown for 19 TDs with just one interception the past four games. His top receivers are Dante Dawson (46 catches, 786 yards, 6 TDs), Colin Read (36 catches, 725 yards, 8 TDs) and Zach Sloan (25 catches, 582 yards, 5 TDs).
DuBois ends the season with three road games. Next week, it's off to General McLane and Week 10 at Karns City.
Bradford (0-7, 0-4) at Conneaut (6-0, 3-0)
The Owls travel to play a Conneaut squad that put up a 56-21 loss on DuBois, a team that just beat them 55-0 last week. Conneaut has scored 40 or more points in five of its seven games. The Owls have given up 55 or more points in five of their last seven games.
Owls quarterback Kyle Kirk has thrown for 644 yards and six TDs while John Eakin has rushed for 617 yards and four TDs.
Mountain League
Bald Eagle Area (1-6 overall, 1-4 ML) at Clearfield (6-1, 5-0)
The newly-crowned Mountain League champions host the Eagles, who have lost five straight games since beating winless Philipsburg-Osceola 14-0 in Week 2. The Eagles have been shut out in three of the last four games, including a 35-0 loss to Huntingdon last week.
The Bison, who beat Huntingdon 50-23 in Week 4, beat Tyrone last week to clinch the Mountain League title. Clearfield averages 369 yards of offense per game, led by running back Seth Caldwell (887 yards, 8 TDs), quarterback Cody Spaid (890 yards, 8 TDs) and Ryan Lezzer (466 yards rushing, 6 TDs; 23 catches, 339 yards, 2 TDs).
Defensively, Matt Collins (15.0) and Christian Rumery (13.0) lead the team in tackles per game. Lezzer has four interceptions and Nathan Lash has 10 tackles for losses, including 5 ½ sacks.
Non-Conference
Ridgway (3-4) at Union (3-4)
It's a rare third meeting in two seasons between non-conference foes as the Elkers travel to Rimersburg to take on the Knights.
Last year, the Knights beat the Elkers during the regular season at Ridgway, 32-7, and then matched up in the first week of the Class A playoffs and the Knights won again on the road, 18-14.
This time around, both teams need wins badly to help their playoff chances.
Union's Dugan Gallagher (915 yards, 7 TDs) is poised to go over 1,000 rushing yards for the season. Cole Morris has rushed for 299 while catching 13 passes for 171 yards. Quarterback Lucas Bowser has thrown for 279 yards and three TDs.
Ridgway has lost four straight games, but the Elkers have played most of those games tight, including last week's 21-10 loss at Brockway. The Elkers lost 21-14 to unbeaten Elk County Catholic in Week 6, 28-13 at unbeaten Kane in Week 5 and 13-7 at Coudersport in Week 4.
Elkers quarterback Johnny Mitchell threw a TD pass to Dane Cappiello and Aaron Hinton kicked a 21-yard field goal to give the Elkers a 3-0 halftime lead. The Elkers have struggled offensively, averaging only 180 yards going into last week's game. James Winslow (231 yards), Neil MacDonald (212 yards) and Cappiello (199 yards) were the leading rushers prior to the loss to the Rovers.