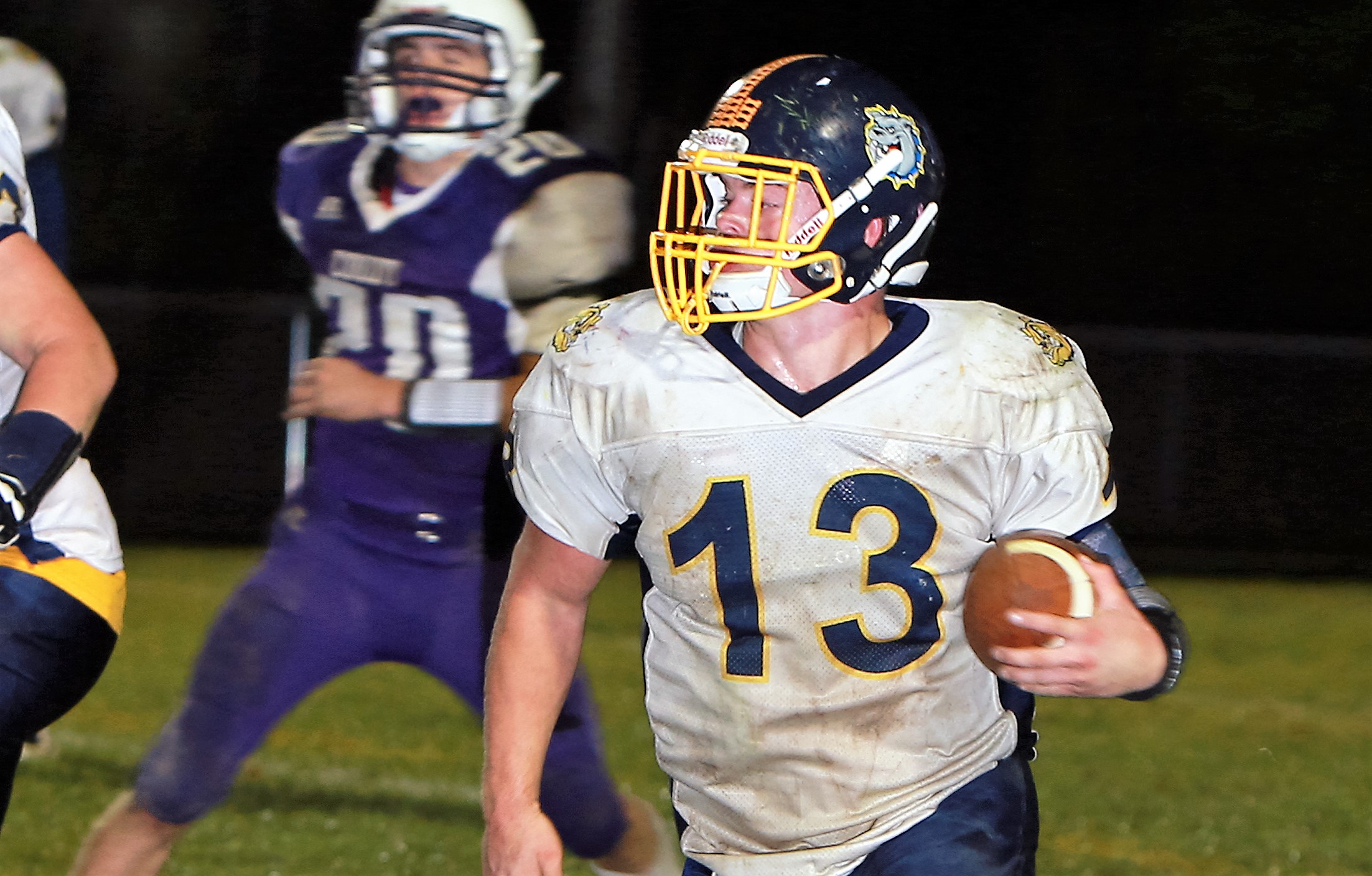 It's the final week of the regular season in District 9 football.
While the Allegheny Mountain League's annual championship game is part of the 10-game Friday night schedule with a touch of postseason flavor to it, it's just like some of the other games when it comes to determining postseason positioning, especially in Class A.
Otto-Eldred's Seth Drummond will help lead the Terrors into their first-ever AML Championship game appearance Friday night at home against Kane. (Photo by Paul Burdick)
Playoff schedules will be announced sometime this weekend after the conclusion of this weekend's games. Speaking of playoff scenarios:
CLASS 1A
We do know that:
— Ridgway will be the top seed with either Clarion-Limestone or Elk County Catholic manning the No. 2 and 3 spots. If the Lions beat Punxsutawney, they'll be the No. 2 with ECC dropping to No. 3.
— Coudersport, Curwensville and Otto-Eldred are playoff-bound for sure, and perhaps Redbank Valley regardless of what it does against Moniteau. The No. 8 spot is currently held by Smethport (3-6) with no team below the Hubbers with more than two wins, so the chances of seven- or even six-team bracket is certainly possible.
— The pairings are not cemented at all. If Otto-Eldred loses and Redbank Valley wins, the Terrors drop to No. 7 with Curwensville, Coudersport and Redbank Valley filling the 4-6 spots in some order that's going to involve results of more than one game this weekend.
CLASS 2A
We know for sure that it's going to be Kane, Brockway and Clarion in the top three spots in that order. The question is if there is a fourth team. Moniteau (3-5) and Brookville (2-6) have losing records. The Warriors have secured the fourth spot regardless if they beat Redbank Valley or not this week, but it's not certain if they'll head to the playoffs with a losing record.
CLASS 3A
It appears to be a two-team setup between Karns City and St. Marys, but who knows if there will be a third or fourth team to fill the bracket. Perhaps Perry (3-5) or Punxsutawney (2-6) get in with a win this week — the Chucks visit C-L while Perry finishes with 4-4 University Prep.
CLASS 4A
So when could Clearfield and DuBois play each other again? Remember, DuBois beat Clearfield 30-20 in Week 0 (Zero). Going into Friday, it's Clearfield (8-1, 1,030 points), Johnstown (8-1, 1,000 points), DuBois (6-3, 870) and Somerset (5-4, 590) making up the four positions in the District 5-6-9 playoff standings.
With the Bison playing Karns City, a win over the Gremlins at home clinches the top seed and a date with either Somerset or Bellefonte in the first round. A loss could drop them to the No. 2 spot depending on what happens with DuBois and Johnstown.
The Trojans are favored against 2A Cambria Heights, a 5-4 squad, so they could edge the Bison  if Clearfield loses to Karns City. DuBois could catch the Bison as well if everything falls perfect for the Beavers if they win and the Bison lose.
To sum up, if Johnstown wins and Clearfield loses, it's very likely we'll see a 2-3 semifinal round game between the Bison and Beavers.
With Somerset playing unbeaten Bishop Guilfoyle, Bellefonte could catch the Eagles for the fourth spot with a win over Bald Eagle Area and some help with bonus points if teams they have beaten win their games.
UPDATED D9 PASSING HONOR ROLL
Naturally, the list is changing with both Millers, Matt of DuBois and Hunter of Brockway piling up yards. Hunter Miller just got into the 3,400 club last week while Matt recently became the 10th D9 QB to reach 5,000 career yards. Player and senior season is listed in parenthesis. Bold players are active. (A few Kane additions recently added):
Player                                                Yards              TD
Matt Bodamer, Port Allegany (2012) 10,948          137
Derek Buganza, Brockway (2010)        9,752           95
Gabe French, DuBois (2014)                  7,940          87
Mike DeFilippi, Smethport (1999)       6,638           59
Chad Kroell, Clearfield (1994)              6,088           79
Jake Dougherty, Redbank Valley (2014) 5,845      62
Alec Shaffer-Doan, Brockway (2013)  5,552           66
Matt Miller, DuBois (2017)            5,345        49
Adam Black, Keystone (2001)              5,338           55
Tyler Armagost, Moniteau (2008)       5,278           52
Tom Pore, Keystone (1997)                   4,504           46
Kyle Armagost, Moniteau (2012)         4,484           46
Hayden Johnston, C-L (2004)             4,401            70
Dan Miller, C-L  (2009)                         4,250           28
Curtis Frye, Clearfield (2012)               4,477            44
Dan Reed, Keystone (2009)                 4,122             45
Jon Guth, Brookville (1993)                 4,033            29
Zach Anderson, Kane (2007)               3,922            34
Lane Cicciarelli, Union (2014)             3,918            39
Jim Kelly, East Brady (1977)                3,915            44
Tyler Smith, Kane (2002)                     3,764           33
Ben Marzullo, Brookville (1999)          3,710           32
Logan Weaver, Punxsutawney (2010)* 3,676        43
Boomer Wetzel, Coudersport (2007)  3,637           42
Andrew Janocko, Clearfield (2005)     3,615           28
Jeremy McCool, Keystone (1989)        3,484            31
Hunter Miller, Brockway (2016) 3,446         30
THE SCHEDULE
Here's a closer look at the final week of the regular season, with order reflecting ranking of importance to playoff races and quality of matchup, or if it's a conference title game. Aside from the AML final and St. Marys at Clarion KSAC Large matchup, the rest of the schedule is non-conference:
AML Championship
Kane (9-0) at Otto-Eldred (5-4)
The Wolves gun for their second straight and third conference title in four years as they face an Otto-Eldred team they beat back in Week 1, 42-7. In that one, the Wolves led 35-0 by halftime after scoring 28 points in the first quarter. The Wolves outgained the Terrors, 382-161.
Since then, the Wolves have cruised along, although their last two wins over Brockway (14-3) and Ridgway (28-23) have been testers for sure. The Wolves give up 6.5 points per game, fifth-lowest in the state defensively.
Offensively, the Wolves average a healthy 396 yards — 246 rush, 150 pass — per game. Quarterback Reed Williams (65-116, 1,350 yards, 16 TDs, 2 Ints.) takes the snaps and his top receivers are Ray Maze (21-535, 7 TDs) and Davis Gardner (27-413, 7 TDs). However, the workhorse of the offense is junior Erik DeLong (153-1,197, 15 TDs), who was limited to 83 yards on 28 carries in their last two grinding wins over Brockway and Ridgway.
The Terrors numbers are much more modest with their offense producing 234 yards — 139 rush, 95 pass — per game. Junior quarterback Sawyer Drummond (47-84, 607 yards, 7 TDs, 5 Ints.) and senior running back Seth Drummond (149-571, 6 TDs) account for over half of the team's offensive yards. Grant West (19-312, 3 TDs) is the top receiver.
While the Wolves are trying to win their sixth AML title in six tries — Smethport is the all-time leader with seven — it's Otto-Eldred's first trip to the AML final.
Kane has won its past eight games against Otto-Eldred dating back to the Terrors' 31-14 win back in 2004.
Karns City (8-1) at Clearfield (8-1)
Here's a compelling late-season non-conference matchup to pay attention to as the Gremlins travel to Clearfield County to take on the Bison. Both teams haven't lost since dropping their first games of the season, Clearfield to DuBois and Karns City to Armstrong.
The Bison have spun three shutouts in their past four games and surrendered just 10 points over their last five wins. Offensively, the Bison are fairly balanced with sophomore quarterback Isaac Rumery (65-for-127, 1,226 yards, 11 TDs, 8 Ints.) and running back Seth Caldwell (177-864, 11 TDs) leading the way. Caldwell joined former Bison greats Christian Lezzer and Dave Richards in the 4,000-yard career rushing club.
Karns City is a little banged up considering their leading rusher Chandler Turner (75-918, 12 TDs) was knocked out of last week's game against Moniteau with an injury. His status is uncertain. He leads a Gremlins running game averaging 262 yards per game. Kaiden Powers (34-483, 7 TDs), Cullen Williams (42-407, 9 TDs) and Eric Dodd (45-348, 4 TDs) will all get carries. Quarterback Jacob King (57-104, 883 yards, 9 TDs, 4 Ints.) leads the passing game. His top receiver in yardage is Turner (10-231) and Dodd (14-127) in receptions.
Similar to Clearfield, the Gremlins have been stingy defensively as well, allowing 29 points in the last six games with two shutouts.
DuBois (6-3) at Hollidaysburg (5-4)
The Beavers face the Tigers for the first time since beating them 24-14 in 2009.
As noted above, quarterback Matt Miller became the 10th D9 QB to get to 5,000 career yards and he's eighth overall with a chance to pass No. 7 Alec Shaffer-Doan on the all-time list. For the year in just six starts, Miller (109-174, 1,725, 17 TDs, 5 Ints.) has put up numbers most passers won't get to in a full season. His top receiver is Kyle Hopson (77-1,330, 16 TDs) while running back Brock Adams (134-915, 13 TDs) can reach 1,000 yards for the season.
The Beavers have won five of six games since starting the season 1-2 and notched a notable win on the road against state-ranked Newport last week. They'll try to keep the momentum going against a Tigers squad with three straight wins, including last week's 42-13 win over Central Mountain. They also beat Allderdice, the teams' lone common opponent, 33-6. The Beavers beat Allderdice, 29-13, the week before Hollidaysburg did.
Hollidaysburg runs the ball primarily as quarterback Jarrett Cavelet (47-104, 670 yards, 5 TDs, 2 Ints.; 76-230, 3 TDs rushing) is a two-way threat. Patrick Young (57-465, 5 TDs) and Cory Storm (76-240, 3 TDs) are the top rushers.
KSAC Large School: St. Marys (6-2) at Clarion (7-1)
Now that it's official again that the Bobcats are indeed in the KSAC Large for good, Friday's matchup at home against the Flying Dutchmen determines second place in the division.
The Bobcats bounced back from their only loss of the year to Karns City with a convincing 54-0 win over Union/ACV. Junior Colton Rapp turned in a season-high 220-yard effort and he's at 1,190 yards for the season with 12 TDs. Rapp (2,479) is primed to go over 2,500 career yards with a little over a season remaining.
Quarterback Spencer Miller (49-101, 914 yards, 15 TDs, 7 Ints.) can go over 1,000 yards. His top receivers are Ty Burford (19-485, 9 TDs) and Ryley McMaster (12-183, 1 TD).
The Dutch do their work mostly on the ground — they threw just one pass in last week's win over Brookville — with three backs over 400 yards, led by Matt Marconi (152-813, 5 TDs), Tim Beimel (68-418, 2 TDs) and Christian Steffan (62-308, 3 TDs).
Moniteau (3-5) at Redbank Valley (4-4)
The Bulldogs met in the preseason, so it's a rare second meeting under those circumstances as both teams may be playing for their postseason future.
Thanks to fullback Clint Thurston's 152-yard game last week, the Bulldogs now have three backs over 300 yards rushing, led by Colten Mohney (77-475, 3 TDs) and followed by Curtis Mohney (70-369, 4 TDs) and Thurston (43-312, 6 TDs). Quarterback Keaton Kahle (50-110, 628 yards, 5 TDs, 4 Ints.) completed 10 passes to Brock Barrett (20-235, 2 TDs) last week.
Moniteau quarterback Chance Nagy has thrown for 696 yards and rushed for 296 yards. Dalton Anderson has 22 catches for 450 yards along with 115 yards rushing.
Punxsutawney (2-6) at Clarion-Limestone (6-2)
The Lions try to take care of business and secure a No. 2 seed when they host the Chucks, who are 2-2 in their last four games after starting the season 0-4.
Lions senior running back Mike Macefe (177-1,191 yards, 15 TDs), quarterback Brendan Makray (77-156, 1,211 yards, 12 TDs, 11 Ints.) and receiver Riley Hummell (30-435, 4 TDs; 43-270, 3 TDs rushing) lead the way.
The Chucks are led by quarterback Dylan Ishman (62-120, 734 yards, 5 TDs, 7 Ints.), receivers Ethan Riley (32-371, 2 TDs) and Jacob Weaver (26-225, 3 TDs), and running back Tyler Richardson (81-337, 1 TD).
The Lions beat the Chucks, 47-26, last year for their first win against them since Punxsutawney joined the KSAC in 2008.
Ridgway (7-2) at Union/A-C Valley (2-6)
At Foxburg, the Elkers will try to sharpen things up for a playoff run as they take on a Falcon Knights team limping to the finish line with five straight losses after starting the season 2-1.
The Elkers just don't give up much at all defensively, allowing under 130 yards per game and just 7.7 points per game. That ranks ninth in the state with Kane tied for fifth at 6.5 points per game. Offensively, they're led by running back Neil MacDonald (115-751, 4 TDs) and quarterback Johnny Mitchell (28-62, 4 TDs, 7 Ints.; 88-425, 7 TDs rushing).
Union/ACV quarterback Lucas Bowser (68-156, 937 yards, 10 TDs, 14 Ints.) can reach 1,000 yards passing for the season. His top receiver is Gavin Hawk (31-442, 4 TDs).
Warren (1-8) at Bradford (3-6)
The Owls and Dragons continue their longstanding rivalry with a season-ender. The Dragons have won the last four meetings, including 55-28 last year. The Owls last won 21-6 at home in 2011.
Warren lost eight straight since beating Erie East in opener, including 36-0 to Oil City last week. The Dragons are giving up 39.3 points per game. They're without their injured sophomore quarterback Jake Kupchella, who threw for 875 yards in six games. Since he's been out, the team has completed 7 of 30 passes for 52 yards in the past two games.
The Owls can win four games in a season for the first time since 2012 when they also went 4-6. Quarterback Kyle Kirk (51-117, 1,025 yards, 11 TDs, 4 Ints.) is over 1,000 yards passing. The Owls' top rushers are Donny Pattison (71-582, 5 TDs) and John Eakin (59-498, 4 TDs).
Keystone (0-9) at Brookville (2-6)
The Raiders and Panthers finish out their seasons as the Raiders try to avoid three straight two-win seasons and the Panthers attempt to stop a 10-game losing streak.
Raiders quarterback Seth Ray (41-107, 932 yards, 7 TDs, 10 Ints.) could become the first Raider passer to reach 1,000 yards in a season since Steven Kennedy did it in back-to-back years in 2010-11. His top receivers are John Frank (19-348, 2 TDs) and Bryan Dworek (16-327, 2 TDs).
Keystone gives up the second-most points per game in the state at 52.7 points per game, only less than James Buchanan of District 3. The Panthers move the ball mostly through the air with quarterback Nate Wingard (83-171, 7 TDs, 10 Ints.) leading the way.
Sheffield (2-7) at Youngsville (1-8)
It's the 92nd meeting overall and the first time these Warren County rivals will play since 2012 when Sheffield won, 15-6.
The Wolverines have won two of their last three games and aside from a 41-0 loss to Smethport two weeks ago, they've been competitive during the AML-North portion of the schedule.
Youngsville, on the other hand, has lost eight straight since opening the season with a 19-14 win over Saegertown. Two of those losses were back-to-back forfeits due to lack of players in games against Farrell and West Middlesex. They lost 35-0 to Cambridge Springs last week.