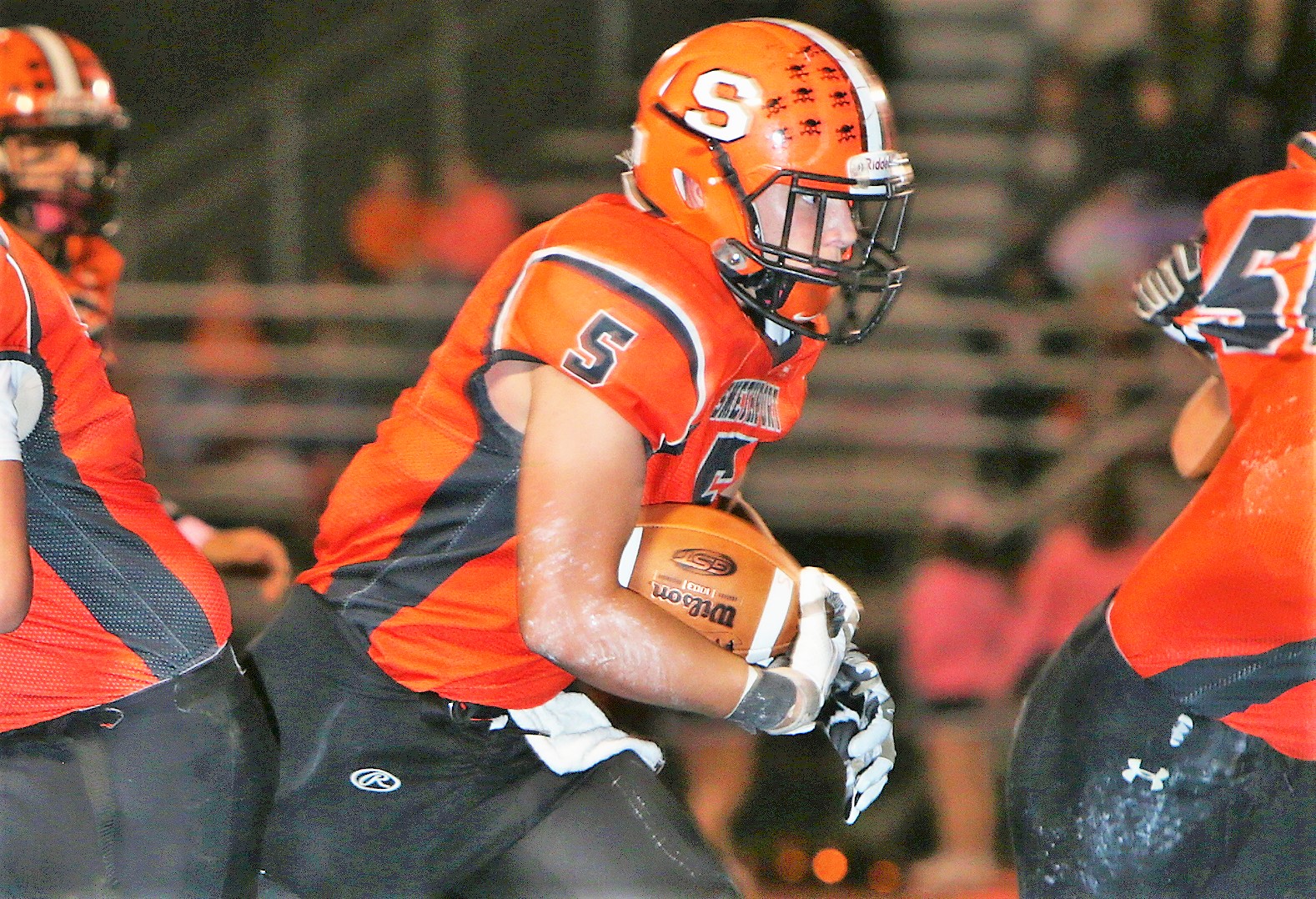 Week 5 football recaps.
(Photo of Smethport's Nathan Hollowell. Photo by Paul Burdick. Check out more of Burdick's work here)
CLARION-LIMESTONE 74, OTTO-ELDRED 34
DUKE CENTER, Pa. – Austin Newcomb scored five touchdowns and racked up 410 all-purpose yards in Clarion-Limestone's 74-34 win over Otto-Eldred Saturday night at O-E.
Newcomb ran for 265 yards on 23 carries and scored on runs of 8 and 9 yards in the first half and 14 and 8 yards in the second half while returning a kickoff 74 yards for a touchdown in the second quarter. He caught four passes for 56 yards and scored four two-point conversions while making 10 tackles on defense, adding an interception with a fumble recovery and fumble caused.
Ayden Wiles ran for 175 yards on 18 carries with four touchdowns, helping the Lions (5-1) rush for 477 yards against the Terrors. Quarterback Colby Himes completed 6 of 10 passes for 116 yards, throwing a 36-yard TD pass to Ian Callen.
The Lions (5-1) led 44-28 at halftime and Otto-Eldred (3-3) cut it to 44-34 on Cole Sebastian's 14-yard TD pass to Chase Sebastian to start the second half, but the Lions ripped off the final 30 points to put the game away. Wiles' 15-yard run with 6:57 left in the game set the Mercy Rule running clock into motion.
For Otto-Eldred, Cole Sebastian completed 27 of 38 passes for 262 yards and four touchdowns, connecting with eight receivers. Chase Sebastian caught seven passes for 57 yards with two TDs. Ethan Smith caught four passes for 33 yards with two TDs.
The 74 points were a school record for the Lions, who had previously set a school-best for points last season twice when they scored 64 points in wins over Saegertown and Keystone.
KEYSTONE 52, SHEFFIELD 0
SHEFFIELD, Pa. – Isaak Jones threw for four touchdowns, and Keenan Heeter, Jayden Blazosky and Nick Weaver both scored twice to lead visiting Keystone to a 52-0 win at winless Sheffield Saturday afternoon.
Jones was 9 of 14 passing for 178 yards and threw two touchdown passes to Heeter, who had three catches for 67 yards and one each to Jayden Blazosky (3 catches, 77 yards) and Brandan Kapp (1 catch, 34 yards). Blazosky, who rushed three times for 31 yards, also scored on the ground, while Weaver scored twice on the ground and ran 13 times for 86 yards.
Alex Rapp added a 10-yard interception return for a touchdown for Keystone (3-3), who forced six turnovers in the game including four interceptions. Also picking off passes were Blazosky, Gavin Hogue and Todd Brazier.
SMETHPORT 20, REDBANK VALLEY 7
SMETHPORT, Pa. – After a scoreless first half, Smethport scored the first 20 points of the second half to stay unbeaten with a 20-7 win over visiting Redbank Valley.
Nathan Hollowell scored twice for the Hubbers in the fourth quarter to give Smethport the 20-0 lead after Blake Kinner broke the ice with a 2-yard touchdown run 2:13 into the second half.
Hollowell then followed with a 3-yard run 21 seconds into the fourth quarter before breaking free for a 24-yard scoring run with 6:19 to play to all but seal the game.
The first Hollowell touchdown came a play after the Hubbers (6-0) elected to take points off the board. Noah Costa had kicked a 25-yard field goal, but Redbank Valley (4-2) roughed Costa on the play, and Smethport elected to take the ball at the 3-yard line instead of the field goal.
Hollowell talked about the win.
Redbank Valley's lone touchdown came with 3:28 to play when Keaton Kahle found Hunter Martz on a 3-yard pass.
Kinner ran 11 times for 117 yards and the touchdown to lead Smethport's ground game with Hollowell adding 19 carries for 74 yards and the two scores.
Kahle was 17 of 29 for 161 yards, the touchdown and an interception. Martz caught seven passes for 74 yards and the score. Hunter Wiles ran 11 times for 44 yards.
CLEARFIELD 49, BELLEFONTE 21
HYDE, Pa. – After losing twice to Bellefonte last year, unbeaten Clearfield scored 35 first-half points on its way to a 49-21 win over the previously unbeaten Red Raiders.
Isaac Rumery continued to pile up video-game like numbers accounting for six of the Bison's seven touchdowns.
He threw five touchdown passes, including three to Taye Lynch, and also ran for a score in the victory while finishing 10 of 13 passing for 266 yards and running four times for 18 yards.
Lynch had four catches for 163 yards and the three scores and also returned a kickoff 62 yards for a touchdown while running for 10 yards to give him 235 yards of total offense. Spencer Graham (3 catches, 27 yards) and Ryan Lezzer (2 catches, 22 yards) also caught touchdown passes.
Brett Zattoni chipped in 111 yards rushing and two touchdowns on 15 carries for Clearfield, which led 35-7 at halftime, while Caleb Freeland rushed 10 times for 70 yards.
Clearfield improved to 6-0 overall and 4-0 in the Mountain League with the victory while Bellefonte fell to 5-1 overall and 3-1 in league play.
CURWENSVILLE 14, COUDERSPORT 6
COUDERSPORT, Pa. – Visiting Curwensville used a strong special teams effort to knock off Coudersport, 14-6.
The Golden Tide (4-2) set up their first touchdown when a bad snap on Coudersport punt gave them the ball at the Falcons (4-2) 30-yard line. That led to a 15-yard Blake Passarelli run that put Curwensville ahead 7-0 at halftime.
Then Curwensville's Jake McCracken returned the second-half kickoff 89 yards for a touchdown, the second time in three weeks Coudersport had a kickoff returned for a touchdown against it.
A special teams play helped set up Coudersport's score in the fourth quarter, as Stephen Kelly returned a punt 45 yards to the Curwensville 15-yard line and then finished the work with a 7-yard run to make it 14-6.
Other than the special teams play, the game was dominated by defense with both teams finishing with exactly 114 yards of offense.
Passarelli paced Curwensville with 48 yards rushing on 14 carries with Cole Bressler adding 45 yards on 13 carries.
Kelly led all rushers with 63 yards on 24 totes for the Falcons (4-2).
BRADFORD 34, BROCKWAY 13
BRADFORD, Pa. – After producing just 19 points in back-to-back losses to Ridgway and Moniteau, Bradford's offense got back on track rolling up 391 yards and five touchdowns in a 34-13 win over visiting Brockway.
Donny Pattison and Jaron Ambrose both played key roles in the Owls (3-3 overall, 3-3 D9 League Large School) win.
Pattison scored three times on the ground with Ambrose adding two rushing touchdowns. Pattison ran 23 times for 191 yards and Ambrose added 137 yards on 13 carries.
A 54-yard run by Pattison and an 18-yard tote by Ambrose in the second quarter helped Bradford overcome a 10-7 deficit after one quarter to take a 21-10 halftime lead, and then the rest of the game's scoring game in the fourth quarter with Pattison scoring on a 2-yard run and Ambrose on a 59-yard scamper after Zane Puhala's second field goal of the game, this one from 34 yards out, had cut the Owls lead to 21-13 early in the fourth quarter.
Puhala also hit a 36-yard field goal in the first quarter to give Brockway, which trailed 7-0 early, the 10-7 lead.
The Rovers (4-2, 4-2), losers of two straight, had tied the game at seven on a 73-yard Peter Downer to Garrett McClintick touchdown pass after a 4-yard Pattison run had put Bradford out in front early.
Downer was 16 of 37 passing for 277 yards, a touchdown and an interception. McClintick had five catches for 125 yards and a touchdown, while Tyler Serafini ran 21 times for 120 yards.
CLARION 35, KANE 7
CLARION, Pa. – Archer Mills threw three touchdowns passes, including two to Sam Minich, and Logan Minich ran for 100 yards and a score to lead Clarion to a 35-7 win over visiting Kane in a rematch of the last two District 9 Class 2A title games.
Clarion (6-0 overall, 6-0 D9 League Large School) led 27-7 at halftime against a young, inexperienced Kane squad that fell to 1-5 overall and in league play.
Mills was 9 of 13 passing for 129 yards and the three scores with Sam Minich catching five passes for 97 yards and the two touchdowns and Logan Minich running 19 times for 104 yards and the score. Sam Minich also chipped in four carries for 13 yards, while Logan Minch added two catches for 21 yards.
Colton Zacherl (5 carries, 59 yards) also ran for a touchdown for Clarion with Ethan Burford (2 catches, 11 yards) catching a touchdown pass. Zacherl also had an interception on defense.
UNION/A-C VALLEY 34, PORT ALLEGANY 6
RIMERSBURG, Pa. – Luke Bowser threw for two touchdowns and ran for two touchdowns to lead Union/A-C Valley to a 34-6 win over visiting Port Allegany.
Listen to the game with Pat Kahle and Bob "The Governor" Dunkle on the call.
Bowser connected on scoring passes of 25 yards to Colton Hoffman and 16 yards to Nolan Cumberland while also scoring on runs of one and two yards. He finished the game 5 of 11 passing for 109 yards – he did throw an interception – and ran eight times for 19 yards.
Named the Hager Paving Player of the Game for Union/A-C Valley, Bowser talked about the important victory for the Falcon Knights (2-4).
Caden Rainey had a kickoff return for a touchdown for Union/ACV as well returning a first-quarter kickoff 69 yards to give the Falcon Knights a 7-6 lead moments after Port Allegany (0-6) had taken the first 6:20 off the clock to score on its opening drive thanks to a Josh Rees 11-yard run.
Union/A-C Valley head coach Brad Dittman talked about the importance of Rainey's return and the game in general.
Jonathan Powell led Union's rushing attack with eight carries for 40 yards with Cumberland chipping in seven carries for 28 yards and the one catch for 16 yards and the touchdown. Tanner Merwin had two catches for 64 yards.
Colby Best had a big game on defense for Union/ACV with 13 tackles, a sack and an interception. Joe Dehart and Brady Cullen each added 10 tackles with Layton Stewart chipping in seven tackles and a sack.
Rees led Port Allegany with 22 carries for a game-high 144 yard and the touchdown and was named the Gators Hager Paving Player of the game.
BROOKVILLE 35, MONITEAU 24
BROOKVILLE, Pa. — Robert Keth threw for 360 yards and five touchdowns to lead Brookville to another second-half come-from-behind 35-24 win over Moniteau on Homecoming.
Down 24-19 midway through the third quarter, Keth threw two touchdowns to put the Raiders (3-3) ahead for good. His first went for 72 yards to Cabe Park to put the Raiders up 27-24 with 5:33 left in the third quarter.
In the fourth, Keth hit Addison Singleton on an 8-yard pass. Singleton fumbled the ball, but Park scooped it up and went the remaining 21 yards to set the final score. Park caught five passes for 190 yards, scoring his other TD in the first quarter on a 17-yard pass from Keth.
Keth, who completed 13 of 26 passes, threw two TD passes to Ian Thrush in the second quarter covering 67 and 45 yards. Those were Thrush's catches that totaled 112 yards.
Nick Martino and Chance Nagy each ran for two touchdowns for the Warriors (3-3). Martino scored on a 7-yard run in the first quarter and 3-yard run to put the Warriors up 24-19 in the third quarter. Nagy scored on a 6-yard run in the second quarter and 1-yard run to start the second-half scoring.
Cody Wise led the Warriors with 88 yards on 14 carries. Martino ran for 67 yards on 17 carries. Nagy added 44 yards on 10 attempts.
ELK COUNTY CATHOLIC 65, CAMERON COUNTY 0
ST. MARYS, Pa. – Stephen Bobby ran for three short touchdowns and kicked a field goal, and Elk County Catholic returned a pair of punts and a kickoff for scores in a 65-0 rout of visiting Cameron County.
Bobby, who ran six times for 42 yards, scored on runs of 6, 10 and 5 yards and kicked a 28-yard field goal.
Meanwhile, the Crusaders (4-2) scored on a 48-yard punt return by Jon Wittman, a 53-yard punt return by Hunter Cashman and a 74-yard kickoff return by Sam Kaul.
Both Wittman and Kaul had two touchdowns each in the win with Wittman also scoring on a 33-yard run and Kaul on a 77-yard run, his only carry of the game.
Also scoring for ECC was Lane Dellaquila on a 21-yard run.
All but 14 of the Crusaders points came in the first half, and they outgained the Red Raiders (1-5) 266-83, including 249-2 on the ground.
Conner Nolan was 3 of 14 passing for 68 yards and two picks for Cameron County with Nick Peters catching three passes for 68 yards.
ECC had three picks in the game, one each from Nick Crisp, Alex Breindel and Kaul.
KARNS CITY 53, ST. MARYS 14
KARNS CITY, Pa. – Anthony Kamenski threw a pair of touchdown passes and ran for a third score to help Karns City break a rare three-game losing streak with a 53-14 win over visiting St. Marys.
Devin Ryan added a pair of touchdowns, on his only two touches, for the Gremlins (2-4), one of the ground (13 yards) and one through the air (57 yards), as Karns City grabbed a 26-0 halftime lead.
Kamenski finished 3 of 12 passing for 106 yards and threw scoring passes of 20 yards to Erik Pfeifer and the 57-yarder to Ryan. He also ran for a 14-yard touchdown early in the fourth quarter and carried the ball four times for 29 yards.
Hunter Jones had a big night on the ground for Karns City rushing 19 times for 139 yards and a touchdown (on a 10-yard run) with Mitchell Kelsea adding a 2-yard run (he finished with 41 yards rushing on eight carries), Gage Cowoski a 4-yard run (he had five carries for 30 yards) and Dalton Pyle a 10-yard run (he had four carries for 44 yards).
Cody Ritter had a couple of long touchdown catches from Todd Taylor hauling in passes of 79 and 63 yards.
Ritter caught two passes for 142 yards with Taylor going 10 of 19 for 194 yards and the two scores.
ROYAL IMPERIAL COLLEGIATE (CANADA) 21, DUBOIS 14
DUBOIS, Pa. – Royal Imperial Collegiate (Canada) scored 21 unanswered points to top DuBois, 21-14.
The Beavers grabbed a 14-0 lead on a pick-six by Dalton Woodrow and an Alex Kovalyk 1-yard quarterback sneak.
But the visitors from north of the border were able to tie the game at 14 just before halftime when they scored twice in the final minute of the half thanks to a pick-six of their own and a DuBois fumble that led to a short touchdown run. RIC then scored on the first drive of the second half to take the lead.
RIDGWAY 42, PUNXSUTAWNEY 16
RIDGWAY, Pa. – Paul Gresco tossed three touchdown passes to lead Ridgway to a 42-16 win over visiting Punxsutawney.
Gresco was 9 of 12 passing for 107 yards while also throwing an interception. He hit Austin Green with a 50-yard score, Jake Wickett with a 7-yard toss and Issac Schloder with a 9-yard toss.
Gabe Watts also got into the touchdown-throwing act finding Matt Dush with a 17-yard strike in the third quarter for the unbeaten Elkers (6-0 overall, 6-0 D9 League Large).
Evan Furlong also had a 100-yard on the ground for Ridgway with 12 carries for 118 yards, including a pair of touchdowns (two yards and 17 yards)
Dylan Ishman was 6 of 15 passing for 49 yards, a touchdown and an interception for Punxsutawney with Carter Newcome catching the score while grabbing four passes for 42 yards. Conner Giavedoni ran for 69 yards and a touchdown as well for the Chucks.