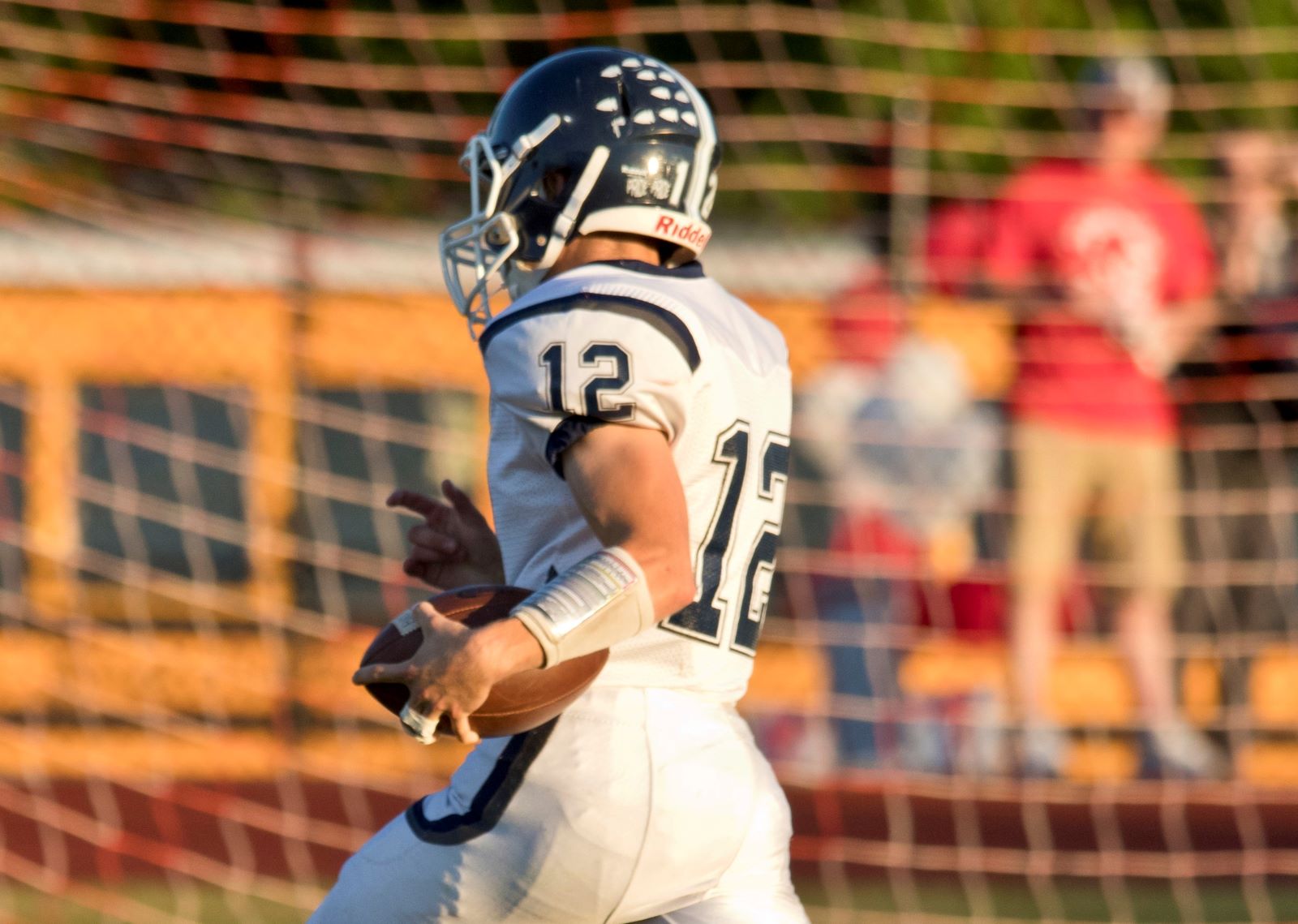 Week Four recaps. Update through games Friday, Sept. 20.
(Photo: Logan Thrush had a big game for Brookville in its double-overtime win over Karns City. Photo by Kyle Yates www.facebook.com/YatesPhoto)
SHEFFIELD 31, CAMERON COUNTY 20
SHEFFIELD, Pa. – Aujamier Slappy-Washington threw three touchdown passes and ran for a third to help Sheffield end its 23-game losing streak with a 31-20 win over visiting Cameron County.
The Wolverines (1-4) last won at the end of the 2016 season when it beats Youngsville. Cameron County (0-4) has now lost eight in a row since beating Sheffield last season.
Slappy-Washington threw two touchdown passes to Caden Smead (50 and 67 yards) and one to Mirhan Price (51 yards) and ran for a 26-yard score, while Smead scored three times as he returned an interception 70 yards for a score.
Throwing for 348 yards, Slappy-Washington was 16 of 22 while also throwing an interception and picking off a pass on defense.
Smead caught five passes for 200 yards and two touchdowns while Price had two catches for 58 yards.
Dylan Baney scored three rushing touchdowns for Cameron County, which scored twice in the final 4:39 to make the final score look closer than it was.
Baney ran 15 times for 158 yards and was also 1-for-3 passing for nine yards.
BROOKVILLE 42, KARNS CITY 41, 2 OVERTIME
KARNS CITY, Pa. – Ian Thrush stopped Hunter Rowe just shy of the goal line on a two-point conversion pass in the second overtime to help Brookville hang on to beat Karns City, 42-41, at Karns City.
With Brookville (4-1) leading 42-35 in the second overtime following a 15-yard Robert Keth to Thrush touchdown pass, Anthony Kamenski got Karns City (3-2) within a point on a 7-yard scoring run. The Gremlins then elected to go for the win despite Owen Collwell being 5-for-5 on extra points in the game.
The Gremlins then ran a bootleg with Kamenski to the right and the senior quarterback threw back to the left where it appeared Rowe was wide open and had a chance to score before Thrush somehow, someway caught him from behind just before the goal line.
Thrush started the play as if he was going to blitz from the left but then dropped into coverage in the middle of the field before taking off on a sprint toward Rowe when the ball went in the air. Showing the speed that helped him win both the 100-meter and 200-meter dashes at the 2019 District 9 Class 2A track and field championships in meet-record time, the senior tracked Rowe and stopped him just before he got the end zone.
Watch Thrush save the game.
It was the Raiders first regular-season win in Karns City since 1972 and their first win at Karns City for Brookville since the 1998 playoffs, which also occurred in overtime.
It was fitting Thrush made the game-save tackle, as the wide receiver on offense was a big reason Brookville won the game. He caught 12 passes for 294 yards and five touchdowns including both of the Raiders overtime scores.
His 15-yard catch on a throw from Robert Keth in the second overtime after Brookville was called for delay of game on third-and-goal gave Brookville a 42-35 lead.
The game went to overtime tied at 28 after Brookville scored on a 2-yard Keth run with just 23 seconds to play in regulation ending a 60-yard drive for the Raiders with the big play being a third-and-10 pass from Keth to Thrush for 45 yards to the Karns City 15-yard line. Then on fourth-and-10 at the 15, Keth throws a screen pass to Cole Labenne who got to the 1-yard line. On the next play, Labenne was dropped for a yard loss before Keth scored on the next play. Donavan Hoffman's extra point tied the game after a nice hold by Kyle MacBeth.
Karns City had taken a 28-21 lead on a 5-yard Luke Garing run with just 1:53 to play. Garing ran 15 times for 108 yards and three touchdowns.
Brookville won the toss in overtime and elected to play defense, but Kamenski scored on a 1-yard run on fourth-and-goal to give the Gremlins a 35-28 lead.
The Raiders answered right back on its first play of the first overtime when Keth hit Thrush with a 10-yard scoring pass. Hoffman again nailed the critical extra point.
The game was a back-and-forth affair throughout with Brookville taking a 14-7 halftime lead only to watch Karns City scored the first two touchdowns of the second half to go ahead 21-14.
A 74-yard Keth to Thrush touchdown pass tied the game at 21 late in the third quarter.
Keth, making his first start of the season in place of the injured Jack Krug (ankle), was 19 of 28 passing for 345 yards and the five touchdowns. He added the rushing touchdown.
Brookville couldn't run the ball rushing 14 times for negative 15 yards.
Karns City, on the other hand, ran 64 times for 349 yards led by 27 carried for 155 yards by Kamenski, who scored twice in the overtime sessions. Rowe added 17 carries for 52 yards and a score.
The Gremlins ran 70 plays in the game to Brookville's 42 but only outgained the Raiders 368 to 330.
KEYSTONE 14, CURWENSVILLE 7
CURWENSVILLE, Pa. – Isaak Jones scored on a 5-yard run with 4:02 to play to cap an 11-play, 97-yard drive that gave visiting Keystone a 14-7 win over Curwensville.
Relisten to the game:
Trailing by one, 7-6, and backed up at their own 3-yard line following a 43-yard punt that rolled out of bounds by Jake Mullins, the Panthers went on a drive for the ages led by their senior quarterback Jones.
Watch Jones' touchdown run.
Jones was 2-for-4 on the drive for 33 yards and added two runs for 17 yards including the scramble out of the shotgun for the game-winning score. His biggest pass of the drive was a 17-yard hitch to Alex Rapp when Keystone was facing a third-and-7 from its own 6 early in the drive.
The other big play in the drive was a 32-yard run by Nick Weaver to the Curwensville 7-yard line. Two plays later, on third down, Jones scored and then tossed a 2-point conversion pass to Rapp to make it a 7-point lead.
Caleb Nellis then recovered a fumbled snap by Curwensville quarterback Dan McGarry at the Tide 46-yard line to seal the victory.
Jones and Nellis talked about the win.
Keystone, which is off to its best start since going 5-0 in 1989, scored first on a 10-yard run by Jones but missed the two-point conversion early in the second quarter.
Curwensville (1-4) then took a 7-6 lead into halftime on a 58-yard run by Jake McCracken a play after Keystone jumped offside on a fourth-down play that gave the Tide new life. Mullins nailed the PAT to give Curwensville the advantage.
The Golden Tide defense then came up with two big plays in the fourth quarter.
First, they stopped Keystone on three plays from inside the 10-yard line early in the quarter forcing the Panthers to try a 21-yard field goal that was wide left.
Then, after the Panthers defense forced a punt and took over at the Curwensville 45-yard line, Andrew Freyer picked off a wide receiver pass by Jayden Blazosky that ended up flipping the field after the great punt by Mullins.
Jones was 7 of 15 for 94 yards and two interceptions while rushing seven times for 24 yards and the two scores.
Weaver ran 15 times for 92 yards, while Tylar Altman ran 10 times for 61 yards. Blazosky had three catches for 59 yards and ran once for eight yards.
McCracken, thanks to the big scoring run, ran three times for a team-best 63 yards. McGarry ran nine times for 26 yards and was 3-for-12 passing for 46 yards with McCracken catching one pass for 44 yards.
Keystone head coach Ryan Smith talked about the win.
Curwensville recaps brought to you by Lezzer Lumber. 
OIL CITY 55, DUBOIS 54
DUBOIS, Pa. – Unbeaten Oil City stopped a DuBois 2-point conversion attempt with five seconds left to secure a 55-54 win over the upset-minded but winless Beavers.
DuBois (0-5) scored on a 23-yard Alex Kovalyak to Dale Knot with Knot outwrestling Dakota Cole in the end zone for the score.
The Beavers then went for the win and tried a trick play with Zach Shilala taking a direct snap in motion from his wide receiver spot. But a host of Oilers defenders met him to preserve the win.
It was a game that saw only two defensive stops, one by each team, and Oil City rally from a 36-35 deficit heading to the fourth quarter before nearly blowing a 13 points lead it gained in the first two minutes of the fourth quarter.
The Oilers took the lead for good on the first play of the fourth quarter when Cam Russell scored on a 38-yard run. Holden Stahl then added a 24-yard scoring run following a failed fake punt by the Beavers to make ti 49-36 with 10:05 left in the game.
But DuBois answered with back-to-back touchdowns as Michael Eisman scored on a 2-yard run with 6:50 to play to get the Beavers within seven 49-42.
Brandon Bennett then scooped up a Noah Petro fumble and went 58 yards for a score to make it 49-48 with 4:36 to play. But the conversion failed.
Russell, the Cranberry student playing as part of a co-op between Cranberry and Oil City, then scored on a 49-yard run with 1:59 left to make it a seven-point game, 55-48 before DuBois final drive gave the Beavers a shot at the win.
Russell was one of three Oilers backs over 100 yards on the day with eight carries for 123 yards and the two touchdowns. Petro led Oil City, who ran for 493 yards, with 26 carries for 206 yards and a touchdown while Brayden Crocker ran for 100 yards and a touchdown on 11 totes. Stahl, the quarterback, added two touchdown runs and carried the ball 10 times for 64 yards.
DuBois struck through the air with Kovalyak going 23 of 33 for 297 yards and two scores while also rushing for a pair of scores and picking up 30 yards on eight carries.
Chase Husted caught eight passes for 118 yards with Shilala adding eight catches for 70 yards and a touchdown and Kot three for 44 and the score.
Eisman scored twice on the ground for the Beavers and ran nine times for 14 yards while Aiden Castro also scored a rushing touchdown.
DuBois recaps brought to you by Lezzer Lumber. 
SMETHPORT 36, OTTO-ELDRED 22
DUKE CENTER, Pa. – Bryent Johnson scored twice on returns to lead unbeaten Smethport to a 36-22 road win over Otto-Eldred.
Johnson returned a Cole Sebastian interception 33 yards for a touchdown and later took a kickoff back 70 yards for a score for the Hubbers (4-0).
Noah Lent added a touchdown run and a touchdown pass for Smethport and carried the ball 26 times for a game-high 174 yards while going 2-for-6 passing for 11 yards including a 10-yard scoring toss to Ryli Burritt.
Sebastian threw a pair of touchdowns to go with two interceptions and was 16 of 38 passing for 164 yards. He tossed touchdown passes to Colton Geitler (30 yards) and Cameron Magee (7 yards) and also ran for a 23-yard score. He carried the ball six times for 84 yards with TJ VanScotter adding 13 carries for 61 yards for the Terrors (1-4).
CLARION 49, ST. MARYS 14
STRATTANVILLE, Pa. – In a game that was called with just under 8:44 to play due to an injury that required a St. Marys' player to be life-flighted from Clarion-Limestone, Clarion beat the visiting Dutch 49-14.
St. Marys' Connor Straub was injured on a kickoff by the Dutch following a 33-yard Christian Coudriet to Logan Mosier touchdown pass with 8:44 left.
With no ambulance on site, the game was delayed a considerable amount of time as Straub was attended too, and eventually, the schools decided with the Mercy Rule running that it was in the best interest to end the game at that point. Straub was eventually taken to an unknown hospital by helicopter. There is no word on his condition.
Prior to the injury, it was a game that was dominated by offenses with Clarion (5-0) outgaining St. Marys (3-2) 496 yards to 355 including 296 to 67 on the ground.
Ethan Burford caught three touchdown passes from Cal German, who threw four total touchdowns, and Austin Newcomb added a rushing touchdown and returned an interception 95 yards for a score to lead the Bobcats.
Burford caught four passes for 90 yards including touchdown catches of 35, 34 and 4 yards all in the first half to help Clarion to a 42-7 halftime lead.
Newcomb ran 16 times for 164 yards including a 5-yard scoring run while catching three passes for 89 yards and picking off two passes on defense, and German was 9 of 13 passing for 200 yards and the four scores while also throwing an interception. He also tossed a 7-yard scoring pass to Hunter Craddock. German added an interception on defense as well.
Cutter Boggess added seven carries for 73 yards for Clarion with Colton Zacherl gaining 67 yards on eight totes.
Coudriet was 13 of 28 passing for 288 yards and two touchdowns while also throwing three interceptions. He also hit Michael Fitzgerald with a 58-yard scoring pass in the first quarter that gave the Dutch a brief 7-6 lead.
Fitzgerald caught four passes for 110 yards while Terry Williams added two grabs for 49 yards and Jacon Kine two for 70.
Jacob Kline ran 13 times for 122 yards but sacks and other negative rushes kept St. Marys to just a total of 67 yards on the ground.
UNION/A-C VALLEY 36, ELK COUNTY CATHOLIC 7
ST. MARYS, Pa. – After spotting Elk County Catholic a 7-0 lead after one quarter, Union/A-C Valley rolled off 36 unanswered points on its way to a 36-7 win over Elk County Catholic at St. Marys High School.
Luke Bowser threw a pair of touchdown passes for the Falcon Knights (4-1) with Kylar Culbertson and Caden Rainey each scoring twice – once on the ground and once through the air each.
Bowser was 5-for-11 for 126 yards, two touchdowns and two interceptions.
He threw a 56-yards touchdown pass to Rainey (2 catches, 66 yards; 4 carries, 43 yards) and an 11-yard pass to Culbertson (1 catch, 11 yards; 4 carries, 64 yards), while Culbertson scored on a 5-yard run and Rainey on a 25-yard run.
Tanner Merwin (2 carries, 33 yards) also scored on a 4-yard run for Union/A-C Valley, while Tony Thompson chipped in eight carries for 50 yards.
John Wittman caught an 18-yard touchdown pass from Mason McAllister for ECC's lone score.
McAllister was 8 of 18 passing for 93 yards with the touchdown and an interception for the Crusaders (2-3) with Leo Gregory catching three passes for 45 yards and Wittman two for 25 and the score.
Sam Kaul had a nice game on the ground for ECC rushing 21 times for 145 yards but was kept out of the end zone.
Colton Hoffman had 15 tackles for Union/A-C Valley, which has won four in a row, with Culbertson adding eight stops, Rainey seven and Eli Penny nine.
REDBANK VALLEY 41, IROQUOIS 6
ERIE, Pa. – Using a strong running game, visiting Redbank Valley beat Iroquois, 41-6.
The Bulldogs (5-0) ran for 337 yards on just 30 carries and amassed 419 total yards of offense led by Ray Shreckengost running eight times for 130 yards and a touchdown.
Gunner Mangiantini added five carries for 63 yards and two touchdowns with Kobe Bonanno adding eight carries for 53 yards and a score.
Tate Minich and Joseph Mansfield also scored on the ground for Redbank Valley, while Mangiantini was also 7 of 13 passing for 82 yards including two completions to Javin Brentzel for 30 yards and two to Dalton Bish for 33 yards.
Anthonio Rodriquez had eight carries for 74 yards and a touchdown for Iroquois (0-5).
COUDERSPORT 55, PORT ALLEGANY 0
COUDERSPORT, Pa. – Hayden Keck returned a pair of interceptions for touchdowns, scored twice on the ground and threw two touchdown passes to pace a 55-0 Coudersport win over visiting Port Allegany.
Keck was 4 of 5 passing for 117 yards and the two scores while also rushing seven times for 49 yards with touchdown runs of eight and 24 yards. He also picked off one pass from Drew Evens returning it for a score and another from Trey Ayers returning it for a score.
The touchdown passes went to John Miner (38 yards) and Travis Gleason (66 yards), while Gleason also scored on a 20-yard run and Dylan Kelly on a 7-yard scamper.
Gleason ran 12 times for 83 yards and the touchdown and caught the one pass for 66 yards and the score for the unbeaten Falcons (4-0)
Coudersport's defense limited Port Allegany (1-4) to 68 yards of total offense led by Blaine Moses 32 yards rushing on nine carries.
CLEARFIELD 42, CENTRAL MOUNTAIN 20
MILL HALL, Pa. – Brett Zattoni and Oliver Billotte combined to account for six touchdowns, as visiting Clearfield stayed unbeaten with a 42-20 win over winless Central Mountain.
Zattoni ran 21 times for 163 yards and two scores, while Bollottee ran 11 times for 55 yards and three touchdowns and was 12 of 17 passing for 154 yards including a 33-yard touchdown pass to Ian Billottee.
Jake Lezzer led the Bison (5-0) receivers with six catches for 62 yards. Zattoni added a catch for 17 yards.
Clearfield led 28-14 at halftime and then outscored Central Mountain (0-5) 14-0 in the third quarter to pull away.
Clearfield recaps brought to you by Lezzer Lumber. 
MONITEAU 28, BRADFORD 0
BRADFORD, Pa. – Mason Mershimer scored twice on the ground to help Moniteau to its first victory of the season, 28-0 at Bradford.
Mershimer scored on runs of 20 and 1 yard and ran 12 times for 60 yards for the 1-4 Warriors.
J.D. Dessicino had a big game for Moniteau on the ground carrying the ball 23 times for 155 yards including the game-opening 14-yard scoring run.
Nick Martino also added a 5-yard touchdown run for Moniteau.
Bradford (0-5) continued to struggle on offense gaining just 13 total yards including 12 on the ground despite changing quarterbacks with Doug Hannon, a senior, replacing Cody Nuzzo at the QB with Nuzzo moving to wide receiver. Hannon was 5 of 20 for 1 yard and two interceptions. Derek Sunafrank led the Owls with nine carries for 12 yards.
KANE 35, PUNXSUTAWNEY 0
PUNXSUTAWNEY, Pa. – Despite not scoring until midway through the second quarter, visiting Kane stayed unbeaten with a 35-0 win at Punxsutawney.
With the game tied at zero midway through the second, Jake Alcorn picked off a pass and returned it 95 yards for the game's first touchdown.
Zuke Smith then added a 1-yard quarterback sneak to put the Wolves ahead 14-0 with just over a minute left in the half before Alcorn made it 21-0 at halftime when he returned a punt 65 yards for a score with just 19 seconds left in the half.
Alcorn's' third touchdown of the game, a 4-yard rushing score, made it 28-0 before he scored for the fourth time on a 75-yard run late in the third quarter to set the final score. He ran 11 times for 138 yards.
Smith was 10 of 16 passing for 106 yards and an interception and ran for 29 yards and the touchdown on seven carries.
The Kane defense, which has recorded back-to-back shutouts while helping the Wolves to a 5-0 start, came away with five turnovers against the winless Chucks (0-5).
Max London had two catches for 72 yards for Punxsutawney while adding 96 yards rushing on 20 carries. Also for the Chucks, Kam Falgout ran nine times for 64 yards and threw for four yards but three picks before leaving the game in the first half with an injury.
RIDGWAY 42, BROCKWAY 7
RIDGWAY, Pa. – Jake Wickett scored twice and set up two other scores with long returns to lift Ridgway to a 42-7 win over winless Brockway.
Wickett caught a 69-yard touchdown pass from Paul Gresco and also returned a punt 58 yards for a score while using a punt return of 39 yards and a kickoff return of 62 yards to set up two additional scores for the Elkers (4-1).
Gresco, who was 4-for-5 for 134 yards and two touchdowns, also threw a 14-yard touchdown pass to Austin Green with Tyler Watts scoring a 20-yard run. Gabe Watts on a 6-yard run and Josh Sorg on a 1-yard run for Ridgway.
Down 42-0, Brockway (0-5) scored late when Jon Wood hit Connor Ford with a 7-yard scoring pass.