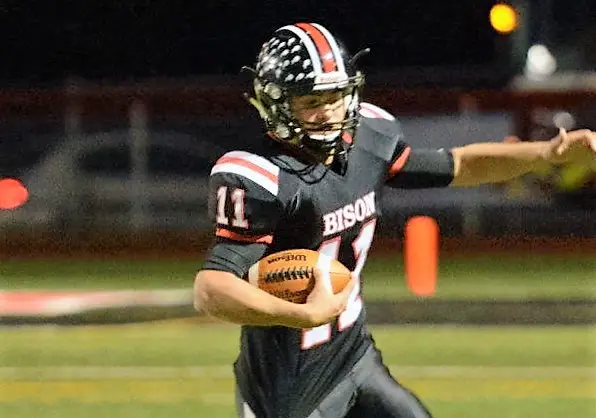 Week Nine football roundup. Includes all games.
(Cover photo of Isaac Rumery of Clearfield. Photo by Logan Cramer III)
CLEARFIELD 35, KARNS CITY 28
HYDE, Pa. – In a regular-season ending battle of two of the top three teams in the Allegheny Grille of Foxburg D9Sports.com rankings, No. 3 Clearfield got a 22-yard touchdown run from Seth Caldwell with 4:04 to play earn a 35-28 come-from-behind victory over No. 2 Karns City.
The Bison (9-1), winners of nine straight, trailed twice in the contest by 14 points, including 28-14, with 3 ½ minutes left in the third quarter.
But Isaac Rumery, who was 15 of 24 on the night for 283 yards with three touchdowns and an interception, threw two touchdowns passes to Micah Heichel in a span of 1:29 to tie the game at 28.
His 3-yard toss to Heichel with four seconds left in the third quarter got Clearfield within a touchdown, and his 33-yard toss to Heichel, who had eight catches for 114 yards, 1:25 into the fourth quarter tied the game at 28.
It marked the second time the Bison rallied from 14 down to forge a tie.
Karn City (8-2), which saw its eight-game win streak come to an end, came out hitting on all cylinders in the first quarter and grabbed a 14-0 lead at the end of the quarter thanks to a 24-yard Cullen Williams to Jimmy Thompson touchdown pass and a 27-yard Jared King to Kaiden Powers scoring toss.
But Caldwell, who ran 17 times for 69 yards and caught one pass for six yards, hauled in his lone reception of the night early in the second quarter to cut the deficit in half. Caldwell then tied the game at 14 on a 2-yard scoring run 39 seconds before halftime.
Karns City, though, got its mojo back in the third quarter turning a Clearfield turnover into a 3-yard Eric Dodd touchdown run before Powers scored on a 7-yard scamper to put the Gremlins ahead 28-14.
Clearfield outgained Karns City 382-357 but the Bison were held to 99 yards on the ground.
Karns City was more balanced with 190 yards rushing and 157 passing.
Williams led the Gremlins with 14 carries for 80 yards and going 1-for-1 passing for 24 yards with the touchdown. He also had an interception. Powers had two catches for 67 yards and the score and ran eight times for 33 yards and the touchdown. King was 7 of 11 passing for 133 yards and the score.
Ryan Lezzer also went over 100 yards receiving for Clearfield with four catches for 107 yards.
Both teams will be top seeds in the playoffs. Clearfield will be the No. 1 seed in the D5-6-9 4A bracket, while Karns City will be the top team in the D8-9 3A tournament.
KANE 37, OTTO-ELDRED 26, AML TITLE GAME
DUKE CENTER, Pa. – Upset-minded Otto-Eldred gave heavily-favored Kane all it could handle before the Wolves pulled away late for a 37-26 win in the AML Title Game in Duke Center.
The Wolves, who beat Otto 42-7 back in early September, found themselves in a much-closer-than-expected ball game leading by just five after a riverboat gamble by Otto head coach Nick LaBella paid off.
Down 24-6, Otto closed the gap to 12 when Sawyer Drummond hit Dylan Close from 27 yards out. LaBella then called for an on-side kick, and the Terrors recovered it. Drummond then found Close again, this time from nine yards, to make it 24-19.
But a pair of Erik DeLong touchdown runs, one from four yards and one from 38 yards, put the game away.
DeLong, playing with a heavy heart after the passing of his grandmother earlier in the week, had a monster game with 254 yards and two touchdowns on 33 carries. He accounted for all but 15 of Kane's rushing yards on the night.
Reed Williams also had a nice night going 10 of 15 for 181 yards passing with two touchdowns and two interceptions. Ray Maze had four catches for 113 yards and a touchdown, and DeLong added two grabs for 10 yards and a score.
Sawyer Drummond had a huge night for Otto going 21 of 30 for 232 yards, four touchdowns and an interception. Close had 13 catches for 171 yards and three touchdowns. Grant West added four grabs for 87 yards and a touchdown.
It's the second straight AML Title for Kane and its sixth overall. The Wolves are 10-0 on the year, while Otto fell to 5-5.
Kane will be the top seed in the D9 2A playoffs, while Otto will most likely be the seventh seed in the D9 1A playoffs, the first postseason trip for the Terrors.
HOLLIDAYSBURG 35, DUBOIS 21
HOLLIDAYSBURG, Pa. – DuBois' Kyle Hopson set District 9 single-season records for receiving yards and catches, but the visiting Beavers couldn't keep up with Hollidaysburg falling to the Golden Tigers, 35-21.
Hopson had 15 catches for 216 yards and a touchdown according to the Altoona Mirror. That gives junior unofficially 92 catches for 1,546 yards and 17 touchdowns on the season. That break the previous single-season yards receiving mark of 1,482 set by Port Allegany's Nick Conway in 2012 and the previous D9 single-season catch mark of 88 set by Brockway's Mike Vervoort in 2009. The single-season touchdown record was set in 2012 by Conway with 24.
Despite the monster game by Hopson, which was facilitated by a monster game from junior quarterback Matt Miller (31 of 56 passing, 362 yards, 2 TDs, 1 INT), DuBois (6-4) couldn't overcome a streak of 35 straight points from Hollidaysburg (6-4) after the Beavers took a 7-0 lead.
Following a 1-yard Brock Adams run that gave DuBois a 7-0 lead, Hollidaysburg scored the next 35 points, 21 in the third quarter, to take a 35-7 lead late in the third quarter.
Jarrett Cavalet led the Golden Tigers surge rushing for a pair of touchdowns and throwing a pair of scores. Cavalet was 8 of 14 for 137 yards passing and ran for 145 yards on 19 carries.
DuBois tried to rally with a 10-yard Matt Miller to Dylan McCluskey scoring pass late in the third quarter, but the Beavers only managed one more score – a Miller to Hopson 4-yard pass with 1:20 to play – the rest of the way.
Adams added 58 yards rushing on 18 carries for DuBois while adding four catches for 27 yards.
For Hopson, it's his fourth 200-yard receiving game of the year and his third in a row. In those three games, he has 39 catches for 640 yards and seven touchdowns.
REDBANK VALLEY 24, MONITEAU 17
NEW BETHLEHEM, Pa. — Meeting their own qualification standards for the postseason, the Redbank Valley Bulldogs notched a 24-17 win over visiting Moniteau Friday night.
The Bulldogs (5-4) needed to win to finish over .500, thus accepting what was already a top-eight District 9 1A playoff berth. After trailing 14-7 late in the first quarter, the Bulldogs scored 17 unanswered points and went up 24-14 by the 8:14 mark of the third quarter.
Clint Thurston ran for 66 yards on 14 carries, tying the game at 14-all with a 4-yard run with 20 seconds left in the first quarter and booting a 30-yard field goal in the second quarter. Brock Barrett grabbed a flip-pass from quarterback Keaton Kahle and went 85 yards for the game's first touchdown. He finished with five catches for 123 yards. Kahle completed 8 of 15 passes for 135 yards.
Colten Mohney ran for 54 yards on eight carries, and his 10-yard TD run in the third put the Bulldogs up 24-14.
Dillin Anderson returned an interception 13 yards for Moniteau's first touchdown in the first quarter with Chance Nagy's 64-yard TD pass to Dalton Anderson putting the Warriors up 14-7 less than three minutes later. They didn't score again until Steven Fawcett's 33-yard field goal with 4:35 remaining.
Moniteau was limited to 30 yards rushing on 31 attempts. Quarterbacks Chance Nagy and Hunter Fitzingo combined to complete 10 of 24 passes for 141 yards with two interceptions.
BROOKVILLE 49, KEYSTONE 22
BROOKVILLE, Pa. — Scoring the game's final 28 points, the Brookville Raiders finished their season with a 49-22 win over Keystone Friday night.
Nate Wingard's 37-yard touchdown pass to Tanner Wilson and a two-point pass to Austin Ion gave the winless Panthers (0-10) a 22-21 lead with 3:20 left in the third quarter, but the Raiders scored four unanswered touchdowns to pull away with the win, improving to 3-6.
A pair of Brandon McGranor TD runs of 1 and 51 yards, Seth Ray's 30-yard TD pass to John Frank and Ray's 30-yard run made up the Raiders' scoring stretch. McGranor ran for 149 yards on 15 carries and three scores, his first starting the game's scoring on a 65-yarder in the first quarter.
Ray completed 13 of 16 passes for 198 yards with two TD passes, his other scoring strike going 35 yards to Nick Keth in the first quarter. Bryan Dworek caught six passes for 91 yards, Frank had six receptions for 72 yards to go along with a 5-yard TD that put the Raiders up 21-0 at the end of the first quarter.
Wilson got the Panthers on the board with a 23-yard interception return and then
Wingard threw two TD passes to Ion covering 16 yards and then the 37-yarder to Wilson. Wingard completed 18 of 34 passes for 210 yards with Wilson making nine catches for 111 yards. Ion had six receptions for 73 yards.
The game was plagued by 237 yards of penalties, 120 from the Raiders and 117 from the Panthers.
CLARION-LIMESTONE 59, PUNXSUTAWNEY 28
STRATTANVILLE — Mike Macefe's big night propelled the Clarion-Limestone Lions to a 59-28 win over visiting Punxsutawney, securing the No. 2 spot for the District 9 1A playoffs. The Lions finished the regular season at 7-2, their most wins since going 9-2 in 2005.
Macefe scored five touchdowns, running for 228 yards on 27 carries with TD runs of 5, 3, 3 and 86 yards while catching four passes for 39 yards with a 33-yard TD pass from Brendan Makray, who completed 20 of 29 passes for 334 yards and three touchdowns. His other scoring strikes went to Dan Callen for 16 yards and Sam Leadbetter for 7 yards. Leadbetter caught six passes for 101 yards as the Lions amassed 649 yards of offense.
Punxsutawney (2-7) led 14-0 less than seven minutes into the game thanks to Ethan Riley's 73-yard run and Stone Smith's 67-yard run. But the Lions outscored the Chucks 53-8 from the end of the first quarter through the first minute of the fourth quarter.
Smith ran for 132 yards on just five carries, adding a 55-yard TD run in the fourth quarter, while Riley finished with 94 yards on 12 attempts.
BRADFORD 56, WARREN 22
BRADFORD, Pa. – John Eakin scored six touchdowns to lead Bradford to a season-ending 56-22 win over visiting Warren.
Eakin ran 11 times for 195 and five touchdowns and added an 81-yard touchdown catch.
Donnie Pattison chipped in three carries for 56 yards and a score, and Mitch Vleminckx had four carries for 22 yards and a score. Kyle Kirk was 3 of 8 for 126 yards and a touchdown.
Eakin scored on first-quarter runs of 6, 46 and 72 yards and on second-quarter scampers of 22 and 9 yards while catching the long touchdown pass in the third quarter.
Bradford finished the year 4-6.
CLARION 40, ST. MARYS 7
CLARION, Pa. – Four Clarion touchdowns in the span of 5:50 seconds in the first quarter helped the Bobcats roll to a 40-7 win over visiting St. Marys.
Spencer Miller threw a pair of first-quarter touchdown passes and ran for a third helping the Bobcats (8-1 overall, 4-1 KSAC Large School Division) to a 27-0 lead at the end of the quarter.
His 14-yard pass to Ty Burford, who caught three scoring passes on the night, started the scoring at the 8:50 mark, and he followed with a 12-yard run 50 seconds later making it 12-0. Miller then hit Michael McCloskey with an 11-yard pass with 4:49 to play in the quarter before Colton Rapp broke off an 82-yard touchdown run at the three-minute mark to make it 27-0.
Miller, who was 7 of 9 passing for 126 yards and four touchdowns while rushing twice for 14 yards and the score , then added a pair of second-quarter scoring passes to Burford first hitting the tall senior from 31 yards out and then from 17 yards out to make it 40-0 at halftime.
A 6-yard Pat Schlimm scoring run in the fourth quarter accounted for St. Marys' lone score.
Clarion outgained the Dutch 370-95 including holding the visitors to negative 17 yards rushing.
Burford had three catches for 64 yards and three touchdowns with Rapp rushing 14 times for 146 yards and the score.
Schlimm was 7 of 15 for 112 yards passing while adding the rushing touchdown. Parker Smith had three catches for 78 yards for the Dutch (6-4, 3-2).
Both teams move into the postseason. Clarion will be the third seed in the D9 2A bracket with St. Marys the second seed in the D8-9 3A tournament.
SHEFFIELD 54, YOUNGSVILLE 14
YOUNGSVILLE, Pa. – Three different offensive lineman scored rushing touchdowns for Sheffield, and Darnell Manson added three scoring runs to lead the visiting Wolverines to a 54-14 win at Youngsville.
Leading 28-14 going to the fourth quarter, Sheffield (3-7) turned to its offensive lineman to break the game open getting touchdown runs from Cameron Retterer (2 yards), Mason Albaugh (3 yards) and Lemont Andrews (20 yards).
Manson, who scored on first-quarter runs of 3 and 15 yards, added a 5-yard scoring scamper in the fourth quarter as well helping the Wolverines to a 26-0 advantage in the quarter.
Manson finished with seven carries for 51 yards, while Kevin Evans led Sheffield with 11 carries for 103 yards and a touchdown scoring on a 28-yard run in the third quarter.
Matt Dunham also scored on the ground for the Wolverines.
Gavin Horner threw a pair of touchdown passes for Youngsville hitting Wyatt Rugar with a 41-yard strike less than two minutes into the game to give the Eagles their lone lead of the contest and then throwing an 18-yard scoring pass to Jordan Keyes.
Horner was 6 of 18 on the night for 116 yards and two touchdowns but was also picked off three times. Rugar had three grabs for 59 yards and the touchdown with Keyes catching three for 57 yards and the score.
Frank Wagner had four catches for 76 yards for Sheffield with Cale Albaugh going 4 of 8 for 76 yards with an interception.
RIDGWAY 35, UNION/A-C VALLEY 14
FOXBURG, Pa. – Andy Breier caught two touchdowns passes, Neil MacDonald scored twice and Johnny Mitchell threw a pair of touchdown passes and ran for a score to help Ridgway claim the top seed in the District 9 1A playoffs with a 35-14 win over Union/A-C Valley at A-C Valley.
Breier caught scoring passes of 51 and 19 yards from Mitchell, who also scored on a 1-yard run for the Elkers (8-2), who will most likely get a bye in the opening round of the postseason.
MacDonald scored on a 70-yard punt return and a 40-yard run.
Kody Wolfe caught a 23-yard touchdown pass from Lucas Bowser, while Lane Chalmers added a late 69-yard scoring run for the Falcon Knights (2-7), who lost six straight to end the season.
Mitchell finished 4-for-9 passing for 96 yards and the two scores. Breier had two catches for 70 yards and the two scores, while MacDonald ran 17 times for 114 yards and the touchdown.
Bowser was 11 of 34 for 120 yards and a touchdown. Gavin Hawk had six catches for 70 yards with Wolfe adding four catches for 50 yards. Chalmers ran 16 times for 98 yards and the score.