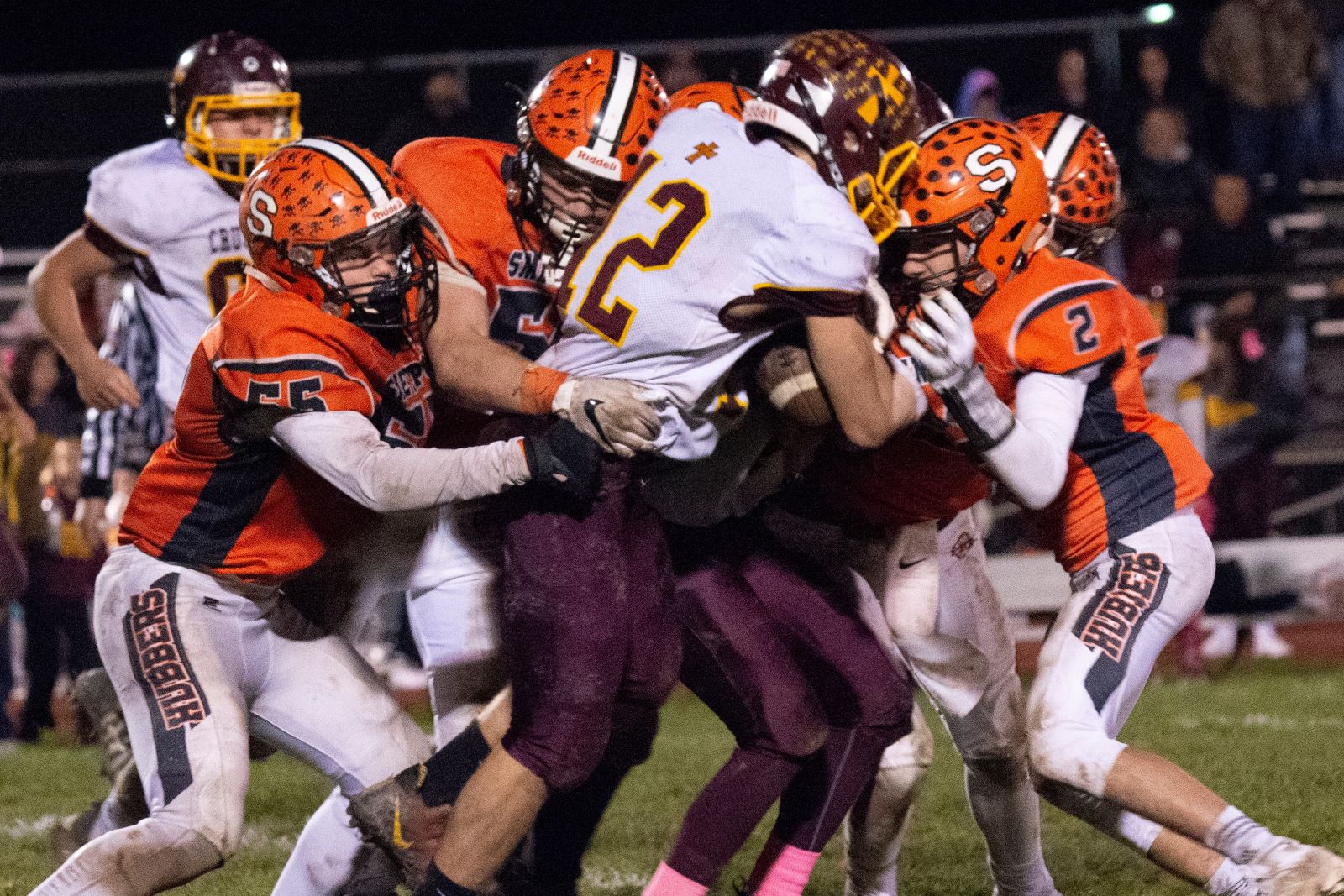 Oct. 25 football recaps.
(Photo: ECC's Sam Kaul tries to power his way through a host of Smethport defenders. Photo by Barb Davis. For more of Davis' work, click here.)
ELK COUNTY CATHOLIC 18, SMETHPORT 0
SMETHPORT, Pa. – Sam Kaul broke the 1,000-yard rushing mark while scoring two touchdowns to lead Elk County Catholic to an 18-0 win at Smethport.
The victory secures the No. 4 seed in the District 9 Class 1A playoffs for the Crusaders (5-4), who will get a rematch at home next week with Smethport (5-4), who fell to the No. 5 seed.
Kaul ran 25 times for 169 yards scoring on runs of 73 and four yards and now has 1,048 yards on the year despite not being the feature back to start the season.
Stephen Bobby also kicked a 34-yard field goal for ECC.
Smethport was held to 180 yards of total offense with Noah Lent accounting for 142 of those yards.
Lent was 6 of 17 passing for 85 yards and ran 14 times for 57 yards.
Braedon Johnson had three catches for 42 yards for the Hubbers.
BROOKVILLE 35, DUBOIS 25
BROOKVILLE, Pa. – Brookville overcame an early 13-0 deficit and a 25-20 deficit at halftime to beat visiting DuBois, 35-25.
Robert Keth scored three times for the Raiders (8-2) scoring on runs of 9 and 4 yards and on a 17-yard pass from Jack Krug.
The pass from Krug with 8:20 remaining gave Brookville the lead for good at 28-25.
Keth ran threes for 14 yards and caught two passes for 26 yards.
Krug, who put the game away with an 88-yard touchdown run with four minutes left, was 21 of 38 passing 202 yards and the touchdown while also rushing for 104 yards on 11 carries thanks to the big run.
Elliott Park also recovered a fumble in the end zone for Brookville, which clinched the No. 3 seed in the District 9 Class 2A playoffs and will host Kane next week.
Ian Thrush caught eight passes for 73 yards with Kyle MacBeth catching six passes for 65 yards.
Freshman Cam-Ron Hayes threw three touchdown passes for DuBois including two to Zach Shilala (22 and 10 yards) and one to Ruben Estrada.
Hayes was 15 of 30 passing for 220 yards with an interception while rushing 12 times for 27 yards.
Shilala caught three passes for 31 yards with Chase Husted catching five passes for 48 yards and Nick Dilullo had two grabs for 44 yards.
Aidan Castro also scored on a 15-yard run for the Beavers (0-10), who went winless for the first time since 2002 and have lost 11 in a row dating back to last season.
Castro ran 13 times for 51 yards.
Editor's note: At the conclusion of the regular season, DuBois' 71-20 loss to Erie High was forfeited to the Beavers meaning DuBois technically finished the season 1-9 and did not have its first winless season since 2002
KEYSTONE 45, MONITEAU 10
KNOX, Pa. – Scoring an unanswered 38 points, Keystone wrapped up its best regular season in 30 years with a 45-10 win over visiting Moniteau.
The Panthers trailed 10-7 following a 27-yard field by Ethan McDeavitt with 52 seconds left in the first half.
But Keystone scored on a 36-yard Isaak Jones to Alex Rapp touchdown pass 27 seconds to take a 14-10 halftime and then outscored the Warriors 31-0 in the second half.
The go-ahead score was set up by a good kickoff return to about midfield by Logan Sell (42 yards).
Jones was 11 of 19 passing for 185 yards, three touchdowns and two interceptions while also rushing four times for 22 yards.
Jayden Blazosky caught eight passes for 120 yards and a touchdown for Keystone with Rapp grabbing three balls for 59 yards and two scores.
On the ground, Nick Weaver ran 12 times for 187 yards and three touchdowns with Taylar Altman adding seven carries for 80 yards. Altman also had an interception, a sack and eight tackles, while Zander McHenry picked off a pair of passes giving him six interceptions on the season.
Nick Cosper finished off the scoring for Keystone with a school-record 37-yard field with 31 seconds to play. The previous school mark was 32 yards in 1997 by Andy Pore. Cosper was also 6-for-6 on extra points.
Kirk Wolbert led Keystone's defense with 12 tackles.
Chaz McGuire had a pick-6 for Moniteau (3-7), while JD Dessicino ran 16 times for 52 yards and Mason Mershimer had three catches for 40 yards and ran four times for 8 yards.
Keystone will have a home playoff game in Class 2A next week when it hosts Karns City.
CLARION 62, JAMES BUCHANAN 0
CLARION, Pa. – Outgaining visiting James Buchanan out of District 3 491 yards to 173, Clarion rolled to a 62-0 victory.
The Bobcats (9-1) got three touchdown runs from Austin Newcomb, three touchdown passes from Cal German, a pair of touchdown catches from Ethan Burford and a touchdown catch and four sacks from Hunter Craddock.
Craddock's four sacks were part of 11 by Clarion on Rockets quarterback Sebastian Wise, a big reason James Buchanan was held to negative 69 yards rushing including -61 on 13 carries by Wise. Craddock also blew up a quarterback draw play by Wise for a big loss in the contest as well.
Newcomb, meanwhile, touched the ball on offense just four times scoring on his final three carries while gaining 106 yards on the four totes.
German was 10 of 14 passing for 188 yards and three touchdowns giving him 25 tying the school record set by John Katis in 2013 in 15 games.
Burford was the recipient of three of those passes for 64 yards and the two scores extending his school record to 15 receiving touchdowns on the year and giving the junior 21 in his career tying him with Cody Hearst (2011-2013) for the school's all-time career lead.
Craddock had three catches for 47 yards and a touchdown, while Breckin Rex ran six times for 75 yards and a score. Tyler Schmander and Cooper Shall also scored on the ground for Clarion.
Wise did have some success through the air going 22 of 31 passing for 242 yards with two interceptions. Caden Stoner had eight catches for 81 yards for the Rockets with Grant Ellis catching six balls for 77 yards.
KARNS CITY 35, TITUSVILLE 13
KARNS CITY, Pa. – Scoring 35 first-half points, Karns City rolled to a 35-13 win over visiting Titusville.
Hunter Rowe scored three times on the ground for the Gremlins (7-3). Rowe ran eight times for 139 yards.
Anthony Kamenski added a touchdown run and a touchdown pass in the win. He was 2 of 6 passing for 50 yards while also rushing nine times for 94 yards. He scored on a 12-yard run and threw a 47-yard touchdown pass to Kaden Scherer.
Laird Stover and Brock Covell caught touchdown passes in the fourth quarter for Titusville.
Stover grabbed a 41-yard scoring pass from Garrett Knapp with Covell scoring on a 24-yard pass from Kolin Baker.
Knapp was 11 of 26 for 148 yards with Stover catching two passes for 67 yards. Covell had three catches for 52 yards.
RIDGWAY 50, UNION/A-C VALLEY 12
RIMERSBURG, Pa. – Austin Green and Matt Dush each scored twice to help visiting Ridgway roll to a 50-12 win over Union/A-C Valley in Rimersburg.
The victory locked up the No. 1 seed in the upcoming District 9 Class 2A playoffs for the defending champion Elkers (9-1), who led 44-6 at halftime.
Dush ran eight times for 60 yards scoring on runs of four yards and one yard, while Green caught four passes for 116 yards including scores of 40 and 34 yards. Dush also had two catches for 34 yards.
Paul Gresco threw both of the touchdowns to Green and was 8 of 9 passing for 158 yards while also kicking a 27-yard field goal.
Jake Wickett chipped in 60 yards and a touchdown on eight carries for Ridgway with Gabe Watts adding four carries for 42 yards and a touchdown and Camron Marciniak rushing six times for six yards and a score.
Kyler Culbertson hauled in a 50-yard touchdown pass from Luke Bowser and Caden Rainey returned a punt 55 yards for a touchdown for Union/A-C Valley (7-3).
Bowser was 11 of 26 for 162 yards and the touchdown but also threw four interceptions, including two to Damon Kelley. Wickett also had an interception.
Culbertson caught two passes for 63 yards and the score with Rainey catching four passes for 61 yards.
COUDERSPORT 44, CAMERON COUNTY 0
EMPORIUM, Pa. – Hayden Keck and Thomas Wilson each scored twice to help Coudersport finish the regular season unbeaten with a 44-0 win at Cameron County.
The Falcons (9-0 overall, 5-0 D9 League North) will be the No. 1 seed in the District 9 Class 1A playoffs and get a bye into the semifinals in two weeks where they will face the winner of the Smethport vs. Elk County Catholic game.
Keck scored on a 1-yard run and also returned an interception for a touchdown with Wilson scoring on runs of two and 51 yards.
Finishing 4 of 8 passing for 131 yards, Keck also ran 11 times for 16 yards with Wilson rushing seven times for 70 yards.
Travis Gleason added a 30-yard scoring run for Coudersport and ran for a game-high 148 yards on 16 touches, while Brandt Kighlinger chipped in a 16-yard touchdown run and ran twice for 18 yards.
Dylan Reider led Cameron County (0-9, 0-5) with 37 yards rushing but the Red Raiders were held to 51 yards of total offense and turned the ball over six times – three fumbles, three interceptions – while losing their 13th straight game.
REDBANK VALLEY 54, PUNXSUTAWNEY 14
PUNXSUTAWNEY, Pa. – Freshman Cam Wagner threw three touchdown passes, including a pair to Sam Hetrick, as Redbank Valley ended a two-game losing streak with a 54-14 win at Punxsutawney.
Wagner was 14-for-26 for 191 yards and threw touchdowns passes of 9 and 51 yards to Hetrick while also hitting Javin Brentzel with a 5-yard touchdown pass.
Ray Shreckengost also scored three times on the ground and ran 12 times for 107 yards. He found pay dirt on runs of 42, 6 and nine yards.
Hudson Martz (6 yards) and Justin Ferringer (6 yards) also scored on the ground for the Bulldogs (8-2). Martz ran eight times for 82 yards with Ferringer adding three carries for 30 yards.
Max London caught a 47-yard touchdown pass from Peyton Hetrick while Kameron Falgout ran for a 27-yard touchdown for the Chucks (0-10), who have lost 16 in a row.
ST. MARYS 62, FRANKLIN 28
ST. MARYS, Pa. – Cain Pfoutz ran for 265 yards and four touchdowns on 24 carries, as St. Marys rolled to a 62-28 win over visiting Franklin.
Pfoutz scored on runs of 14, 5, 41 and 10 yards and was also going 5 of 6 on extra points for the Dutch (6-4). He added two catches for 36 yards.
Christian Coudriet added a touchdown run and three touchdown passes as well for St. Marys going 15 of 24 passing for 218 yards with an interception and he ran nine times for 70 yards including a 1-yard score.
Touchdown passes went to Terry Williams (30 yards), Michael Fitzgerlad (10 yards) and Bryce Walker (19 yards).
Williams had one catch for 30 yards, Fitzgerald six for 60 and Walker four for 43 yards.
James Davis added a 23-yard touchdown run for St. Marys and ran five times for 68 yards as the Dutch ran 41 times for 400 yards as a team.
Ian Haynes closed out his career for Franklin (2-8) by going 20 of 35 for 353 yards and three scores and a pick. He unofficially finishes the season 179 of 298 for 2,565 yards, 24 touchdowns and 11 interceptions and his career with 9,471 yards and 95 touchdowns.
Dalton Buckley had eight catches for 171 yards with a 65-yard scoring catch. He finished the season with 80 catches for 1,345 yards and 14 touchdowns.
Cade Adams also hauled in a 45-yard scoring pass and had five catches for 112 yards, while Michael Long brought in a 6-yard touchdown catch as well on his only reception of the night.
Eli Stewart chipped in a 6-yard scoring run for Franklin and ran 15 times for 44 yards.
The teams combined for 1,076 total yards offense led by St. Marys' 642 yards, including 386 on the ground.
CLEARFIELD 51, BISHOP CARROLL 14
EBENSBURG, Pa. – Brett Zattoni ran for three touchdowns and Oliver Billotte threw for three touchdowns to lead Clearfield to a 51-14 win at Bishop Carroll in Mountain League play.
Zattoni ran 11 times for 132 yards while Billotte was 4 of 6 for 134 yards.
Billotte's threw touchdown passes to Matt Pallo, who had two catches for 82 yards and one to Nick Domico, who caught one pass for 40 yards.
Mark McGonigal added eight carries for 52 yards and a score for Clearfield (8-2 overall, 6-2 Mountain League).
COWANESQUE VALLEY 56, OTTO-ELDRED 54
DUKE CENTER, Pa. – Cowanesque Valley stopped Otto-Eldred's Cameron Magee at the half-yard line with under 30 seconds to play to lift the Indians to a 56-54 win.
Seth Huyler threw four touchdown passes and ran for two others for Cowanesque Valley.
Huyler was 10 of 25 passing for 168 yards while also throwing two interceptions. He added 15 rushes for 94 yards and two scores.
Kole Hurler caught four passes for 54 yards and three scores with Owen Fitzwater catching four for 74 yards and a touchdown and also returning a kickoff for a touchdown.
Cody Fleming added six carries for 54 yards and a touchdown.
Cole Sebastian threw two touchdowns and ran for three for Otto-Eldred (3-7).
Sebastian was 19-for-34 passing for 295 yards while rushing 12 times for 133 yards.
Magee added 10 carries for 10 yards and caught eight passes for 136 yards and two touchdowns.
Ethan Smith added six catches for 83 yards, while Colton Gietler added eight rushes for 24 yards and a touchdown.
BROCKWAY 35, CURWENSVILLE 14
BROCKWAY, Pa. – Jon Wood exploded for 330 total offensive yards including a pair of touchdown passes and two scores on the ground to lead Brockway to a 35-14 victory over Curwensville.
Wood went 13-of-19 for 172 yards, two touchdown passes and an interception while carrying the ball 23 times for 159 yards and two scores.
Conner Ford capped off a six-play 55-yard drive to start the game with a 1-yard touchdown run to put the Rovers up 7-0.
Ford finished the game with 13 carries for 76 yards while adding four receptions for 49 yards. Ben Glasl was the leading Rovers receiver with six catches for 79 yards.
A missed 41-yard field goal attempt by Curwensville set up Brockway's second score of the game with Wood finding Ford wide open in the end zone for a 20-yard touchdown reception.
Curwensville answered by driving down to the Brockway seven-yard line after a 36-yard reception from Jake McCracken. However, a bad snap that flew past McGarry gave the ball back to the Rovers at their own 30-yard line.
Brockway went 70 yards on nine plays to extend their lead to 21-0 after an 18-yard touchdown catch from Braidon Smith.
Smith also added two interceptions on defense for the Rovers.
Zach Holland got the Tide on the board before halftime with a 52-yard touchdown run.
Wood scored the final two Rovers touchdowns with a 7-yard run and a 51-yard run.
Duane Brady added a 5-yard touchdown run with a minute left in the fourth and led the Tide offensively with 17 carries for 113 yards. McGarry went 8-of-14 for 72 yards and two interceptions while Zach Holland rushed for 67 yards and a score on five carries.