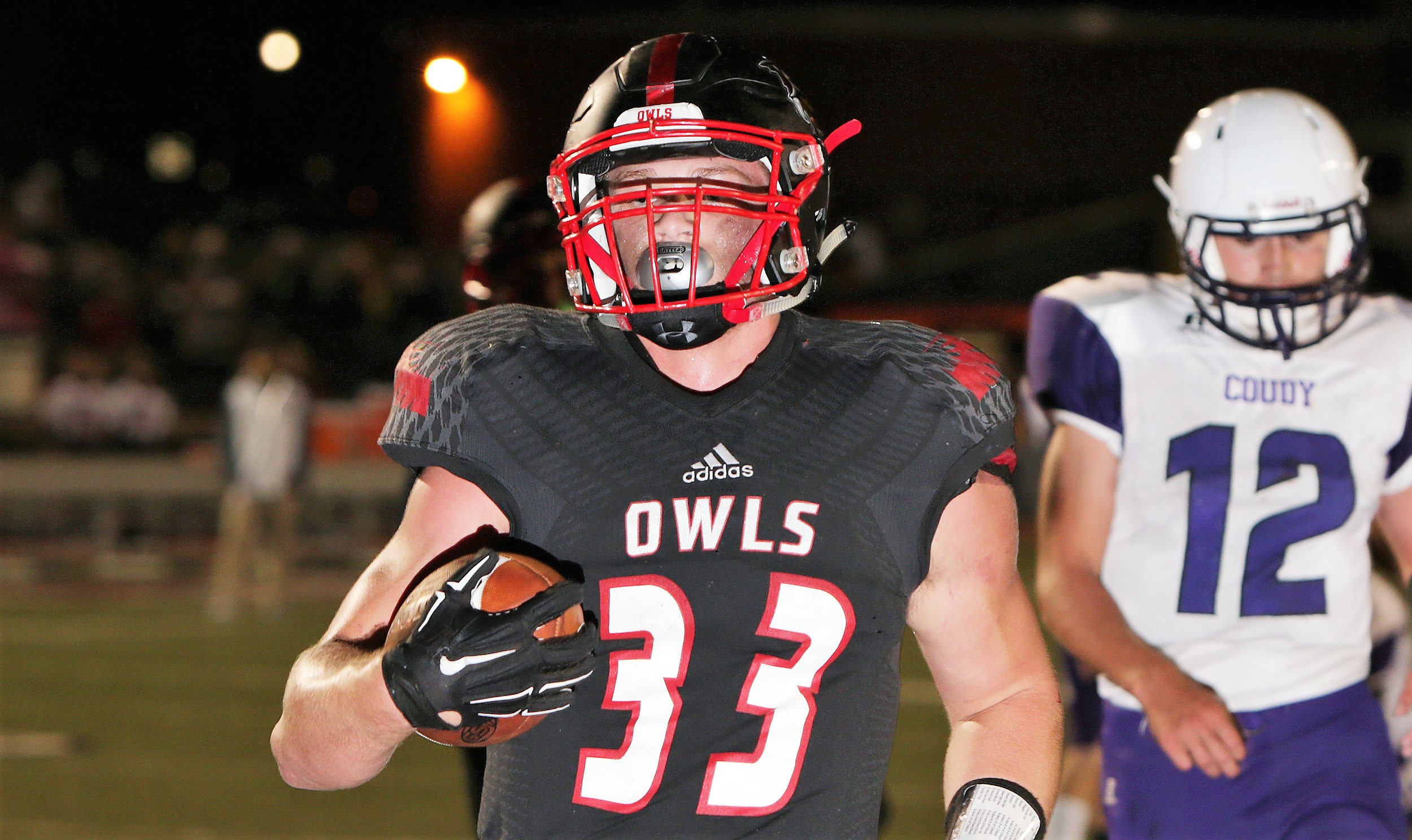 Sept. 1-2 District 9 football recaps.
BROCKWAY 37, SHEFFIELD 13
SHEFFIELD, Pa. – Tyler Serafini scored two first-half rushing touchdowns to help visiting Brockway overcome an early deficit to beat Sheffield, 37-13.
The Rovers fell behind 7-0 a minute into the game when Cale Albaugh connected with Kevin Evans from 44 yards out.
But Sefafini, who ran 19 times for 63 yards, scored the game's next two touchdowns, and Brockway never trailed after that.
Jon Wood added 165 yards on 12 carries including a scoring-capping 67-yard run with five minutes to play, while Peter Downer and Dylan Lecates also scored on the ground for the Rovers and Zane Puhala kicked a 33-yard field goal.
Lecates chipped in four carries for 45 yards and five catches for 79 with Downer going 10 of 21 for 152 yards and two interceptions
Evans added a second touchdown catch from Albaugh, this one from 12 yards out, in the third quarter for Sheffield. Evans had five catches for 115 yards and ran 21 times for 150 yards. Evans was also 1-for-1 passing for 33 yards.
Albaugh was 6 of 26 for 121 yards, two touchdowns and three interceptions. Wood had one of the picks.
ELK COUNTY CATHOLIC 27, CAMERON COUNTY 6
ST. MARYS, Pa. – Alec Bittler ran 21 times for 183 yards and three touchdowns to lift Elk County Catholic to a 27-6 win over visiting Cameron County Saturday night.
Bittler scored the game's lone first-half touchdown on a 28-yard run early in the first quarter to give the Crusaders a 6-0 lead.
The contest remained 6-0 until a Bittler 1-yard run midway through the third quarter made it 14-0.
Cameron County cut the lead to 14-6 nine second into the fourth quarter when Adam Steich scored on an 8-yard run, but Bittler answered with a 44-yard jaunt four minutes later to make it 20-6.
Tyler Dilley put the finishing touches on the win with a 1-yard run with just over two minutes left.
Dilley was also over 100 yards on the ground rushing 16 times for 112 and going 3 of 9 passing for 19 yards.
Steich rushed for 35 yards on eight carries and was 13 of 28 passing for 168 yards but was intercepted twice.
Jared Whiting carried the ball 21 times for a team-high 94 yards for the Red Raiders while also catching two passes for 23 yards. Caden Beldin had three catches for 48 yards with Eric Morton adding three grabs for 42 yards.
BROOKVILLE 40, KARNS CITY 28
BROOKVILLE, Pa. – Freshman quarterback Jack Krug passed for 253 yards and four touchdowns while senior running back Brandon McGranor ran for 204 yards and two scores to lead Brookville to a 40-28 win over visiting.
The Raiders (2-0 overall, 1-0 KSAC Large) broke a seven-game losing streak to the Gremlins (0-2, 0-1), who led 21-20 at halftime but were outscored 20-7 by the Raiders in the second half.
Krug completed 19 of 23 passes hitting Bryan Dworek three times for TDs covering 24 yards in the second quarter and 6 and 10 yards in the third and fourth quarters respectively. Dworek caught nine passes for 169 yards and intercepted a pass on defense. McGranor needed 17 carries to get his yards scoring on two first-quarter runs of 49 and 84 yards.
Krug's 15-yard TD pass to John Frank in the fourth quarter capped off an 85-yard drive in the final minutes after the Raiders stopped the Gremlins on downs clinging to a 32-28 lead with 6:09 remaining in the game.
Dalton Beham and Mitchell Kelsea each ran for two touchdowns for the Gremlins. Kelsea's went for 2 yards in the first quarter and his 1-yarder in the third gave the Gremlins their last lead at 28-26. Both of Beham's came in the second quarter on runs of 9 and 11 yards. Beham led the Gremlins with 76 yards on 12 carries while Kelsea rushed for 63 yards on six carries.
It is the first time Karns City has started a season 0-2 since 1995 when it started 0-5, while Brookville has now scored 40 points in back-to-back games in the same season for the first time in school history.
MONITEAU 21, ST. MARYS 6
ST. MARYS, Pa. – Chance Nagy threw for 180 yards and a touchdown and a ran for a touchdown, as Moniteau started the Jon McCune-era with a 21-6 win at St. Marys.
Wyatt Geibel was Nagy's primary target with eight catches for 124 yards, while Cody Wise ran six times for 72 yards and a touchdown while making nine tackles on defense. Brayden Risinger added an interception.
Tim Beimel, who rushed 16 times for 54 yards, scored the lone St. Marys' touchdown on a 4-yard run. Beimel also added four catches for 73 yards. Todd Taylor, making his first varsity start, was 7 of 12 for 101 yards and an interception.
KANE 56, OTTO-ELDRED 14
KANE, Pa. – Erik DeLong ran for three touchdowns and Reed Williams three for three more, as Kane rolled past visiting Otto-Eldred, 56-14, in a rematch of last year's AML Title Game.
Delong ran nine times for 111 yards, and Williams was 13 of 18 for 215 yards.
Ray Maze caught two of the scoring passes and was over 100 yards receiving with five catches for 108 yards. JT Stewart also caught a touchdown pass and had three grabs for 51 yards, while Ange Costanzo ran seven times for 32 yards and two touchdowns while adding a catch for 19 yards. Jake Alcorn also chipped in three carries for 59 yards and three catches for 34 yards.
Sawyer Drummond was 12 of 22 passing for 148 yards, a touchdown and an interception for Otto-Eldred while Dylan Close had five catches for 113 yards and a score. Cole Sebastian added a 30-yard scoring pass to Chase Sebastian.
Kane is now 2-0, while Otto-Eldred drops to 0-2.
RIDGWAY 48, PORT ALLEGANY 0
PORT ALLEGANY, Pa. – Neil MacDonald caught a pair of touchdown passes from Johnny Mitchell and ran for a third score to help visiting Ridgway to a 48-0 win over Port Allegany.
MacDonald ran seven times for 56 yards with a 3-yard scoring run in the second quarter and caught two passes for 79 yards with scoring grabs of 58 and 21 yards before the break.
Mitchell was 4 of 6 passing for 85 yards and the two scores.
Also scoring on the ground for the Elkers (2-0) were Joey Elinski and Matt Dush, while Andy Breier and Devin Smith both returned interceptions for touchdowns and the Ridgway defense, which limited the Gators (0-2) to 34 total yards of offense, added a safety.
Trey Stiles accounted for 26 of Port Allegany's 34 yards with 12 carries for 16 yards and a catch for 10 yards. Jacob Kallenborn did have nine tackles, including four for a loss and a sack for the Gators' defense.
CLARION-LIMESTONE 40, UNION/A-C VALLEY 14
FOXBURG, Pa. – Overcoming an early 14-0 deficit, Clarion-Limestone rolled off 40 unanswered points to pick up a 40-14 road win over Union/A-C Valley at A-C Valley.
A Greg Duncan 27-yard run followed by a 52-yard scoring pass from Lucas Bowser to Brendan Price staked the Falcon Knights to the two-touchdown lead midway through the first quarter.
But Chris Peace and Ayden Wiles both scored a pair of touchdowns, including one each before halftime, as the Lions (2-0) took control of the game.
Peace had over 100 yards for the second straight game with 17 carries for 113 yards scoring on a first-half run of seven yards and a second-half scamper of the exact same seven yards.
Wiles added four carries for 37 yards with a 27-yard touchdown run, and also caught two passes for 50 yards, including a 23-yard touchdown grab for the final touchdown of the first half that put C-L up 24-14 at the break.
Brenden Makray threw the scoring pass to Wiles and added a 37-yard strike to Kyle Kerle, who had two catches for 67 yards. Makray was 9 of 16 for 205 yards and also threw a pair of interceptions.
Riley Hummell had a big game for C-L as well rushing 11 times for 148 yards with a 66-yard score and catching three passes for 56 more yards.
Duncan finished with 117 yards rushing on 24 carries.
Bowser was 12 of 23 for 168 yards, a touchdown and an interception. Price had two catches for 80 yards, while Nolan Cumberland caught four passes for 70 yards. Dalton Callandar picked off a pair of passes for the Falcon Knights.
BRADFORD 28, COUDERSPORT 8
BRADFORD, Pa. – John Eakin ran 22 times for 193 yards and three touchdowns to help Bradford avenge an overtime loss to Coudersport a year ago with a 28-8 win over the visiting Falcons.
Eakin scored on runs of 40, 10 and 22 yards to help the Owls slowly pull away from the Falcons.
Jaron Ambrose added 68 yards and a touchdown on nine carries, as Bradford ran for 365 yards on the night.
REDBANK VALLEY 55, KEYSTONE 38
NEW BETHLEHEM, Pa. – Clint Thurston ran 24 times for 231 yards and six touchdowns to lead Redbank Valley to a season-opening 55-38 win over visiting Keystone.
Thurston scored on runs of 53, 24, 11, 8, 29 and 3 yards in the victory.
Keaton Kahle (6 of 14, 65 yards) added a 22-yard scoring pass to Brock Barrett (5 catches, 57 yards) and Travis Crawford adding a 5-yard scoring run.
Nate Wingard threw three touchdown passes for Keystone while going 16 of 22 for 269 yards and an interception, while Isaak Jones also threw a touchdown pass and was 3 of 6 for 60 yards.
Corey Rapp had seven catches for 158 yards and a score and ran five times for 47 yards and another touchdown for Keystone. Kyle Knapp added a pair of scoring catches and had five receptions for 38 yards, while Hunter Langharst had two grabs for 44 yards and a touchdown. Skylar Kagle added three catches for 58 yards, and Taylar Altman ran for a touchdown.
CLEARFIELD 42, PENNS VALLEY 12
HYDE, Pa. – After shutting out DuBois last week, Clearfield's defense gave up a touchdown on the first play from scrimmage Friday night against visiting Penns Valley.
But that was pretty much the only thing that didn't go the Bison's way, as they cruised to a 42-12 win over the Rams.
Isaac Rumery threw five touchdown passes while going 10 of 16 for 251 yards including a pair to Micah Heichel (87 yards receiving) and two more to Taye Lynch (46 yards receiving) and one to Spencer Graham (64 yards receiving).
While Rumery was having success through the air, the Clearfield ground game was producing a pair of 100-yard rushers.
Ty Bender ran nine times for 112 yards including an 82-yard touchdown run that put the Bison ahead 7-6 45 seconds into the game, while Brett Zattoni added 19 carries for 111 yards.
CONNEAUT 35, DUBOIS 14
LINESVILLE, Pa. – Conneaut jumped out to a 35-0 halftime lead and beat visiting DuBois, 35-14.
Kyle Sheets threw a touchdown and ran for two more the Eagles, and Bailey Kersnick ran for a pair of scores.
Sheets was 6 of 11 for 105 yards while also throwing an interception and ran nine times for 63 yards.
Kersnick added 15 carries for 149 yards.
Matt Miller threw a pair of second-half touchdowns for the Beavers including a 5-yard pass to Chase Husten and a 77-yard strike to Kyle Hopson. Miller was 15 of 31 for 254 yards, but DuBois ran for negative five yards in the game.
Hopson had eight catches for 160 yards.
CLARION 43, PUNXSUTAWNEY 0
PUNXSUTAWNEY, Pa. – Colton Rapp rushed for 179 yards and two touchdowns to lead visiting Clarion to a season-opening 43-0 win at Punxsutawney, which has lost twice in two tries.
Brendan Zerfoss added 96 yards, including a 77-yard touchdown run, for the Bobcats, who led 28-0 at the end of the first quarter and outgained the Chucks 493 to 39 on the night.
Spencer Miller also hooked up with Archer Mills on a 9-yard scoring toss, while Camden Boggess and Cutter Boggess both added scoring runs.
Dylan Ishman was 4 of 12 passing for 36 yards while also rushing six times for a team-high 17 yards. Tyler Richardson added five carries for 11 yards and caught one pass for 23 yards for the Chucks.
CURWENSVILLE 48, SMETHPORT 0
SMETHPORT, Pa. – Nick Stewart rushed 11 times for 113 yards and three touchdowns and Bryce Timko threw for 211 yards and ran for three short scores to lead visiting Curwensville to a 48-0 win over Smethport.
Stewart, who missed last week with a hamstring injury, now unofficially has 5,647 rushing yards and is just 84 yards shy of moving into second place in District 9 and school history. Alex Holland is second at both Curwensville and in D9 with 5,734 yards, while Nick Sipes is D9's all-time leading rusher with 5,963 yards.
Blake Passarelli also added a rushing touchdown for the Golden Tide (2-0).
Timko was 12 of 16 passing with an interception. Noah Von Gunden had four catches for 89 yards. Stewart added one for 10.
Nathan Hollowell ran 13 times for 39 yards for Smethport, while Grant Ognen was 6 of 18 passing for 46 yards. Matthew Stratton had nine tackles, Lance Herzog eight and Brayden Southard seven for the Hubbers defense, while Bradley Lafleur had two sacks and Hollowell an interception.