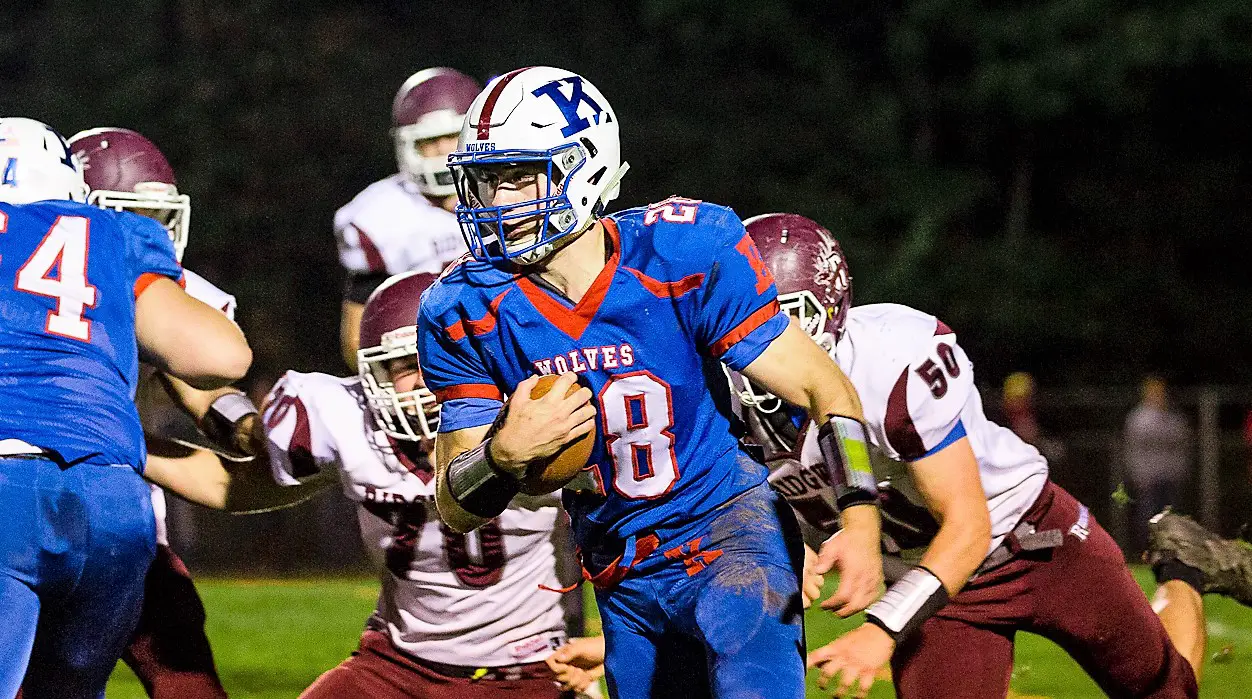 Week Seven football recaps.
(Photo by Tessa Boschert. Check out more of Boschert's work here)
All games included.
PORT ALLEGANY 27, CAMERON COUNTY 26, OVERTIME
PORT ALLEGANY, Pa. – Trey Stiles' 2-yard touchdown run followed by Bryce Baker's extra point in overtime lifted Port Allegany to a 27-26 win over visiting Cameron County.
The Gators (2-6, 2-2 AML North) had watched as a 20-6 lead disappeared on two fourth-quarter touchdowns by Cameron County (0-8, 0-4).
The Red Raiders then took their first lead of the game, 26-20, when they got the ball first in overtime and Adam Streich hit Nick Peters with a 14-yard touchdown pass. But Cameron County's two-point conversion run by Steich was stopped, and Port Allegany then scored and kicked the game-winning extra point.
Cameron County had forced overtime with two fourth-quarter touchdowns, including Streich tying the game with a 9-yard run and subsequent two-point conversion run with just two minutes to play in regulation.
The Red Raiders had closed within eight 24 seconds into the fourth quarter when Derek Beldin scored on a 1-yard run, his second short touchdown run of the game.
Prior to the final minutes, Port Allegany had been in control for most of the Homecoming Saturday afternoon taking a 7-0 lead on a 2-yard Wyatt Dean run early in the first quarter.
A 4-yard score by Beldin got the Red Raiders within a point after a missed conversion run, but a 4-yard Stiles run but Port Allegany ahead 13-6 at halftime.
Stiles then took off on a 51-yard jaunt in the third quarter to push the Gators lead to 20-6. The Port Allegany runner finished the game with 23 carries for 148 yards and three touchdowns with Dean adding 54 yards and a score on 15 totes. Stiles also had one catch for 19 yards and made 13 tackles on defense while also intercepting a pass.
Steich was 13 of 24 passing for 165 yards, a touchdown and two interceptions for Cameron County while adding 13 carries for 32 yards and a score. Derek Beldin chipped in 53 yards rushing and the two touchdowns on 19 carries with Jared Whiting leading the Red Raiders on the ground with 60 yards. Caden Beldin had a game-best five catches for 77 yards, and Devin Palumbo added four grabs for 54 yards with Peters chipping in three for 34.
SMETHPORT 28, SHEFFIELD 14
SHEFFIELD, Pa. – Grant Ognen tossed three touchdown passes to keep visiting Smethport's AML North title hopes alive with a 28-14 win at Sheffield Saturday afternoon.
Ognen was 10 of 19 passing for 229 yards and threw touchdown passs of 61 yards to Dale Burdick, 82 yards to Nate Hollowell and 13 yards to Alex Sanderson. Hollowell, who had four catches for 100 yards and 14 carries for 100 yards, added a 3-yard scoring run as well.
Blake Kinner rushed for 152 yards to lead the Hubbers ground game.
Smethport is now 3-5 overall and 3-1 in the AML North. The Hubbers host unbeaten Otto-Eldred Friday night and could win the AML North with a win and a Coudersport loss to Port Allegany. A Smethport win coupled with a Coudersport win would create a three-way tie in the AML North, and it is believed that the first tiebreaker that could be used after others failed to break the tie would be overall record which Smethport would lose to both teams.
Josh Agudio had 12 carries for 100 yards and a touchdown for Sheffield with Cale Albaugh going 8 of 17 passing for 107 yards and a score and Kevin Evans catching four passes for 83 yards and a touchdown.
KANE 19, RIDGWAY 14
KANE, Pa. – Ange Costanzo's 8-yard touchdown run with 2:09 to play helped unbeaten Kane avoid an upset to visiting Ridgway with a 19-14 victory that coupled with Brockway's loss to Bradford clinched the AML South title for the Wolves, their third straight.
Ridgway (5-3 overall, 1-3 AML South) led from the 8:05 mark of the second quarter until Costanzo's score mainly because of a stout defense that kept Kane to just 205 total yards on the night including 118 rushing.
After Erik DeLong gave the Wolves (8-0, 4-0), who have won 36 in a row against District 9 teams and 26 straight regular-season games, a 7-0 lead when he returned the opening kickoff 80 yards for a touchdown, a pair of Neil MacDonald scores put Ridgway in front.
MacDonald, who ran 19 times for 108 yards, scored on a 3-yard run to tie the game at seven and then found paydirt from 65 yards out to make it 14-7 Elkers.
A 5-yard Costanzo touchdown catch from Reed Williams- the senior had five carries for 35 yards and two catches for 16 yards – got the Wolves back within one, 14-13, at halftime. But the score remained that way until late in the game when Kane was finally able to put together the game-winning drive that included a fourth-down pass interference call inside the 20-yard line that gave the Wolves a crucial first down.
After the Wolves took the lead, Ridgway, which had thrown the ball until late in the contest, took to the air with a 40-yard pass to Andy Breier from Johnny Mitchell that got the Elkers inside the Kane 30-yard line. But the Wolves defense stiffened and forced a turnover on downs, and Kane then ran out all but 13 seconds to seal the victory.
Mitchell was 3 of 8 passing for 68 yards and added 12 carries for 45 yards while helping the Elkers gain 262 yards.
Williams was just 7 of 27 passing for 87 yards, a touchdown and an interception.
CLARION 44, KARNS CITY 17
CLARION, Pa. – Scoring 37 of the game's final 40 points, Clarion rolled to its KSAC Large School Division title with a 44-17 win over visiting Karns City at Clarion University's Memorial Stadium.
Karns City led 14-7 following Sebastian Troutman's second touchdown run of the game with 3:52 left in the first quarter.
But Sterling Conner returned the ensuing kickoff 88 yards for the game-tying touchdown, and Logan Minich gave Clarion the lead with a 1-yard touchdown run in the second quarter to make it 21-14. Archer Mills then hit a field goal to make it 24-14 before Clay Garing's field goal at the first-half horn made it 24-17 at the break.
Second-half touchdowns by Minich, Keeven Weaver and Spencer Miller, Miller's second of the game, put the game and the division title firmly in Clarion's hands.
The Bobcats outgained Karns City 415 yards to 251 including 359 to 194 on the ground.
Logan Minich led Clarion with 156 yards on 25 carries with the two scores with Miller adding 100 yards on eight totes with two touchdowns while also going 4 of 4 passing for 37 yards. Weaver chipped in four carries for 61 yards.
Troutman paced Karns City with 11 carries for 95 yards and the touchdowns.
DUBOIS 69, FRANKLIN 56
DUBOIS, Pa. – Matt Miller threw four touchdown passes and ran for two more, as DuBois turned back the clock to get an old-fashioned 69-56 shootout win over visiting Franklin.
Miller was 23 of 28 for 443 yards passing and added two short touchdown runs in a game that featured 1,248 yards of total offense – 646 by Franklin and 602 by DuBois – while harkening back to wild-west scoring days of former DuBois head coach Frank Varischetti.
Miller's performance, which included an interception on defense, helped the Beavers (3-5 overall, 3-3 District 10, Region 5) overcome a District 10-record-setting performance by Franklin's sophomore quarterback Ian Haynes.
Haynes threw for a District 10 record 606 yards and tied the D10 mark for touchdown passes with eight while going 21 of 33 – he did throw a pair of interceptions as well.
Brandon Johnson caught five of Haynes' touchdown passes and had 10 catches for a District 10-record 339 yards, including a national-recording tying 99-yard touchdown catch for the Knights (1-7, 1-4). He also caught 72-yard touchdown and added scoring catches of 19, 36 and 1 yard.
Dalton Kruzelak scored three times on the ground for DuBois and rushed 20 times for 150 yards, and Kyle Hopson had a pair of touchdown catches grabbing eight balls for 154 yards.
Kenny Garvey also scored twice for DuBois on a 6-yard pass from Miller and a 25-yard fumble return for a touchdown, and Dylan McCluskey went over 100 yards receiving with six catches for 131 yards and a touchdown. McCluskey was also 9 of 10 in extra points and picked off a pass on defense as well. Eric Schneider also had four catches for 74 yards.
Dalton Buckley added three catches for 132 yards and two touchdowns for Franklin, while Cade Adams had four catches for 53 yards and a score. For the first time in three weeks, the Knights broke into positive rushing yards with 40 led by Zack Baughman's 12 carries for 39 yards.
OTTO-ELDRED 24, COUDERSPORT 8
DUKE CENTER, Pa. – Otto-Eldred took another step closer to securing its second straight AML North title with a 24-8 win over visiting Coudersport.
Sawyer Drummond threw a pair of touchdowns and ran for two more for the Terrors (5-3, 4-0 AML North), who can secure the AML North title as soon as Saturday if Smethport falls to Sheffield.
Drummond was 14 of 25 passing for 268 yards, the two touchdowns and three interceptions and had 58 yards rushing on 21 carries. Gage Babcock caught four passes for 120 yards including a 71-yard scoring pass and Dylan Close added a 29-yard touchdown catch. Babcock added nine carries for 35 yards and Close caught two passes for 44 yards. Cameron Magee added four catches for 63 yards.
The loss snapped Coudersport's four-game win streak and leaves the Falcons at 4-4 overall and 3-1 on the AML North).
Jared Green paced the Falcons going 9 of 16 passing for 73 yards and adding 15 carries for 39 yards. Stevie Kelly had the Coudersport touchdown and ran 10 times for 52 yards. Derek Keglovits had four catches for 48 yards.
CURWENSVILLE 43, ELK COUNTY CATHOLIC 12
ST. MARYS, Pa. – Nick Stewart ran for three touchdowns and Bryce Timko threw a touchdown pass and ran for another to help Curwensville pick up a 43-12 road win over Elk County Catholic.
Stewart ran 14 times for 111 yards and scored on runs of 10, 5 and 3 yards to give the Golden Tide (7-1 overall, 3-1 in the AML South) firm control of the top seed in the District 9 Class 1A playoff race.
Timko added 91 yards passing going 6 of 17 with a 16-yard scoring pass to Noah Von Gunden while also running for 5 yards including a 3-yard touchdown run.
Blake Passarelli also scored on the ground for the Golden Tide.
Hunter Cashmer had a 54-yard football run for ECC with Alec Bittler adding an 11-yard scoring run. Stephen Bobby had 16 carries for 55 yards to lead the Crusaders (2-6, 0-4).
CLARION-LIMESTONE 68, MONITEAU 8
WEST SUNBURY, Pa. – Brenden Makray threw for 261 yards and three touchdowns while becoming the all-time leading passer in Clarion-Limestone single-season history in a 68-8 Lions win at Moniteau.
Makray was 12 of 15 passing and also threw an interception giving him 2,046 yards on the season breaking the previous school record of 1,969 yards set by Anthony Louder in 2015.
Ayden Wiles added three touchdown runs and ran six times for 63 yards for the Lions (4-4), while Riley Hummell also scored three times – two runs and a catch. Hummell had seven carries for 41 yards and two catches for 49 yards. Kyle Kerle and Colby Himes also caught touchdown passes with Kerle catching three passes for 72 yards while also intercepting a pair of passes on defense and Himes catching four passes for 64 yards.
Austin Newcomb chipped in three catches for 76 yards and had six carries for 91 yards with a 50-yard touchdown run and a 9-yard scoring run.
Manny McLean scored on a 16-yard touchdown pass from Chance Nagy for Moniteau (2-5) and ran eight times for 20 yards.
C-L outgained Moniteau 484 yards to 111.
BROOKVILLE 44, UNION/A-C VALLEY 6
RIMERSBURG, Pa. – Posting a 37-point second quarter and scoring touchdowns off four of the five Union/A-C Valley turnovers, Brookville hiked its record to 7-1 with a 44-6 rout Friday night.
The Raiders, 7-1 for the first time since 2010, scored two defensive touchdowns in the second quarter on Cabe Park's 32-yard fumble recovery return and Trenton Gilhousen's 48-yard interception return.
Brandon McGranor, who ran for 113 yards on 18 carries, scored two TDs in the second quarter on a 3-yard run and 4-yard pass from quarterback Jack Krug. Krug threw for three touchdowns, completing 13 of 21 passes for 164 yards. He connected with Bryan Dworek twice on TD passes of 24 yards in the first quarter and 3 yards in the second quarter.
Dworek caught six passes for 98 yards.
Union/A-C Valley (1-7) scored its lone points on Lucas Bowser's 7-yard pass to Isaac Yoder in the third quarter, the only points of the second half with the Raiders' 44-0 halftime lead starting the second half with the PIAA's Mercy Rule running clock.
Greg Duncan ran for 115 yards on 16 carries for the Falcon Knights.
Next up for Brookville is St. Marys at home next Friday. Union/ACV visits Clarion.
BRADFORD 40, BROCKWAY 20
BRADFORD, Pa. – Bradford scored two defensive touchdowns and a special teams score to ruin Brockway's hopes of an AML South title with a 40-20 win over the visiting Owls.
John Eakin and Andy Pantuso each returned interceptions for scores for the Owls (6-2, 2-2 AML South) with Pantuso also picking up a shanked punt after a bad snap and returning it for a touchdown, as Brockway (6-2, 2-2) turned the ball over six times, including four lost fumbles.
Pantuso added a 50-yard touchdown catch from Donny Pattison, and Eakin chipped in a 49-yard scoring run for Bradford, which broke the game open with a 19-point second quarter that consisted of the two Pantuso defensive scores.
Eakin, meanwhile, ran 15 times for 148 yards and went over the 1,000-yard mark on the year with Pattison throwing for 107 yards and two touchdowns – he tossed an interception as well – on 4 of 10 passing. Pattison added 20 yards rushing on four carries.
Peter Downer was 13 of 24 passing for 172 yards, two touchdowns and two interceptions for Brockway and added two carries for two yards and a score.
Noah Vokes had four catches for 87 yards and a touchdown and Jon Wood added three grabs for 30 yards and a touchdown and ran 13 times for 68 yards. Tyler Serafini rushed 21 times for 132 yards for the Rovers.
PUNXSUTAWNEY 49, KEYSTONE 12
KNOX, Pa. – Stone Smith scored four times to help visiting Punxsutawney run away from Keystone, 49-12.
Smith ran nine times for 180 yards and three touchdowns and caught one pass for two yards and a score, as the Chucks (4-4) built a 42-6 halftime lead that included 95-yard interception return from Tyler Richardson as time expired in the half.
Richardson also added a receiving score catching three passes for 51 yards while rushing once for 17 yards.
Dylan Ishman tossed both touchdown passes going 6 of 8 for 86 yards with an interception as well. Alex Gianvito chipped in seven carries for 56 yards and a score.
Nate Wingard was 7 of 16 for Keystone (3-4) for 106 yards, a touchdown and an interception. Todd Brazier ran six times for 65 yards and a touchdown, and Jayden Blazosky had two catches for 20 yards and a score. Brazier chipped in 11 tackles on defense.
Keystone's top offensive threat, Corey Rapp, was hobbled by an ankle injury suffered on the opening kickoff and was limited to two catches for 33 yards and five carries for 18 yards.
BALD EAGLE AREA 25, CLEARFIELD 22
HYDE, Pa. – Visiting Bald Eagle Area stunned Clearfield, 25-22, despite the Bison's Isaac Rumery throwing 351 yards and three touchdowns.
Rumery, who was 24 of 29 passing, also threw a pair of interceptions and lost a crucial fumble inside the BEA 20-yard line with Clearfield (4-4, 2-4 Mountain League) trailing 18-14. It marked the second straight possession the Bison had inside the 20-yard line down four that they failed to score on. Clearfield also lost a fumble at the BEA 2-yard line earlier in the game and at the BEA 5-yard line in the third quarter, while Rumery threw a pick-6 for Bald Eagle Area's first touchdown.
Jake Lezzer had six catches for 101 yards and two touchdowns for Clearfield with Taye Lynch adding five grabs for 72 yards and a score. Ty Bender also ran 27 times for 112 yards.
REDBANK VALLEY 52, ST. MARYS 7
NEW BETHLEHEM, Pa. – Clint Thurston rushed 12 times for 191 yards and three touchdowns, kicked a 36-yard field goal and was 7 of 7 on extra points, as Redbank Valley blew past visiting St. Marys, 52-7.
Thurston scored on runs of 15, 55 and three yards, and the Bulldogs (4-3) also scored twice on defense thanks to a 22-yard Hunter Wiles fumble return and a 65-yard Keaton Kahle interception return.
Brock Barrett also scored on a 13-yard run for Redbank Valley, while Kobe Bonanno threw a 32-yard touchdown pass to Ethan Hetrick.
Tim Beimel tossed a 15-yard scoring pass to Cody Ritter for a touchdown on a halfback option pass.
Beimel 16 times for 57 yards, while Carter Julian ran 10 times for 56 yards.
Bonanno had seven carries for 51 yards and was 2 of 2 passing for 76 yards. Barrett added six carries for 35 yards.