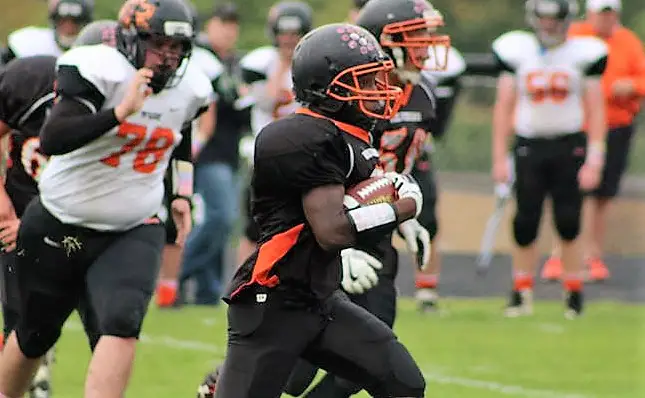 Week Six Football Recaps. Updated through all games.
(Cover photo of Sheffield's Kevin Evans, who accounted for over 280 yards of offense and three touchdowns in helping the Wolverines break a 16-game losing streak. Photo by Rita Goldthwaite)
SHEFFIELD 33, PORT ALLEGANY 14
SHEFFIELD, Pa. – Kevin Evans and Cale Albaugh helped Sheffield end a 16-game losing streak with a 33-14 win over visiting Port Allegany Saturday afternoon.
Evans ran 24 times for 161 yards and a score and caught six passes for 127 yards and two scores, while Albaugh was 8 of 16 passing for 143 yards, three touchdowns and an interceptions and also ran five times for 34 yards and a score to give the Wolverines (1-6 overall, 1-2 AML North) their first victory since a 22-21 win at Eisenhower Oct. 31, 2014.
It was the first home win for Sheffield since a 36-6 victory over Coudersport Oct. 11, 2014, which was also the Wolverines last conference victory.
Albaugh was in the middle of perhaps the two biggest offensive plays for Sheffield.
With 43 seconds left in the first half, he hit Evans with a 24-yard scoring pass that put the Wolverines up 20-8 at the break. Then, just seven second after Port Allegany's Devin Gustin scored on a 36-yard run early in the third quarter to get the Gators (0-7, 0-3) back within six, 20-14, Albaugh broke free for a backbreaking 58-yard touchdown run to restore the two-score lead.
Evans also scored on a 25-yard pass from Albaugh in the fourth quarter and on a 25-yard run late in the first quarter, and Albaugh threw a 10-yard scoring pass to Frank Wagner that put the Wolverines up 12-0.
Port Allegany made it 12-8 on an 81-yard Trey Stiles scoring run.
Gustin led Port Allegany with 41 yards rushing and the score on three carries while also catching three passes for 26 yards.
KARNS CITY 45, CLARION-LIMESTONE 6
STRATTANVILLE, Pa. – Chandler Turner had a monster game Friday rushing for 308 yards on just 12 carries while scoring four touchdowns to lead visiting Karns City to a 45-6 win over Clarion-Limestone.
Turner scored on runs of 36, 86, 20 and 45 yards for the Gremlins (6-1), who scored twice late in the first half to turn a close game, 14-6, into a 27-6 halftime lead.
Kaiden Powers also had a big night for Karns City rushing four times for 129 yards and two touchdowns scoring on runs of 64 and 50 yards. Eric Dodd added a 16-yard scoring run for the Gremlins
C-L (4-2), which scored on 7-yard Sam Leadbetter run, was led by Mike Macefe's 28 carries for 156 yards.
BROCKWAY 30, ELK COUNTY CATHOLIC 25
ST. MARYS, Pa. – Hunter Miller and Mark Latuska combined to run for 318 yards and four touchdowns to lead Brockway to a hard-fought 30-25 win over Elk County Catholic at St. Marys' Dutch Country Stadium.
Miller – who was also 9 of 21 passing for 67 yards – ran 12 times for 133 yards and three scores, including an 85-yard run, and Latuska ran 31 times for a season-high 185 yards and a score.
Brockway (7-0, 3-0 AML South) built a 24-6 lead in the third quarter but had to hold off a strong comeback attempt from ECC (5-2, 1-2), which used an onside kick following a defensive touchdown to get back into the game.
After Miller's 85-yard run looked like it had put the game away for the Rovers, Dan Stauffer returned a fumble 36 yards for ECC to make it 24-12. The Crusaders then recovered the kickoff and scored again quickly on a 36-yard Nate DaCanal to Eric Gerber touchdown pass to get within five, 24-19.
Miller answered with 5-yard run, but DaCanal, who was 10 of 25 for 196 yards, two touchdowns and an interception while also running eight times for 78 yards, hit Brad Dippold with a 60-yard scoring pass to make it 30-25.
The Crusaders had a couple of chances late to score but the final one ended in them turning the ball over on downs with a minute to play.
Jared Braun added a 69-yard touchdown run for ECC and finished the game with 95 yards on nine carries. Dippold had five catches for 102 yards and the score with Gerber adding four grabs for 80 yards and the touchdown. In addition to his fumble return, Stauffer made a team-high 11 tackles with a sack.
Miller also scored on a 16-yard run and Latuska on a 3-yard run for Brockway, who also got a 30-yard field goal from Jarrett Esposito.
CLARION 28, REDBANK VALLEY 20
Read full story at ExploreClarion.com
CLARION, Pa. – Colton Rapp ran 23 times for 168 yards and three touchdowns, as Clarion held off a strong comeback attempt by Redbank Valley to get a 28-20 win at Clarion University's Memorial Stadium.
Rapp's 50-yard scoring run with 1:38 to play all but sealed the win for the Bobcats (6-0), who watched a 21-0 second-quarter lead shrink to 21-20 a minute into the fourth quarter.
Rapp also scored on first-half runs of 30 and 23 yards helping Clarion got up 21-0 on his 23-yard scamper with 6:42 to go in the half.
But Redbank Valley (3-3) scored twice in the final 1:49 of the half on a 2-yard Curtis Mohney run and a 1-yard Clint Thurston run, the latter coming just 20 seconds before halftime to cut the deficit to seven, 21-14, at the break.
The Bulldogs defense then yielded a 10-minute drive to Clarion in the third quarter before turning the Bobcats over on downs.
Redbank then drove the length of the field scoring on a 10-yard fourth-down pass from Keaton Kahle to Brock Barrett 57 seconds into the fourth quarter. Thurston's extra point was partially blocked, however, leaving the Bulldogs down a point.
Clarion drove again after the Barrett score only to have a Spencer Miller pass intercepted at the Redbank Valley 11-yard line by Colton Mohney. The Bulldogs were able to move to midfield before being forced to punt with around five minutes to play.
Redbank Valley got one more chance after the Rapp touchdown, but Thomas Wurster, who had three sacks and an interception, brought down Kahle behind the line of scrimmage on fourth down around midfield.
Miller was 8 of 15 passing for 135 yards with a 35-yard scoring pass to Ty Burford, who had three catches for 114 yards.
Colten Mohney led Redbank Valley with 11 carries for 148 yards with Thruston adding 11 for 70 and the touchdown. Kahle was just 4 of 15 for 35 yards. He threw the score and an interception, which came on a screen pass with Redbank Valley deep in Clarion territory.
COUDERSPORT 26, SMETHPORT 14
COUDERSPORT, Pa. – Aaron Wolfinger threw three touchdowns and ran for a fourth to keep Coudersport unbeaten in AML North play with a 26-14 win over visiting Smethport.
Wolfinger was 10 of 17 passing for 143 yards and threw two touchdown passes to Jared Green (44 yards and 16 yards) and one to David Burd (38 yards) and scored on an 8-yard run of his own to account for all four of the Falcons (4-3 overall, 3-0 AML North) scores.
Smethport (2-5, 2-1) got a 16-yard touchdown run from Austin Crooks and on a late Grant Ognen to Bryce Hale pass.
MONITEAU 37, BROOKVILLE 14
WEST SUNBURY, Pa. – Chance Nagy ran for three touchdowns, passes for a fourth and intercepted a pass on defense to help Moniteau to a 37-14 homecoming win over visiting Brookville.
Moniteau (3-3 overall, 2-2 KSAC Large School) pulled away late outscoring Brookville 20-0 in the fourth quarter after a 77-yard Seth Ray to John Frank touchdown run got the Raiders (1-5, 1-3) to within three, 17-14, at the end of the third quarter.
But Nagy, who ran 12 times for 76 yards and was 12 of 16 passing for 161 yards, a touchdown and an interception, scored on runs of 1 and 5 yards and threw a 29-yard touchdown pass to Wyatt Geibel in the fourth quarter to put the game away for the Warriors.
Nagy also scored on an 8-yard run in the first quarter, and Steven Fawcett hit a 22-yard field goal to put Moniteau up 10-0 at the end of the quarter.
But a 60-yard Ray to Nick Keth touchdown pass in the second quarter closed the Raiders gap to four, 10-6, at halftime.
Ray finished the game 9 of 21 for 277 yards, two touchdowns and an interception. It was the fourth-most yards passed for in Brookville history and the most since Ben Marzullo set the school record in 1999.
Frank was on the receiving end of five of those passes for 162 yards and the touchdown. The 162 yards were the sixth-most in Raider history.
Freshman Nick Martino added to Moniteau's lead with a 9-yard run in the third quarter. Martino finished with 13 carries for 62 yards. Dalton Anderson added 56 yards rushing and 59 yards receiving on five catches. Geibel had five grabs for 83 yards and the score.
Brookville ran for negative 56 yards in the game thanks to at least six sacks of Ray.
RIDGWAY 28, CURWENSVILLE 0
RIDGWAY, Pa. – Ridgway's defense shut down Curwensville' star running back Nick Stewart, holding the third all-time leading rusher in District 9 history to 44 yards on the night in the process the Elkers handed the visiting Golden Tide their first shutout loss since 2008, 28-0.
The 44 yards rushing on 21 carries were the fewest ever for the junior Stewart, who entered the contest with a District 9-leading 1,226 yards on the season and 4,730 yards in his career. He did catch three passes for 55 yards.
While the Ridgway defense was shutting down Stewart, Neil MacDonald scored three times on the ground for the Elkers (6-1 overall, 2-1 AML South).
MacDonald, who rushed 18 times for 112 yards, scored on runs of 4, 4 and 6 yards, while Jake Zimmerman added a 2-yard scoring run.
Ridgway outgained Curwensville (4-3, 0-3), losers of three straight, 256-103.
OTTO-ELDRED 48, CAMERON COUNTY 6
DUKE CENTER, Pa. – Grant West accounted for 245 yards of offense and three touchdowns to help Otto-Eldred to its third straight win thanks to a 48-16 dismantling of visiting Cameron County.
West ran five times for 110 yards and a touchdown and caught four passes for 135 yards and two scores to give Otto it's longest win streak since taking four in a row at the end of the 2014 season.
Sawyer Drummond threw the scoring pass to West going 6 of 9 passing for 147 yards and the two scores. Sawyer Drummond also added a touchdown run and ran four times for 18 yards, while his older brother, Seth Drummond, ran for 112 yards and two touchdowns on 15 carries.
Gage Babcock added a scoring run for the Terrors (3-4 overall, 3-0 AML North) while Collin Smith caught an 80-yard touchdown pass from Cameron Magee early in the fourth quarter.
Adam Streich had a 6-yard touchdown run for Cameron County (0-7, 0-3).
Tristan Reed led the Red Raiders with 63 yards rushing on 13 carries and 16 yards receiving on one catch. Streich was 3 of 13 passing for 34 yards and ran seven times for 16 yards.
KANE 41, BRADFORD 0
KANE, Pa. – Behind Reed Williams and Erik DeLong, Kane picked up its 23rd straight win over a District 9 opponent and its 18 straight regular-season win, 41-0, over visiting Bradford.
Williams was nearly perfect going 13 of 17 passing for 158 yards and three touchdowns, while DeLong ran 21 times for 163 yards and two scores and caught one pass for 24 yards.
Ray Maze caught five passes for 70 yards and a touchdown for the unbeaten Wolves (7-0 overall, 3-0 AML South), while Davis Gardner caught three for 28 yards a touchdown. Austin Labesky also had a 4-yard touchdown catch, while Ange Costanzo ran for a touchdown.
Kane's defense limited Bradford (3-4, 0-3) to 14 yards of total offense including negative 8 rushing. The Owls have not scored in 10 quarters and have been limited to 21 points in their last four games since putting 76 points up on Cameron County Sept. 9 ending a three-game stretch that saw Bradford pile up 151 points in its first three contests.
PUNXSUTAWNEY 30, UNION/A-C VALLEY 6
RIMERSBURG, Pa. – Dylan Ishman threw for a pair of touchdowns, and Punxsutawney's defense held Union/A-C Valley scoreless for over three quarters to give the Chucks their first win of the season, 30-6, in Rimersburg.
Ishman was 8 of 10 passing for 91 yards. He threw scoring passes to Ethan Riley and Jacob Weaver. Riley had four catches for 51 yards and Weaver four for 40. Tyler Richardson added 13 carries for 56 yards.
The Chucks are 1-5 on the year, while the Falcon Knights, who have lost three straight, dropped to 2-4
CLEARFIELD 22, TYRONE 3
TYRONE, Pa. – Isaac Rumery threw a pair of touchdown passes and ran for a third, all before halftime, as Clearfield stayed unbeaten in Mountain League play with a 22-3 win at Tyrone.
Rumery, who was 9 of 17 passing for 155 yards with an interception and also ran 11 times for 66 yards,  tossed scoring passes of 27 yards to Ryan Lezzer and 36 yards to Mason Royer to help the Bison (6-1 overall, 5-0 Mountain League) to a 22-3 halftime lead.
Josh Serena also kicked a 22-yard field goal for Clearfield that accounted for the Bison's first points.
Tyrone, whose only points came on a 26-yard Ethan Vipond second-quarter field goal, fell to 4-3 overall and 3-3 in league play with the loss.
Seth Caldwell added 23 carries for 115 yards for Clearfield with Lezzer having his best statistical game of the year with six catches for 110 yards.
ST. MARYS 49, KEYSTONE 14
KNOX, Pa. – Matt Marconi and Tim Beimel each ran for over 100 yards and two touchdowns, and Pat Schlimm threw a pair of touchdowns to Jeff Wehler to lead visiting St. Marys to a 49-14 win over Keystone.
The Dutch (4-2), winner of three straight, scored the game's final 43 points after Keystone took a 14-6 first-quarter lead.
Beimel finished with a game-best 128 yards on 13 carries scoring on runs of 10 and 3 yards, while Marconi rushed 22 times for 121 yards scoring on carries of 6 and 3 yards.
Schlimm, meanwhile, was 5 0f 10 passing for 108 yards and two scores with Wehler hauling in four of those passes for 72 yards with touchdown catches of 5 and 8 yards. Wehler added an interception on defense and a 25-yard punt return. He also averaged 41 yards on a pair of punts. Christian Steffan also scored on a 3-yard run for the Dutch.
Nate Wingard had a big game for Keystone going 12 of 22 passing for 234 yards, two touchdowns and an interception. His 70-yard scoring pass to Austin Ion got the Panthers on the board, and his 53-yard toss to Corey Rapp gave the Panthers (0-7) their only lead.
Ion caught three passes for 92 yards and the score with Rapp hauling in five for 95 and the touchdown. Zack Kellerman made 14 tackles for Keystone with Camden Boggess making 10 tackles, including a sack and Tanner Wilson 11 stops.
GROVE CITY 54, DUBOIS 14
DUBOIS, Pa. – Kameron Patterson threw for 311 yards and four touchdowns and ran for 126 yards and two more scores to lead visiting Grove City to a 54-14 win over DuBois in a key District 10, Region 5 matchup.
Patterson was 22 of 27 passing and threw scoring passes Molek Walker, Nick Davies, Logan Lutz and Qadir Muhammad. Lutz finished with four catches for 82 yards and Muhammad five for 69.
Cordell Sanders and Trey Adams added rushing touchdowns for the Eagles (7-0 overall, 5-0 D10, Region 5), who led 21-0 in the first quarter.
Matt Miller was 16-for-25 for 187 yards and a touchdown for DuBois (4-3, 2-3) with Kyle Hopson catching nine passes for 84 yards and a score. Brock Adams added a touchdown run and ran 22 times for 110 yards for the Beavers.