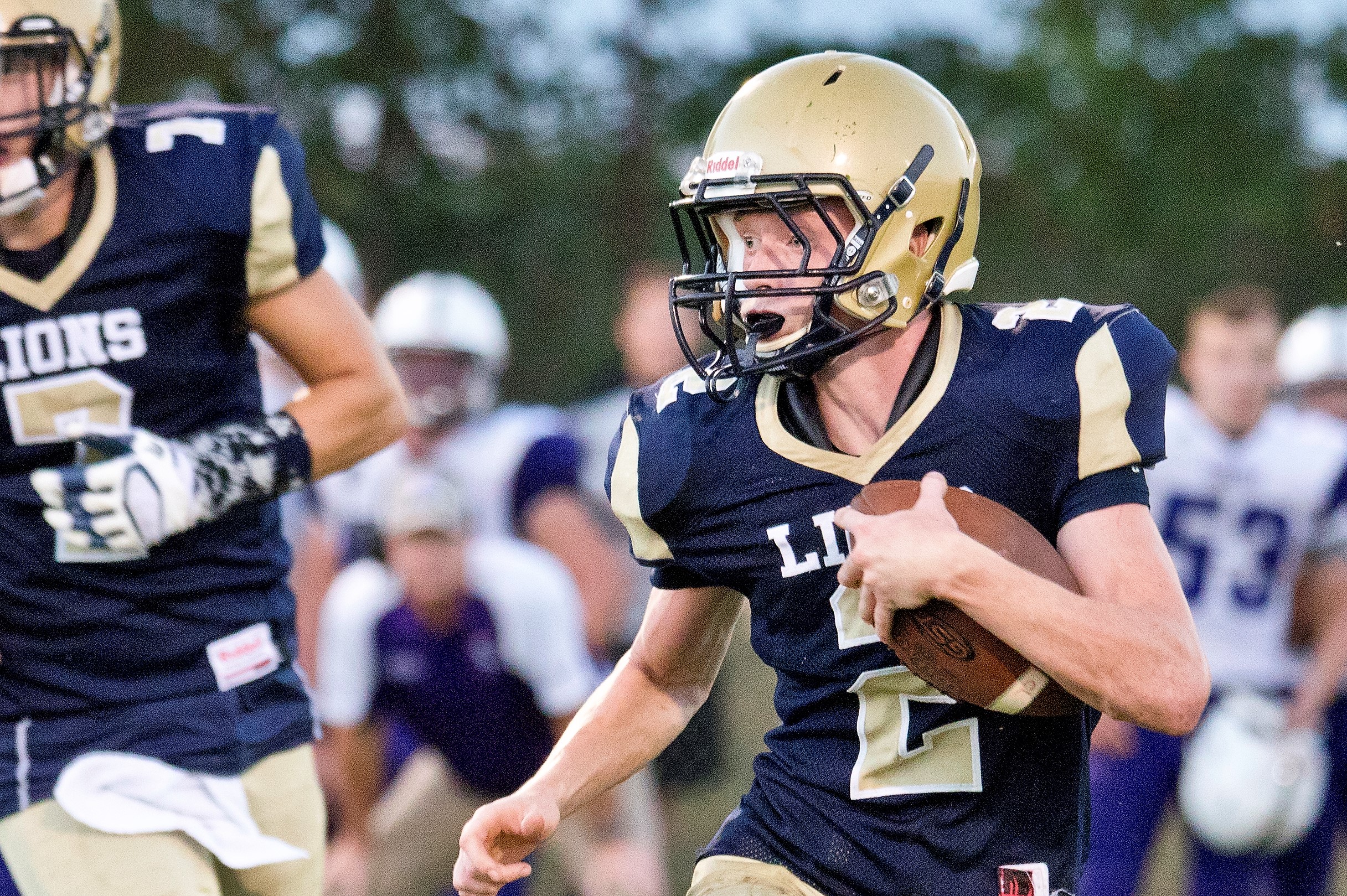 Week Three football recaps.
(Photo of Austin Newcomb of Clarion-Limestone. Photo by Kyle Yates www.facebook.com/YatesPhoto)
CLARION-LIMESTONE 34, COUDERSPORT 22
STRATTANVILLE, Pa. – Austin Newcomb and Ayden Wiles combined to score five touchdowns to help Clarion-Limestone knock off previously unbeaten Coudersport, 34-22, at home.
Relisten to the game:
Newcomb returned the opening kickoff 85 yards for a score, and C-L (3-1) led 14-0 at the end of the first quarter after Colby Himes hit Ian Callen with a 55-yard touchdown pass that saw the Coudersport defender slip on the play leaving Callen wide open.
The Falcons (3-1) came up with a big stop on downs inside the 10-yard line early in the second quarter and then capitalized on offense when Hayden Keck hit John Minor with an 85-yard scoring pass to bring Coudersport back within a score, 14-6, 1:06 into the quarter.
But Wiles scored twice before the half ended to give C-L a 28-6 halftime lead with his second touchdown coming when he recovered a fumble in the end zone with just two seconds to play in the half.
Coudersport had once again stopped C-L on downs inside the 5-yard line, but the Lions threw a run blitz at the Falcons and jarred the ball loose with Wiles recovering in the end zone for a backbreaking touchdown.
Wiles had earlier scored on a 12-yard run to put the Lions ahead 22-6.
C-L made it 34-6 late in the third quarter on Newcomb's second touchdown of the game, this time on a 7-yard run.
Coudersport scored twice in a span of just 1:49 midway through the fourth quarter to tighten the gap with Keck scoring on a 78-yard run down the far sideline and Stephen Kelly returning a punt 71 yards for a score.
But after the Kelly punt return with 4:51 to play, C-L's offense was able to run out the clock.
Newcomb was a workhorse in the backfield carrying the ball 30 times for 147 yards and the touchdown and was named the Hager Paving Player of the Game for the Lions.
Wiles added 71 yards rushing on 18 carries with the two offensive touchdowns with Callen catching two passes for 84 yards.
Keck ran six times for 93 yards and the touchdown and was 2-for-5 passing for 93 yards and the score. Minor had both catches for the 93 yards and the touchdown.
REDBANK VALLEY 49, SHEFFIELD 0
SHEFFIELD, Pa. — Scoring five touchdowns by the end of the first quarter, Redbank Valley cruised to an easy 49-0 win over Sheffield Saturday afternoon.
Five different players found the end zone for the Bulldogs (4-0) in the first quarter with Javin Brentzel finishing off the barrage with a 65-yard punt return with 26 seconds left to give the Bulldogs a 35-0 lead.
Also in the first quarter, Hunter Wiles scored on a 44-yard run, Keaton Kahle threw a 27-yard TD pass to Hunter Martz and ran 69 yards for a score. Travis Crawford scored on a 4-yard run.
Brentzel caught a 21-yard TD pass from backup quarterback Chase Bish with 2:40 left in the second quarter. A fast-moving second half due to the PIAA Mercy Rule running clock had just one touchdown with Ray Shreckengost scoring on a 12-yard run.
Sheffield managed just four first downs and 59 yards of offense on 46 plays of scrimmage and minus-3 yards rushing due in part to three bad punt snaps resulting in 36 yards in losses. Kevin Marfink ran for 19 yards on seven carries.
DUBOIS 27, FRANKLIN 24
FRANKLIN, Pa. – Eric Schneider's interception in the end zone with 30 seconds to play sealed a 27-24 DuBois road win over Franklin.
The Beavers (2-2 overall, 2-1 D10, R7) were clinging to the 3-point lead, but Franklin had first-and-goal from the 3-yard line when Schneider picked off Ian Haynes to seal the victory.
The interception ruined an otherwise big night from Haynes, the junior quarterback. He was 21 of 43 for 377 yards and three touchdowns with Cade Adams hauling in eight of those throws for 203 yards and two touchdowns and Trey Carulli catching six passes for 118 yards and a score.
The touchdowns by Adams – one on a 57-yard pass and the other on a 29-yard pass – and Carulli's 56-yard scoring catch put Franklin (1-3, 0-2) up 18-7 late in the first half.
But DuBois scored on a 15-yard Alex Kovalyak to Nick Dilullo pass with 40 seconds to play before halftime to cut the deficit to four, 18-14, at the break.
The Beavers then took advantage of a muffed punt by Franklin late in the third quarter to go ahead 21-18 on a 1-yard Dylan McCluskey scoring run, his second touchdown of the game.
The DuBois lead moved to 27-18 when Chase Husted, who had six catches for 98 yards, hauled down a 49-yard scoring pass from Kovalyak with 4:58 left, but Haynes answered with 7-yard scoring run with 3:22 to go to make it 27-24, and then the Knights got the ball back and looked poised to steal the win before Scheider's game-saving pick for the Beavers.
Kovalyak, the junior making his second start, was 13 of 29 for 199 yards and the two scores with Schneider caught two passes for 67 yards and also ran nine times for 93 yards. McCluskey had 85 yards and the two touchdowns on 10 carries. Husted had three of DuBois' five sacks on Haynes.
MONITEAU 20, KARNS CITY 14
WEST SUNBURY, Pa. – In a game that featured a controversial ending, Chance Nagy's touchdown run from a yard out with 8:17 to play lifted Moniteau to a 20-14 win over visiting rival Karns City.
Nagy's scoring run kept the Warriors (2-2 overall, 2-2 D9 Large School) from losing a game they led 14-0 at halftime.
But it was another play that involved Nagy that left the Karns City side wondering what had happened.
With the Gremlins (1-3, 1-3) down by the six points with under a minute to play, Nagy lined up to punt for Moniteau with the ball at the Warriors 11-yard line. The snap got away from Nagy, who tracked it down in the end zone. He then was able to get a punt off, but it appeared that a Karns City player got a piece of the football and the ball rolled out of bounds inside the Moniteau 20-yard line. The Gremlins, however, were called for roughing the punter giving Moniteau an automatic first down by rule despite the punt coming on fourth-and-17, and the Warriors kneeled out the clock for the win, their first over their rival Butler County school since beating Karns City twice in 2011 and their first win over the Gremlins in West Sunbury since 2009.
Moniteau took the 14-0 halftime lead on two first-quarter Nagy scoring runs, one from seven yards out and the other from four yards away.
But Karns City rallied in the second half cutting the deficit to 14-6 after three quarters on a 7-yard Devin Ryan touchdown run before Hunter Jones got the Gremlins within two, 14-12, on a 7-yard run 41 seconds into the fourth quarter. Anthony Kamenski then hit Hunter Rowe with the 2-point conversion pass to tie the game before Nagy's short TD run four minutes later put Moniteau back in front for good.
Nagy ran 13 times for 62 yards and the three scores and was 3 of 9 passing for 76 yards and an interception.
Ryan paced Karns City with nine carries for 70 yards and the score with Jones adding 15 totes for 59 yards. Ryan also had one catch for 11 yards and Jones one for 24 yards.
Karns City turned the ball over four times, all on lost fumbles, while Moniteau had two turnovers, one fumble and one interception.
PUNXSUTAWNEY 24, ST. MARYS 21
PUNXSUTAWNEY, Pa. – Carter Newcome returned a fumble 35 yards for a touchdown with 8:54 left to allow Punxsutawney to escape with a 24-21 win over visiting St. Marys.
The winless Dutch (0-4 overall, 0-4 D9 Large School) gave the Chucks (2-2, 2-2) everything and more they could want and took a 21-17 lead early in the fourth quarter on a 3-yard Todd Taylor touchdown run.
But, following a Punxsutawney punt after the touchdown, the Chucks defense was able to come away with the defensive touchdown to pull out the victory.
It was the second time in the game the Chucks defense scored, as a safety when Taylor was tackled in the end zone in the first quarter accounted for the first two Punxsutawney points.
Punxsy led 10-7 at halftime thanks to a 27-yard Dylan Ishman to Alex Gianvito touchdown pass followed by Ishman's 2-point pass to Max London with just 25 seconds left in the first half.
St. Marys had taken a 7-0 lead on a 26-yard Cody Ritter touchdown run in the first quarter.
The Dutch went back ahead early in the third quarter when Devin McGrath scored on a 2-yard run to make it 14-10, but Ishman returned the favor with a 2-yard scoring run of his own with about four minutes to go in the third quarter.
Punxsutawney outgained St. Marys, 221-208, but the Dutch ran for 148 yards compared to 78 for the Chucks.
Ishman was 12 of 17 for 188 yards and the touchdown while Carter Newcome had seven catches for 131 yards and Gianvito two for 35. Gianvito also ran 10 times for a team-best 33 yards.
McGrath ran 14 times for 78 yards and the score for St. Marys with Ritter adding 14 carries for 52 yards and the touchdown. Taylor was 5 of 11 passing for 60 yards and an interception. Cain Pfoutz had one catch for 37 yards and Ritter two for 10 yards.
SMETHPORT 20, CURWENSVILLE 7
CURWENSVILLE, Pa. – Blake Kinner ran 13 times for 171 yards and a touchdown to help visiting Smethport stay unbeaten with a 20-7 win over Curwensville.
Kinner opened the scoring for the Hubbers (4-0), who never trailed, with a 41-yard run. Braedon Johnson than made it 14-0 when he caught a 2-yard pass from Grant Ognen.
Curwensville cut the lead in half, 14-7, at halftime thanks to a 35-yard Cole Bressler run, but Noah Lent scored on a 4-yard quarterback keeper in the third quarter which was set up two plays earlier by a 50-yard Kinner run to set the final score.
CLARION 28, BROOKVILLE 15
CLARION, Pa. – Logan Minich scored three touchdowns and ran for 172 yards as Clarion jumped on visiting Brookville early for a 28-15 win at Clarion University's Memorial Stadium.
Minich, who had 21 carries, scored on runs of 10 and 62 yards while catching a 7-yard touchdown pass from Archer Mills. He had two grabs for 14 yards. The Bobcats (4-0 overall, 4-0 D9 Large School) scored on four of their first five possessions of the game and led 28-0 before halftime when Sam Minich scored on a 1-yard TD run with 25 seconds remaining.
Mills was effective passing, completing 12 of 16 passes for 134 yards and a touchdown. Sam Minich caught seven passes for 79 yards. Mills added an interception on defense.
Brookville sophomore Robert Keth, in his first varsity start at quarterback, completed 16 of 27 passes for 158 yards. He threw two TD passes, both to Ian Thrush from 9 and 4 yards out, with two interceptions. Thrush caught five passes for 51 yards while Bryan Dworek made his season debut for the Raiders (1-3, 1-3) due to recovering from an injury and grabbed eight passes for 65 yards.
Keth was the fourth QB used by Brookville this season and the third different one to start in four games after Jack Krug suffered a shoulder injury in the second week of the season. Brookville has lost all three games Krug hasn't finished including both he hasn't started.
RIDGWAY 28, BRADFORD 7
BRADFORD, Pa. – Ridgway's defense forced five turnovers, and Jake Wickett scored two short rushing touchdowns to lead the visiting Elkers to a 28-7 win over Bradford.
The Owls (2-2, 2-2 D9 Large) lost five of the six fumbles they had in the game, and that doomed them in a contest in which they were only outgained by 100 yards, 313-213.
Wickett, meanwhile, scored on runs of two and five yards to put Ridgway ahead 14-0 with 2:28 to play in the first half, but Bradford scored on a 2-yard Donny Pattison run 21 seconds following Wickett's second touchdown to get within seven, 14-7, at halftime. Pattison's score was set up by a 58-yard Hail Mary-type pass from Nate Blauser to Caleb Nuzzo.
But the second half belonged to Ridgway (4-0, 4-0) with Gabe Watts scoring on a 13-yard run early in the third quarter and Paul Gresco hitting Issac Schloder with a 10-yard pass with five minutes to play.
Gresco was 18 of 25 passing for 166 yards, the touchdown and an interception. Wickett ran six times for 12 yards and the two scores, while Watts had 10 carries for a team-best 63 yards and the touchdown. Schloder caught five passes for 72 yards and the touchdown.
Pattison ran nine times for 68 yards and the touchdown for Bradford with Blauser going 5 of 8 for 82 yards, and Nuzzo catching the one pass for 58 yards.
CLEARFIELD 42, HUNTINGDON 21
HUNTINGDON, Pa. – Isaac Rumery accounted for five touchdowns – three throwing and two rushing – to lead visiting Clearfield to a 42-21 Mountain League win over Huntingdon.
Rumery was 13 of 22 passing for 275 yards and ran 17 times for 98 yards. He threw first-half touchdown passes of 53 yards to Ryan Lezzer and 25 yards to Taye Lynch and also scored on a 12-yard run to help the Bison (4-0 overall, 3-0 Mountain League) to a 21-7 halftime lead.
He then hit Lezzer with a 42-yard pass 16 seconds into the second half and added a 33-yard scoring run midway through the third quarter to put Clearfield ahead 35-14 at the end of three.
Lezzer caught seven passes for 204 yards and two touchdowns, while Lynch had five catches for 53 yards and a score. Brett Zattoni, who closed out the scoring for Clearfield with a 36-yard run near the end of the game, added 11 carries for 66 yards.
Lezzer added an interception on defense for the Bison as did Eli Glass.
Huntingdon fell to 1-3 overall and 0-2 in the league with the loss.
OTTO-ELDRED 47, UNION/A-C VALLEY 25
DUKE CENTER, Pa. – Otto-Eldred returned two interceptions for touchdowns and a kickoff for a touchdown to pull away from visiting Union/A-C Valley, 47-25.
Cole Sebastian and Cameron Magee each had pick-6s, and Magee added a kickoff return for a touchdown.
Magee scored in three different ways also catching a touchdown pass from Cole Sebastian. Magee had three catches for 59 yards and ran five times for 34 yards. Magee also made nine tackles.
Cole Sebastian was 13 of 23 passing for 198 yards, three touchdowns and two interceptions and also ran five times for 41 yards.
Chase Sebastian caught a touchdown pass from his younger brother and had four grabs for 49 yards, while Steve Langworthy added a 29-yard touchdown catch on his only reception of the day.
Colton Gietler chipped in a 2-yard touchdown run and also picked off a pass, while Chris Connelly had eight tackles, kicked three extra points, had two catches for 32 yards and one carry for seven yards.
For Union/A-C Valley, Nolan Cumberland ran 19 times for 105 yards and two touchdowns while Tony Thompson had four carries for 40 yards and Eli Penny seven for 35. Tanner Merwin caught one pass for 27 yards, and Luke Bowser added a rushing touchdown.
KEYSTONE 46, CAMERON COUNTY 0
EMPORIUM, Pa. – Taylar Altman scored three touchdowns – two rushing and one on a fumble return – to lead visiting Keystone to a 46-0 win at Cameron County with 40 of the Panthers 46 points coming before halftime.
Altman scored on runs of seven and 28 yards and returned a fumbled kickoff, in which he ripped he ripped away from the returner, 25 yards for a score.
The fumble return came following an Issak Jones touchdown run of two yards that had given the Panthers (2-2) an early 7-0 lead and put Keystone ahead 13-0.
For the game, Altman ran eight times for a game-high 79 yards and the two scores. Jones added five carries for 42 yards and the touchdown and was 2 of 8 passing for 40 yards.
Keystone also got touchdown runs from Jayden Blazosky (45 yards), Gavin Hogue (6 yards) and Brandon Kapp (8 yards). Blazosky ran twice for 48 yards and caught one pass for one pass for 16 yards. Blazosky also intercepted two passes on defense.
The Panthers held Cameron County (0-4) to six yards of total offense including negative 38 rushing. Conner Nolan was 2 of 6 for 33 yards and an interception.
Keystone head coach Ryan Smith talked about the win.
ELK COUNTY CATHOLIC 60, PORT ALLEGANY 0
ST. MARYS, Pa. – Stephen Bobby, Hunter Cashmer and Sam Kaul each scored two touchdowns and ECC ran for 332 yards on its way to a 60-0 win over visiting Port Allegany.
Bobby ran for 97 yards on 11 carries with Kaul added 45 yards on four carries with their TDs coming on the ground while Cashmer (2 carries, 23 yards; 1 catch, 16 yards) scored a rushing touchdown and a receiving score.
Jon Wittman (2 carries, 84 yards), Dillon Braun (3 carries, 51 yards) and Brennen Klawuhn also scored for the Crusaders (2-2).
Port Allegany (0-4) was limited to 31 yards of offense led by Isaac Smoker, who had two catches for 16 yards and Josh Rees who had five carries for 13.
BROCKWAY 28, KANE 6
BROCKWAY, Pa. – Peter Downer threw for three touchdowns and ran for a fourth to lead Brockway to a 28-6 win over visiting Kane.
Downer threw for 171 yards of 9 of 15 passing with an interception and tossed touchdowns passes of 18 yards to Josh Solnosky and 2 and 41 yards to Jon Wood. He also ran for a 17-yard score and had five carries for 27 yards.
Solnosky caught three passes for 71 yards and the touchdown with Wood hauling in two for 43 and the score while rushing 10 times for 32 yards. Tyler Serafini ran for a game-high 105 yards on 17 carries for the Rovers (4-0 overall, 4-0 D9 Large).
Kane's lone touchdown came with 17 seconds left to play when backup quarterback Harley Morris hit Ryan Buhl with a 12-yard scoring pass.
Aiden Hulings had a 100-yard rushing night for the Wolves (0-4, 0-4) rushing 29 times for 111 yards.