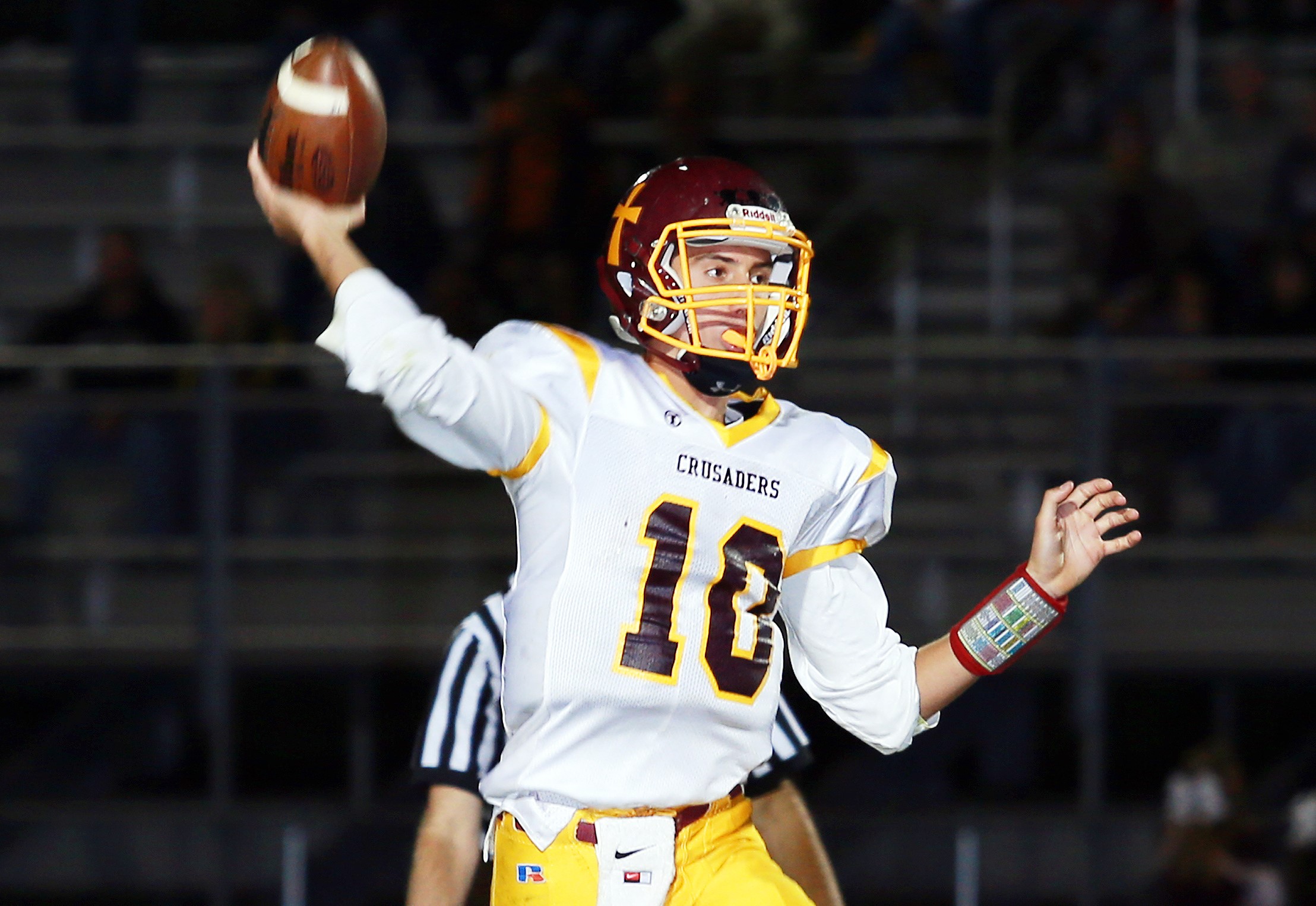 Football recaps for Week 3. Recaps updated to include all of Friday night's games.
(Cover photo of Elk County Catholic's Nate DaCanal. Photo by Paul Burdick. Check out more of Burdick's work here.)
RIDGWAY 49, SHEFFIELD 0
SHEFFIELD, Pa. – Neil MacDonald scored three rushing touchdowns to lead visiting Ridgway to a 49-0 win at Sheffield Saturday afternoon.
MacDonald, who ran seven times for 162 yards, scored twice in the first quarter helping the Elkers (4-0) to a 21-0 lead at the end of the quarter finding paydirt on an 88-yard run and a 22-yard run sandwiched between a 3-yard James Winslow run that was set up when Jacob Anderson recovered a fumble at the Wolverines 13-yard line.
Ridgway made it a Mercy Rule game by halftime thanks to a pair of plays by Johnny Mitchell,
Mitchell hit Josh Raubenstrauch with a 26-yard touchdown pass early in the second quarter to make it 28-0, then Mitchell scored himself on a 24-yard run late in the quarter to make it 35-0 at halftime.
MacDonald's third score, on an 18-yard run early in the third quarter made it 42-0, and Daunte Allegretto finished off the scoring with a 1-yard run following a Chase Pontious fumble recovery at the Sheffield 9-yard line.
With the loss, Sheffield falls to 0-4.
ELK COUNTY CATHOLIC 35, COUDERSPORT 16
COUDERSPORT, Pa. – Nate DaCanal ran for three touchdowns to lead visiting Elk County Catholic to a 35-16 win over Coudersport.
DaCanal, who ran 13 times for 128 yards, scored on runs of 6, 67 and 2 yards. He was also 6 of 15 passing for 44 yards and an interception.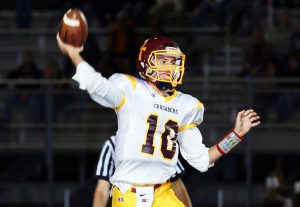 Jared Braun added 94 yards and a touchdown on 16 carries, while Dan Stauffer added 63 yards on the ground. Ryan Heary returned an interception for a score for the Crusaders (4-0). Braun also had an interception for ECC, which picked off four Coudy passes on the night.
Brock Wilson scored on a 2-yard touchdown for Coudersport (1-3), who also scored on a 51-yard Aaron Wolfinger to Jared Green touchdown pass.
Wilson ran for 42 yards, while Green caught three passes for 59 yards.
BRADFORD 14, OTTO-ELDRED 6
BRADFORD, Pa. – Kyle Kirk threw a pair of first-quarter touchdown passes, and Bradford's defense did the rest to give the Owls a 14-6 win over visiting Otto-Eldred.
Coming off a 76-point output a week ago, the Owls (3-1) looked poised for another high-scoring affair when Kirk, who was 5-for-7 for 74 yards on the night, hit Dawson Ambrose with a 26-yard scoring pass and Mitch Vleminckx with a 15-yard scoring strike to put the home team up 14-0 at the end of the quarter.
But that was it for the Bradford offense, which struggled to get anything going the rest of the night and finished with just 250 yards of offense with 168 of those on the game's first two drives that ended in touchdowns.
Bradford's defense, though, held Otto-Eldred (0-4) to 214 yards of offense and forced three critical Terror turnovers.
One of those turnovers was controversial at best.
With Otto down eight late in the game and at its 38-yard line, Sawyer Drummond threw a pass to Garret Babcock. As Babcock tried to bring the ball in, Andy Pantuso hit him jarring the ball lose before Babcock could correal it. But the whistle never blew, and Alex Coppella jumped on the loose ball, which was awarded to the Owls to the displeasure of the Terror faithful.
See the play.
John Eakin did the bulk of the heavy lifting for Bradford rushing 14 times for 117 yards.
Sawyer Drummond was 6 of 11 passing for 83 yards, a touchdown and an interception for Otto-Eldred and ran 18 times for 88 yards while brother, Seth, ran 21 times for 46 yards. The touchdown pass from Sawyer Drummond came midway through the fourth quarter and went to Grant West, who had four catches for 72 yards.
CLARION-LIMESTONE 53, REDBANK VALLEY 19
STRATTANVILLE, Pa. – Clarion-Limestone stayed unbeaten as it rolled past the Redbank Valley Bulldogs, 53-19, Friday night in Strattanville.
The Lions (3-0) beat the Bulldogs for the first time since claiming a 26-14 win in 2005. That year, the Lions won nine games and reached the District 9 Class A semifinals. It was also the most points C-L has ever scored against Redbank Valley topping the 48 put up in a 48-13 win in 2001.
The Lions had big games from a number of performers, including receiver Sam Leadbetter, quarterback Brendan Makray and running back Mike Macefe.
Leadbetter caught five passes from Makray for 177 yards and three touchdowns, including on plays of 42, 23 and 73 yards. Leadbetter also had two interceptions on defense.
Makray was 10 of 19 passing for 303 yards, three TD passes and three interceptions.
Macefe ran 25 times for 91 yards with three TDs.
Riley Hummell returned an interception 65 yards for a TD and
Both teams had trouble holding on to the balls as C-L had four turnovers, but the Lions got five turnovers.
Redbank Valley, which played a part of the game without quarterback Keaton Kahle who re-injured a knee that he hurt last week, lost its second straight game and is 1-2.
The Bulldogs got touchdowns from Brock Barrett on a 9-yard run, set up by a long kickoff return, and on an 83-yard kick return from Barrett and from Curtis Mohney on a 2-yard run.
KANE 62, CAMERON COUNTY 0
EMPORIUM, Pa. – Erik DeLong ran for 84 yards and three touchdowns, and Reed Williams threw for 79 yards and two touchdowns to lead visiting Kane to a 62-0 win at Cameron County.
DeLong, who carried the ball 11 times, scored on runs of 2, 20 and 5 yards, while Williams, who was 5 of 6 passing, threw a 22-yard scoring pass to Ray Maze and a 25-yard scoring strike to Davis Gardner, all in the first to help the Wolves to a 48-0 halftime lead.
Austin Labesky, Jake Alcorn all added rushing scores for Kane (4-0), while Isaac Walters returned an interception 40 yards for a touchdown.
Kane's defense held Cameron County (0-4) to 63 yards of offense with Tristan Reed picking up 52 of it on the ground.
CURWENSVILLE 63, PORT ALLEGANY 6
CURWENSVILLE, Pa. – Nick Stewart ran for three touchdowns, and Bryce Timko threw for three more, as Curwensville dispatched of visiting Port Allegany, 63-6.
Stewart gained 161 yards on 12 carries including scoring runs of 2, 46 and 70 yards.
Timko was 5 of 6 passing for 89 yards with scoring passes of 29 yards to Zach Marshall, 17 yards to Avery Francisco and 20 yards to Eli Jacobs.
Also scoring for the Golden Tide (4-0) were Alec Opalski on a fumble return, Calen Withering on a 19-yard run and Blake Mozzarella on a 26-yard run.
Mozzarella added 63 yards rushing on eight carries, while Jacobs caught two passes for 36 yards.
Jake Kallenborn scored the lone touchdown for Port Allegany (0-4) on a 15-yard run early in the fourth quarter. His 8 yards rushing on 16 carries led the Gators rushing attack, and he was also 8 of 18 passing for 117 yards and an interception. Devin Gustin caught five passes for 60 yards.
UNION/A-C VALLEY 40, MONITEAU 21
FOXBURG, Pa. – For the first time since October of 2012, the home fans at the A-C Valley Football Field got to see their team win a football game, as the Union/A-C Valley Falcon Knights ran past visiting Moniteau 40-21.
For the first-year Falcon Knights, it was the first home game at A-C Valley. The team played its first home game last week in Rimersburg, and it was the first time the faithful in Foxburg got to celebrate a victory on their home field since a 21-7 A-C Valley win over Keystone Oct. 12, 2012. A-C Valley lost its final 16 home games before merging its program with Union after last season.
And it was an A-C Valley product that did a lot of the heavy lifting for the Falcons Knights (2-1), as Lane Chalmers ran 14 times for 112 yards and a touchdown and caught four passes for 55 yards and a score.
In the true spirit of the co-op, Union's Lucas Bowser was 6 of 14 for 94 yards and two scores while also running nine times for 46 yards. In addition to his touchdown pass to Chalmers, he also threw a scoring pass to Kody Wolfe.
Quintin Crissman also returned a fumble for a touchdown for Union/A-C Valley, while Isaac Yoder added an interception on defense.
Corey Goyak ran 15 times for 53 yards and two touchdowns for Moniteau (1-2), while Dalton Anderson had three carries for 31 yards and Chance Nagy 14 for 27. Nagy was also 9 of 18 passing for 135 yards, a touchdown and an interception with Anderson catching five passes for 58 yards and a score and Wyatt Geibel two passes for 58 yards.
CLARION 69, KEYSTONE 8
KNOX, Pa. – Spencer Miller threw for four touchdowns and ran for a fifth, as Clarion gave head coach Larry Wiser his 199th career win with a 69-8 victory at Keystone.
Wiser, who is 199-91-1 in his 28th year at the helm of the Bobcats including his sixth straight (he took the 2010 season off) is the third winningest coach in D9 history behind only Clearfield's Tim Janocko (250) and former Coudersport boss Paul Simcoe (204) and could become the third coach in D9 history to reach 200 wins when Clarion hosts rival Clarion-Limestone next week.
Miller was 7 of 10 passing for 177 yards throwing a pair of touchdowns to Ty Burford, one to Dominic Fleming and one to Tom Wurster, all before halftime. He also opened the scoring for the Bobcats (3-0) with a 22-yard run and had 51 yards rushing on three carries.
Burford caught three passes for 103 yards and the two touchdowns, while Colton Rapp ran for 137 yards and two touchdowns on 14 carries and had seven tackles, including two for a loss on defense.
Sterling Conner, Michael McCloskey and Sam Minich also scored for Clarion, who rolled off the game's final 57 points after a touchdown by Keystone's Kyle Knapp cut a 12-0 deficit to 12-8 in the first quarter.
Knapp scored on a 59-yard pass from Nate Wingard, who was 10 of 18 passing for 110 yards, a touchdown and an interception. Knapp had three catches for 69 yards and the score for Keystone (0-4), who also saw Corey Rapp catch four passes for 59 yards.
Clarion's defense held Keystone to negative 13 yards rushing and 142 total yards.
DUBOIS 55, OIL CITY 16
DUBOIS, Pa. – Playing his first game of the year after offseason knee surgery, Matt Miller showed everyone why he was the Rehab Centre D9Sports.com District 9 Offensive Player of the Year in 2015.
Miller was 18 of 24 for 369 yards, five touchdowns and an interception, as DuBois broke a two-game losing streak with a 55-16 win over visiting Oil City.
Kyle Hopson was on the receiving end of two of those touchdown passes and finished with 10 catches for 223 yards and two touchdowns. Dylan McCluskey caught five passes for 89 yards, including a 58-yard scoring pass and intercepted a pass. Braden Paulinellie also caught a touchdown pass on his only catch of the night from 29 yards out.
Brock Adams, Dalton Kruzelak and Donny Wentz also scored rushing touchdowns for the Beavers, who had 440 yards of total offense.
The Beavers (2-2) did give up 329 yards to the winless Oilers (0-4) but bent but didn't break while recovering a pair of Oil City fumbles.
Aaron Chatley led Oil City with 80 yards on three carries including a 65-yard touchdown run in the fourth quarter.
Matthew Hutchinson added 68 yards and Jahmeer Jordan and Josh Puleo each ran for 67 yards helping the Oilers run for 294 yards on 53 carries.
Hutchinson scored on a 54-yard second-quarter run, but DuBois led 27-8 at the break.
KARNS CITY 42, ST. MARYS 6
KARNS CITY, Pa. – Waking up from one of its worst first halves in recent memory, Karns City rolled to 35 unanswered second-half points on its way to a 42-6 win over visiting St. Marys.
The Gremlins (3-1) led by just one, 7-6, at the break with their score on a 77-yard Kaiden Powers return of the opening kickoff.
But in the second half, Karns City's machine got rolling with five different Gremlins scoring.
A 94-yard touchdown run by Chandler Turner seemed to break the ice for KC's offense, and Aaron Hutchinson followed with a 15-yard scoring run. Sebastian Troutman then scored on an 8-yard run, Jimmy Thompson caught a 26-yard pass from Jake King for a score and Clay Garing found paydirt with a 13-yard scamper.
Thanks in part to the long run, Turner finished with 173 yards rushing on six carries. King was 9 of 19 for 123 yards.
Pat Schlimm scored St. Marys' only touchdown on a 1-yard run for the Dutch (1-2). Schlimm was 6 of 14 passing for 39 yards and two interceptions.
Matt Marconi led St. Marys with 78 yards on the ground.
BROOKVILLE 20, PUNXSUTAWNEY 14
BROOKVILLE, Pa. – Sophomore Bryan Dworek returned an interception 100 yards, scoring one of two Brookville Raiders touchdowns off Punxsutawney turnovers, in a 20-14 Route 36 Trophy victory Friday night.
The Raiders (1-2 overall) cashed in again two plays after a Chucks turnover on John Frank's 11-yard run with 35.2 seconds left in the first half to put Brookville up for good at 13-7. The Raiders made it 20-7 on Tyler Park's 1-yard run with 1:32 left in the third quarter.
The Raiders were outgained by the Chucks (0-3, 0-2), 206-157. Brandon McGranor ran for 48 yards on 21 carries. Seth Ray completed 5 of 11 passes for 58 yards with Dworek catching three passes for 48 yards. Frank had a fumble recovery and two sacks, both coming on the Chucks' final possession of the game that reached midfield.
Punxsutawney's Dylan Ishman threw two touchdown passes to Ethan Riley covering 48 yards and Jacob Weaver from 1-yard out early in the fourth quarter. He completed 8 of 15 passes for 160 yards. Riley caught five passes for 122 yards.
It is the first time since 2013 the Route 36 Trophy is back in Brookville.
BROCKWAY 51, SMETHPORT 7
BROCKWAY, Pa. – Hunter Miller ran for three touchdowns and threw two more to lead Brockway to a 51-7 win over visiting Smethport.
The unbeaten Rovers (4-0) led 30-0 at the end of the first quarter and 44-0 at halftime.
Miller, who was 9 of 11 passing for 258 yards while also running eight times for 29 yards, scored on first-half runs of 13 and 4 yards before adding a 25-yard scamper in the third quarter. He also threw a 15-yard touchdown pass to Cameron Baka and a 77-yard strike to Dylan LeCates, who also scored on a 1-yard run. Mark Latuska started the scoring for the Rovers on a 5-yard run. Jarrett Esposito nailed a 43-yard field goal in the opening 12 minutes as well.
LeCates caught three passes for 151 yards and the score and ran twice for 25 yards and the touchdown.
Smethport's lone touchdown came in the fourth quarter when Blake Kinner caught a 20-yard pass from Grant Ognen.
CLEARFIELD 35, HUNTINGDON 21
HUNTINGDON, Pa. – Clearfield is quickly becoming the comeback kids.
Trailing Huntingdon on the road, 21-14, late in the third quarter the Bison (3-1) scored three times in a span of just under 11 minutes to take home a 35-21 victory. The win was No. 250 for head coach Tim Janocko, the winningest coach in District 9 history.
Huntingdon, which trailed 14-7 until a bad snap by Clearfield late in the half led to a 10-yard Dylan Newingham touchdown return and a 14-all halftime score, took its second lead of the game on a 10-yard Andrew Hundy run early in the third quarter.
That lead held until there was a 1:12 to play in the quarter when Seth Caldwell scored the second of his three touchdowns on a 1-yard run that was set up by a 35-yard Isaac Rumery run on a second-and-17 play.
Rumery, who hit Micah Heichel with a fourth-down pass in the final minutes last week in a 30-28 win over Central-Martinsburg, hooked up with Heichel on some more fourth-down magic this week, albeit with a little more time left.
Facing fourth-and-10 from the Huntingdon 31 with 6 ½ minutes left, the duo found paydirt again to give Clearfield a 28-21 lead with 6:33 to go.
Caldwell, who ran 19 times for 137 yards, then sealed the victory with a 47-yard scoring run at the 2:33 mark.
Rumery (5-yard run) and Caldwell (6-yard run) scored in the first half for Clearfield after Ian Border gave Huntington an early 7-0 lead with a 10-yard scoring tote 1:49 into the game.
It was another solid game for Rumery  who was 7 of 18 passing for 143 yards, a touchdown and two picks while also rushing for 73 yards on 14 carries.
Heichel caught three passes for 122 yards.