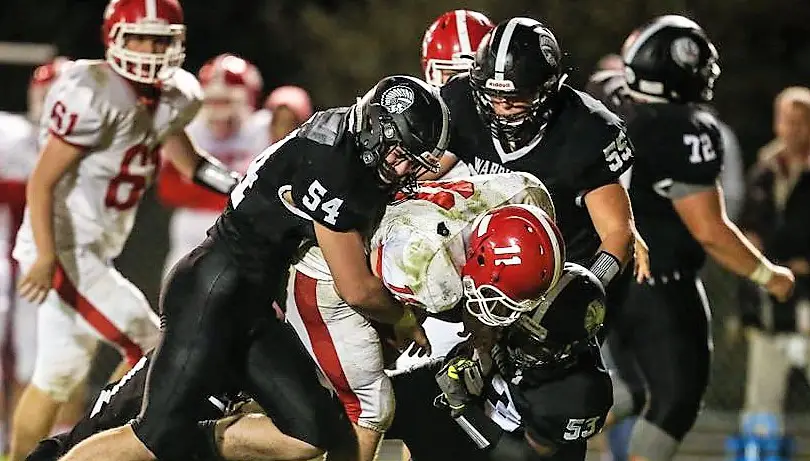 Sept. 8 District 9 football recaps.
(Cover Photo by Mike Schnelle. Check out more of Schnelle's work here)
PUNXSUTAWNEY 34, MONITEAU 28, OVERTIME
WEST SUNBURY, Pa. – Punxsutawney scored twice in the final 58 seconds of regulation and then again in overtime to stun Moniteau, 34-28, in West Sunbury.
The Chucks (1-2, 1-1 KSAC Large) seemed destined to start the season 0-3 trailing 28-12 with just over a minute to play.
But Dylan Ishman hit Tyler Richardson with a 16-yard touchdown pass with 58 seconds left, and Richardson scored the 2-point conversion to make it a one-score game.
The Chucks then kicked an onside kick, and Richardson, who said after the game that Punxsutawney practices onside kicks every-other practice, recovered it. That set up an Ishman to Richardson 37-yard scoring pass to make it 28-26 with 30 seconds to play, and Ishman, who threw four touchdowns, hit Jake Pearce with the two-point conversion to tie the game.
Moniteau (1-1, 1-1) had a chance to win the game at the end of regulation, but Steven Fawcett's 47-yard field goal as time expired was blocked, the second blocked field goal of the game for Punxsutawney.
In the extra session, Ishman found Richardson, who scored four times, again for the score to give Punxsutawney the lead, and the Chucks defense preserved on Moniteau's overtime possession.
Moniteau, which led 14-12 at halftime, scored twice in the third quarter on a Cody Wise 9-yard run and a Wise 55-yard fumble recovery to go up 28-12.
The fumble return was the second non-offensive touchdown of the game for Moniteau, which also took a 7-6 lead on an 86-yard Manny McClean kickoff return in the first half. That came after a 27-yard scoring run by Punxsy's Stone Smith put the Chucks ahead 6-0.
Chance Nagy, who left the game later with an injury, pushed the Warriors to a 15-6 lead with a 2-yard run before Ishman hit Richardson to make it 14-12 at halftime.
Ishman finished the night 10-for-30 for 186 yards and four touchdowns and completed his last five passes. Richardson had seven catches for 149 yards and four touchdowns, and Smith had 15 carries for 87 yards and the score.
Punxsy's defense forced five turnovers on the night, including an interception by Richardson.
Watch the Punxsutawney winning sequence.
KARNS CITY 42, REDBANK VALLEY 28
KARNS CITY, Pa. – After blowing a 21-point first-half lead, Karns CIty rallied for three fourth-quarter touchdowns to knock off visiting Redbank Valley, 42-28.
The Gremlins led 21-0 late in the first half and 21-7 at halftime before Redbank Valley scored 21 straight third-quarter points to take a 28-21 lead.
But three touchdowns, including two from Dalton Beham, in a span of 5:50 in the fourth quarter turned the game back in favor of Karns City giving the Gremlins (1-2) their first win of the year.
Clint Thurston's third rushing touchdown of the third quarter had put the Bulldogs (1-1) ahead for the first time late in the third quarter, but Beham, who scored four rushing touchdowns, tied the game at 28 on a 5-yard run 1:51 into the fourth quarter.
Beham's 23-yard run with 6:53 left put Karns City ahead for good, and Clay Garing then gave the Gremlins breathing room with a 16-yard run with 4:19 to play.
Two touchdowns by Beham and a Sebastian Troutman run gave Karns City the 21-0 lead with 2:31 left before halftime.
But Chase Wiles scored on a 4-yard pass from Keaton Kagle 29 seconds before halftime, and Redbank Valley carried that momentum into the third quarter tying the game at 21 on touchdown runs of 63 and 1 yard from Thurston, who ran 18 times for 124 yards.
Beham paced a Karns City ground attack that ran for 347 yards with a game-best 130 yards on 16 carries with Garing adding 94 on 11 totes and Troutman 89 on 14. Troutman also caught two passes for 17 yards.
Kagle was 14 of 31 for 142 yards the touchdown and an interception for Redbank Valley. Brock Barrett had six catches for 83 yards and Wiles five for 51.
KEYSTONE 34, UNION/A-C VALLEY 26
KNOX, Pa. – Corey Rapp scored three touchdowns, including two fourth-quarter scores, to help Keystone break a 12-game losing streak that dated back to the end of the 2015 season, with a 34-26 win over visiting Union/A-C Valley.
Union/A-C Valley (0-3, 0-2 KSAC Small) had rallied from a 20-6 halftime deficit to tie the game at 20 at the end of the third quarter, but Rapp gave Keystone (1-1, 1-1) the lead back on a 30-yard touchdown catch off a throw from Nate Wingard, who threw three scores on the evening.
After a Jeff Ginn 5-yard run closed the gap to 28-26 with 7:08 to play, Rapp again scored, this time on a 25-yard run with 2:24 left to put the Panthers up eight, and Jayden Blazosky picked off a Lucas Bowser pass with 2:13 to go to seal the victory.
Rapp ran 15 times for 87 yards and a touchdown, caught four passes for 63 yards and two touchdowns and made seven tackles on defense with a pair of interceptions.
Winger was 11 of 18 for 193 yards, three touchdowns and two interceptions. Taylar Altman added a rushing touchdown for Keystone, while Skylar Kagle caught a 65-yard pass from Winger on the game's first offensive play for a touchdown.
Bowser, who was picked off three times, did throw two touchdowns for Union and was 7 of 20 for 119 yards. He tossed a 65-yard scoring pass to Brendan Price in the first quarter to tie the game at six and then hit Nolan Cumberland from eight yards out in the third quarter.
Ginn ran 14 times for 136 yards and the score and had three catches for 18 yards. Kagle caught two passes for 88 yards.
KANE 34, COUDERSPORT 6
COUDERSPORT, Pa. – After a sluggish start, Kane turned it on and rolled to a 34-6 road win over Coudersport.
Erik DeLong led the way for the Wolves (3-0), who led 7-6 in the second quarter, with 20 carries for 139 yards and two touchdowns. Reed Williams was 10 of 24 for 173 yards, two touchdowns and two interceptions. Ray Maze, who had three catches for 93 yards, caught one of the scoring passes while JT Stewart added a 2-yard touchdown catch. Ange Costanzo also ran six times for 73 yards and a score and added two catches for 24 yards.
Coudersport (0-3), who lost running back Chase Whitman to an injury, got a 3-yard scoring run from Jared Green. Whitman had 30 yards rushing before getting hurt. Freshman Hayden Keck paced the defense with 11 tackles and an interception, while Green added 10 stops and a pick.
OTTO-ELDRED 32, ELK COUNTY CATHOLIC 23
DUKE CENTER, Pa. – Behind a fantastic game from Sawyer Drummond, Otto-Eldred claimed a victory for the AML North over the AML South with a 32-23 win over visiting Elk County Catholic.
Drummond was 15 of 20 for 174 yards and three touchdowns through the air and ran 24 times for 136 yards.
Dylan Close added 117 total yards from scrimmage and scored three times for the Terrors (1-2) including seven catches for 65 yards and two touchdowns and nine carries for 52 yards and a score.
Nick York helped on defense with a pair of interceptions, and Brady Valerius and Cole Sebastian added scores.
Meanwhile, Otto-Eldred's defense held ECC's rush game in check limiting Alec Bittler, who started the season with a pair of 100-yard games, to 10 carries for 22 yards and a touchdown. Hunter Cashman led the Crusaders (2-1) with 61 yards rushing all on his lone carry, a 61-yard scoring run. Tyler Dilley added 51 yards rushing on nine carries and was 8 of 13 passing for 97 yards, a touchdown and two picks. Brennen Klawuhn added four catches for 102 yards with Leo Gregory catching a touchdown pass.
CLARION 58, BROOKVILLE 22
BROOKVILLE, PA. – Colton Rapp ran for 227 yards on 27 carries and scored four touchdowns to lead a powerful Clarion performance in a 58-22 rout at Brookville Friday night.
Rapp ran for scores of 3, 18 and 42 yards while taking a shovel pass from quarterback Spencer Miller 39 yards for another touchdown. His two catches for 46 yards gave him 273 yards from scrimmage as the Bobcats piled up 466 yards of offense and scored on every possession until kneeling out the clock at the end of the game.
Sterling Conner scored twice on a game-opening 1-yard run and 35-yard interception return in part of Clarion's 24-point second quarter. Camden Boggess and Logan Minich ran for touchdowns of 2 and 10 yards while kicker Archer Mills booted a 31-yard field goal as time expired in the first half.
Minich ran for 55 yards on seven carries with Miller completing 4 of 10 passes for 81 yards while adding an interception on defense.
Raiders quarterback Jack Krug threw scoring passes to Tyler Park and Bryan Dworek covering 32 and 30 yards and completed 12 of 21 passes for 156 yards along with the two interceptions. Dworek caught six passes for 75 yards.
Backup quarterback Tyler Ohls threw a 6-yard touchdown pass to Kyle MacBeth for the Raiders' final touchdown in the fourth quarter.
CLARION-LIMESTONE 52, ST. MARYS 0
STRATTANVILLE, Pa. – Quarterback Brenden Makray threw for 277 yards and five touchdowns as Clarion-Limestone blasted St. Marys, 52-0, Friday night.
Makray, who completed 8 of 12 passes, connected with Riley Hummell and Colby Himes for two scores each. He and Hummell hooked up for touchdowns of 56 and 38 yards in the first quarter, and Himes covering 48 and 70 yards. Kyle Kerle caught a 35-yard touchdown pass from Makray for the game's first points.
Hummell caught three passes for 113 yards while rushing for 86 yards on seven carries, Himes three passes for 123 yards and Chris Peace ran for 88 yards on 12 carries with a touchdown.
The Lions led 38-0 by halftime and outgained the Dutch, 493-29.
Tim Beimel ran for 32 yards on 13 carries with St. Marys going minus-3 yards on the rest of the team's 18 plays from scrimmage.
RIDGWAY 42, SMETHPORT 0
JOHNSONBURG, PA. – Neil MacDonald scored twice to help Ridgway role past visiting Smethport, 42-0, at Johnsonburg.
MacDonald, who ran nine times for 152 yards, scored on first-half runs of 52 and 66 yards for the Elkers (3-0), while Aaron Hinton (31-yard run) and Cole Secco (11-yard run) also scored on the ground and Andy Breier pulled down a 7-yard touchdown pass from Daunte Allegretto, who was forced into action when starting quarterback Johnny Mitchell got hurt on defense. Tyler Watts also returned a fumble 40 yards for a score for Ridgway.
Braedon Johnson ran four times for 13 yards for Smethport, which was held to 27 total yards of offense, including negative-32 on the ground. Grant Ognen was 6 of 14 passing for 49 yards with Alex Sanderson catching two passes for 22 yards and Blake Kinner three for 20. Matthew Stratton and Mason Christie each had 14 tackles on defense for the Hubbers (0-3), while Kinner added an interception.
Jake Zimmerman added 62 yards rushing for Ridgway and Joey Elinski had 51 yards on the ground.
BROCKWAY 57, PORT ALLEGANY 18
BROCKWAY, Pa. – Peter Downer threw four touchdowns passes including two to Noah Vokes to lead Brockway to a 57-18 win over visiting Port Allegany.
Downer was 7 of 9 on the night for 175 yards while Vokes had three catches for 105 yards. Dylan Lecates also scored twice for the Rovers (3-0) reaching paydirt on a 26-yard reception and on a 13-yard run. He had three catches for 32 yards and ran the one time.
Also catching a touchdown pass was Cam Baka, who also returned a punt for a touchdown, while Jon Woods and James Woods each scored rushing touchdowns for Brockway, which led 57-6 midway through the third quarter.
Jon Wood had a team-high 63-yard rushing with Tyler Serafini adding 62 yards on the ground. Zane Puhala added a 30-yard field goal for the Rovers.
Trey Stiles had a pair of rushing touchdowns for Port Allegany, and Jared Mahon added a late ground score.
Stiles ran three times for 48 yards and caught one pass for 27 yards, while Devon Smoker led the Gators (0-3) with 56 yards rushing. Eli Petruzzi chipped in 40 yards on the ground.
CURWENSVILLE 56, SHEFFIELD 8
CURWENSVILLE, Pa. – Nick Stewart ran 16 times for 161 yards and three touchdowns to lead Curwensville to a 56-8 win over visiting Sheffield.
Stewart moved into second place in both District 9 history and Curwensville history in rushing yards and now has 5,817 yards in his career. He passed Alex Holland for the spot. Holland ran for 5,734 yards in his career. Stewart now only trails Nick Sipes (5,963) yards in both school history and D9 history and needs 147 yards to become D9's all-time leading rusher.
A 41-point second quarter broke the game open for the Golden Tide (3-0), who led 8-0 at the end of one.
While Stewart was tearing things up on the ground, Bryce Timko continued to be a threat through the air tossing four more touchdowns and a running for a fifth.
Timko was 9 of 14 for 186 yards and ran seven times for 27 yards.
Josh Terry, who had three catches for 75 yards, was on the receiving end of two of the touchdown passes, while Noah Von Gunden, who had three grabs for 65 yards, also hauled in two aerial scores.
Josh Agudio scored the lone touchdown for Sheffield (0-3) on a 65-yard fourth-quarter run. Agudio ran 21 times for 158 yards in place of Kevin Evans, who reportedly has left the team.
BRADFORD 47, CAMERON COUNTY 8
EMPORIUM, Pa. – John Eakin and Derek Sunafrank combined for six touchdowns to help keep visiting Bradford unbeaten with a 47-8 win at Cameron County.
Eakin scored three times on the ground and once through the air for the Owls (3-0), while Sunafrank added a pair of rushing touchdowns.
Needing just six carries to gain 102 yards, Eakin scored on runs of 6, 30 and 3 yards and also hauled in a 53-yard touchdown pass from Donny Pattison, the lone pass thrown by Bradford on the night.
Sunafrank, meanwhile, ran four times for 84 yards scoring on runs of 18 and 32 yards, while Vinny Burgess added a nine-yard scoring run for the Owls.
Caden Beldin threw a late 2-yard scoring pass to Devin Palumbo for Cameron County's lone score.
Adam Streich was 15 of 33 passing for 143 yards but threw two picks for the Red Raiders (0-3), while Eric Morton had a game-high four catches for 43 yards. Palumbo added three grabs for 38 and the touchdown.
CENTRAL-MARTINSBURG 42, CLEARFIELD 14
ROARING SPRING, Pa. – Clearfield's 20-game Mountain League win streak came to a crashing halt, as Central-Martinsburg reeled off 35 unanswered points to down the visiting Bison, 42-14.
Clearfield led 14-7 following a 3-yard Isaac Rummery touchdown run with 5:04 left in the first quarter, but that was the last time the Bison (2-1, 1-1 Mountain League) scored.
Central quarterback Noah Muthler, who scored three first-quarter touchdowns while rushing for 80 yards, tied the game on a 6-yard run with 2:48 left in the quarter and then gave the Dragons (2-1, 2-0) the lead for good with a 1-yard run with 46 seconds left in the first.
Two more Central scores in the second quarter made it 35-14 at halftime with Muthler scoring his fourth touchdown of the game on a 3-yard run and a 35-yard Trystan Detwiler scamper. Jared Smith then finished off the scoring with an 18-yard run in the third quarter.
Detwiler ran for a game-high 165 yards on 16 carries for the Dragons, who out rushed Clearfield 352 yards to nine.
Rumery, who was under constant pressure and finished with negative 35 yards rushing was 13 of 23 passing for 184 yards, a touchdown and an interception. He started the scoring by hitting Taye Lynch with a 19-yard scoring pass Lynch had two catches for 18 yards, while Micah Heichel led the Bison with five grabs for 101 yards.
MEADVILLE 55, DUBOIS 21
DUBOIS, Pa. – Isaiah Manning scored five times to lead visiting Meadville to a 55-21 win at DuBois.
Manning's five touchdown runs covered 200 yards, as he scored on totes of 27, 24, 64, 2 and 83 yards.
De'Shawn Wofford also scored twice on the ground for the Bulldogs (2-1, 1-0 District 10, Region 5) scoring on runs of 23 and six yards.
Matt Miller, who was 21 of 37 for 256 yards, threw a pair of touchdown passes for DuBois (0-3, 0-2) including an 18-yard strike to Eric Schneider in the first quarter and a 38-yard pass to Kyle Hopson in the third quarter. Dylan McCluskey also scored on a 2-yard run for the Beavers. Hopson had 10 catches for 154 yards and the score.