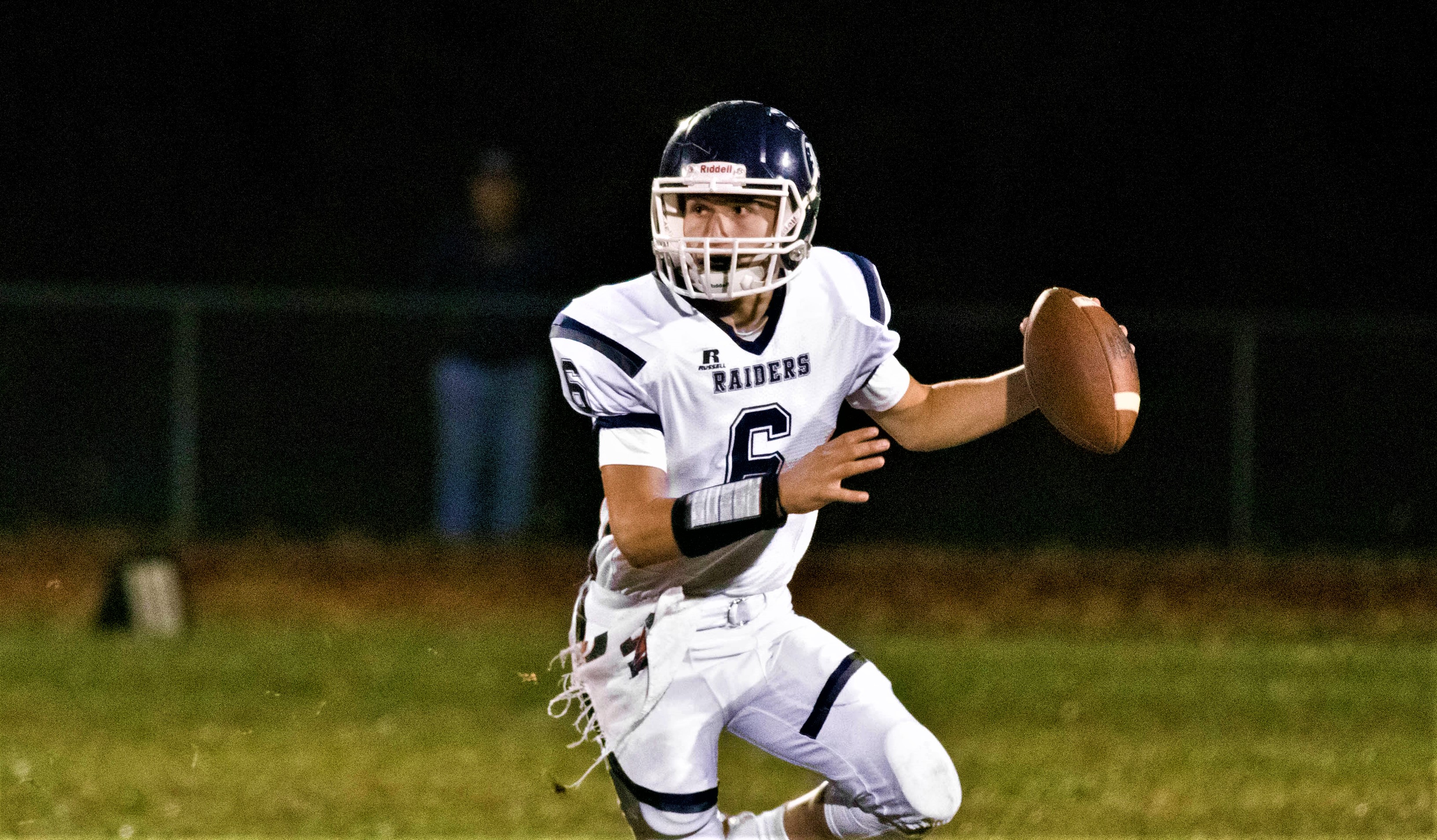 BROOKVILLE, Pa. – In a game that featured 1,374 yards of total offense, 129 points and just one punt, Brookville outgained visiting Bradford 770 to 604 and outscored the Owls 69-60 to start the season on a winning note.
(Jack Krug shattered a 50-year old Brookville school record for touchdown passes Friday night when he tossed eight in a 69-60 win over Bradford. File Photo by Kyle Yates www.facebook.com/YatesPhoto)
Sophomore quarter Jack Krug had a monster game for the Raiders (1-0, 1-0 D9 League Large School) accounting for 693 yards of total offense and nine touchdowns. He was 30 of 50 passing for 555 yards and school-record eight touchdowns (breaking a 50-year old mark set by Dick Bowley, 6 vs. Moniteau in 1968) while also rushing 14 times for 138 yards and a score. He threw for the 555 yards despite his best receiver and last year's D9Sports.com District 9 Offensive Player of the Year Bryan Dworek missing the game with an ankle injury.
No Dworek, no problem, as Cabe Park set school records for catches (15), yards (290) and touchdown catches (five). He is the fifth player in school history with five touchdowns in a game and is tied with four others for second all-time in school history in score in a game – the school record is six set by John Hilliard way back in 1935.
Ian Thrush also had a 100-yard receiving day for the Raiders with four catches for 108 yards and a touchdown with Tucker Wolfe adding five grabs for 83 yards and a score. Wolfe chipped in eight carries for 41 yards.
While Brookville was throwing the ball all over the field, Bradford was chewing up the Raiders defense on the ground.
The Owls (0-1, 0-1) ran for 522 yards with three players topping 100 yards including Donny Pattison, who ran 14 times for 204 yards and three touchdowns (Pattison also scored on a 36-yard pass from Nathan Blauser and caught two passes for 39 yards).
Derek Sunafrank added 15 rushes for 179 yards and two touchdowns with Jaron Ambrose adding seven carries for 129 yards and two scores.
Blauser was 5 of 10 passing for 82 yards, two touchdowns and two interceptions for the Owls, who exactly led 20-6 in the first quarter and still held a 60-54 heading to the fourth quarter before Brookville took the lead for good, 61-60, on a 37-yard run by Krug on the first play of the final 12 minutes.
SMETHPORT 54, SHEFFIELD 6
SHEFFIELD, Pa. – Three of Grant Ognen's four completed passes went for touchdowns, including two to Bryent Johnson, as visiting Smethport toppled Sheffield, 54-6.
Ognen was 4 of 5 passing for 135 yards and the three scores, and Noah Lent added a fourth passing touchdown for the Hubbers (1-0 overall, 1-0 D9 League Small School North). Lent was 2-for-2 for 11 yards.
Johnson hauled in three catches for 81 yards and the two scores with Richie McDowell also catching a 5-yard touchdown pass. Blake Kinner had one catch for 49 yards and a touchdown and also ran for two scores while racking up 89 yards on five carries. Kinner also blocked a punt that was recovered by Travis Cooney in the end zone for a touchdown. Nathan Hollowell chipped in seven carries for 57 yards and added an interception on defense.
Kevin Marfink paced Sheffield with eight carries for 48 yards and a touchdown, but the Wolverines (0-1, 0-1) offense had trouble getting going after quarterback Matt Dunham broke his leg early in the game on defense and is lost for the season. Nick Noles had five tackles and a sack on defense.
MONITEAU 14, KANE 13
KANE, Pa. – Cody Wise's 60-yard touchdown runs on the first drive of the second half helped lift Moniteau to a 14-13 win over Kane in the first game for first-year head coach Bob Rottman.
In a defensive slugfest, the Warriors (1-0 overall, 1-0 D9 Big School) trailed 7-6 at halftime despite an interception return for a touchdown by Chance Nagy, who had a pair of interceptions on defense and a fumble recovery.
But Wise's long run put Moniteau in front for good early in the third quarter with Nagy tacking on the 2-point conversion.
Wise ran for 160 yards on 15 carries in the game, as Moniteau ran for 306 yards as a team. Nick Martino (17 carries) and Nagy (10 carries) each added 53 yards on the ground with Austin Yeager chipping in 36. Nagy was also 2-for-5 passing for 35 yards with a pair of interceptions. Isaac Blum had both catches.
Wise and Martino both had a team-high seven tackles, while Noah McLean had two sacks.
Down 14-7 with 1:18 left to play, Kane blocked a Moniteau field goal attempt and Teddy Race went 80 yards for a touchdown to get the Wolves within one, but Moniteau stopped the 2-point conversion to hang on for the win.
Race races for the touchdown. Video courtesy of Pete Sirianni and Kane football Hudl.
Kane's other touchdown came on a 6-yard Zuke Smith to Bobby Rumcick touchdown pass.
Smith, just a sophomore, was 17 of 34 passing for 146 yards, the touchdown and two interceptions. Rumcick had three catches for 27 yards, while Austin Jordan led the Wolves with five catches for 61 yards.
Kane had trouble running the ball rushing for just 19 yards on 12 carries.
BROCKWAY 27, KARNS CITY 24
KARNS CITY, Pa. – Zane Puhala's 30-yard field goal with 2:50 to play lifted visiting Brockway to a 27-24 come-from-behind win at Karns City.
The Rovers (1-0 overall, 1-0 D9 Large School) trailed 24-10  going to the fourth quarter before scoring 17 unanswered points to grab the win.
A 32-yard Peter Downer to Conner Ford touchdown pass got Brockway within seven, 24-17, and then a 25-yard scoring run by Jon Wood tied the game at 24 setting up Puhala's second field goal of the game for the win (his first was from 23 yards).
The victory was the first for first-year head coach Tom Weaver.
Tyler Serafini had a nice night for the Rovers rushing 21 times for 148 yards and a touchdown. Wood added 11 carries for 55 yards, while Downer was 7 of 17 passing for 76 yards.
Hunter Jones scored a pair of rushing touchdowns for Karns City and ran nine times for 49 yards.
CLARION 40, PUNXSUTAWNEY 6
CLARION, Pa. – Sam Minich had 172 yards of total offense and scored three touchdowns to lead Clarion to a 40-6 season-opening win over Punxsutawney.
Listen to the Game: Full Game:
Minich, who rushed five times for 127 yards, scored on runs of 56 and 48 yards and added a 32-yard receiving touchdown (he had two catches for 45 yards) from Archer Mills.
Minich, who was named the exploreRadio Hager Paving Player of the Game, talked about his night.
Mills was 6 of 9 passing for 86 yards, the touchdown and an interception while also rushing for 44 yards and kicking a 25-yard field goal while going 4-for-4 on extra points.
Sophomore Cal German also threw a touchdown pass, a 25-yard strike to Ethan Burford and was 3-for-6 passing for 44 yards in his varsity debut. Buford had three catches for 41 yards.
Clarion (1-0 overall, 1-0 D9 League Large) also scored on a safety.
Alex Gianvito scored the lone touchdown for Punxsutawney (0-1, 0-1) on a 16-yard pass on fourth down from Carter Newcome, who was forced into action at quarter when Dylan Ishman couldn't play because of an injury, meaning both teams were without key players – Logan Minich couldn't go for Clarion.
Gianvito, who had a long kickoff return to set up his touchdown, caught two passes for 41 yards and ran nine times for 33 yards.
Newcome was 4-for-17 for 62 yards and an interception.
OTTO-ELDRED 34, PORT ALLEGANY 6
DUKE CENTER, Pa. – Chase and Cole Sebastian helped Otto-Eldred start the Troy Cook Era in grand fashion with a 34-6 win over visiting Port Allegany.
Cole Sebastian was 17 of 24 passing for 251 yards, three touchdowns and an interception while adding 11 carries for 59 yards and a score.
Two of his scoring passes went to brother Chase Sebastian, who had five catches for 94 yards. Chase Sebastian was also 1-for-4 passing for 24 yards.
Cameron Magee caught the other touchdown pass and had seven grabs for 105 yards, while Chris Connelly added four catches for 65 yards for the Terrors (1-0 overall, 1-0 D9 Small School North).
All of Port Allegany's 108 yards of offense came on the ground led by 69 yards on 17 carries from and a touchdown from Josh Rees. Devin Smoker added 46 yards rushing on 11 totes for the Gators (0-1, 0-1).
ELK COUNTY CATHOLIC 34, CURWENSVILLE 14
CURWENSVILLE, Pa. – Stephen Bobby ran for three touchdowns and Mason McAllister threw for a pair of scores to help visiting Elk County Catholic knock off Curwensville, 34-14.
Bobby ran 26 times for 166 yards scoring on runs of 5, 20 and 41 yards.
McAllister was 7 of 14 passing for 103 yards, the two scores and three interceptions. He threw touchdown passes to Leo Gregory (30 yards) and Hunter Cashmer (18 yards).
Gregory had two catches for 48 yards with Cashmer grabbing two balls for 31 yards and rushing 11 times for 41 yards for the Crusaders (1-0 overall, 1-0 D9 League Small School South).
Jake McCracken and Blake Passarelli scored for Curwensville with McCracken, who had two catches for 24 yards, scoring on a 21-yard pass from Noah VonGunden, who was 3 of 16 passing for 25 yards, the touchdown and two interceptions. VonGunden did have one of the three Curwensville interceptions.
Passarelli added a late 15-yard touchdown run for the Golden Tide (0-1, 0-1) and ran seven times for 85 yards.
CLARION-LIMESTONE 40, UNION/A-C VALLEY 0
STRATTANVILLE, Pa. – Austin Newcomb returned the opening kickoff of the season 85 yards for a touchdown and then scored the next two Clarion-Limestone touchdowns as well, as the Lions rolled to a 40-0 win over visiting Union/A-C Valley.
Newcomb did a bit of everything for C-L (1-0 overall, 1-0 D9 League Small School South) rushing 13 times for 151 yards and a touchdown (10 yards), catching six passes for 127 yards and a touchdown (30 yards from Colby Himes) and also catching a pair of 2-point conversion passes from Himes.
Himes, making his first start at quarterback, was 10 of 16 passing for 170 yards and two scores while rushing for 11 yards in five carries. He also threw a 13-yard touchdown pass to Kyle Bottaro.
Ayden Wiles chipped in a 1-yard scoring run for C-L and ran 15 times for 41 yards.
All of Union/A-C Valley's offense, and there wasn't much of it with just 64 yards, came on the ground led by Tony Thompson's eight carries for 36 yards. The Falcon Knights (0-1, 0-1) also got 23 yards rushing from Kylar Culbertson.
COUDERSPORT 71, CAMERON COUNTY 0
COUDERSPORT, Pa. – Coudersport outgained visiting Cameron County, 376 to negative five, and got three touchdowns each from Hayden Keck and Stephen Kelly to steamroll the Red Raiders, 71-0.
Keck scored on a pair of 1-yard runs and a 16-yard run, while Kelley scored on a 60-yard free kick return following a safety and runs of 23 and 47 yards.
On the night, Kelly ran eight times for 117 yards and the two touchdowns with Keck adding 25 yards and the three scores on just four totes.
Coudersport (1-0 overall, 1-0 D9 League Small School North) didn't attempt a pass on the night but ran the ball 38 timed averaging 9.9 yards per carry.
Josh Powell chipped in 69 yards and a touchdown on two carries with Kolby VanWhy rushing for 46 yards on eight totes. Dylan Kelly, Mason Klesa and Dalton Keglovits also scored on the ground for the Falcons.
Ebon Jackson led Cameron County (0-1, 0-1) with 16 yards rushing.
REDBANK VALLEY 41, KEYSTONE 18
KNOX, Pa. – Keaton Kahle threw for 177 yards and two touchdowns and ran for 123 yards and a touchdown to lead visiting Redbank Valley to a 41-18 win over Keystone.
Kahle was 16 of 23 passing with scoring passes of 18 yards to Ethan Hetrick and 2 yards to Alex Carlson. He also threw a pick-six that was taken to the house by Brandan Kapp of Keystone, who went 55 yards for the score.
Hunter Wiles added 149 yards rushing and a touchdown on 11 carries with Travis Crawford added a pair of rushing touchdowns and ran 11 times for 50 yards.
Kapp scored twice for Keystone also scoring on an 18-yard pass from Isaak Jones. Kapp had five catches for 84 yards.
Jones had a nice night going 17 of 25 passing for 260 yards, two touchdowns and an interception.
Nick Weaver also caught a touchdown pass catching three throws for 30 yards and also rushing for a team-best 44 yards. Jayden Blazosky added five catches for 75 yards.
CLEARFIELD 28, DUBOIS 3
DUBOIS, Pa. – Isaac Rumery ran for two touchdowns and threw for a third to led visiting Clearfield to a 28-3 win over DuBois.
Rumery ran for scores of 74 and 11 yards and tossed a 28-yard pass for Jake Lezzer. He finished the night with eight carries for 84 yards and was 8 of 16 passing for 118 yards, the touchdown and an interception.
Brett Zattoni added 68 yards rushing for Clearfield (1-0).
Dylan McCluskey kicked a 37-yard field goal for DuBois' lone score and also ran 17 times for 75 yards. Eric Schneider was 12 of 19 passing for 97 yards and two interceptions.
RIDGWAY 42, ST. MARYS 0
ST. MARYS, Pa. – Jake Wickett scored three short rushing touchdowns to lead visiting Ridgway to a 42-0 win over St. Marys.
Wickett, who ran for 53 yards on six carries, scored on runs of 4, 2 and 4 yards for the Elkers (1-0 overall, 1-0 D9 League Large School).
Cole Secco (82-yard run), Evan Furlong (7-yard run) and Ben Briggs (7-yard run) also scored for Ridgway. Secco led the Elkers with 99 yards rushing on four carries thanks to the big run.
Ridgway was also 6 of 6 passing for Paul Gresco going 4 of 4 for 97 yards and Gabe Watts 2-for-2 for 52 yards. Daunte Allegretto hauled in a 59-yard reception.
Cody Ritter paced St. Marys (0-1, 0-1) with 73 yards rushing on nine totes.