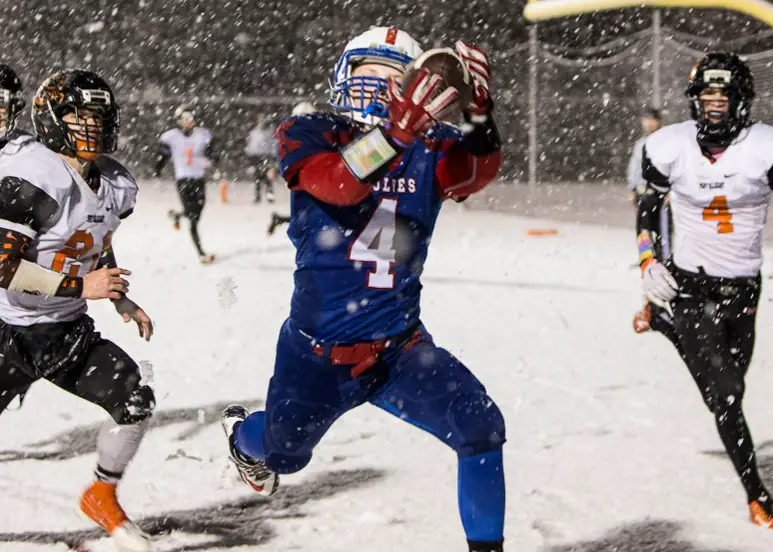 | | |
| --- | --- |
| Clearfield-Johnstown Highlights |  Kane-Port Allegany Highlights |
| | |
| Curwensville-Clarion Highlights | |
| | |
DISTRICT 9 CLASS A QUARTERFINALS
KANE 29, PORT ALLEGANY 6
BRADFORD, Pa. – At a snowy Parkway Field in Bradford, Tyler Rolick scored twice as top-seeded Kane beat Port Allegany, 29-6, for the third time this season and the second time in two weeks.
Tyler Rolick scored on runs of 4 and 15 yards in the second quarter helping the defending champion Wolves (11-0) to a 16-6 halftime lead.
Twin brother Shane then added a 1-yard run midway through the fourth quarter to put the game away.
The Rolick boys combined to rush for 250 of Kane's 279 yards of offense and accounted for more than 100 percent of the Wolves' offensive yardage on the night with Shane also throwing for 36 yards.

The Wolves defense and special teams also contributed to the scoring with Kane opening the game by creating a safety on a fumble by Port's Tre Garzel 4 ½ minutes into play that went out of the back of the end zone and then ending the scoring with a blocked punt that was recovered and returned for a touchdown by Jake Shrub with 1:32 to play.
In between it was all Rolick all the time on a field that was so snow covered that at one point in the first half a call for volunteers out of the stands was called for to help clear the yard line.
After offensive lineman Jacy Richardson rumbled 65 yards for a touchdown after catching a fumble by teammate Mac Tanner out of the air to give the seventh-seeded Gators (6-5) a 6-2 lead late in the first quarter, Tyler Rolick put Kane ahead for good with his 4-yard touchdown run with 8:35 left in the half to make it 8-6. Tyler then scored again, this time on the 15-yard run, with just 1:38 to go for the half to make it 16-6.
The game remained that way until the midway point of the fourth quarter when Shane's run made it 23-6.
Shane Rolick led the Wolves with 155 yards rushing on 21 carries and was also 4 of 9 passing for 36 yards. Tyler Rolick added 95 yards on the ground on 24 totes.
Richardson actually led Port Allegany with the 65 yards rushing despite not getting credit for a carry – on a fumble like that the initial ball carrier gets the carry to the point where the fumble happened and then the recovering player gets the remainder of the yards without being credited with a carry.
Garzel was 3 of 17 passing for 44 yards, while Tanner was 1 of 2 for 31 yards. Garzel caught Tanner's pass for 31 yards to lead the Gators' receiving corps.
Kane will take on Curwensville in the semifinals next week at a date, time and site to be announced.
BROCKWAY 20, ELK COUNTY CATHOLIC 6
BROCKWAY, Pa. – Behind 120 yards rushing and two touchdowns from Mark Latuska, fourth-seeded Brockway moved into the semifinals with a 20-6 win over visiting and fifth-seeded Elk County Catholic Friday night.
Latuska was a workhorse lugging the ball 33 times and scoring on a first-quarter run of 1 yard and a fourth-quarter tote of 2 yards.
His fourth-quarter score with 4:53 to play came five plays after a 1-yard Elk County Catholic punt gave the Rovers (9-2) the ball at the ECC 30 up by just seven, 13-6.
Latuska then had his name called on all five plays of the short drive including runs of 11 and 9 yards on the first two plays of the drive.
Hunter Antonucci then sealed the win when he picked off ECC quarterback Nate DaCanal on the Crusaders' next possession.
Latuska gave Brockway a 7-0 lead late in the first quarter with his 1-yard touchdown run that came at the end of an 11-play drive that was highlighted with a 26-yard Hunter Miller run to the ECC 5-yard line. From there, Latuska took the ball to the 1 before going in for the touchdown on the next play.
The Rovers made it 13-0 at halftime when Miller found paydirt from a yard out with 7:10 left in the half.  That capped a 10-play drive, all on the ground, that saw Latuska carry the ball seven times for 36 yards including a 13-yard pickup early in the drive.
ECC (7-3) threatened right out of the gate in the second half driving to the Brockway 14-yard line before the Rovers defense came up with a sack on third down back to the 20. Troy O'Brien then picked off a DaCanal pass on fourth down to end the threat,
The Crusaders finally broke through late in the quarter on a 1-yard Noah Werner run that capped a 7-play, 29-yard drive that was set up by a 20-yard Werner punt return. A roughing the passer penalty on Brockway helped during the drive.
Brockway had a chance to put the game away early in the fourth quarter, but Miller was stuffed a yard short of the stick on a fourth-and-2 call from the ECC 6-yard line.
ECC, though, was never able to dig out of the deep hole created by that Brockway drive never crossing midfield the rest of the game.
Miller added 99 yards rushing on 15 carries for Brockway and was 2 of 4 passing for 14 yards.
Werner paced ECC with 38 yards rushing on 11 totes with DaCanal going 6 of 20 passing for 69 yards with three interceptions. Brockway outgained the Crusaders 305-109.  
The Rovers will face top-seeded Redbank Valley in the semifinals next week at a date, time and location to be announced.
CURWENSVILLE 46, CLARION 14
CLARION, Pa. – Four second-half touchdowns, including three in the fourth quarter, helped sixth-seeded but favored Curwensville pull away from third-seeded Clarion 46-14 Friday night at Clarion University's Memorial Stadium.
The Golden Tide (7-3), the sixth seed because of the pre-seeded D9 tournament despite having one more win and one fewer loss than Clarion (6-5) coming into the game, led by just four, 18-14, at halftime.
But Hunter Johnson scored on a 3-yard run early in the third quarter to make it 24-14, and Nick Stewart (23-yard run), Avery Francisco (8-yard pass from Jakob Terry) and Kaleb Witherite (27-yard run) all scored in the fourth quarter to help the Tide avenge a loss to Clarion in last year's first round.
Curwensville looked in total control early when Eli Jacobs caught a 26-yard pass from Terry and Stewart scored on a 1-yard run to give the Tide a 12-0 lead nine minutes into the game.
But a 60-yard run by Colton Rapp stabilized things for Clarion and got the Bobcats back with five, 12-7, at the end of the first quarter.
Terry, who was 9 of 15 passing for 104 yards, three touchdowns and one pick, returned the Curwensville lead to a two-score advantage when he hit Quamone Newkirk with a 6-yard pass with two minutes to go before halftime, but Josh Kriebel caught a 15-yard pass on a trick play from Adrian Weber with just 51 seconds to go before the break to get Clarion back within four.   
Stewart, the fantastic sophomore running back who is already over 3,000 career yards, had a monster game for Curwensville with 222 yards rushing on 34 carries and 30 yards receving on three catches to go with his two touchdowns. Johnson added 52 yards on the ground on 13 totes, while Newkirk had four catches for 40 yards with the score.
Clarion, which was outgained 413-209, was led by Rapp's 92 yards rushing on 11 carries. Bo Miller was 5 of 17 passing for 64 yards and picked off a pass on defense. He also caught one pass for three yards. Clarion had four different guys throw the ball with Weber going 1-for-1 with the 15-yard touchdown pass, Spencer Miller, Bo's younger brother, going 1 of 1 with a 3-yard pass to his older sibling, and Traeson Douglas going 0-for-1.
Curwensville will take on second-seeded Kane in the semifinals next week at a site, day and time to be announced.
REDBANK VALLEY 24, COUDERSPORT 16
NEW BETHLEHEM, Pa. – Wyatt Hetrick scored three times, including two long first-quarter runs, and ran for 266 yards to help top-seeded Redbank Valley hold off an upset bid by eighth-seeded Coudersport, 24-16, Friday night in New Bethlehem.
All but 10 of the game's points game in a wild first quarter than saw Coudersport take an early 8-0 lead on a 2-yard Aaron Wolfinger touchdown run that was set up when Anderson Nicka recovered Brock Barrett fumble at the Bulldog 45-yard line two plays into the game. It was a lengthy drive in terms of play, 12, before Coudersport found the end zone with the Falcons converting three third downs and a fourth down during it.  
It didn't take Redbank Valley very long to answer, as Hetrick went right up the gut for a 67-yard score two players after the Coudy score to get the Bulldogs within a point, 8-7, midway through the opening 12 minutes.
Hetrick then made it 14-8 Redbank when he went 77 yards on the first play following a Coudersport punt.
The Falcons answered right back 1:15 later when Darren Keglovits scored on a 1-yard plunge. His 36-yard pass to Navada Waterman helped set up the score.
The game remained 16-14 Coudy until Clint Thurston hit a 27-yard field goal with 23.6 seconds left in the half to give Redbank a 17-16 halftime lead. A Nick Shoemaker with interception at the Coudersport 43-yard line that he returned to the 26 set up the score. A fourth-and-4 5-yard run by Connor Shoemaker with 1:04 left in the half kept the drive alive and allowed Thurston to kick the field goal.
The Falcons had the ball inside the Redbank Valley 20-yard line twice at the start of the second half but turned the ball over on downs twice.
The first time was Coudersport's opening drive of the half where the Falcons moved to the Redbank 14-yard line before Aaron Wolfinger was stopped for no gain on fourth-and-4.
But Keglovits got Coudy the ball right back when he picked off a Connor Shoemaker pass three players to give the Falcons a first-and-10 at the Redbank Valley 13.
The Bulldogs defense rose to the challenge allowing just three yards on four plays.  
Hetrick then put Redbank up by eight with a 13-yard run with 2:16 left in the third quarter with the score coming one play after a fumble snapped by Keglovits went 21 yards behind the line of scrimmage was recovered by Patrick Crawford at the 13 for Redbank.
Coudersport was driving in the fourth quarter reaching the Redbank 31-yard line when Keglovits hit Wolfinger for  10-yard pass to the 21, but Wolfinger was hit by Aaron Wilson which caused the ball to come out and Crawford recovered the fumble for the Bulldogs. Two first downs later, and the game was over.   
Redbank outgained Coudersport 330 yards to 122. Connor Shoemaker added 54 yards rushing and was 2 of 9 passing for five yards.
Keglovits was 11 of 25 passing for 114 yards and an interception and ran eight time for 8 yards. Waterman had two catches for 41 yards and Wolfinger three for 28. He also ran 13 times for 44 yards.  
Redbank will take on Brockway in the semifinals next week at a site, time and date to be determined.
DISTRICT 9 CLASS AA SEMIFINALS
Moniteau 17, St. Marys 6
ST. MARYS, Pa. – In the lone D9 AA semifinals game – top-seeded Karns City got a bye into next week's title game – Shonn Kline scored two second-half touchdowns to lift third-seeded Moniteau to a 17-6 win over second-seeded St. Marys Friday night at Dutch Country Stadium in St. Marys.
The game was scoreless at halftime before Kline scored on a 4-yard run just a little over four minutes into the second half to give the Warriors a 7-0 lead.
Kline then made it 14-0 a little less than three minutes later on a 31-yard run before Steven Fawcett hit a 23-yard field goal with 47 seconds left in the third quarter to make it 17-0.
St. Marys got back into the game 19 seconds into the fourth quarter when Pat Schlimm hit Matt Marconi with a 63-yard touchdown pass to make it 17-6, but that was all for the Dutch.
Moniteau didn't throw a pass in the game.
Stats will be added to this story when they are received.
DISTRICT 5-6-8-9 CLASS AAA SUB-REGIONAL SEMIFINAL
JOHNSTOWN 20, CLEARFIELD 14, OVERTIME
CLEARFIELD, Pa. – Tavis Price picked up his own bobbled snap on an attempted field goal in overtime, eluded a couple of tacklers and scored the game-winning touchdown, as fourth-seeded Johnstown stunned top-seeded Clearfield, 20-14.
The Bison (9-2) led 14-0 going to the fourth quarter but watched Johnstown score twice to force overtime.
Then in overtime Clearfield got the ball first but on its first play Ryan Lezzer fumbled with Johnstown recovering.
The Trojans had their chance from the 10-yard but were stopped on the first three plays and elected to try a game-winning field goal. The snap, however, was bobbled. But Price found the loose ball, picked it up and eluded the Clearfield defenders for the game-winning score.
Clearfield took the 14-0 lead on first-half touchdown runs by Cody Spaid and Lezzer.
Spaid scored on a 2-yard run halfway through the first quarter to make it 6-0, and Lezzer made it 14-0 on a 5-yard run followed by a 2-point conversion run just 1:17 before halftime.    
The game remained a two-score contest until early in the fourth quarter when Jeremy Updyke hit Exree Loe on a 10-yard fade route in the end zone to make it 14-6 after a failed 2-point conversion.
The Trojans then tied the game with 2:12 to play when Updyke scored on a 3-yard run and then hit Loe with the 2-point conversion pass that was caught despite great defense by Lezzer.
It was the first postseason game involving a District 9 team to go to overtime since Kane beat Brookville 35-34 in the D9 Class AA semifinals in 2012. Clearfield lost to Shamokin 27-26 in overtime in the PIAA first round in 2011.  
Stats will be added to this story when they are received.
DISTRICT 6-9 CLASS AAAA SUB-REGIONAL CHAMPIONSHIP GAME
STATE COLLEGE 41, DUBOIS 7
HOLLIDAYSBURG, Pa. – State College scored three touchdowns in each half to roll past DuBois 41-7 in the sub-regional title game Friday night at Hollidaysburg High School.
The Little Lions (8-3) led 21-0 at halftime thanks to 3-yard Jordan Misher touchdown, a 12-yard Peter Hafner scoring run and a 1-yard Brent Graham touchdown run.
State College then scored the first 20 points of the second half thanks to an 8-yard Tristen Lyons touchdown run, a 26-yard flea-flicker pass from Drew Friberg to Kellin Valentine and an Ian Barr 26-yard interception return.
DuBois' lone score came on 11-yard touchdown pass from backup quarterback Zach Sloan, who replaced Matt Miller at halftime after Miller went 13-for-20 for 67 yards in the first half and left the game with concussion-like symptoms.
Misher, State College's leading rusher, left with an injury after the first drive, a drive that saw him rush five times for 80 yards. Haffner added five carries for 61 yards. The Little Lions also played without starting quarterback Tyler Snyder, who sat for precautionary reasons after suffering an injury last week.
State College now awaits the winner of the Erie McDowell/Brashear game to be played next week in two weeks at a site and time to be determined.
Stats will be added to this story when they are received.