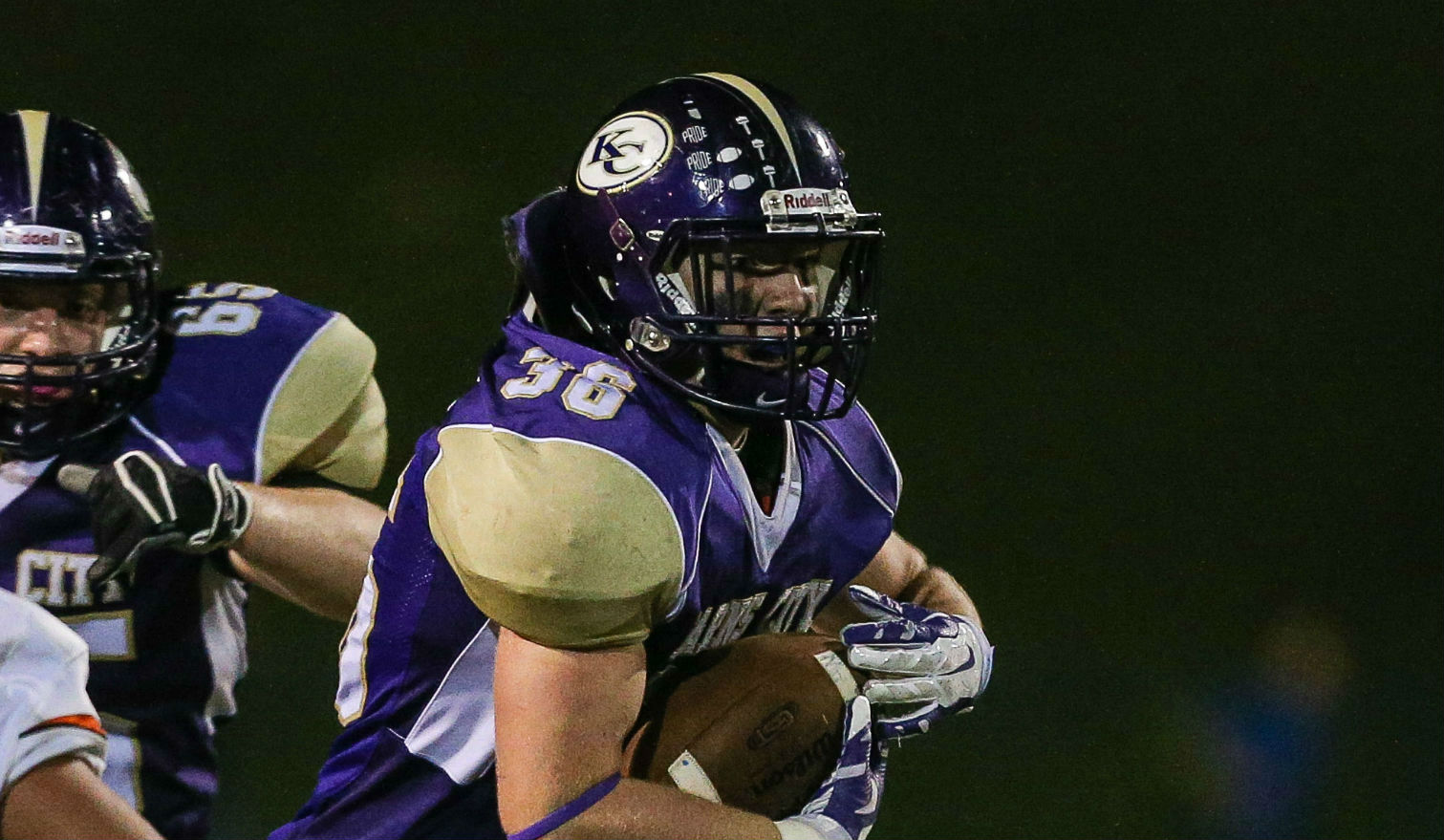 CLARION, Pa. – On a Karns City team were usually no one player stands out, Maverick Kelsea's performance in Friday's 58-34 road win at Erie Central Tech was one to remember.
The senior fullback/running back was a key reason the Gremlins racked up nearly 500 yards of offense rushing for 115 yards and three touchdowns on his own and paving the way from his fullback position for the rest of the Karns City runners to add another 300 yards on the ground. For good measure, Kelsea was a force on defense and had a key interception in the fourth quarter.
Those are the main reason, Kelsea is the D9Sports.com District 9 Player of the Week for Week Seven of the 2015 season.
While the award went to Kelsea, it could have gone to any of seven or eight different players in a week that included another 200-yard performance by Smethport's Adam Shunk, a last-second touchdown by Elk County Catholic's Eric Gerber and a 300-yard, 5-touchdown game from DuBois' Matt Miller.
Shunk, Gerber and Miller are all on the Week Seven Honor Roll and are joined by 12 additional players to make up the honor roll.
D9SPORTS.COM PLAYER OF THE WEEK
Maverick Kelsea – Karns City: 14 carries, 115 yards, 3 touchdowns; Intercepted a pass on defense – Karns City 58, Erie Central Tech 34
D9SPORTS.COM HONOR ROLL  
Mark Latuska – Brockway: 17 carries, 112 yards, 1 touchdown – Brockway 21, Ridgway 10
Seth Caldwell – Clearfield: 27 carries, 126 yards, 2 touchdowns; 3 catches, 28 yards, 1 touchdown; Helped Clearfield become the first team to beat Tyrone four straight years since 1994 – Clearfield 34, Tyrone 17  
Ryan Lezzer – Clearfield: 4 catches, 75 yards, 1 touchdown; 11 carries, 70 yards, 1 touchdown; Helped Clearfield become the first team to beat Tyrone four straight years since 1994 – Clearfield 34, Tyrone 17
Darren Keglovits – Coudersport: 10-for-22 passing, 185 yards, 3 touchdowns – Coudersport  26, Sheffield 7
Dante Dawson – DuBois: 6 catches, 139 yards, 2 touchdowns; Intercepted a pass on defense – DuBois 55, Bradford 0
Matt Miller – DuBois: 15-for-21 passing, 334 yards, 5 touchdowns – DuBois 55, Bradford 0  
Eric Gerber – Elk County Catholic: 4 catches, 108 yards, 2 touchdowns; Caught the game-winning 53-yard touchdown off a tipped ball with 1 second to play – Elk County Catholic 21, Northern Cambria 13
Derek Boben – Moniteau: 23 carries, 119 yards, 1 touchdown; 1-for-3 passing, 13 yards – Moniteau 7, Brookville 6
Shane Rolick – Kane: 16 carries, 119 yards, 3 touchdowns; 2-for-4 passing, 66 yards, 1 touchdown – Kane 35, Curwensville 6
Jake Weaver – Keystone: 24 carries, 207 yards, 2 touchdowns; 1 catch, 21 yards, 1 touchdown; Intercepted a pass on defense – Keystone 20, Clarion-Limestone 8  
Dylan Baumgardner – Port Allegany: 20 carries, 103 yards; 1 catch, 70 yards, 1 touchdown – Port Allegany 18, Otto-Eldred 0
Adam Shunk – Smethport: 28 carries, 257 yards, 4 touchdowns; Has rushed for 898 yards in his past four games – Smethport 25, Cameron County 8
Austin Speedy – Smethport: 10 tackles, 1 interception – Smethport 25, Cameron County 8
Lucas Bowser – Union: 7-for-8 passing, 87 yards, 1 touchdown; 10 carries, 76 yards, 1 touchdown; Helped Union snap Clarion's 30-game conference win streak while handing the Bobcats their first-ever KSAC Small School Division Loss; Win also snapped a 21-game Union losing streak to Clarion – Union 32, Clarion 0
Dugan Gallagher – Union: 29 carries, 161 yards, 2 touchdowns; Helped Union snap Clarion's 30-game conference win streak while handing the Bobcats their first-ever KSAC Small School Division Loss; Win also snapped a 21-game Union losing streak to Clarion – Union 32, Clarion 0
2015 PLAYERS OF THE WEEK
Week One: Zach Sloan, DuBois and Jake Weaver, Keystone
Week Two: Matt Miller, DuBois
Week Three: Anthony Isabella, Brockway
Week Four: Anthony Louder, Clarion-Limestone and Nick Stewart, Curwensville
Week Five: Adam Shunk, Smethport
Week Six: Noah Werner, Elk County Catholic
Week Seven: Maverick Kelsea, Karns City