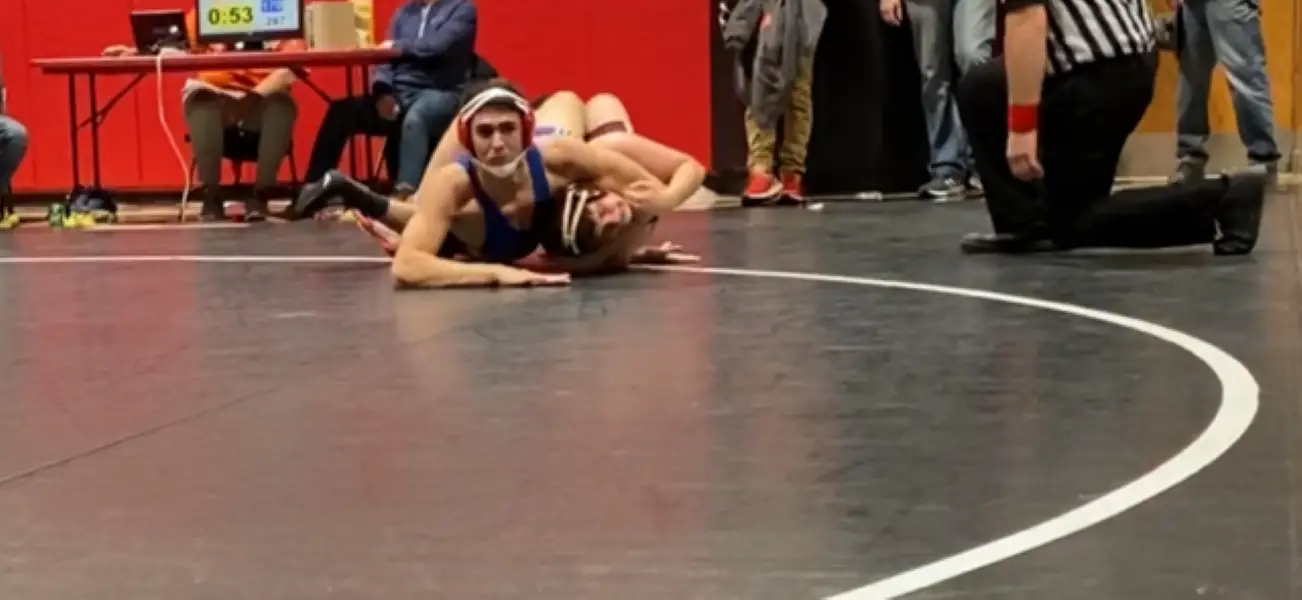 Sixteen of the 19 District 9 wrestling teams started their seasons this past weekend (Dec. 6 and Dec. 7) at various individual and dual meet tournaments.
(Photo of Kane wrestler Cameron Whisner, who won at 170 pounds at Hickory Saturday. Whisner is an East Forest student wrestling for the Wolves)
The results give an early glimpse of what might be in store for the 2019-2020 campaign.
Darren Klingerman Invitational (Bloomsburg)
Brockway and Bradford both headed east for the start of their seasons. The Rovers had six on the podium, including three event champions; Anthony Glasl at 132 pounds, Noah Bash at 106 pounds, and Eric Johnson at 220 pounds. Mark Palmer was a runner-up for Brockway at 120 pounds, while Linkin Nichols claimed fourth at 160 pounds and Weston Smith eighth at 190 pounds. The Owls had five place winners, with both Brett Thompson (145 pounds) and Derek Sunafrank (170 pounds) earning runner-up status. Bradford 126-pounder Lucas Laktash finished third at his weight, 160-pounder Drake Hayden fifth, and 285-pounder Dylan Mazzone seventh. Lackawanna Trail (186.5 points) took the team title. Brockway (145.5) was fourth overall and Bradford sixth (117) in the 24 team field.

District 9 wrestling coverage on D9Sports.com is brought to you by Luton's Plumbing, Heating, and Air Conditioning.
Eastern Area Invitational (Monroeville)
Dubois went south to open at Gateway High School, coming away with 11 medalists. Ed Scott won the 152-pound title. Trento Donahue was runner-up at 132 pounds, while Chandler Ho took third at 138 pounds. Three Beaver grapplers finished fourth; Gauge Gulvas (160 pounds), Garrett Starr (182 pounds), and Alex O'Harrah (285 pounds). Also finishing on the podium were Kam Stevenson (113 pounds) and Ryan Gildersleeve (145 pounds) in sixth, Brendan Orr (120 pounds) in seventh, and Austin Mitchell (145 pounds) and AJ Nicastro (220 pounds) in eighth. Dubois (179 points) was third in the 22 team event. Kiski (274) was the highest-scoring squad.
Hickory Invitational Tournament (Hickory)
Coudersport, Kane, Port Allegany, Redbank Valley, Ridgway, and Sheffield all trekked into District 10 territory the opening weekend of the season. Of the six teams, Port Allegany had the most champions while putting 10 on the podium. Gator grapplers Bryent Johnson and Braedon Johnson took titles at 113 pounds and 126 pounds, respectively. Port Allegany also had a pair of runner-ups, 138-pounder Eli Petruzzi and 220-pounder Justin Young. Others finishing on the podium for the Gators were Isaiah Caden (132 pounds) in third, Derek Kallenborn (195 pounds) in fourth, Taro Tanaka (152 pounds) in fifth, Dalton Distrolla (182 pounds) in sixth, and Scott Fuller (120 pounds) and Montgomery Tanner (145 pounds) in seventh. Redbank Valley had an individual champion, 145-pounder Ethan Wiant, among its 11 podium finishers. Aiden Gardner was runner-up at 195 pounds for the Bulldog, while the trio of Colby Bish (106 pounds), Ridge Cook (113 pounds), and Kris Shaffer (138 pounds) all took home thirds. Redbank Valley also had a trio of fifth-place finishers; 126-pounder Trenten Rupp, 170-pounder Coltin Bartley, and 182-pounder Hudson Martz. Other Bulldogs to claim podium spots were Carsen Rupp (220 pounds) in sixth, Dalton Bish (132 pounds) in seventh, and Gage Snyder (152 pounds) in eighth. Kane also had a titlist, Cameron Whisner at 170 pounds. He was one of 12 Wolves' grapplers who ascended the podium. Lane Hillard (145 pounds) and Cooper Nystrom (285 pounds) came home in second in their classes, while Teddy Race (182 pounds) staked his claim to a third. Wolves' 106-pounder Isaak Johnson finished fourth and 138-pounder Ben Westerburg fifth. A quartet of Wolves claimed sixth in their respective weight classes; 106-pounder Alex Bechakas, 120-pounder Dillon Illerbrun, 126-pounder Harley Morris, and 145-pounder Luke Eli. Addision Plants was a fifth-place finisher at 152 pounds and Dakota Neal an eighth-place finisher at 220 pounds. Sheffield, Ridgway, and Coudersport all had three on the podium. The highest placer for Sheffield was Ethan Finch, second at 182 pounds. AJ Barnes (113 pounds) and Collin Brown (106 pounds) finished sixth and eighth, respectively, for the Wolverines. Ridgway's Jacob Wickett was third at 152 pounds, while Tyler Merritt (138 pounds) and Jacob Kunselman (285 pounds) both took sevenths. Thomas Wilson placed fifth at 160 pounds for Coudersport. Falcon teammates Nash Delp (113 pounds) and Dylan Hajzus (195 pounds) took eighth in their weight classes. Latrobe (227 points) had the highest score of the 24 teams entered, with Port Allegany (206) second, Redbank Valley (193.5) third, and Kane (184) fourth. Ridgway (55) was 17th and Coudersport (36) 20th.
Sheetz Kickoff Classic (Greenville)
Brookville began the season at a dual meet event, wrestling five matches in Greenville on Saturday. The Raiders were simply dominant, winning all five by double digits despite consistently forfeiting at least two classes a dual (106 pounds, 170/182 pounds). Dave Klepfer's crew downed Cambridge Springs 47-25, took out Harbor Creek 57-21, beat Greenville 48-25 (the closest dual of the Raiders' day), squashed Union City 54-15, and knocked off Meadville 52-18. Of the 50 contested bouts on the day, Brookville won 38 (76%), with 29 (76%) of the victories coming via pin. Going 5-0 for the Raiders were 113-pounder Cayden Walter (three pins, one forfeit), 120/126-pounder Owen Reinsel (three pins, one technical fall), 132-pounder Josh Popson (three pins), 152-pounder Wyatt Kulick (four pins, one forfeit), and 285-pounder Colby Whitehill (three pins, two forfeits). Brayden Kunselman (two pins, one technical fall), Wyatt Griffin (three pins, one forfeit), and Nathan Taylor (three pins, one forfeit) were 4-1 at 120/126 pounds, 160 pounds, and 220 pounds, respectively. Parker Fleming (a pin and major decision) was 3-1 at 138 pounds.
St. Marys Kickoff Tournament (St. Marys)
Cameron County, St. Marys, and Oswayo Valley stayed in District 9 to start their seasons. It was the host team that faired the best of the three, placing three atop the podium and four on the second step. Winners for the Dutch were 145-pounder Gregory Tettis, 195-pounder Jeremy Garthwaite, and 220-pounder Alex Lukachunis. Tanner Quackenbush (106 pounds), Isaac Dellaquila (120 pounds), Waylon Wehler (182 pounds), and Colton Swanson (285 pounds) were runner-ups in their home gym. St. Marys' had a trio of third-place finishers, Connor Gausman at 126 pounds, John Wittman at 160 pounds, and Raivis Bobby at 170 pounds. Oswayo Valley's highest placer was Colton Geitler, runner-up at 160 pounds. Eyan Smith turned in the best performance for Cameron County, taking third at 145 pounds.
Tom Best Memorial Top Hat Tournament (Williamsport)
Clearfield was the only District 9 representative at this event, bringing home seven place winners. Oliver Billotte had the best finish for the Bison, taking third at 220 pounds. Brett Zattoni was fourth at 195 pounds. Both Evan Davis (106 pounds) and Mark McGonigal (170 pounds) finished in fifth place, Jon Doran (285 pounds) in sixth, and Karson Kline (138 pounds) and Hayden Kavolick (182 pounds) in seventh. Clearfield (125 points) was eighth in the 22 team field, with Saucon Valley (259) coming out on top.