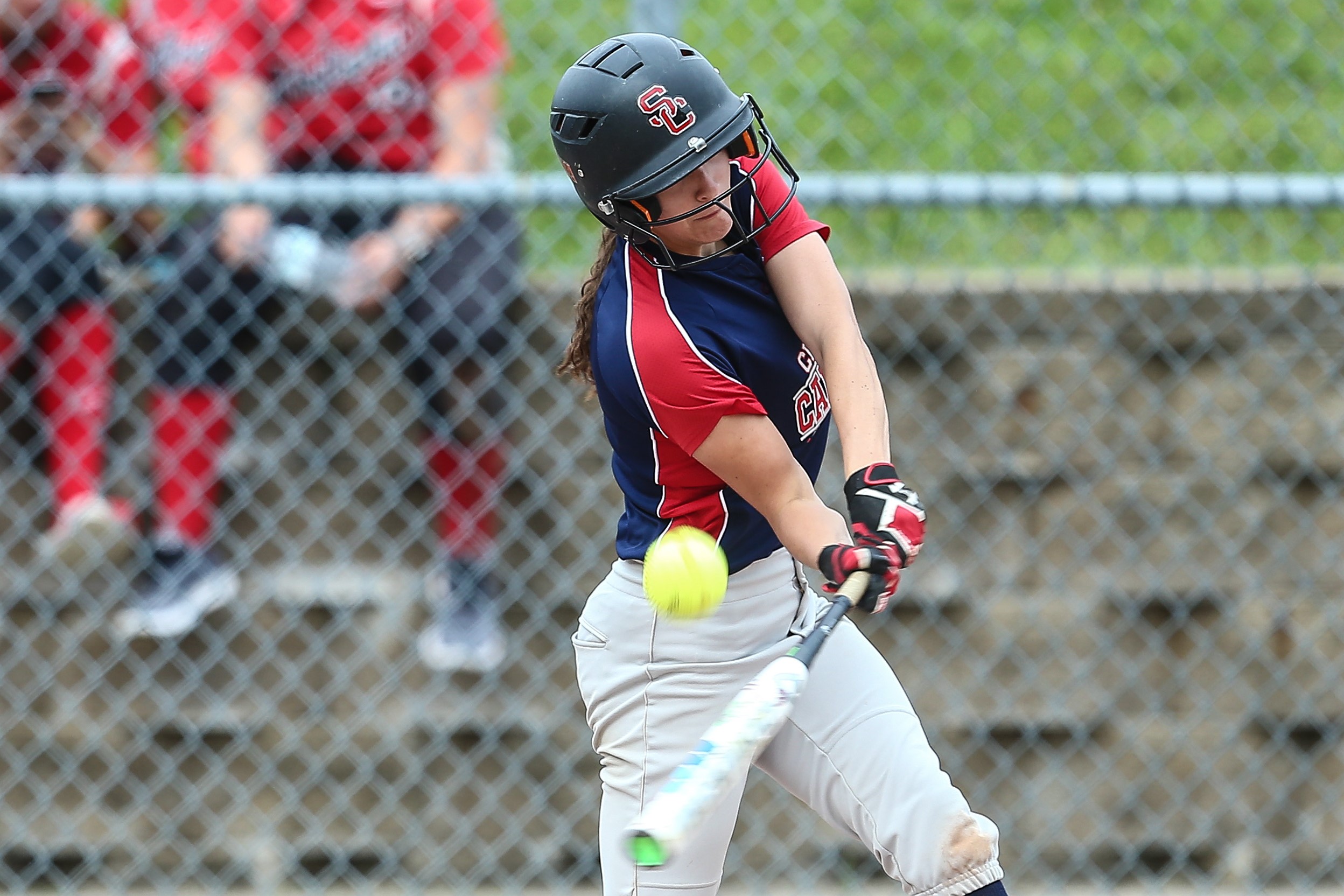 By Shane Lux
WEXFORD, Pa. – West Greene scored six runs in the third and fourth innings combined to end Dubois Central Catholic's season in the PIAA Class 1A semifinals for the second straight year with a 9-5 win at North Allegheny High School.
(Cover photo: Jordy Frank. Photo by Mike Schnelle. Check out more of Schnelle's work here)
"We made some blunders defensively, especially early in the game, and for sure on their first run," said DCC manager George Heigel. "I don't want to spin in any negativity, but we didn't play our best game, and that's a heck of a team over there. There's a reason they went to the state finals last year. We knew they could hit, especially their one through five hitters, but they also got some help from the bottom of their order."
Kaitlyn Rizor's RBI single scored Madison Lampe in the first inning giving the Lady Pioneers a 1-0.
West Greene added to their lead in the 3rd inning thanks to back-to-back one-out walks to McKenna and Madison Lampe coupled with Madison Penner's single that loaded the bases for Rizor, who cleared them with a three-run double that put DCC in a 4-0 hole after the top of the third.
The Lady Cardinals got back in the game with a pair of runs in the bottom of the inning.
Sabrina Spencer and Macey Haines led off the bottom half with back-to-back singles for DCC.
After Jordy Frank flew out to center field, and Riley Assalone hit into a fielder's choice that put Spencer at third and Assalone at second after she stole the bag, Ashley Wruble's two-run double cut the West Greene lead in half.
That was all the closer the Lady Cardinals got as West Greene tacked on three more runs in their half of the fourth.
Linzee Stover led off the inning with a single, two batters later McKenna Lampe tripled scoring Stover. Madison Lampe then hit a two-run homer that pushed the Lady Pioneers lead to 7-2.
Dubois Central was able to get a run back in the sixth inning as Libby Maurer hit a two-out single. Alyssa Bittner then hit a deep fly ball right field that dropped in for a hit and was then misplayed into a two-base error allowing Maurer to score making it a 7-3 ball game entering the seventh.
West Greene added two insurance runs in the seventh as Rizor singled and Renner doubled putting runners on 2nd and 3rd with no outs. Two batters later Lexie Mooney singled scoring Rizor, Stover's RBI groundout scored Renner pushing the Lady Pioneers lead to 9-3.
DCC tried to rally in the bottom of the seventh as Spencer singled and two batters later Frank crushed a two-run home run pulling the Lady Cardinals to within 9-5. But West Greene pitcher Jade Renner got Assalone to fly out to center field and Wruble to ground out ending the game and DCC's season.
"The seniors have been wonderful for us," Heigel said. "They have set the stage for our program. We have a nice group of kids coming up through in our seventh and eighth grades, so I'm hoping we get back and win a district title which is a goal I think we can obtain going forward. We're going to be good next year, our girls and our underclassmen have worked hard and had fun doing it."
WEST GREEN 9, DUBOIS CENTRAL CATHOLIC 5
Score by Inning
West Greene 103 300 2 – 9
DCC 002 001 2 – 5
WEST GREENE – 9
McKenna Lampe cf 4211, Madison Lampe 3b 4322, Madison Renner ss 4110, Kaitlyn Rizor 2b 4144, Jade Renner p 4110, Marissa Rode dp 3000, Lexie Mooney 1b 4011, Linzee Stover lf 4111, Mackenzie Carpenter rf 4000, Kylie Simms ph 1000, Shelby Morris c 0000. Totals: 36-9-11-9.
DCC – 5
Macey Hanes cf 4030, Jordy Frank c 4112, Riley Assalone p 4110, Ashley Wruble 2b 4012, Shay Gulvas ss 3000, Libby Maurer 3b 3120, Alyssa Bittner 1b 3010, Carley Semancik dp 3000, Maddie Nasuti lf 0000, Sabrina Spencer rf 4240. Totals 32-5-10-4.
LOB: West Greene 6, DCC 5. Errors: West Greene 1. DCC 0. 2B: Madison Lampe, Rizor, Jade Renner, Wruble. 3B: McKenna Lampe, HR: Madison Lampe, Frank. SB: Assalone.
Pitching
West Green
Jade Renner 7 IP, 10 H, 5 R, 4 ER, 0 BB, 2 K
DCC
Riley Assalone – 7 IP, 11 H, 9 R, 9 ER, 5 BB, 6 K
Winning pitcher: Jade Renner
Losing pitcher: Riley Assalone