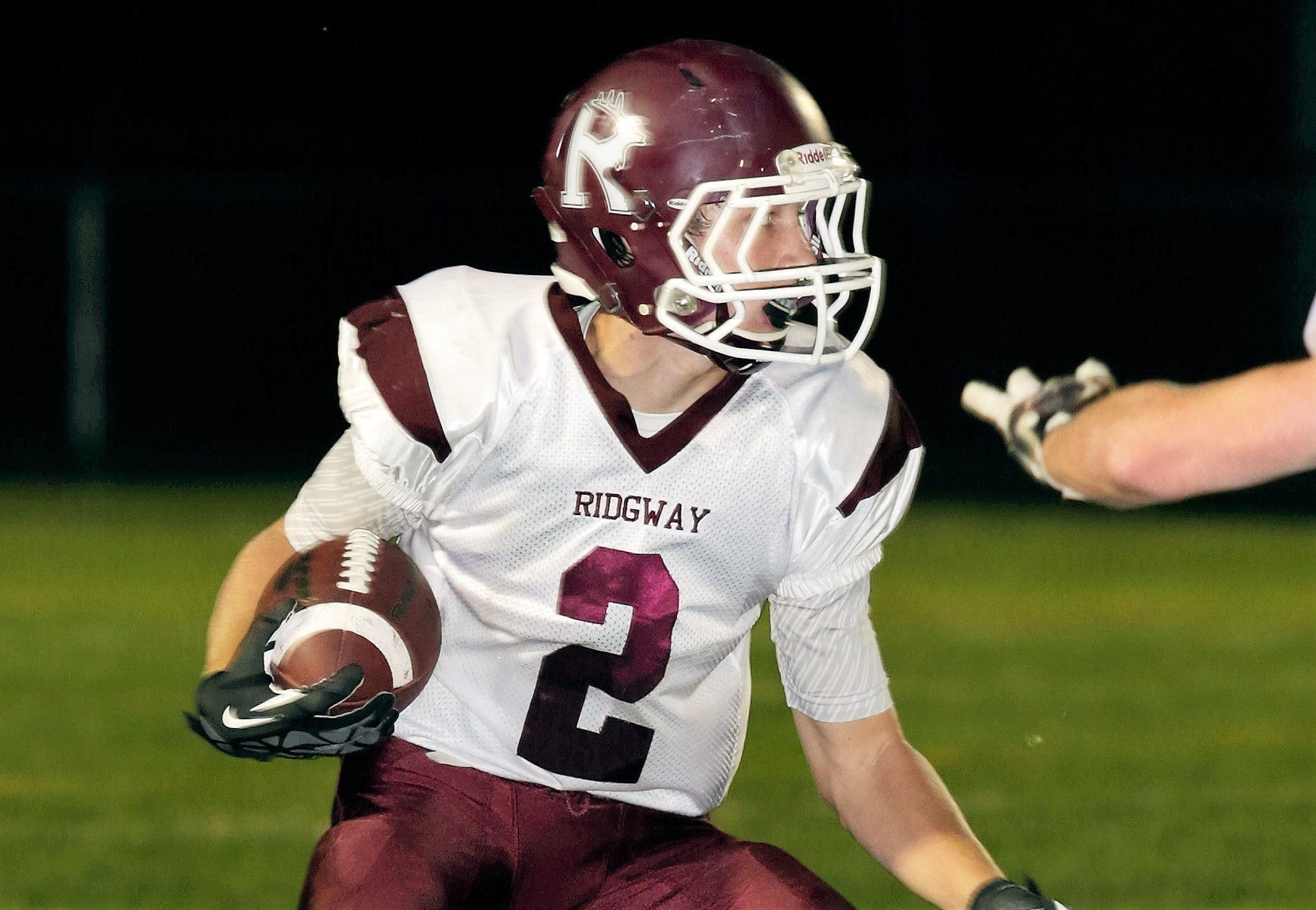 He's at the 40, the 30, the 20, the 10, the five, touchdown!
(Cover photo of Neil MacDonald of Ridgway. Photo by Paul Burdick. Check out more of Burdick's work here)
It's a play that brings either pure joy if your team is doing it or angst if it is the opponent.
A runner or a receiver is in the clear with no one in front of him and the defense hopelessly chasing him from behind.
In the stands or on TV we know what we are thinking. But what is the ball carrier or receiver thinking?
I took some time Friday and Saturday to ask some of District 9's best skill players what is going through their minds in these situations. The answers are enlightening.
"When I break free on a long run, I'm always just trying to find the best way to get into the end zone," Ridgway's Neil MacDonald said. "Whether it's by reading my blocks, making the best possible cut or trying to find an open seam. To be honest, I don't like having time to think about what I want to do. I like when it instinctively comes to me on what move I should make."
Redbank Valley's Clint Thurston said he has a singular focus – getting to the house.
"I'm definitely thinking about getting in the end zone," Thurston said. "When I'm in the clear, I want to be sure I won't get caught from behind before I slow down."
Jared Green of Coudersport said being caught is definitely in his mind.
"When I break free, I'm usually thinking about somebody chasing me," Green said.
Brookville's Bryan Dworek, a track star in addition to being one of District 9's top wide receivers, said he is thinking about running just as fast as he can.
"Don't look back," Dworek said. "Just run as fast as you can and don't trip. Every time I touch the ball, I want to make a difference. When I touch the ball, that's all I'm thinking about, finding a way to score. Yeah, like I said, just try to run as fast as I can and try not to look back."
Clarion-Limestone's Ayden Wiles agreed with Dworek on looking for a way to score every time he touches the ball.
"You're trying your best to gain ground and get a touchdown," Wiles said. "Really, that's the obvious goal anytime you touch the ball I think. All you want to do is score and score badly. But sometimes it doesn't always end up with six. If you do go down, you just have to be confident that in the next couple plays your offense will be able to punch it in and keep driving."
Wiles' teammate Riley Hummell says he just runs as fast as he can.
"Once the line does a good job like they always do and I break free, I know they are all getting their blocks," Hummell said. "So, I just run as fast as I can towards the end zone."
Dylan Close of Otto-Eldred believes that no matter how far out in front he is, he believes there is someone right with him.
"I also think, is there anyone trailing close behind me?" Close said. "If there is, do they stand a chance of catching me?"
Logan Minich of Clarion said when he is in the clear, he digs deeper.
"When in the clear, I always feel like there's someone chasing me," Minich, a North Clarion student who plays for the Bobcats as part of a co-op said. "So, I try to push myself a little harder to try to outrun the defender. Once you get there, it's a great feeling knowing that everyone executed their job and that we got points on the scoreboard as a team."
Redbank Valley's Keaton Kahle breaks into the free during the Bulldogs win over Clarion-Limestone Sept. 15.