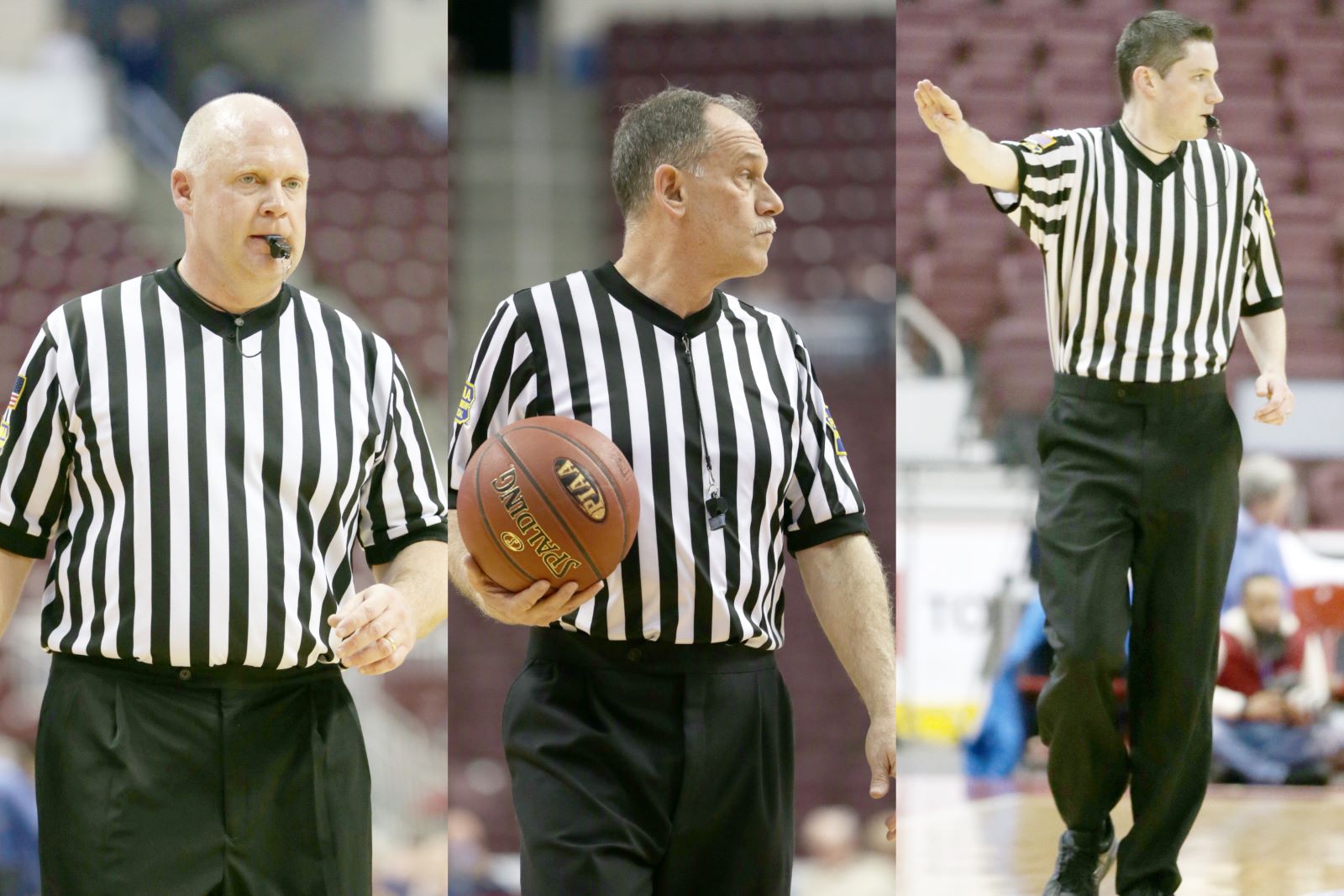 HERSHEY, Pa. – When Sankofa Freedom Academy beat Vincentian Academy in the PIAA Class 1A boys' basketball championship game Thursday, a small part of District 9 won as well.
(Photo from left: Chuck Pasternak, Bud Bifano, Scott Reffner. Photo by Paul Burdick. Check out more of Burdick's work here)
The game was officiated by District 9's own Bud Bifano, Chuck Pasternak and Scott Reffner. It was the third PIAA basketball title game for Bifano and the first each for Pasternak and Reffner.
"It's still exciting," Bifano, who is originally from Kane but now resides in the Keystone School District and has been officiating for 39 years, said. "This being my third championship, I was a little calmer when I first found out. But when I got down here, the adrenaline started flowing. If you don't get excited (for a state championship game) you should probably quit now."
Pasternak said finding out after 22 years that he would get a chance to officiate his first PIAA title game was a big deal.
"It means the world," Pasternak, Dean of Students at DuBois High School, said. "It is the ultimate reward for a high school official. As (the head of officials for the PIAA said) there are 6,000 basketball officials in Pennsylvania and 18 of us are doing boys' games this weekend. It's quite an honor. It's really exciting."
Pasternak said what really meant the most to him was the number of people from District 9 who reached out to him when they found out he was going to be officiating.
"What meant the most was all the well wishes from the folks in District 9," Pasternak said. "I heard from officials, coaches, fans all wishing me congratulations and good luck. There are really good people back home."
Reffner, who has been officiating since 2003, said as an official you are hopeful you get the call but you don't expect to get the call.
"It's definitely rewarding," Reffner, who is a Sharpsville graduate now living in Ashland Township in Clarion County, said. "It's very humbling to come down here and work this game. When you are from a small town like I am, to come here, it means a lot."
Bifano said the trio started getting an idea they might have a chance at a PIAA game when they were paired together for the first three rounds of the PIAA playoffs.
"Working the first three rounds together, you start to get an inkling (you might get a championship game)," Bifano said.
While the three have been refereeing for a different number of years, all three ended up as referees because of their love for the sport.
"I played basketball in high school," Reffner said. "I knew I wasn't playing in college. I was running the clock as part of some community service hours we needed for graduation, and I asked the officials who were refereeing about it. I decided to try and be an official and took the (officials) test my freshman year of college."
Bifano credited his gym teacher at Kane for getting him involved.
"I was into sports, and my gym teacher, who was an official, got me officiating intramurals," Bifano said. "It took off from there. I enjoyed it, and 39 years later here I am."
Pasternak said he was coaching three sports at DuBois when his wife became pregnant with his oldest daughter, Casey.
"Coaching three sports wasn't going to cut it," Pasternak said. "Joe Volansky, who was the (officials) chapter secretary in DuBois told me I should officiate. So, I took the test. I was going to be content to officiate one or two junior high games a week. I loved it."
One of the biggest challenges any referee faces is being able to block out the negativity – some might even call it harassment – that comes from fans, players and coaches.
"I think you have to have the type of personality (that allows you to block it out)," Bifano said. "The more you do it, the better you get at ignoring it. But there are still games you work that it takes a little extra to block it out."
Pasternak said he believes his background in coaching has helped him as a referee understand where coaches and players are coming from.
"I know they just want the close call to go their way," Pasternak said.
Bifano said one of the keys to being a good official is learning how to communicate with players and coaches.
"Learning how to communicate and manage games is important," Bifano said. "That's something you learn the more you work. Each game has its own flavor. It's own way of unfolding. Learning how the game is playing out is important."
Reffner said having a strong support system at home makes him a better official.
"The support of my family is really important," Reffner said. "It's a long season. I am thankful for my wife. I couldn't do it without her."
All three officials acknowledge that there are calls that fans and sometimes even coaches and players don't understand as well as others.
"The jump stop really gets fans," Bifano said. "You have that one big step and then the big leap and they think it's a walk."
A player sliding with the ball is another call often misunderstood, Bifano said.
"A player can slide the length of the floor and it's not a walk until they try to turn over," Bifano said. "Many fans don't understand that."