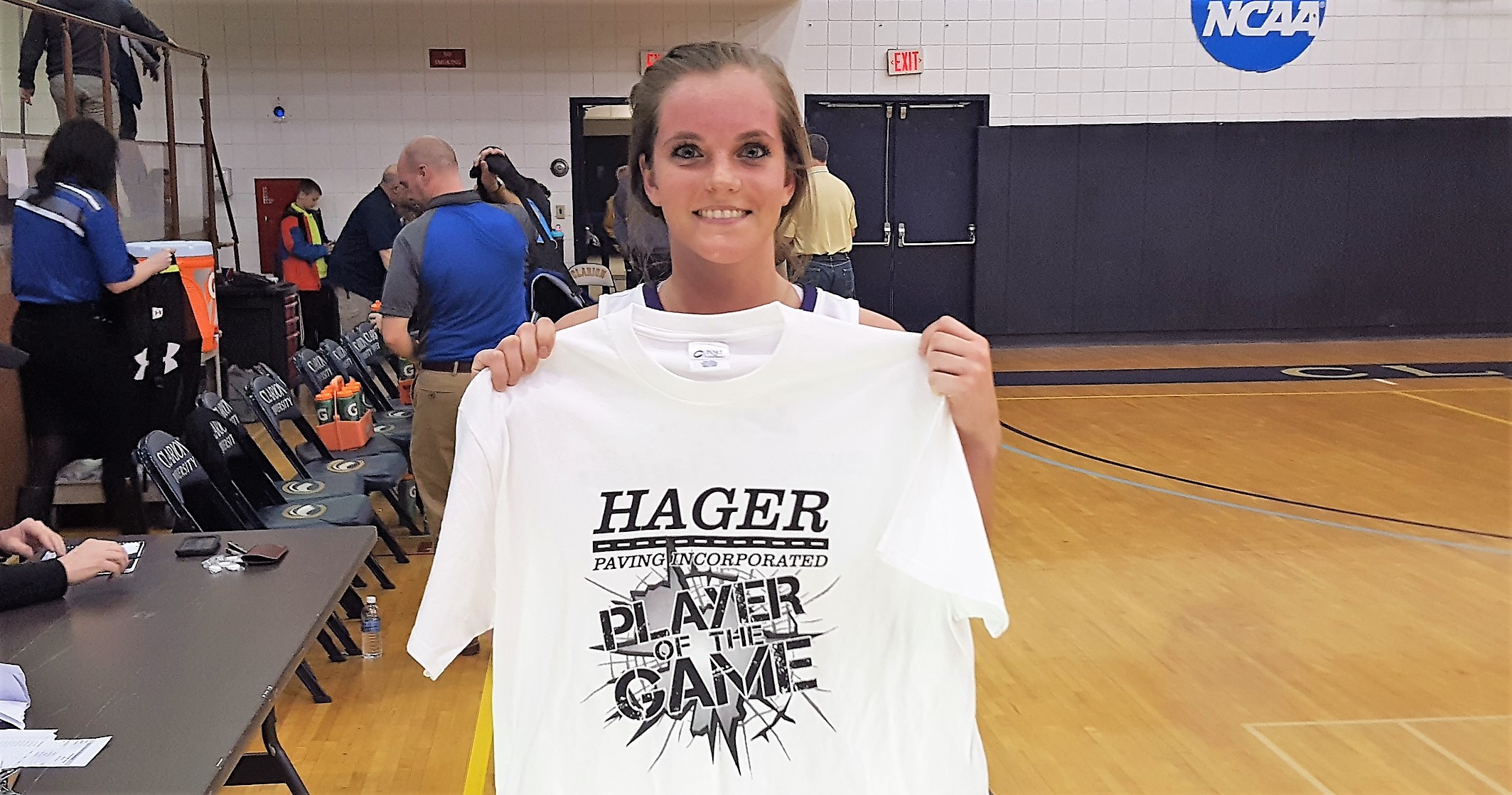 CLARION, Pa. – Two months ago to the day, Karns City was just hoping it could find enough wins to finish at .500 or above and get to the District 9 playoffs.
The state playoffs? The second round of the state playoffs? Those were just pipe dreams to a team that fell to 6-5 following a 41-36 loss at North Clarion Jan. 11, its third defeat in six games.
Two months later, the Lady Gremlins are into the second round of the PIAA playoffs for the second straight season thanks to a 61-49 win, their 13th in a row, over Seneca in the opening round of the Class 3A bracket Saturday afternoon at Clarion University's Tippin Gym.
"To be honest, no I didn't see us getting back to the second round," Karns City head coach Dave Kerschbaumer, whose team lost some valuable assets from last year's team including 1,000-point scorer LeeAnn Gibson, who played at Slippery Rock this year. "That's a credit to the kids. They believe in the coaching staff and they believe in each other. Their belief in each other is more important. There have been different kids who have stepped up at different times all season and contributed. But, if you told me at the beginning of the year (we would be in the second round), I'm not sure I would believe you. But the kids believed in themselves."
Karns City (19-5), the District 9 champion, used a 6-0 run in the second quarter to take the lead for good, and then used an 11-2 run that bridged the end of the third quarter and the start of the fourth quarter to put the game away.
Trailing 21-19 midway through the second quarter following a basket by Seneca's Olivia Sonney, Karns City pushed in front thanks to a basket by Alyssa Gibson, LeeAnn's sister, and two free throws and a basket by Mackenzie Craig, who actually scored six straight Lady Gremlins points in the quarter and a game-high 22.
That run helped Karns City lead 30-26 at halftime.
The lead was three, 42-39, following a 3-pointer by Vanessa Troutman with 41.2 seconds to go in the third quarter, but Emily Hegedus, who scored 17 points and controlled the defensive side with her length, started the game-deciding run with a hoop with 5.6 seconds to go in the third quarter.
Hegedus then scored two more points and Gibson five at the start of the fourth to push the lead to 53-41 with 3:04 to play.
Hegedus talked about the victory and the roll the Lady Gremlins are on.
Livia Andreassi added 11 points, Gibson nine and Haley Scherer two, as Karns City played only five players the entire night.
"I thought 15 days off (Karns City's last game was Feb. 24) was almost a killer," Kerschbaumer said. "But the players fought through it. It didn't look pretty at times, but the girls hung in there and caught their wind with about three or four minutes to go in the third quarter."
Haylee Wright paced Seneca (16-10), the second-place team out of District 10, with 13 points with Troutman and Sonney each adding 12.
Karns City will take on WPIAL runner-up Neshannock in the second round Wednesday at a time and place to be determined.
KARNS CITY 61, SENECA 49
Score by Quarters
Seneca 15 11 13 10 – 49
Karns City 13 17 14 17 – 61
SENECA – 49
Juli Wilczynski 0 3 0-0 9, Haylee Wright 5 0-0 13, Ashley Hoover 0 1-2 1, Vanessa Troutman 5 0-0 12, Olivia Sonney 4 4-4 12, Jordan Klick 0 0-0 0, Kenna Brady 1 0-0 2, Addy D'Antonio 0 0-0 0, Dani Boyd 0 0-0 0, Veruca Plott 0 0-0 0. Totals 18 5-6 49.
KARNS CITY – 61
Alyssa Gibson 4 0-1 9, Emily Hegedus 7 3-6 17, Haley Scherer 0 2-3 2, Mackenzie Craig 7 8-13 22, Livia Andreassi 3 4-6 11. Totals 21 17-29 61.
Three-pointers: Seneca 8 (Wilczynski 3, Wright 3, Troutman 2). Karns City 2 (Gibson, Andreassi).