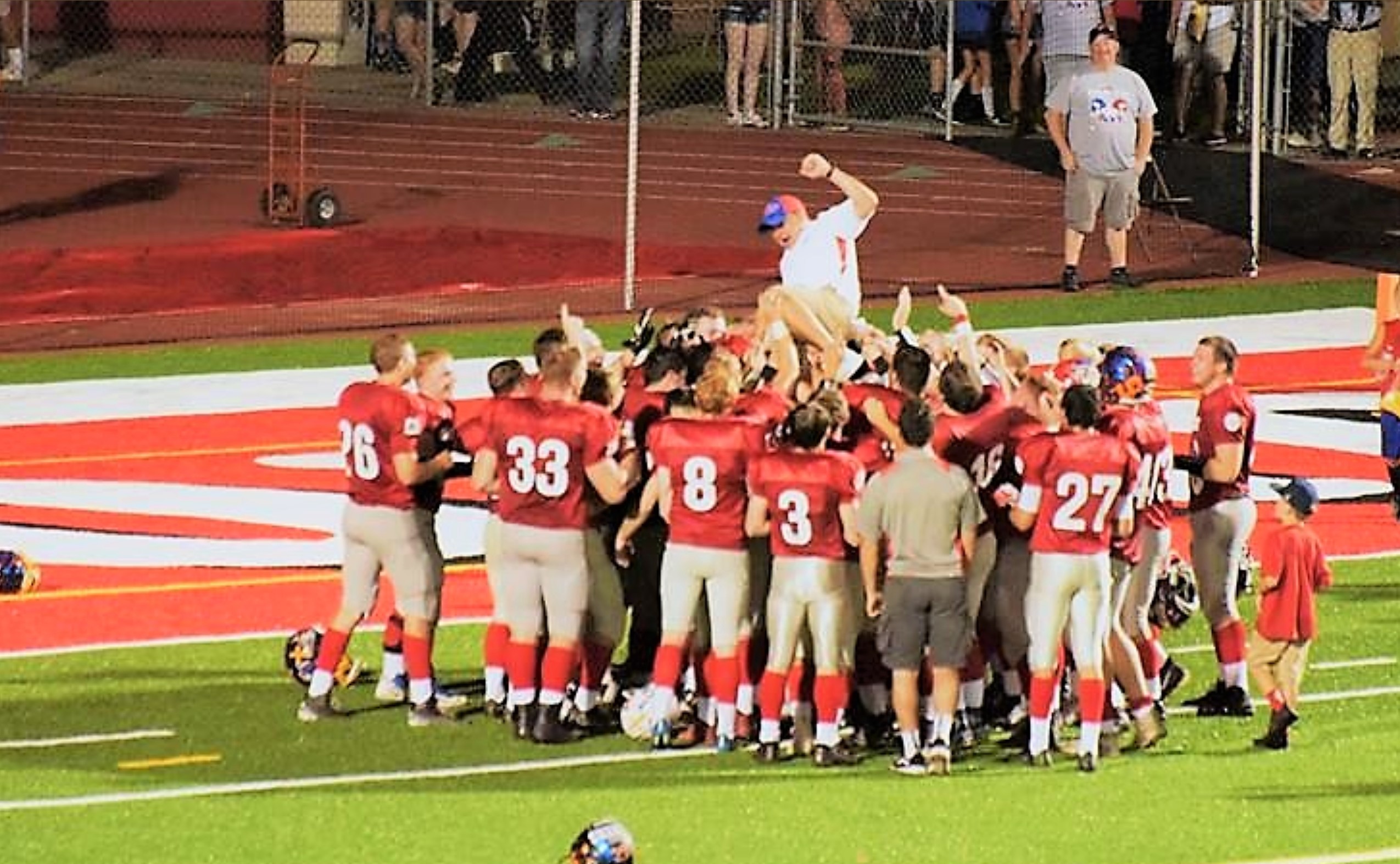 BRADFORD, Pa. – Pennsylvania scored 30 straight points in the 45th Big 30 All-Star Charities Classic to roll to a 37-22 victory over New York Saturday at Bradford High School.
(Photo: The Pennsylvania players lift head coach Todd Silfies up after the win over New York Saturday. Photo courtesy of Ronda Beimel)
Kane's Reed Williams and Otto Eldred's Sawyer Drummond combined to throw for 310 yards and four touchdowns in the win. Ridgway's Neil MacDonald hauled in two touchdowns and gained 133 yards on seven receptions to lead all receivers.
"It was really fun, the best part was that I'd known these guys for so long," said Williams. "Neil MacDonald is such a good athlete. When I've watched film on him I knew I couldn't throw the ball in the center of the field against that Ridgway defense. Now to have him on my team was great."
Williams threw for 186 yards and two touchdowns on 12-of-17 passing.
PA took the opening kickoff and stuck it right in the end zone, as Williams hooked up with fellow Wolves' teammate Ray Maze for a 3-yard score.
New York's Daunte Jeter returned the ensuing kickoff 88 yards for a touchdown before the Empire State took a 9-7 lead after a quarter thanks to a 39-yard field goal from Zach Linderman.
Pennsylvania put the game virtually on ice in the second quarter with three consecutive touchdowns to take a 29-9 lead.
Drummond threw touchdowns of 11 yards to John Eakin and 58 yards to MacDonald. Eakin's touchdown reception out of the backfield saw the Slippery Rock commit truck a New York defender on his way to the end zone.
Williams then tossed a 36-yard touchdown to MacDonald down the far sideline that pushed the lead to 20 heading into the locker room.
"It was pretty sweet, I've never played in a game this big with the stands this packed and being able to play with guys that were enemies for so long was great," said MacDonald. "It was weird at first playing with some of those guys, but you get to know them, and then the better of it is."
MacDonald wasn't the only Elker that made plays as Drew Kilhoffer had a sack and Max Cowan added an interception.
Williams would go on and add a 1-yard rushing touchdown early in the fourth quarter.
"Having guys like John Eakin and MacDonald on my team it was an absolute blast, I knew there was no way we were going to lose this game," said Williams. "Playing 15 minute quarters was a blast, and all in all it was just a great experience."
For former Kane head coach, Todd Silfies and his former players to get one final victory Saturday night was the icing on their great careers.
"We won all our games together, but they won me 45 games during their high school careers," said Silfies. "I've been coming to this game since I was little, I was very humbled to be able to come back to this game as the head coach. It was a great experience, and I'm proud I had the opportunity to coach the young men I did."
New York scored two late touchdowns as Brock Blecha and Griffin Chudy connected on scores of 37 and 10 yards.
Stats provided by Larry Smith of the Kane Republican.