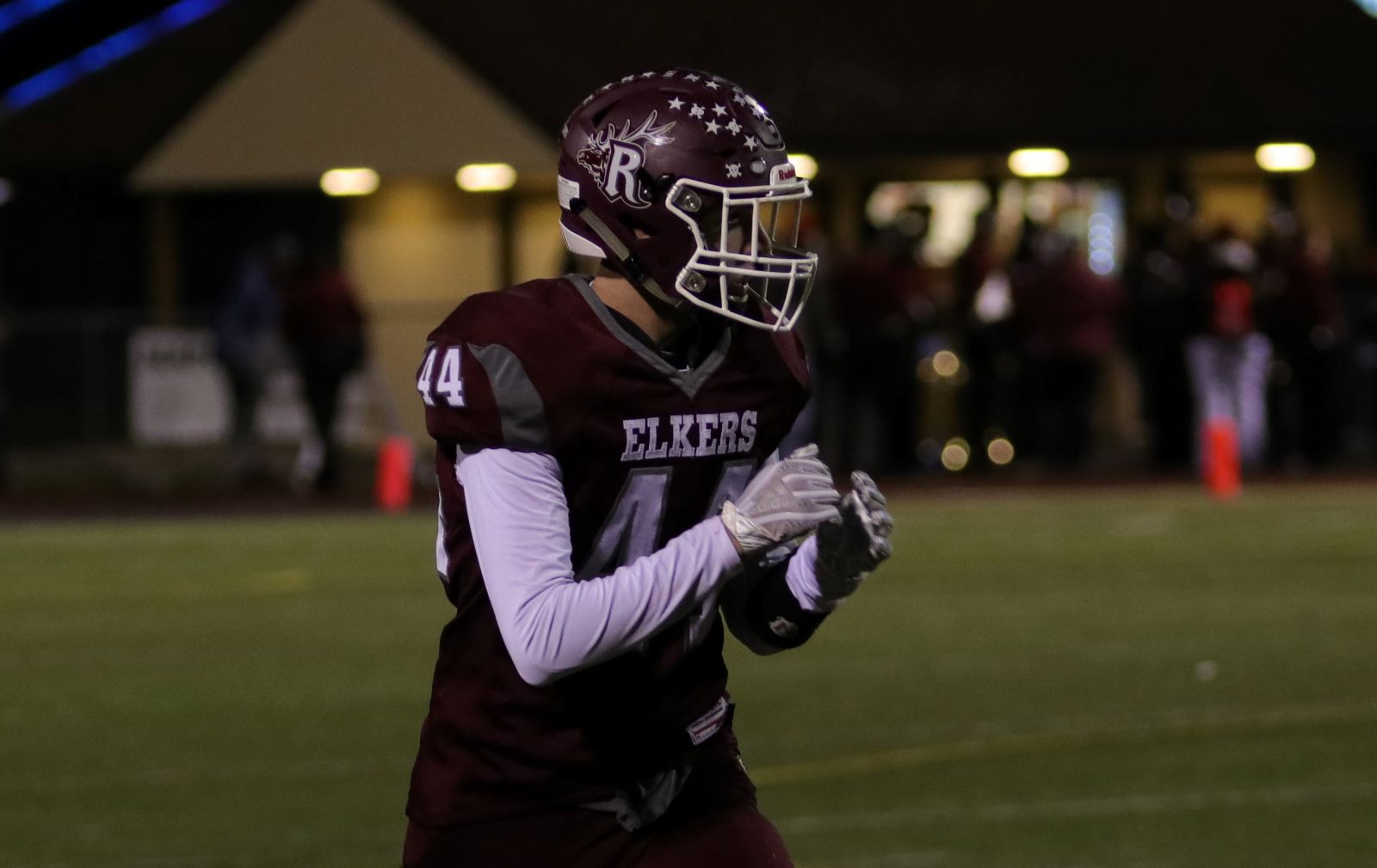 SLIPPERY ROCK, Pa. – Wilmington rushed 426 yards to push past a spirited performance by Ridgway, 45-27, in the PIAA Class 2A quarterfinals Friday at Slippery Rock University.
(Photo of Ridgway's Austin Green who caught a pair of touchdown passes Friday in the Elkers loss to Wilmington. Photo by Jared Bakaysa of JB Graphics. See more of Bakaysa's workhere)
"Ridgway is an outstanding team, and Mark Heindl and staff do a great job," said Wilmington head coach Brandon Phillian. "They're a very quality opponent, and that's what you want to see this time of year. Going four quarters two weeks in a row is a huge advantage in the state playoffs."
The 'Hounds duo of Ethan Susen and Darren Miller combined for 345 yards and five touchdowns on 35 attempts.
"That's the key to our offense is having the ability to have multiple guys carry the football," said Phillian. "I thought the balance was key with Susen and Miller. Caelan Bender, as well, had a couple of big-time carries in key moments in that second half."
Wilmington opened the scoring with Susen's runs of five and 45 yards in the first quarter.
He had a monster first-half rushing for 152 yards on 14 carries. He also had a 43-yard gain on Wilmington's initial drive that ended with a turnover on Austin Green's strip-sack.
Taking advantage of a short field following an 8-yard punt, Darren Miller broke free from 19 yards out, pushing Wilmington's lead 21-0.
"I felt the offensive line was the difference in the football game tonight," said Phillian. "If I could pin-point the biggest takeaway from this game, it would be the offensive line. "Led by our coach Dave Welch who does a great job with those big boys up front. I thought they were relentless tonight."
Cracking the scoreboard late in the first half Tyler Watts scooped up a fumble and raced 72 yards for a touchdown to get the Elkers on the board.
The 'Hounds answered right back as following a long kickoff return. Caelan Bender found Mason Reed on 25-yard touchdown pass putting Wilmington ahead 28-7 by halftime.
Ridgway closed the gap to begin the second half as Jake Wickett scored on 5-yard one play after Paul Gresco connected with Matt Dush on a 27-yard completion on a 4th-and-8.
Watch Wickett's touchdown run. Video courtesy of PAFootballNews.com.
@D9Sports @RidgwayFootball Jake Wickett 5 yd run, Wilmington 28 Ridgway 14, 803 3rd, @BobGreenburg @PaFootballNews @WPAFootball pic.twitter.com/EunTjIzSxe

— Shane Lux (@luxy_aLLin) November 23, 2019
The Elkers continued to battle back as they drew to within ten on Green's 8-yard reception from Gresco early in the fourth quarter, bringing the score to 31-21.
"They battled tonight," said Ridgway head coach Mark Heindl. "There's nobody that thought we'd have a chance tonight. We're closing the gap. The big thing is that I thought we represented District 9 real well tonight."
Those Ridgway scores were sandwiched in between Dan Hartwell's 32-yard field goal.
Wilmington then put the game away as Miller ripped off touchdown runs of nine and 33 yards. He rushed for 122 yards and two scores in the second half on 13 carries while totaling 179 yards on 21 carries for the game.
"Resiliency is the word. There were times Ridgway stole the momentum tonight," said Phillian. "Our guy's ability to conquer adversity and rebound when we had was what helped us win this football game."
Ridgway was able to find the end zone late as Gresco found Green for another 8-yard touchdown as time expired.
"Our kids never quit, and that's the part I'm most proud of," said Heindl. "When we played them last year, we were down 42-0 at halftime. Tonight we were in the game the entire time. There were times would couldn't convert, and times we couldn't stop them. However, to be down only ten in the fourth quarter shows how far we've come."
Paul Gresco led Ridgway completing 21-of-41 passes for 220 yards and two touchdowns. Matt Dush added nine receptions for 106 yards.
"Gresco played a great out there," said Phillian. "Even we had good coverage. He still fitted the ball into tight windows. I tip my cap to Ridgway, they're a great football team and very well-coached. To win 4-straight District 9 titles proves what a great program they have. They're only going to continue and improve under coach Heindl."
Ridgway concludes their season at 11-2, finishing with their fourth straight District 9 title.
"Our seniors made their mark on the program with four straight district titles," said Heindl. "Our underclassman has some big shoes to fill, but I know they will. That's a class program over there that has been in the state finals the last two years, but we played with them."
Wilmington now awaits the winner of tomorrow's WPIAL championship between two unbeaten teams in Washington and Avonworth.
"We'll be down there to check that game out," said Phillian. "Either way, we're going to be playing a great football team in the semifinals."
WILMINGTON 45, RIDGWAY 27
Score by Quarters
Ridgway – 0 7 7 13 – 27
Wilmington – 14 14 3 14 – 45
Scoring Summary
First Quarter
W – Ethan Susen 5 yd run, (Dan Hartwell pat), 5:10
W – Susen 45 yd run, (Hartwell pat), 2:32
Second Quarter
W – Darren Miller 19 yd run, (Hartwell pat), 6:53
R – Tyler Watts 72 yd fumble return, (Paul Gresco pat), 1:16
W – Mason Reed 25 yd pass from Caelan Bender, (Hartwell pat), 0:41
Third Quarter
R- Jake Wickett 5 yd run, (Gresco pat), 8:03
W – Hartwell 32 yd field goal, 0:58
Fourth Quarter
R – Austin Green 8 yd pass from Gresco, (Gresco pat), 10:20
W – Miller 9 yd run, (Hartwell pat), 7:40
W – Miller 33 yd run, (Hartwell pat), 2:17
R – Green 8 yd pass from Gresco, (no pat attempted), 0:00
Individual Stats
Rushing: Ridgway – Gabe Watts 4-38, Tyler Watts 7-23, Wickett 3-16, Matt Dush 2-(-6), Gresco 6-(-28). Totals: 22-43. Wilmington – Susen 14-166, Miller 21-179, Luke Edwards 4-45, Bender 7-49, Team 2-(-13). Totals: 48-426.
Passing: Ridgway – Gresco 21-for-41, 220 yards, 2 touchdowns. Wilmington – Bender 5-for-7, 66 yards, 1 touchdown.
Receiving: Ridgway – Dush 9-106, Green 7-69, Wickett 4-32, Tyler Watts 1-13. Wilmington – Junior McConahy 2-19, Susen 2-22, Reed 1-25.