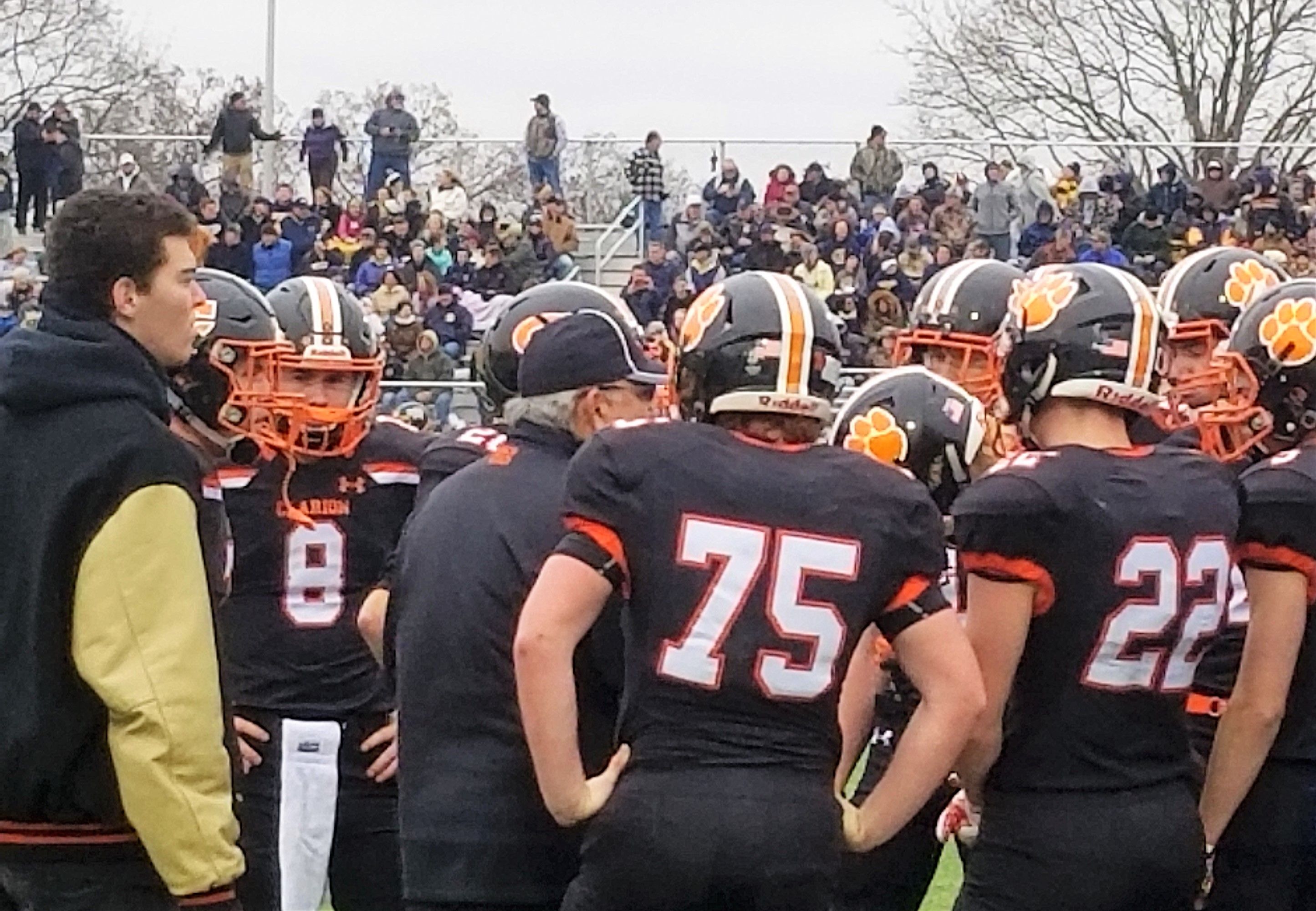 CLARION, Pa. – Football games are won up front, and Wilmington was simply just better up front than Clarion in Saturday's PIAA Class 2A quarterfinal game at Clarion University's Memorial Stadium.
Therefore, the Greyhounds (13-0) 33-6 victory was earned against the previously unbeaten District 9 champion Bobcats (12-1), who saw their 10-game Memorial Stadium win streak come to an end in a de facto home game.
"I'm going to give their line credit," Clarion's long-time head coach Larry Wiser said. "Their center was handling our backside (linebacker) and nose guard. We tried to make some adjustments here and there, but I think the difference was we couldn't get the line of scrimmage. That is where they won it. Plus, they are obviously a great football team."
Wilmington dominated both sides of the football and outgained Clarion 514 yards to 118 while holding Clarion, which came into the game averaging 325 yards on the ground, to 24 yards rushing on 28 carries.
"We just couldn't maintain some consistency," Wiser said. "We would get some positive yardage here and there and then we could get a negative play. We just couldn't get anything going offensively. I'm the offensive coordinator, so everything is on my back."
Honestly, Clarion's offense has one play the entire game and that play accounted for 84 of the Bobcats 118 yards.
That play was an 84-yard touchdown pass from Spencer Miller to Thomas Wurster 1:45 into the game.
It was a play that brought a great response from a louder-and bigger-than-normal Clarion crowd and helped the Bobcats overcame a disastrous start that saw a punt snap go past the punter Miller into the end zone with Miller mistakenly trying to pick the ball up instead of taking the 2-point safety. The result was a fumble recovery inside the 1-yard line for Wilmington leading to an early 1-yard Robert Pontius scoring run that gave the Greyhounds a 7-0 lead.
But Miller went up top to Wurster on the very next Clarion offensive play bringing the crowd to its feet and seemingly giving the Bobcats the momentum back despite Archer Mills rare miss of the extra point.
"No question, I liked the response," Wiser said.
Clarion's defense then stepped up forcing a pair of Wilmington punts and then picking off a Pontius pass on the Greyhounds fourth possession with Logan Minich doing the honors at the Clarion 46-yard line one-handed (his other hand was in a cast after breaking his hand in last week's win).
"Logan's one-handed interception was big," Wiser said.
But Clarion's offense couldn't do anything managing just three yards on the three drives following the defensive efforts.
"We missed some opportunities," Wiser said. "We missed a block here and so forth like that. That happens against teams of this quality. You have to play everything to the best to win games like (this)."
Wilmington's offense finally got in gear on its fifth possession thanks to a great individual effort from running back Bryson Verrelli, the grandson of legendary Greyhounds head coach Terry Verrelli, the Curwensville graduate who won his 313th game at the school Saturday.
On second-and-12 from the Wilmington 15, Bryson Verrelli took a handoff and spun and juked his way into the clear before outrunning the Clarion defense for an 85-yard touchdown.
That score seemed to relax the Wilmington offense which scored on its next four possession as well – two touchdowns and two field goals – to break the game open.
A trick play midway through the second quarter gave the Greyhounds a 20-6 lead when Cameron Marett took a handoff from Pontius and threw a halfback option pass to Colton Marett to make it 20-6, and then Jacob Winters kicked a 42-yard field goal with 22 seconds left in the half to make it 23-6 at the break.
Despite being down 17 at the break and being outgained 258-99 at halftime, Wiser said his team stayed positive thinking back to last week's comeback win over Chestnut Ridge in a game the Bobcats trailed 14-0 at halftime.
"I felt even coming into halftime they took the same attitude (as last week)," Wiser said.
Any thought of a comeback again this week, though, was quashed when Wilmington took the ball out of halftime and marched 51 yards in 10 plays taking 3:58 off the clock before Winters nailed a 33-yard field goal to make it 26-6.
Wilmington helped Clarion get something going on the Bobcats first drive of the second half getting whistled for a pair of penalties totaling 20 yards helping Clarion move from its 24 to the Greyhounds 48, but on fourth-and-8 from the Wilmington 48 down 20, Wiser elected to punt.
The Greyhounds then marched 87 yards on 11 plays taking 5:07 off the clock to put the game away on a 1-yard Pontius run with 39 seconds left in the third quarter.
Verrelli led Wilmington with 112 yards rushing on six carries, while Jack Patton had five carries for 90 yards.
Colton Rapp had eight carries for 32 yards to lead Clarion, which was without the service of Logan Minich on offense because of the hand injury. The Bobcats also played a portion of the contest without Wurster, who was in and out, and Sterling Conner, who was lost in the first half to an injury.
"I'm not going to make any excuses about injuries," Wiser said. I will leave you to that conclusion. I'm never going to point to them (injuries). I got beat today. They beat us."
In looking back at the season, Wiser said chemistry played a key role in Clarion playing deep into November.
"I have a lot of good football teams who haven't done this," Wiser said. "I have had some average teams do really well. It depends on wanting to come out here and play with each other, support each other. I think these kids did that. Week-to-week they were their best coaches because if someone wasn't stepping up they would make sure and become the enforcers and do that."
Wiser also thanked his coaches, Scott Miller, Lee Weber and Nate McClain and especially had high-praise for McClain, his offensive line coach.
"I want to make sure I give the coaches credit," Wiser, who has 217 wins to his credit with four District 9 titles, said. "Nate (McClain), is one of the better line coaches in the area. He is consistently so even-keeled with these guys and does such a good job with these guys too. To get to this level, you have to be able to block and tackle well. Any team that does that is going to keep moving."
BOX SCORE (Box score can also be accessed here)
Note use the arrows on the top left of the box score to scroll through the stats or click on the link above for the full stats
[pdf-embedder url="https://d9sports.com/wp-content/uploads/2017/11/ClarionWilmington.pdf"]