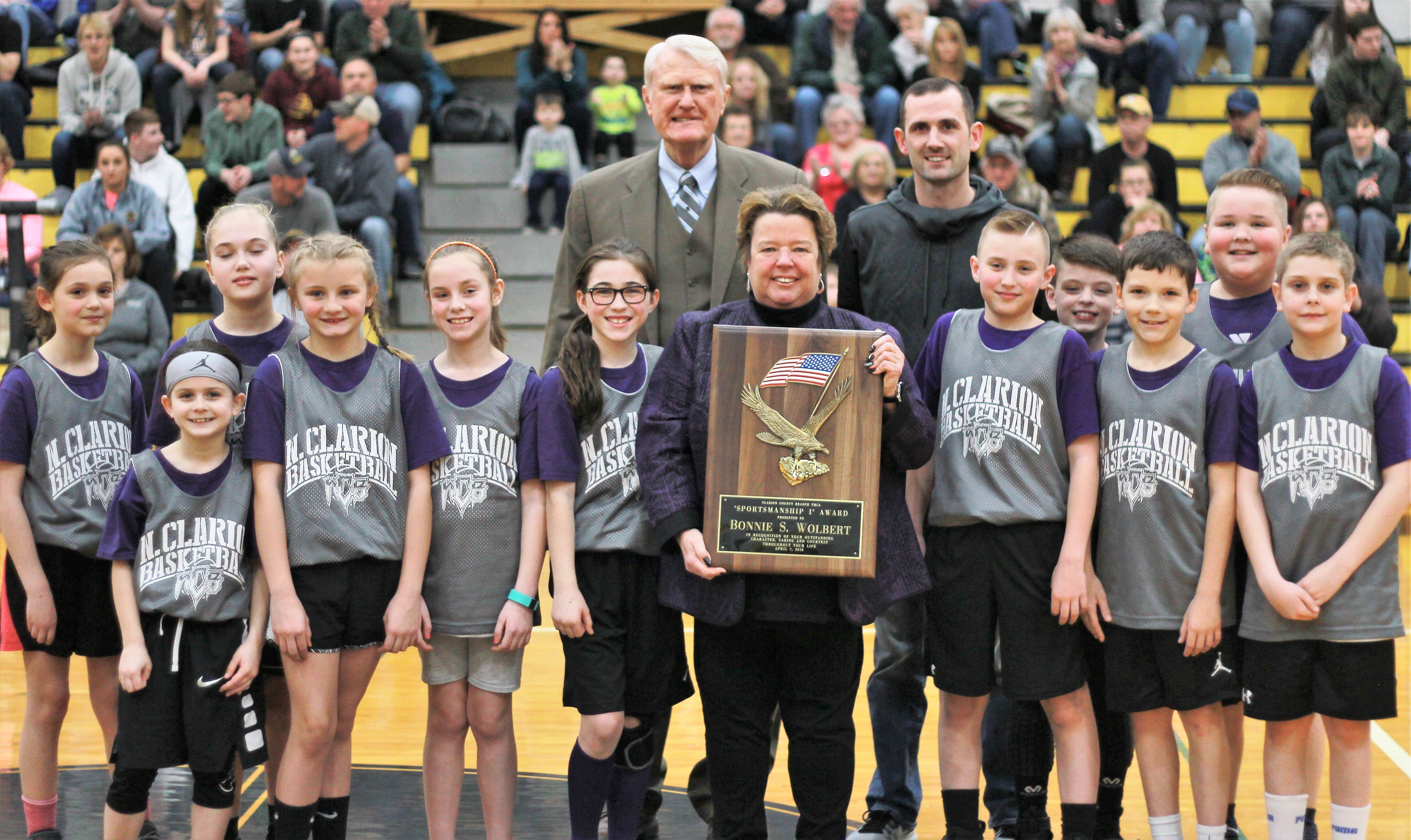 KNOX, Pa. – Bonnie Wolbert is North Clarion High School.
(Bonnie Wolbert with game director Norb Baschnagel along with North Clarion graduate Eddie Baumcratz and the elementary basketball teams from North Clarion)
And Wolbert is the Clarion County YMCA 2018 Sportsperson of the Year in Western Pennsylvania being honored with the award in between the girls' and the boys' Sportsmanship I District 9 All-Star Games Saturday at Keystone High School.
A North Clarion graduate, Wolbert went to Clarion University of Pennsylvania receiving a bachelor's degree in education before returning to her alma mater to teach English for 34 years and then becoming the school's athletic director.
While teaching, Wolbert also spent 30 years at the cheerleading advisor at the school, helped run the scoreboard and assisted with all of the announcing for the volleyball and basketball games.
Now in her seventh year as the athletic director, she serves as the statistician for the Keystone Shortway Athletic Conference and is also a member of the District 9 Committee where she serves as the chairperson of the Competitive Spirit Championships while also acting as the Sportsmanship Chairperson on the committee.
A longtime PIAA Track & Field official as well, one of Wolbert's annual highlights is working as the head pole vault judge at the PIAA Track & Field Championships at Shippensburg University.
Another highlight for Wolbert also happens to be one of the finest traditions in all of District 9, her singing the national anthem prior to nearly every North Clarion home basketball game.
"It 's been an honor to work with so many people through sports," Wolbert said. "It's not all about winning. It's about memories created, friendships established, commitment and showing support not only for your own school but recognizing others for their accomplishments as well. Coaches, players and fans learn how to win with pride and humility and how to lose with grace and dignity. Promoting good sportsmanship is the key."
This is the 17th year for the Sportsmanship Award, which is voted on by a committee, and previous recipients include former Clarion University men's basketball coaches John Joy, Ron Righter and Ron Galbreath, professional golfer Arnold Palmer, former Union boys' basketball coach and athletic director Don Stemmerich, former Penn State football coach Joe Paterno, former Clarion University professors and coaches Dick Pae and Norb Baschnagel, former Pitt-Johnstown women's basketball coach and Oil City native Jodi Gault, former Clarion, Keystone and A-C Valley coach David "Red" Bevevino, former Pittsburgh Steelers and Hall of Fame running back Jerome Bettis, former LaRoche men's basketball coach and Clarion University graduate Scott Lange, former Clarion University assistant athletic director Fran Shope, Clarion High School football coach Larry Wiser, Keystone High School boys' basketball coach Greg Heath and Elk County Catholic boys' basketball coach Aaron Straub.