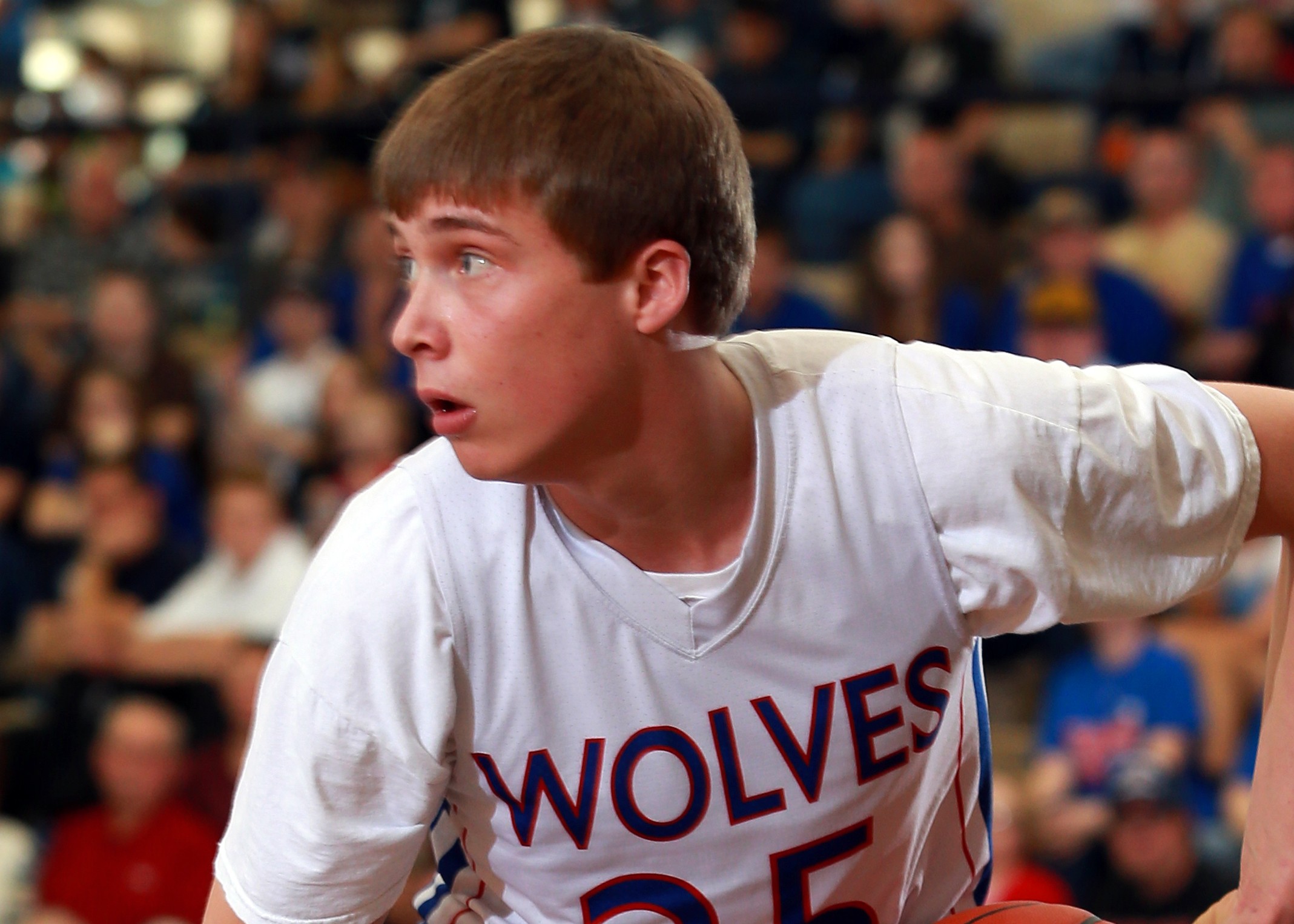 SHIPPENVILLE, Pa. — With the returning All American Awards & Engraving D9Sports.Com Player of the Year leading the way, the 2016-17 All American Awards & Engraving All-District 9 preseason boys' basketball team features an all-senior lineup.
Wolves senior Andrew Bucheit led his team to a district title last year. (Photo by Paul Burdick)
Kane's Andrew Bucheit led the Wolves to a District 9 Class 2A Championship last year and earned the Player of the Year. He's one of three first-teamers back this year and all of them are on the preseason team, including Clarion-Limestone's Dan Callen and Clearfield's Will Myers. Joining them are Elk County Catholic's Nate DaCanal and Clearfield's Tommy Hazel, both returning all-district players from the second team.
The 6-foot-7 Bucheit helped the Wolves go from a three-win squad two years ago to a 14-10 title team. He averaged 19.9 points, 11.3 rebounds and 4.5 blocks per game while shooting a sharp 52.2 percent from the field. He also nailed 21 3-pointers.
Bucheit missed three games with an injury and returned to average 24 points per game in the final three regular-season games and two D9 playoff contests. Bucheit heads into his final high school season with 763 career points.
Both Callen and Myers enter the year as 1,000-point scorers and two-time all-district players. Callen, with 1,052 points, averaged 18.7 points, 11.5 rebounds and 2.8 blocks per game while shooting 53.3 percent from the field. Myers led the Class 3A champion Bison in scoring at 17.3 points per game to go along with 6.5 rebounds and 2.7 assists while draining 40 percent of his 3-pointers, 83 overall. Myers has 1,002 career points.
Myers' teammate Hazel averaged 13.5 points, 6.7 rebounds and 2.7 assists per game with 48 3-pointers to give the Bison two dangerous deep threats. DaCanal, a two-time all-district player, scored 13.9 points per game while adding 5.9 rebounds, 3.2 assists and 2.6 steals per game, and shooting 57.7 percent from the field.
Callen, Myers and DaCanal were preseason all-district selections last year as well.