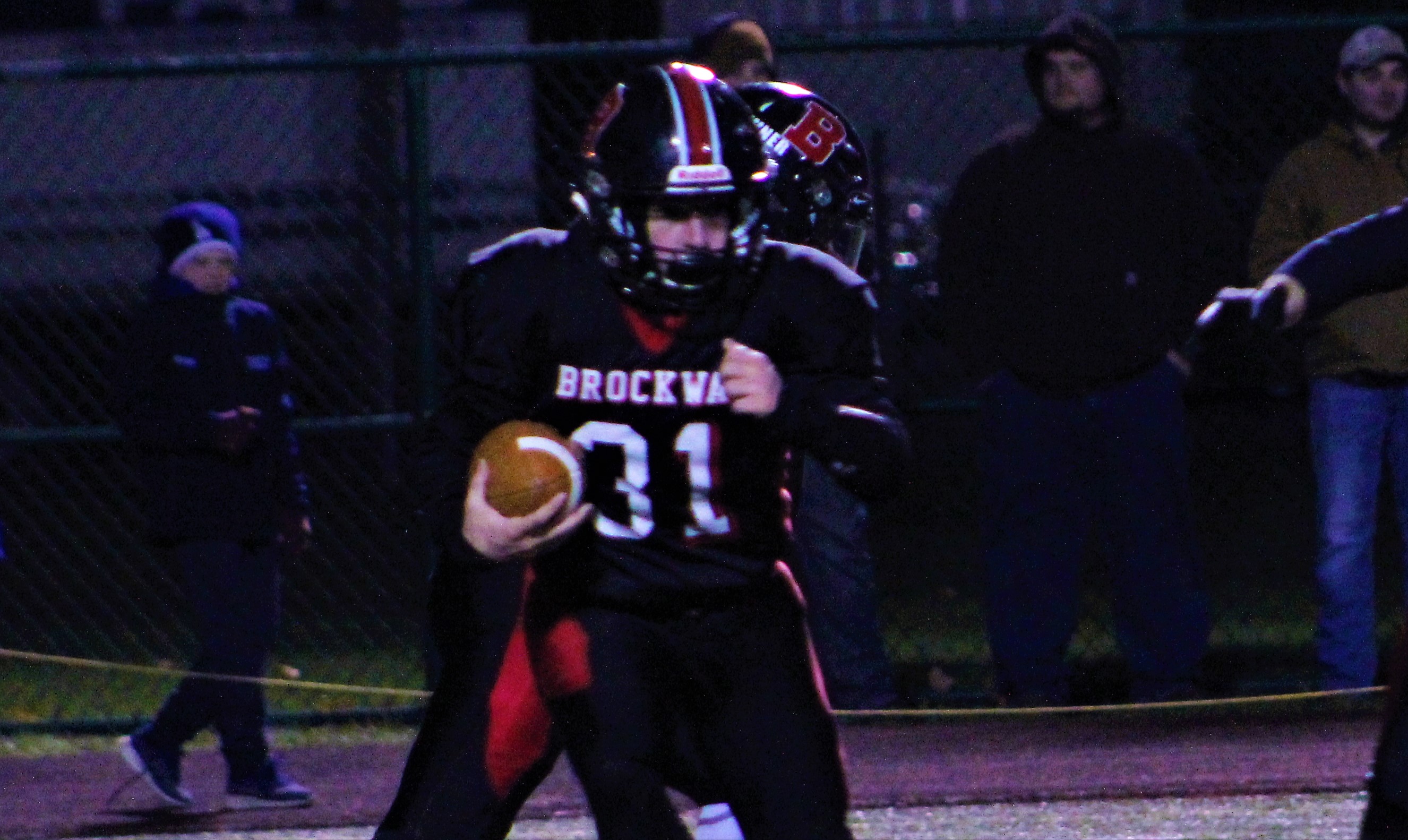 DUBOIS, Pa. – A strong night from Jon Wood and Brookville turnovers helped second-seeded Brockway defeat the third-seeded Raiders, 38-18, in the District 9 Class 2A Semifinals Saturday night at EJ Mansell Stadium in DuBois.
(Photo of Brockway's Jon Wood. Photo by Jared Bakaysa of JB Graphics. See more of Bakaysa's work here)
Wood exploded for 163 rushing yards and 34 receiving yards on offense while recording two interceptions on defense.
"He's probably one of the best players not only in District 9 but the whole area," Brockway head coach Tom Weaver said. "He can catch, he can run, he can do it all. We try to get him as many touches as we can, but he's just a super player."
Wood opened the scoring for Brockway late in the first quarter with an 88-yard sprint to the end zone following a Brookville fumble to put the Rovers up 7-0.
"The play was a zone," Wood said. "I saw a crease, got some blockers, and I just ran from there."
Watch more of what Wood said about the game.
On the ensuing kickoff, Brookville fumbled the kickoff that was recovered by the Rovers that set up a 26-yard field goal from Zane Puhala to give the Rovers a 10-0 lead with 10 minutes left in the second quarter.
Brookville turned the ball over again on their ensuing drive after Wood picked off a Robert Keth pass at the Rovers 45-yard line. The Rovers went up 17-0 after a five-play, 55-yard drive that was capped off by a 16-yard Peter Downer touchdown run.
"It seems to really pick us up," Weaver said about winning the turnover game. "We get that turnover, it makes our offense hungry and those drives we seem to finish."
Downer went on to score one more rushing touchdown before half that gave the Rovers a 24-0 lead going into halftime.
Brookville looked to have some life coming out of halftime by going 58 yards in nine plays with a 1-yard Cole Lebenne score to cut the lead to 24-6.
However, the Rovers answered right back after Downer found Wood for a 10=yard touchdown pass to put the Rovers up 31-6.
Downer finished the game with nine carries for 66 yards and two scores while going 6-for-14 passing for 163 yards with a touchdown and interception.
The Raiders cut the lead to 31-12 with a minute and a half left in the third quarter after another 1-yard Lebenne score.
The Rovers went up 38-12 on a 1-yard Tyler Serafini run that was set up after a failed onside kick attempt by the Raiders.
Serafini finished the game with 21 carries for 113 yards and a touchdown.
Brookville wouldn't go away, though.
Less than a minute later, Keth found Ian Thrush on a seam-route down the middle after Brockway's safety fell down to make the score 38-18.
Despite the turnovers, Keth finished the game going 25-for-38 with 262 yards, 1 TD and 3 Ints.
Bryan Dworek led the Raiders receivers with 14 catches for 119 yards and Park chipped in for 8 catches and 103 yards on the night.
Brockway will face Ridgway, who defeated Moniteau 15-7, in the Class 2A finals at a date, time and location to be determined.
"I think it's a big thing for our team," Wood said about being in the finals. "We have a lot of seniors and if we can get them a championship it would be really good for them."