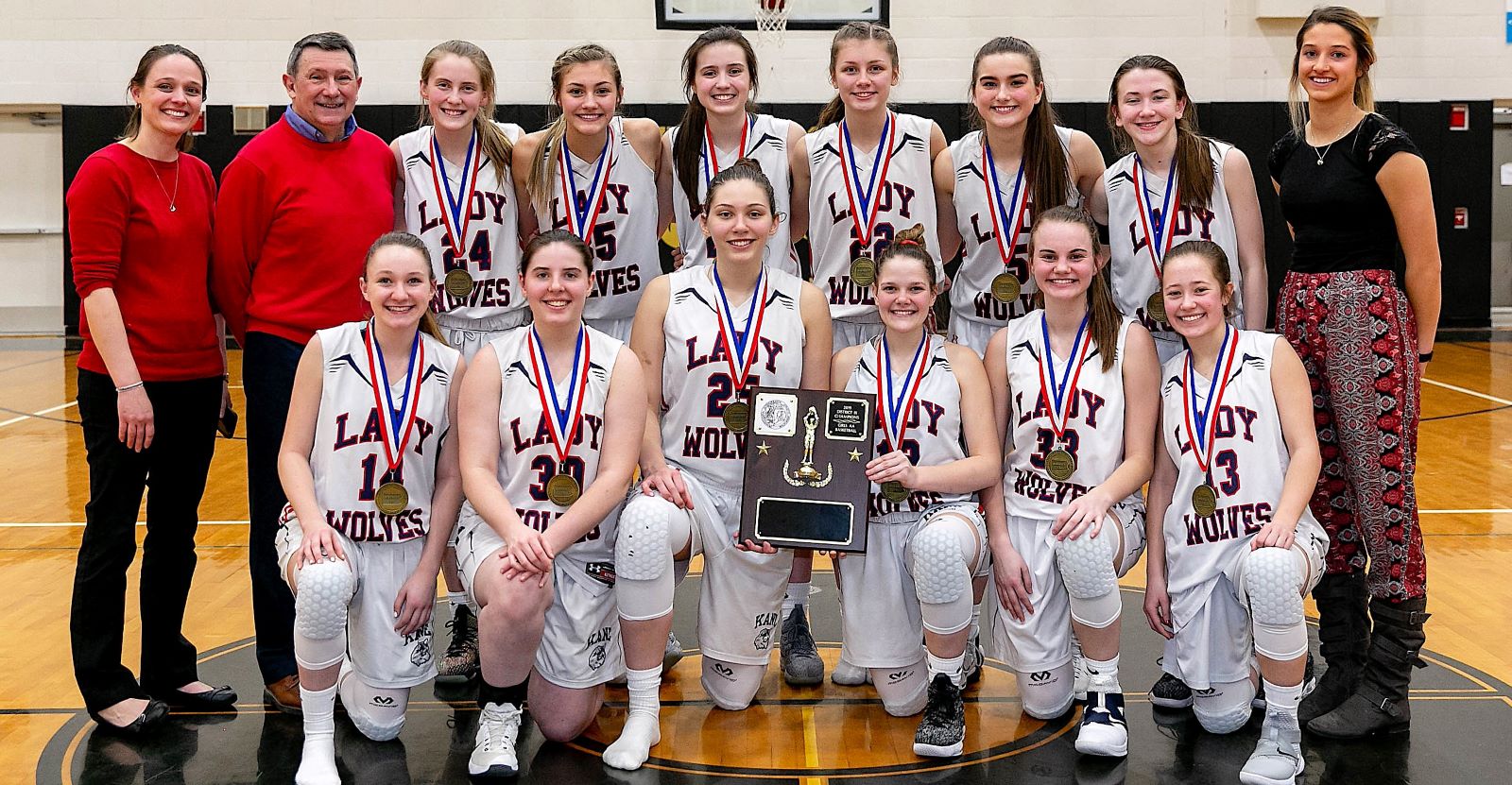 KNOX, Pa. – In a fast, furious overtime Kane outscored A-C Valley 13-4 to capture its first-ever District 9 title with a 61-52 win over the Lady Falcons in the Class 2A girls' championship game at Keystone High School.
(Photo by Tessa Boschert. Check out more of Boschert's work here)
The victory has a special place in the entire Kane community's heart as just days ago Kane head coach Dave Kiehl suffered a heart attack during the Lady Wolves 63-51 win over Clarion to advance to the title game.
"That was our entire focus as a team and a community," assistant coach Kerry Wolbert, who had the job as acting head coach in Kiehl's place, said. "We were going to do this for Dave. This is Dave's team, and I'm so glad we were able to pull this out tonight for him."
Kane (23-3), which lost in each of the last two D9 2A title games to Coudersport, built a 10-point lead going in the fourth quarter only to see A-C Valley (20-4), which lost in last year's 1A title game to North Clarion, rally back in the closing second to force overtime.
But in overtime, Hannah Buhl scored nine points including a clutch 3-pointer that helped Kane extend its lead to 54-50 after the Lady Wolves grabbed an offensive rebound following a missed free throw by Ella Marconi with 2:15 left in the extra session.
"In overtime, I wanted to make sure we got the ball inside," Wolbert said. "They had some players in foul trouble, and I wanted to exploit that. We got away from the game plan in the fourth quarter taking shots we should not have taken."
Buhl led all scorers with 23 points.
"It feels absolutely amazing right now," Buhl said. "I can't even describe it. It means more than the world to be able to do this for Coach Kiehl. We said before the game that it's not only for us now it is for our coach."
Watch Buhl's postgame interview.
Up the 10 going to the fourth quarter, overtime was the last thing on the Lady Wolves mind at the time.
But A-C Valley battled back in the fourth quarter thanks to their leading scorers coming alive in Cami McNany and Kylee Eaton, who both were held scoreless in the first half.
McNany scored all 11 of her points in the second half while Eaton scored nine including three in overtime.
Olivia Boocks scored a team-high 20 points for A-C Valley including four three-pointers and the game-tying trey with 38 seconds to play that tied the game at 46.
"Olivia was very tenacious," A-C Valley head coach Dave Sherman said. "But with our whole team, there's no quit in them. That fought until the very end, and Olivia imposes her will. She's very quick, talented and a greater shooter when she takes her time. We were all hurrying a little early on due to the excitement of the game."
After Boocks tied the game at 46, Sarri Swanson gave Kane the lead back, 49-46, when she hit a pair of free throws. But Eaton tied the game back up for A-C Valley with 16 seconds to play in regulation.
Following a timeout, Kane tried to lob the ball inside to Marconi, but the Lady Falcons got a jump ball and possession to force overtime.
"Our game plan was to get the ball inside to Ella," Wolbert said. "That's what we were trying to do in the fourth quarter. We got away from that. We took some stupid shots that allowed them to get back in the game."
In overtime, depth was not on A-C Valley side as starters McNany and Rachel Cullen were both playing with four fouls. Eaton entered overtime three, and both Eaton and McNany fouled out late in the session with the outcome already decided.
"Our depth did hurt us because we spent everything we had in the tank just to get to overtime," Sherman said. "Our season is not over, and I can't give my girls enough credit. We'll be ready come state playoff time. I told them there's nobody else I'd rather go to war with."
Helping Buhl was Emily Bucheit, as the two combined to knock down seven treys in the game with the two players having five and two respectively.
"When I shoot I don't think about it," said Buhl. "Tonight I was thinking about it because I knew I had to make shots especially from the foul line."
And she did, Buhl was a perfect 8-for-8 from the free throw line including 6-for-6 in overtime.
"Hannah did an amazing job tonight," Wolber said. "She broke the Kane 3-point shooting record, and she's been great all year long. I believe she's the best point guard in District 9. Also, I believe we have the best big girl as well in Ella Marconi, and that's a tremendous 1-2 punch."
With Kane shooting well outside it opened things up for Marconi who averages a double-double per game and over 23 points to do her job. Marconi was held under her season average, but still scored 16 points and dominated the boards.
Swanson also chipped in off the bench for Kane scoring in double figures with 11.
"They were very balanced, and Buhl was phenomenal," Sherman said. "She's a great shooter, and we knew that. But you have to pick your poison with them. Marconi is a matchup problem and very gifted down low. They've got that two-headed monster."
Kane went on a 7-0 run to open the second quarter and looked to be well on their way to not needing overtime as they built a 39-29 lead after three quarters before A-C Valley rallied.
"In the end, everything worked out for us," Wolbert said. "The girls really did play hard and gave it everything they had. This was a great win and an extraordinary moment we'll all cherish for a long time."
Both teams advance to the state playoffs and will meet either Cambridge Springs or Saegertown out of District 10. With the winner of the Cambridge Springs/Saegertown game getting A-C Valley and the loser Kane in the opening round of the PIAA Playoffs.
NOTES: Former Kane head coach Stacy Hastings, the daughter of Dave Kiehl, accepted his championship medal on behalf of her father … Kiehl has surgery to place two stints and was released from the hospital Thursday. He is reported to be doing well … Kane is now 1-7 in D9 Championship games while A-C Valley fell to 0-2.
KANE 61, A-C VALLEY 52, OVERTIME
Score by Quarters
A-C Valley – 9 7 13 19 4 – 52
Kane – 12 12 15 9 13 – 61
A-C VALLEY – 52
Cami McNany 5 1-3 11, Olivia Boocks 7 2-4 20, Kylee Eaton 4 1-2 9, Rachel Cullen 1 0-0 2, Andrea Meals 3 1-2 7, Emily Wetzel 1 1-2 3, Mia Sherman 0 0-0 0. Totals: 21 6-13 52.
KANE – 61
Ella Marconi 4 8-12 16, Hannah Buhl 5 8-8 23, Emily Bucheit 2 0-4 6, Ainsley Saf 1 0-3 2, Sierra Hillman 0 1-2 1, Hannah Brown 0 0-0 0, Emma Ely 0 0-0 0, Sarri Swanson 4 3-4 11, Madi Koza 1 0-2 2, Auri Marconi 0 0-0 0. Totals: 17 20-35 61.
Three-pointers: A-C Valley 4 (Boocks 4). Kane 7 (Buhl 5, Bucheit 2).