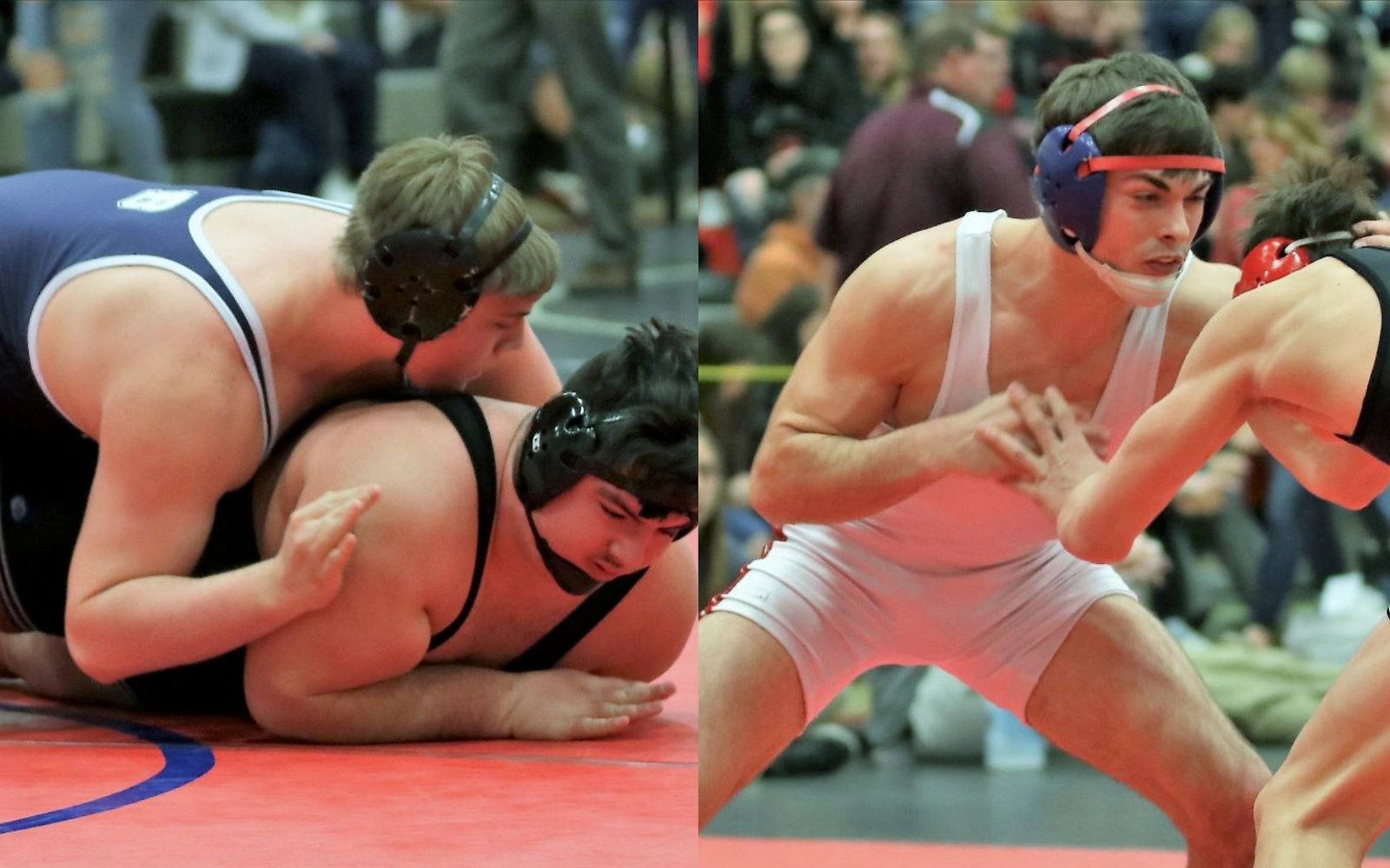 SHARON, Pa. – Two District 9 wrestlers won Class 2A Northwest Regional titles Saturday at Sharon while 13 additional wrestlers from District 9 also qualified for the PIAA Championships, which start Thursday, March 4, and run through Saturday, March 6.
(Photo: Brookville's Colby Whitehill (left) and Kane's Alec English (right) won Regional titles Saturday. Photos by Jared Bakaysa of JB Graphics. See more of Bakaysa's work here)
Winning titles for District 9 were Brookville's Colby Whitehill at 285 pounds and Kane's Alec English at 160 pounds.
Whitehill, the state's second-ranked heavyweight, was simply dominant in his run to the regional title, pinning all comers.
He capped off the event by sticking Reynolds's Derrick Skeehan, himself a district champ and ranked sixth in the state, midway through the first period (0:55). Whitehill, who finished eighth at states a year ago, has now pinned his way through both the district and regional brackets, spending a combined five-and-a-half minutes on the mat.
English, ranked fourth at his weight by PA Power Wrestling (PAPW), won his title with an 8-5 decision over Conneaut Area's Peyton Hearn, the District 10 champion and fifth-ranked wrestler at 160 pounds. This was the second consecutive year English, the reigning District 9 champion, attained the top step on the regional podium.

District 9 wrestling coverage on D9Sports.com is brought to you by Luton's Plumbing, Heating, and Air Conditioning.
Five wrestlers finished the tournament in second place, including Anthony Glasl (126 pounds) and Garret McClintick (182 pounds) of Brockway, Owen Reinsel (106 pounds) of Brookville, Braedon Johnson (120 pounds) of Port Allegany, a Smethport student, and Ethan Finch (170 pounds) of Sheffield.
Reinsel ranked 12th in the state as a freshman, pinned his way to the finals, where he faced first ranked and defending PIAA champion Gary Steen of Reynolds. Steen won a 9-1 major decision over Reinsel, the only other Raider wrestler to qualify for states this season.
The 120-pound final saw another battle of District champions when Johnson squared off against Reynold's Beu Bayless, ranked second in the state. Bayless pinned Johnson, who came into the event ranked 14th by PAPW, in the second period (3:51). Johnson, the sole Gator state qualifier, will be making his first trip to states.
Glasl, the District 9 champ, had to settle for runner-up status after defaulting to Greenville's Bryce Knauf, the District 10 champion, due to injury. This will be Glasl's third straight trip to Hershey.
It was another good tournament for Sheffield's Finch, who made an improbable run to the District 9 title a week ago. The unranked Finch fell, 14-7, to District 10 champ Brady Gentile of Greenville, ranked ninth by PAPW. Relatively unheralded, Finch is a first-time state qualifier.
McClinitick, ranked second by PAPW, fell 5-2 to Gavin Henry of Union City, ranked 10th, in something of an upset. McClintick, who won district's last weekend, qualified for his second consecutive state tournament.
A pair of D9 grapplers secured third-place finishes by winning in the consolation finals including Kane's Cameron Whisner (170 pounds) and Brockway's Eric Johnson (195 pounds).
Whisner, an East Forest student wrestling in a co-op at Kane, earned his trip to states with a 5-3 decision over Matt Petrilla of Cory. In the consolation finals, he took a 4-3 victory against Cole Toy of Reynolds, ranked 13th by PAPW. This is the first time Whisner has qualified for the PIAA championship.
Johnson was relegated to the consolation side of the bracket in the 195-pound quarterfinal being joined in the wrestle backs by Elijah Ayers of Coudersport after Ayers suffered a semifinal loss Faced with a win-or-go-home scenario, both Ayers and Johnson achieved the goal of reaching the consolation finals to secure a berth in the state championships. Once in the finals, it was Johnson, the District 9 champion, taking a 9-5 decision over Ayers for third place. Johnson is a first-time state qualifier, Ayers quailed last year.
Six D9 wrestlers came in fourth. In addition to Ayers, Brockway's Mark Palmer (106 pounds) Curwensville Blake Passarelli (126 pounds), Redbank Valley's Ethan Wiant (132 pounds), Kane's Noah Blankenship (138 pounds) and Kane's Teddy Race (182 pounds) all fell in the consolation finals but still go to the state championships.
Palmer will join fellow 106-pounder Reinsel in Hershey after securing one of four state berths for the Rovers. He won three matches in the wrestle backs, reaching the consolation finals by defeating Port Allegany's Bryent Johnson 10-2. He had to settle for fourth when General McClane's Hunter Robinson, 19th in the state, beat him, 5-3.
Passarelli, also in the 126-pound bracket with Glasl, qualified for his fourth consecutive trip to states. He had to do it by scraping through the consolation bracket after a quarterfinal loss to Will Burgess of Union City. Passarelli, ranked seventh in Pennsylvania, secured his trip to states when he took out 13th-ranked Andrew Ischo of Reynolds, 2-1, in the consolation semifinals. In the consolation finals, he again faced Burgess, this time losing 4-0.
Wiant was Redbank Valley's only state qualifier, placing fourth at 132 pounds. Wiant suffered a 12-0 semifinal loss to bracket runner-up John Wheeler of Northwestern, the 13th-ranked wrestler in the weight class. A blood-round victory over Saegertown's Dawson Bartholomew, 8-0, earned Wiant, currently 23rd in Pennsylvania, the right to represent the Bulldogs at the PIAA Championship. He lost an 8-0 major decision to Reynolds's Kaeden Berger in the consolation finals.
Blankenship, the District 9 champ at 138 pounds, reached the semifinals, whereupon he lost, 5-0, to eventual regional titlist Kenneth Kiser of Saegertown. In the wrestle backs, he earned a trip to states with a 5-4 blood round decision over Grove City's Logan Breese advancing to the consolation finals. Blankenship, ranked 20th by PAPW, settled for fourth when he lost, 5-2, to District 10 champ Alex Cross of Mercer, fifth-ranked in the state.
Race lost in the quarterfinals of 182 pounds, 6-3, to Slippery Rock's Kaleb Kamerer, 19th ranked by PAPW. On the consolation side of the bracket, he found himself in a semifinal matchup against Brookville's Braden MacBeth with a state qualifying spot on the line. Race prevailed 10-2, after which he again fell to Kamerer again, 10-8. Race is headed to Hershey for the first time in his career.
Kane was highest placing District 9 team at the tournament, finishing third with 95.5 points. Brockway (87.5 points) was fourth and Brookville (57 points) ninth. Reynolds's 198 points was the highest of the event. Greenville was second with 115 points.
See all the Class 2A brackets from the Northwest Regionals
CLASS 3A: Two D9 GRAPPLERS WIN REGIONAL TITLES; EIGHT GOING TO STATES
ALTOONA, Pa. – Two District 9 3A champions from a week ago were crowned Northwest Regional champions in Altoona.
Dubois's Ed Scott won the 138-pound title, while last weekend's Outstanding Wrestler at the district tournament, Dillon Keane of Bradford, took the top spot at 170 pounds.
Scott, ranked third by PA Power Wrestling (PAPW), ran his season record to 35-0 by dominating the 138-pound bracket.
He started off in the quarterfinals by pinning Warren's Donovan Fiscus in the first period (1:14), following that up by sticking Cole Stewart of Bellefonte (0:59). Scott was set to face the state's top-ranked wrestler in the weight class, Erie McDowell's Jeffery Boyd, in the final. Boyd, who came into the event as the District 10 titlist, forfeited to Scott for medical reasons, however, giving the Beaver grappler his third consecutive regional title. Scott, a junior, finished third at states as a freshman but did not place last season.
Keane, a senior, will make his first trip to states after running through the 138-pound bracket.
Ranked 12th by PAPW, Keane pinned Mifflin County's Brycen Hassinger in his quarterfinal bout (1:38) and then took a 20-5 technical fall against Nathan Fisher of Hollidaysburg (5:39). The final was a rematch of last week's championship tilt against Bellefonte's Coy Bastian. As he did a week ago, Keane dispatched Bastian, 13th ranked in the state, this time by a 15-5 major decision.
Three other District 9 grapplers also reached the finals but were unable to convert the opportunity into a regional championship.
St. Marys' 132 pounder Tyler Dilley, ranked ninth by PAPW, scored a 16-1 technical fall against Kayden Busey of Central Mountain in the opening round (4:44). He beat District 10 champ Hayden Butterfield of Erie McDowell in the quarterfinals, 4-3, and advanced to the final with a 10-4 decision against Bellefonte's Ryan Smith, the District 6 champ. In the final Dilley faced a familiar foe, last week's title-round opponent Cade Balestrini of Shikellamy. As he did in their first meeting, Balestrini, the sixth-ranked wrestler at the weight, downed Dilley, 5-1. This will be Dilley's second straight trip to the state tournament.
District 9 champion Mark McGonigal (152 pounds) downed opening-round opponent Anson Wagner of Mifflin County 13-0. The Clearfield freshman won another major decision in the quarterfinal, routing Central Mountain's Alonzo Henry 11-3. Things tightened up in the semifinal, with McGonigal prevailing, 3-1, against District 10 champion Marques McClorin, who PAPW had ranked 21st. McGonigal lost a 15-0 technical fall to District 6 champion Ethan Richner, ranked 13th in the state, in the final (1:42).
Brayden Crocker (195 pounds) of Cranberry, another freshman District 9 champion, pinned first-round opponent Andrew Howe of Bellefonte halfway through the opening period (1:32). He beat Central Mountain's Tanner Riggle, ranked 22st by PAPW, 7-2 in the quarterfinal and eked out a 1-0 decision against District 10 champion and 16th ranked Kareem Carson in the semifinal. Crocker, currently ranked 22nd in Pennsylvania, squared off against the state's number one in the final, Cole Urbas of State College. Urbas lived up to his top billing, pinning Crocker in the first period (1:45). The loss was only Crocker's second of the season.
Three DuBois wrestlers took third place to qualify for the PIAAs including Chandler Ho (120 pounds), Trenten Donahue (126 pounds) and Dalton Woodrow (145 pounds).
Ho, in a rematch of last weekend's District 9 120-pound final, took on 14th ranked Riley Bower of Williamsport. The 24th ranked Ho prevailed in the rematch, 2-1. Ho is a first-time state qualifier.
Donahue, who came into this event as the District 9 champ at 126 pounds, had to come through the wrestle backs to earn his second consecutive trip to states. The 10th-ranked Donahue took out Derek Burk of Mifflin County in the bout for third place.
Woodrow, also a District 9 champ, found himself on the consolation side of the 145-pound bracket after a loss in the semifinals. Rising to the occasion, Woodrow, who PAPW has ranked 18th, won the consolation final 1-0 over 23rd-ranked Trent Tidball of Meadville.
Dubois (96.5 points) finished in fourth, while Clearfield (62.5 points) came in 10th. Erie Cathedral Prep out of District 10 was the team champion with 181 points. District 6's Mifflin County (130 points) was second.
See all the Class 3A brackets from the Northwest Regionals