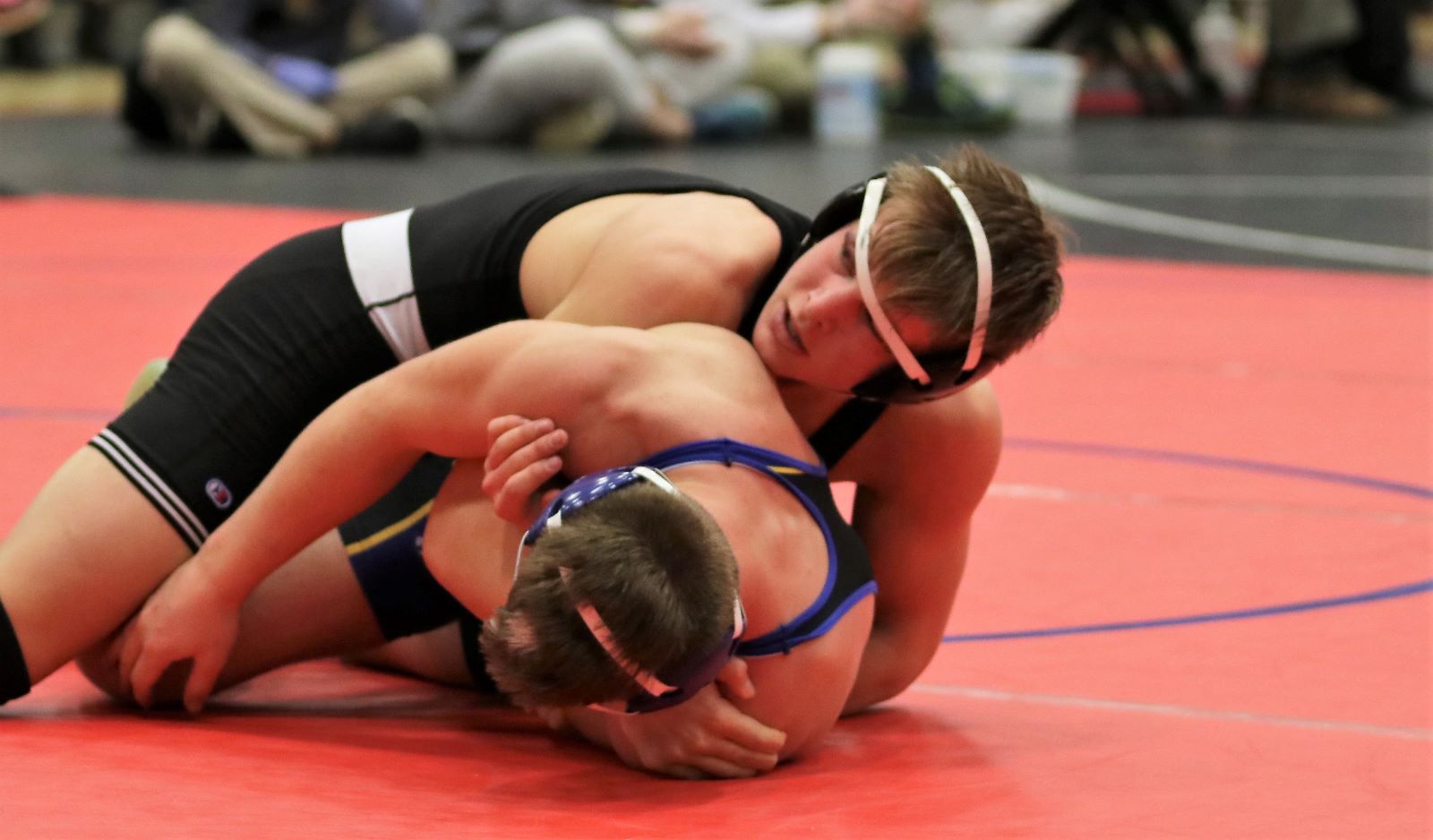 HYDE, Pa. – Ethan Finch pulled out perhaps the Cinderella Story of the 2019 District 9 Class 2A Individual Wrestling Tournament when he went from the fourth seed to District 9 champion at 170 pounds in an event that concluded Saturday at Clearfield High School.
(Photo of Sheffield's Ethan Finch, who was named the Class 2A Outstanding Wrestler after winning the D9 title at 170 Pounds. Photo by Jared Bakaysa of JB Graphics. See more of Bakaysa's work here)
Finch, who was named the tournament's Outstanding Wrestler for his efforts, beat second-seeded Tyler Watts of Johnsonburg in the final, 8-5. This after he had taken out the No. 1 seed, Brookville's Elliott Park, 5-3, in the semifinals. He also beat Port Allegany's Derek Kallenborn in the quarterfinals and pinned Redbank Valley's Colton Bartley to start his run.

District 9 wrestling coverage on D9Sports.com is brought to you by Luton's Plumbing, Heating, and Air Conditioning.
While Finch was the Outstanding Wrestler, more news was made when Brockway ended Brookville's run of five straight team titles at the tournament by winning the title with 171.5 points. Kane was second with 162.5 points followed by the Raiders (135 points) in third, Port Allegany (127.5 points) in fourth and Redbank Valley (126 points) in fifth. It was Brockway's first team title since 2003.
Eric Grecco of Brockway was named Coach of the Year for helping to lead the Rovers to the championship.
Here is a look at the weight-by-weight top four – with the top four in each weight class moving on to the PIAA Regional competition next weekend in Sharon.
106 POUNDS
Brookville's Owen Reinsel continued his fabulous freshman season by taking the 106-pound title with a 6-2 decision over defending class champion Bryent Johnson of Port Allegany (a Smethport student). Mark Palmer of Brockway won the consolation final with a 9-1 major decision over Redbank Valley's Ridge Cook.
113 POUNDS
At 113 pounds, Trenten Rupp won Redbank Valley's first of two titles by taking a 7-3 decision against Port Allegany's Reese Volmer. Cayden Walter of Brookville also won a 7-3 decision, relegating Kane's Dillon Illerbrun to fourth place.
120 POUNDS
Though Port Allegany had a finalist in each of the first three weight classes, it was the third time that proved to be a charm. Braedon Johnson (another Smethport student) finally broke through for the Gators when he won the 120-pound championship by pinning Harley Morris of Kane in the third period (4:21). Morris, the sixth seed, was a somewhat unlikely finalist, earning his time on the main stage by upsetting third seed Dominic Inzana of Brockway in the quarterfinals and second-seed Brayden Altobelli of Redbank Valley in the semifinals. Inzana and Altobelli met in the third-place bout with the Bulldog grappler securing the spot with a 4-2 victory.
126 POUNDS
Brockway's Anthony Glasl, a junior, won his third district championship prevailing 3-2 against Blake Passarelli of Curwensville at 126 pounds. Passarelli was himself a former district champion, winning at 106 pounds last season. Mason Songer took third for Redbank Valley with an 18-2 technical fall over Brookville's Parker Fleming.
132 POUNDS
Redbank Valley got its second district titlist in the first five weight classes when 132-pounder Ethan Wiant pinned Nolan Shaffer of Johnsonburg in the third period (3:42). Port Allegany's Eli Petruzzi decked Dylan Kelly of Coudersport to earn third (2:44).
138 POUNDS
Kane's Noah Blankenship accepted an injury default from Hunter Martz of Redbank Valley to win the 138-pound championship for the Wolves. Santino Inzana of Brockway beat Johnsonburg's Dalton Stahli 5-2 for third.
145 POUNDS
Curwensville's other finalist, Zach Holland, earned a title for the Golden Tide by winning a 2-1 decision against first seeded Isaac Smoker of Port Allegany in their 145-pound bout. It was all Colton Geitler in the consolation final, as the Oswayo Valley wrestler overwhelmed Redbank Valley's Dalton Bish, 23-6, to win via technical fall.
152 POUNDS
Aiden Hulings started a mini-run for Kane when he took the first of two consecutive championship bouts for the Wolves beating Johnsonburg's Cole Casilio 8-3 at 152 pounds. Jacob Wickett of Ridgway edged out Brookville's Jacob Cable, 2-1, for third.
160 POUNDS
Alec English followed his Kane teammate by winning the 160-pound championship, a 7-0 decision over Brockway's Noah Bash. Issac Zimmerman of Johnsonburg stuck Curwensville's Cole Bressler to claim third (2:47).
170 POUNDS
In addition to Finch's title, Cameron Whisner of Kane (an East Forest student) decisioned Brockway's Andrew Hickman 4-2 in the third-place bout at 170 pounds.
182 POUNDS AND 195 POUNDS
Garrett McClintick and Eric Johnson went back-to-back for Brockway.
McClintick took a 6-0 decision over Brookville's Braden MacBeth for the 182-pound title, while Johnson won 9-6 against Port Allegany's Justin Young to become the 195-pound champion. This was the second District 9 title for each of the Rover grapplers.
Teddy Race of Kane earned a 15-1 major decision to beat Redbank Valley's Hunter Martz for third at 182 pounds. Elijah Ayers of Coudersport shutout Clarion's Tyler VanTassel (a Keystone student) 6-0 in their 195-pound bout for third in the class. VanTassel, a senior, will be making his fourth trip to regionals.
220 POUNDS
Ty Stahli made it four out of five for Kane in title bouts by beating Brookville's Tanner LaBenne 4-2 in the 220-pound final. Coudersport's Cale Ayers duplicated his brother's feat in the preceding weight class by winning a consolation final of his own, pinning Justin Smith of Brockway shortly into the third period (2:07).
285 POUNDS
Colby Whitehill bookended the championship round for Brookville by winning the final at 285 pounds, pinning Hayden Thompson of Brockway in just under a minute (0:46). Overall, Whitehill spent less than a total of two minutes on the mat during this tournament. The consolation final also ended via pinfall with Nick Knowles of Sheffield decking Kane's Shawn Nystrom (2:22).
REGIONAL TOURNAMENT BREAKDOWN
Brockway will be sending a tournament-high 11 wrestlers to the regional tournament scheduled for next weekend in Sharon (March 1-2). Kane has eight wrestlers making the trip, while Brookville and Redbank Valley will both have to make reservations for seven. Port Allegany had six qualifiers; Johnsonburg five, Curwensville and Coudersport three; Sheffield two; and Clarion, Oswayo Valley, and Ridgway one.