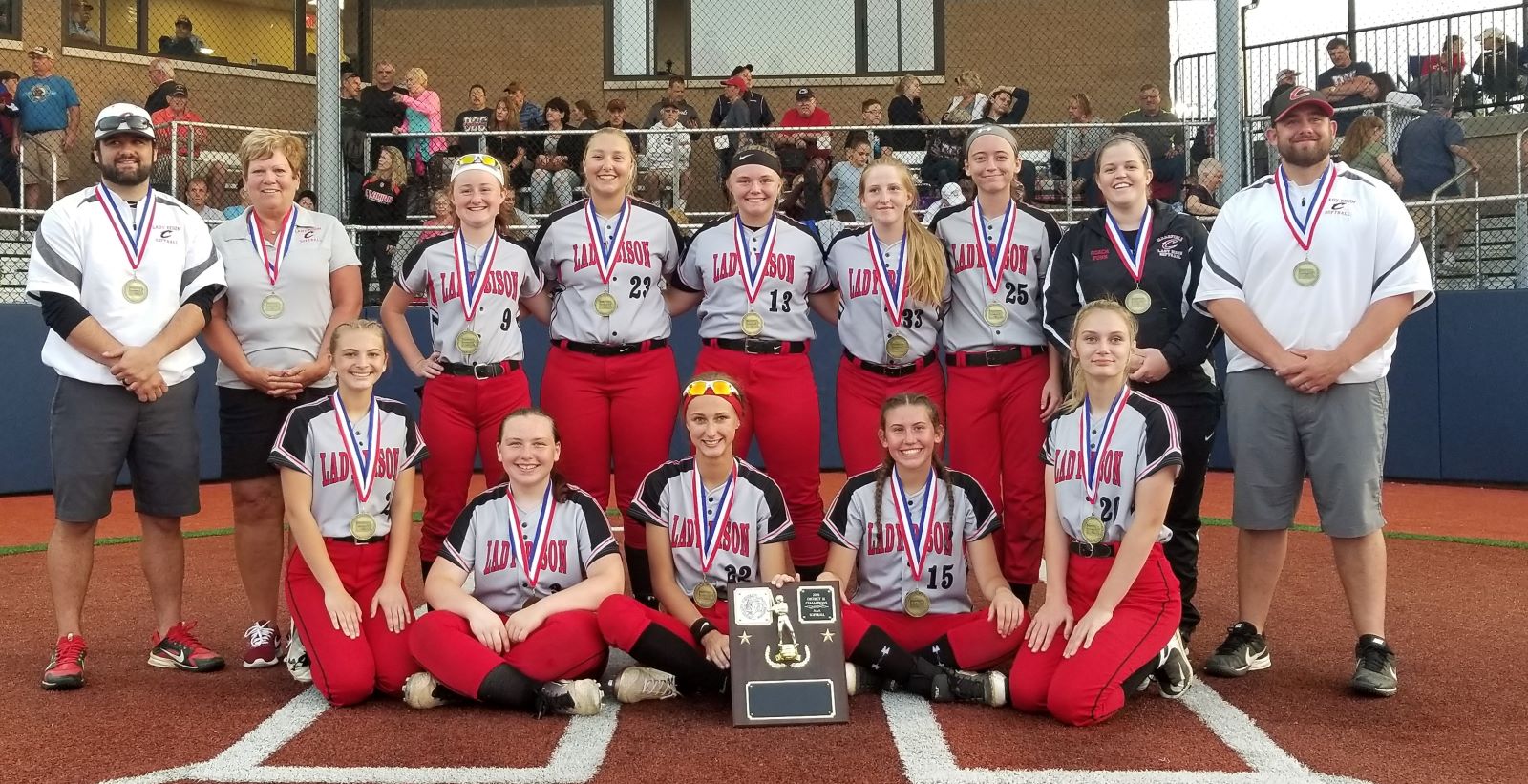 DUBOIS, Pa. – Clearfield used pitching and timely hitting to win its first District 9 softball title since 2007 with a 5-1 win over two-time defending champion Karns City in the Class 3A championship game Wednesday at Heindl Field in DuBois.
Emma Hipps gave up one unearned run on five hits and no walks while striking out nine.
"It feels really good honestly," Hipps, a freshman said. "To be able to come out here as a freshman get it done for my team, it feels good."
Hipps said locating her pitches was key.
"My changeup worked really good," Hipps said. "But just hitting my spots really made a difference."
Watch Hipps' postgame interview.
While Hipps was shutting down the Lady Gremlins offense, the Clearfield offense was using the most of its opportunities.
After scoring a run without the benefit of a hit in the first inning, the Lady Bison picked up two more runs on two hits in the fourth thanks to a two-run single by Alexis Benton that broke a one-all tie.
Clearfield then added two more runs in the fifth thanks to a walk and an error that put runners at second and third with one out. Olivia Bender then drove a line drive right back to the circle that ricocheted off the leg of Karns City pitcher Logan Byers scoring both runners.
"We hit the ball hard top to bottom," Clearfield manager Derek Danver said. "We were right on (Byers). That is something that we have struggled with this year. I have talked about consistency. One game, we will go out and look really good. The next game, we won't. Today, we showed up and looked really good in clutch situations."
Hipps was sensational with the lead.
After the Lady Bison took the 3-1 advantage in the fourth, she retired 12 of the final 13 batters she faced.
"She was lights out," Danver said. "Game after game she comes out and gives us a phenomenal performance, keeps us in games. Today, we had the bats going a little bit and gave her some run support."
Hipps said coming into the game with such a young team, including Hipps, seven of the Lady Bison are freshmen, she wasn't sure what to expect against an experienced Karns City team.
"I think we were a little nervous," Hipps said. "We weren't really sure. But, I knew if we worked together and played as a team, we could definitely win it."
Danver said he was happy with how his team grew as the year went on, especially considering the year started with a 17-2 loss to Bald Eagle Area.
"Ever since that game, we have been in every game," Danver said. "Winning the close games and the tight games paid off in winning the championship. It shows the hard work they put in. We have a young team, but like I said from the beginning I wasn't looking at this as a rebuilding year. We had some girls who could play."
It is Clearfield's ninth District 9 title but the first in over a decade.
"It's huge," Danver said. "It kind of puts us back on the map a little bit."
Clearfield will take on the second-place team out of the District 5-6 subregion, either Chestnut Ridge or Bald Eagle Area. That game was scheduled for Wednesday but was postponed to Friday.
CLEARFIELD 5, KARNS CITY 1
Score by Innings
Clearfield 100 220 0 – 5
Karns City 100 000 0 – 1
CLEARFIELD – 5
Karly Rumsky cf 4000, Morgan Cheek lf 2200, Emma Hipps p 3110, Olivia Bender c 4023, Alyssa Twigg cr 0000, Lauren Ressler 1b 3120, Kyra Mollura ss 0100, Casey English 3b 3000, Alexis Benton rf 3012, Kylee Hertlein 2b 3000. Totals 25-5-6-5.
KARNS CITY – 1
Emily Wolfe cf 2000, Alyssa Stitt ss 3000, Mackenzie Dunn 3b 3130, Garrah Milochik dp 3010, Emily Huff c 0000, Kate Allen 2b 3000, Taylor Ekis 1b 3000, Brittany Friters rf 2000, Ashley Fox lf 1000, Katie Neff ph 1000, Logan Byers p 1000, Makenzie Shay p 2010, Zoe King cr 0000. Totals 24-1-5-0.
LOB: Clearfield 8. Karns City 5. Errors: Clearfield 3. Karns City 1. 2B: Ressler. SB: Hipps. Dunn. SAC: English. Wolfe HBP: Cheek by Byers, Benton by Shay.
PITCHING
Clearfield
Emma Hipps 7 IP, 5 H, 1 R, 0 ER, 0 BB, 9 K
Karns City
Logan Byers 4 2/3 IP, 5 H, 5 R, 4 ER, 5 BB, 1 K, 1 HBP
Makenzie Shay 2 ⅓ IP, 1 H, 0 R, 0 ER, 2 BB, 0 K, 1 HBP
TOTALS: 7 IP, 6 H, 5 R, 4 ER, 7 BB, 1 K, 2 HBP
Winning pitcher: Emma Hipps
Losing pitcher: Logan Byers