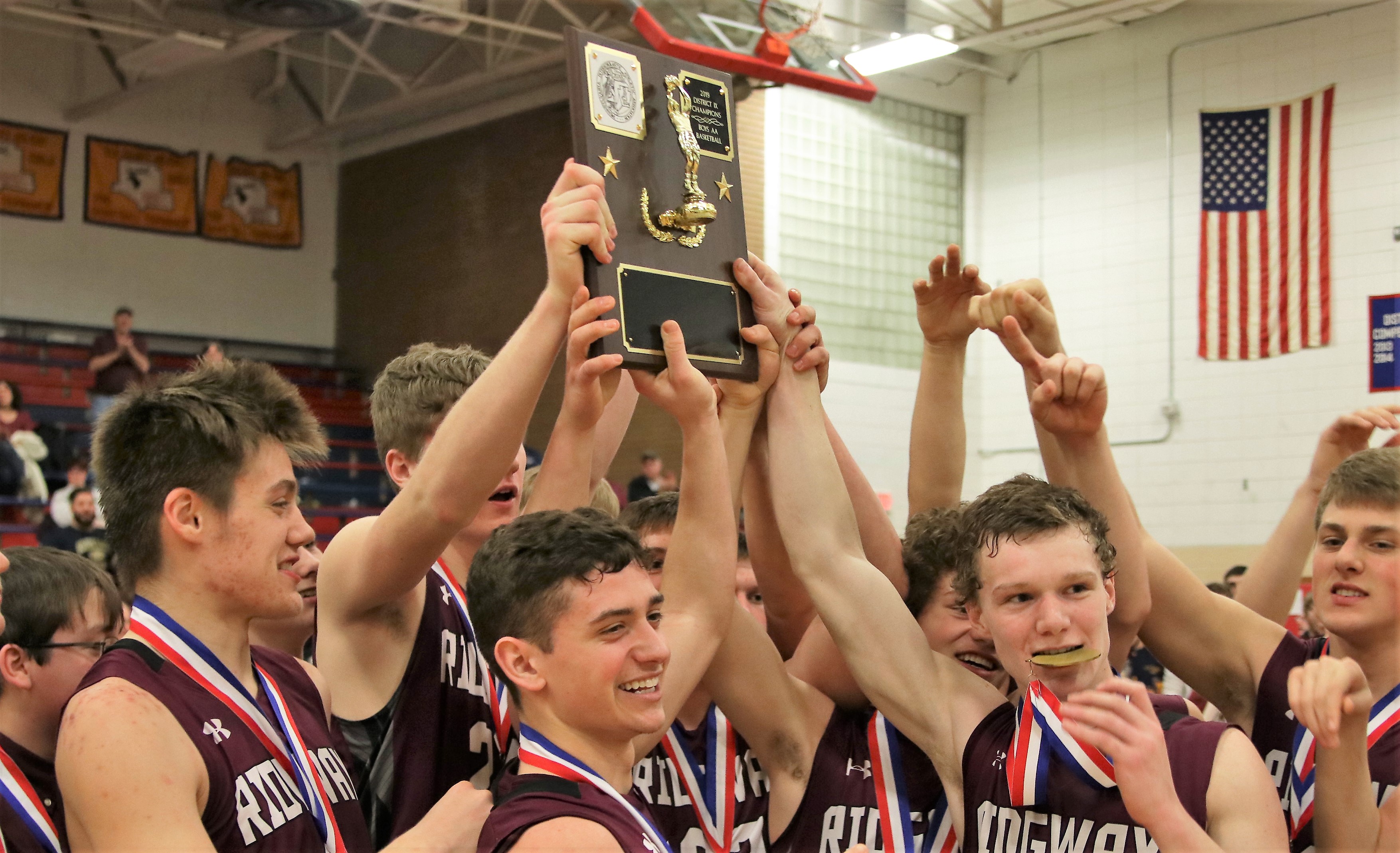 ST. MARYS, Pa. – Zach Zameroski's layup off a Daunte Allegretto pass with 4.4 seconds to play gave Ridgway the District 9 Class 2A boys' championship with a 52-50 win over two-time defending champion Coudersport Thursday night at St. Marys High School.
(Photo by Jared Bakaysa of JB Graphics. See more of Bakaysa's work here)
Watch the game-winning shot. Video courtesy of Drew Macensky.
"That's what we kept trying to do, get it to the middle," Zameroski said of his game-winning layup. "If any of us on the baseline cut, the middle guy would pop up and then we'd get the bucket."
Watch the full postgame interview with Zameroski.
Trailing 43-39 heading into the fourth quarter, the Elkers outscored the Falcons 15-7 while holding Coudersport's 2,000-point scorer Owen Chambers to only three points in the frame.
"We've been very resilient all year long," Ridgway head coach Anthony Allegretto said. "Earlier this year we were down 12-0 up in Coudersport and we won the game. We don't give up. We just keep battling back and keep sticking with the system and making foul shots."
Daunte Allegretto tied the game up at 43-43 on a 3-pointer with six minutes left in the game and gave the Elkers(24-3) a 44-43 lead with a free-throw two minutes later.
Travis Gleason got the Falcons (23-2) back on the board to put them back up 45-44 after being held scoreless for the first 4:45 of the fourth quarter.
"We were coming up clutch on defense and getting deflections," Zameroski said of the fourth-quarter defensive effort by District 9's best defensive team.
Jake Reynolds and Chambers exchanged 3-pointers within 20 seconds of each other, but a pair of free-throws from Parker Rohr and one from Zameroski put the Elkers up 50-48 with under a minute to play.
Hayden Keck tied the game 50-50 with 45 seconds left to play before Ridgway worked the ball around on offense before the Zameroski game-winning layup.
Allegretto and Rohr each finished with 12 points for the Elkers. Zameroski netted 11 points and Matt Dush chipped in for eight.
Chambers racked up 11 of his game-high 24 points in the third quarter for the Falcons with Gleason and Hayden Keck adding 10 points apiece. Chambers now has 2,212 career points leaving him 45 shy of the District 9 record set by Johnsonburg's Calvin Grumley.
Ridgway claimed their its District 9 title since the 2014 season in Class 1A and avenged a 66-46 loss in last year's championship game against Coudersport.
"They worked hard," Tony Allegretto said. "Everyone thought last year's team was the team, but these guys came back, wanted it bad and everyone stepped up and made a play somewhere along the line."
Both teams advance to the PIAA playoffs. Ridgway will take on the fourth-place team out of the WPIAL, either Sewickley Academy or South Side Beaver, while Coudersport will face the third-place team out of the WPIAL, either Sewickley Academy or South Side Beaver.
RIDGWAY 52, COUDERSPORT 50
Scores by Quarters
Ridgway 10 14 13 15 – 52
Coudersport 9 19 15 7 – 50
RIDGWAY – 52
Matt Dush 4 0-0 8, Jake Reynolds 1 1 0-0 5, Parker Rohr 5 2-2 12, Daunte Allegretto 1 1 7-11 12, Zach Zameroski 5 1-2 11, Will Thompson 2 0-0 4, Greg Simon 0 0-0 0. Total 20 10-15 52
COUDERSPORT – 50
Daniel Frame 1 0 0-0 3, Owen Chambers 3 6 3-3 24, Hayden Keck 5 0-0 10, Kolby VanWhy 0 0-0 0, Derek Easton 1 0 0-0 3, Dillon Keglovits 0 0-0 0, Travis Gleason 4 2-2 10. Totals 20 5-5 50
Three-pointers:Coudersport 5 (Chambers 3, Frame, Easton), Ridgway 2 (Allegretto, Reynolds)