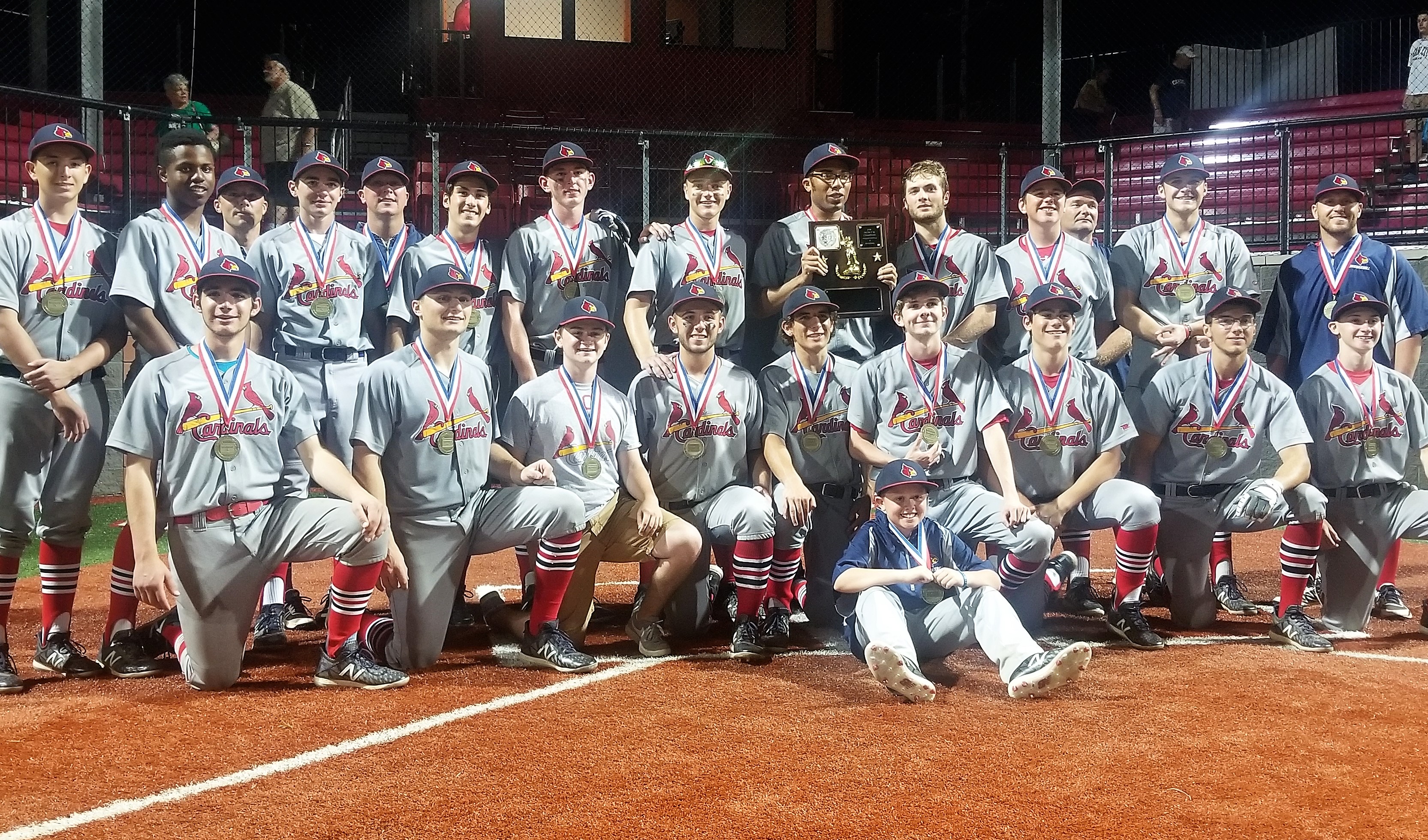 DUBOIS, Pa. – Anthony Kness' one-out single to center scored two runs and broke a 4-all tie, as DuBois Central Catholic rallied to knock off defending champion Oswayo Valley, 7-4, in the District 9 Class 1A title game at Showers Field in DuBois Wednesday.
"No matter where you are at, no matter what school you are at, a district title is pretty special," DCC first-year manager Adam Fox said. "This is a tough district. There are a lot of good teams. I can't thank the school enough for their support, letting me run the program the way I wanted to run it. It's nice to know that a school is behind you. I can't thank DuBois Central enough."
Watch all of Fox's comments.
It wasn't easy for the second-seeded Cardinals who had to overcome an early 3-0 deficit and also fell behind 4-3 against the top-seeded Green Wave after tying the game at three. But as Fox pointed out in his comments, it was DCC's commitment to the process that allowed it to rally.
"Once we got down, I told them it's a long game," Fox said. "Keep battling, stay with our approach. We have good hitters one through nine. They never folded. That is what you want out of a good team."
Senior starting pitcher Thomas Grecco, who won a D9 title for the second time in three years, said it was tough to be down early to a good Oswayo Valley squad that was making its fourth straight appearance in the D9 1A title game having won titles in 2015 and 2017 over Clarion while losing to DCC in 2016.
"Falling behind 3-0 is definitely tough," Grecco said. "It really takes the wind out of you. But we have players on the bench who are always constantly bringing us up. It was actually more motivating than demeaning."
Down by the 3-0 count and generating very little in the way of offense in the first three innings against Oswayo Valley lefty Garren Black, DCC's bats finally came alive in the fourth, and the Cardinals also took advantage of a key error in the inning to tie the game at three.
Tyler McIntosh led off with a triple to left, but the damage didn't look like it would be all that much when Justin Miknis hit a sac fly to left to plate the first Cardinals run.
But a ball hit by Domenic Toretti couldn't be fielded cleanly by Oswayo Valley second baseman Gunner Bean, and Toretti was called safe on a bang-bang play at first. Grecco followed with an RBI double to right-center field, and an out later, Garrett Prosper singled to left to tie the game at three.
Oswayo Valley, which scored three runs in the first on an RBI double by Gavin Babcock, an infield single by Jacob Karr and a base hit by Theo Henry, answered right back by playing some small ball in the bottom of the fourth.
Ryan Graves and Henry led off with back-to-back singles and then executed a double steal. Derrick Bickel then put down a perfect safety squeeze bunt to put the Green Wave back in front.
"All the credit to Oswayo Valley," Fox said. "They are a great squad. They are well coached. They run the bases well. They are contact hitters. They had some big hits. We were able to weather their storm and come out with a big win. I'm very proud of our kids today."
The game remained 4-3 until the sixth when DCC took advantage of another Oswayo Valley error, this time by shortstop Gage Babcock, to turn the tide.
"It's just the mentality," Fox, the St. Marys native who played minor league baseball with the Texas Rangers, said of being able to take advantage of errors. "You try to be aggressive. You try to teach them the right way to play the game, the right way to run the bases, how to read the scoreboard, when to take chances, when to take the extra base, know the counts you are hitting, understand the game some more. There is so much to this game that these guys are learning. They are getting better every game. If they bring their 'A' game and approach, they are a tough team."
It was Grecco who reached on the error by Babcock, and Zach Edwards ran for him. Peter Downer followed with a perfect bunt that ended up being a base hit, and Prosper again tied the game with a base hit to center with Downer being thrown out at third but Prosper going to second on the throw. Noah Bloom was then hit by a pitch, and a wild pitch put runners at second and third for Kness, who was 0-for-2 on the day with a grounder to the mound and a strikeout.
"I'm just trying to put the ball in play," Kness said. "It was one out, so I was just trying to get the runner in."
Kness got more than one runner in when he lined a single to center scoring two to put a capper on the three-run inning.
"It was a fastball down and in," Kness said of the final pitch of the game from Black, who was removed after the hit having allowed six runs, three earned, on nine hits, two walks and a hit batter while striking out four. "I was like, we are winning this."
Watch the full interview with Kness and Grecco.
DCC added an insurance run in the seventh when Miknis doubled to right and scored on an infield single by Toretti when Bean threw wild to first when no one covered the bag.
That was more than enough cushion for Miknis, who replaced Grecco in the seventh and earned the save by striking out the side.
Watch the final out and the DCC celebration.
"It means a lot," Grecco, who got the win allowing six hits, just three after the first inning, and four runs while walking two, hitting two and striking out eight, said. "Especially with the work we put in in the preseason. Getting Coach Fox this year was an amazing experience. He had us working real hard from the start and it really paid off."
Both teams move into the PIAA playoffs. DCC will take on the third-place team out of the WPIAL, Greensburg Central Catholic, while Oswayo Valley will face the second-place team out of District 5, either Southern Fulton or Berlin Brothersvalley, who play for the District 5 title Thursday.
DUBOIS CENTRAL CATHOLIC 7, OSWAYO VALLEY 4
Score by Innings
DuBois Central 000 303 1 – 7
Oswayo Valley 300 100 0 – 4
DCC – 7
Brandon Walker rf 2010, Tyler McIntosh cf 4110, Justin Miknis c/ss/p 3111, Domenic Toretti lf/rf 4110, Thomas Grecco p/1b 4021, Zach Edwards cr 0100, Damon Foster 3b 2000, Peter Downer cr/lf/3b 1110, Garrett Prosper 1b 4122, Dante Armanini lf 0000, Noah Bloom ss/3b 2110, Anthony Kness 2b 3012. Totals 29-7-11-6.
OSWAYO VALLEY – 4
Gage Babcock ss 3000, Camden Graves c 4000, Garren Black p/1b 3000, Carter Steadman cr 0100, Gavin Babcock rf/lf 3121, Jacob Karr cf/p 2111, Ryan Graves 1b/cf 2110, Theo Henry 3b 3021, Derrick Bickel lf/rf 2001, Gunner Bean 2b 3000. Totals 25-4-6-4.
LOB: DCC 8. Oswayo Valley 5. Errors: DCC 1. Oswayo Valley 4. 2B: Miknis, Grecco. Gavin Babcock. 3B: McIntosh. SB: Ryan Graves (2), Karr, Henry. Downer CS: Walker (Black to Ryan Graves to Gage Babcock – pickoff caught stealing). SAC: Downer. Bickel. SF: Miknis. HBP: Bloom by Black. Ryan Graves by Grecco. Gage Babcock by Grecco.
PITCHING
DCC
Thomas Grecco 6 IP, 4 R, 4 ER, 6 H, 2 BB, 8 K, 2 HP
Justin Miknis 1 IP, 0 R, 0 ER, 0 H, 0 BB, 3 K, 0 HP
Totals: 7 IP, 4 R, 4 ER, 6 H, 2 BB, 11 K, 2 HP
Oswayo Valley
Garren Black 5.1 IP, 6 R, 3 ER, 9 H, 2 BB, 4 K, 1 HP
Jacob Karr 1.2 IP, 1 R, 1 ER, 2 H, 0 BB, 2 K, 0 HP
Totals: 7 IP, 7 R, 4 ER, 11 H, 2 BB, 6 K, 1 HP
Winning pitcher: Thomas Grecco
Losing pitcher: Garren Black
Save: Justin Miknis