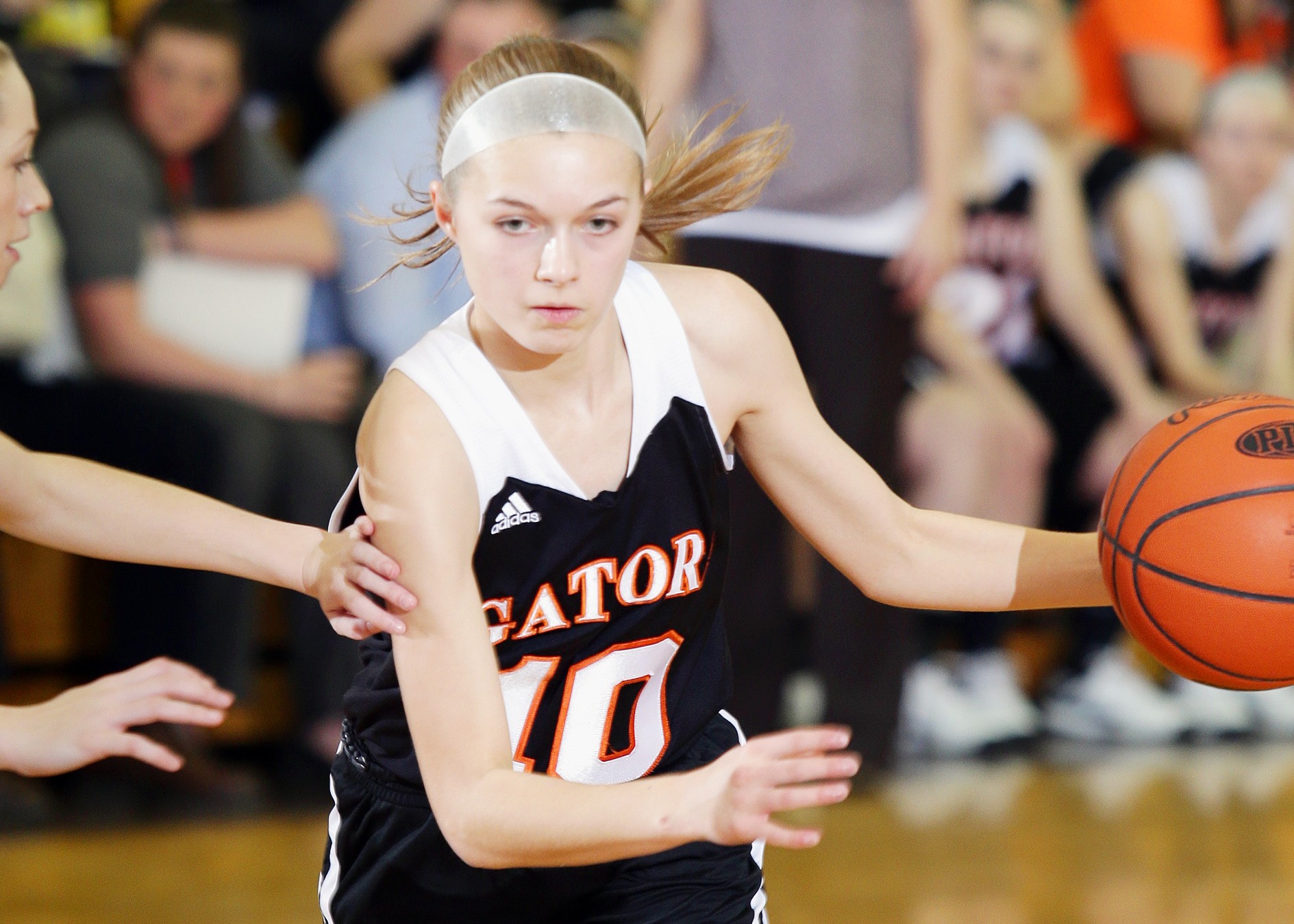 Dec. 27 girls' basketball recaps.
(Photo of Autumn Buchsenschutz. Photo by Paul Burdick. Check out more of Burdick's work here)
PORT ALLEGANY 40, GALETON 33
PORT ALLEGANY, Pa. – Autumn Buchsenschutz exploded for 27 points to lead Port Allegany to a 40-33 win over Galeton in the title game of the Port Allegany Christmas Tournament.
Buchsenschutz scored all but seven of her points after halftime, as the Lady Gators outscored Galeton 26-15 in the second half after being down 18-14 at halftime.
Hannah Lathrop added three points and nine rebounds for Port with Cailey Barnett contributing three points and six boards.
Makaya Shadle led Galeton with 13 points, while Cortney Parsell added nine points.
SMETHPORT 63, AUSTIN 14
PORT ALLEGANY, Pa. – Abbey Woodard scored 25 points to pace Smethport to a 63-14 win over Austin in the consolation game of the Port Allegany Christmas Tournament.
Emily Treat chipped in 11 points for the Lady Hubbers, who also got 10 points from Marissa Jack.
Madison Hooftallen led Austin with 5 points.
NORTH CLARION 62, CLARION 30
KANE, Pa. – Behind 24 points, 15 rebounds, seven assists and seven steals from Tori Obenrader, North Clarion cruised to a 62-30 win over Clarion in the opening round of the Kane Christmas Tournament.
Cassie Wagner added eight points and 10 rebounds for the She-Wolves, who outscored Clarion 20-2 in the second quarter after holding an 8-7 lead after one, while Michaela Higgins chipped in five points and six assists and Abby Gatesman nine points. North Clarion had 16 teams steals.
Alexis Constantino paced Clarion with 17 points.
North Clarion faces Kane in the title game Wednesday with Clarion taking on Eisenhower in the consolation game.
KANE 48, EISENHOWER 25
KANE, Pa. – Rachel Morgan and Trinity Clark each had double-doubles to help lead Kane to a 48-25 win over Eisenhower in the opening round of the Kane Christmas Tournament.
Morgan had 15 points and 10 rebounds and was helped out by Clark's 10 points and 11 rebounds. Ella Marconi just missed a double-double with 15 points, nine rebounds and four blocked shots, while Camryn Cummings ran the offense with eight assists while scoring four points.
Kirsten Baran had seven points to lead Eisenhower.
Kane takes on North Clarion in Wednesday's title game with Eisenhower playing Clarion in the consolation contest.
COUDERSPORT 65, NORTHERN POTTER 38
COUDERSPORT, Pa. – Ally Easton had 16 points, nine rebounds and three blocked shots to lead Coudersport to a 65-39 win over visiting Northern Potter in North Tier League action.
Haley Keck chipped in 11 points for the Lady Falcons with EmmaRae Easton and Macy Gleason each added nine tallies.
Gracie Hamilton's 16 points led Northern Potter.