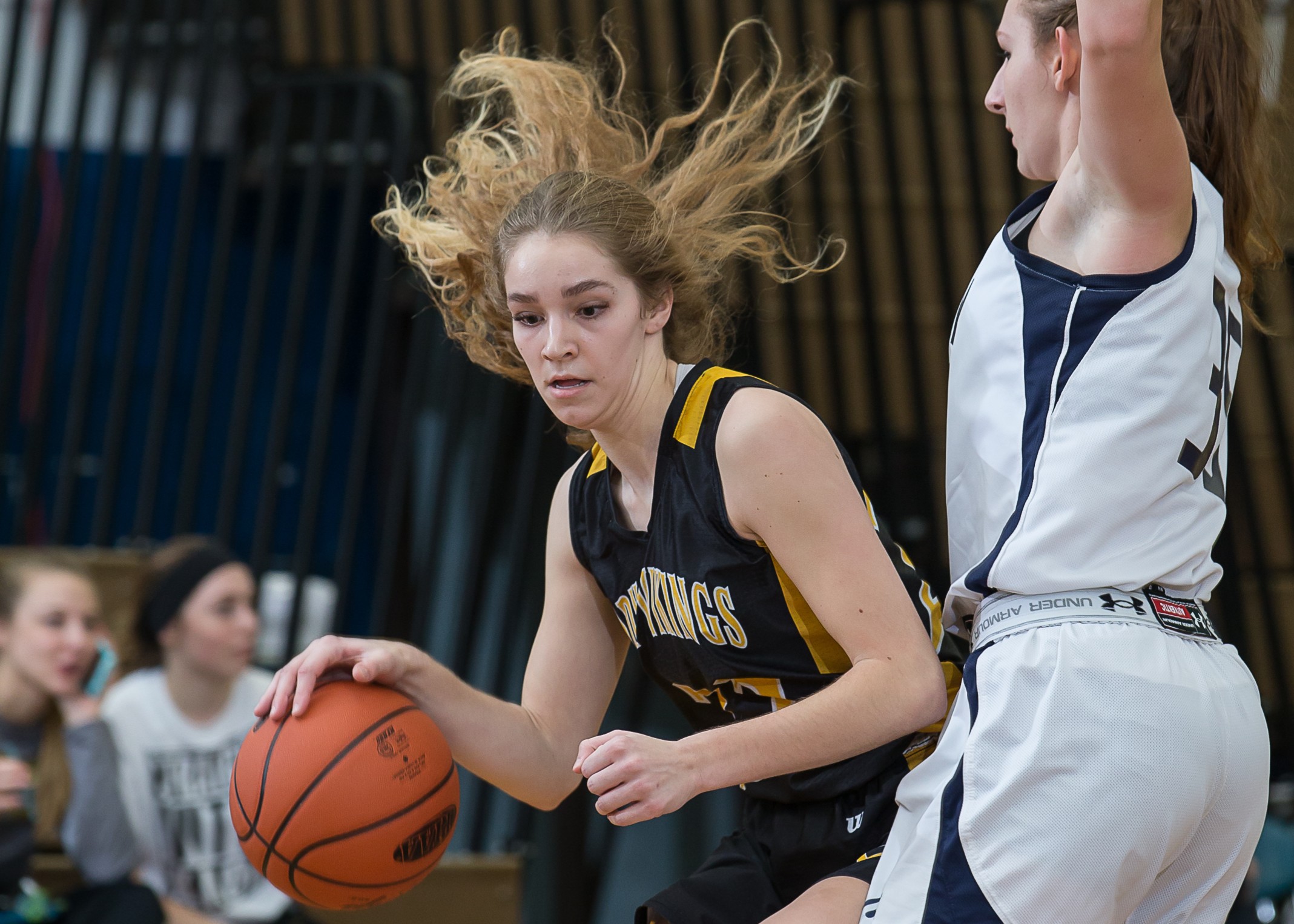 OIL CITY 45, VENANGO CATHOLIC 33
OIL CITY, Pa. – Venango Catholic's Ava Homan scored her 1,000 career points, but the Lady Vikings fell to host Oil City, 45-33, in the opening round of the Oil City Holiday Tournament Monday.
Homan scored a game-high 22 points while going a perfect 11 of 11 from the free-throw line and reached the 1,000-point mark at the end of the third quarter. She is the seventh Venango Catholic girl to hit 1,000 career points and joins her sister, Lindsay, the school's second-leading scorer (1,303) in the exclusive club (see D9 1,000-point list). She finished the night with 1,013 points. Homan completed a double-double with 11 rebounds.
Jen Stevenson paced Oil City with 17 points.
Oil City will take on Keystone in the title game Tuesday with Venango Catholic facing Warren in the consolation game also Tuesday.
KEYSTONE 50, WARREN 46
OIL CITY, Pa. – Behind 16 points, three assists and three rebounds from Amber Hess, Keystone handed District 10 Class AAAA Warren just its second loss on the season with a 50-46 win in the opening round of the Oil City Christmas Tournament Monday afternoon.
Taylor Geer added 13 points and nine rebounds with Kaci Weaver chipping in seven for the Lady Panthers, who used a 19-9 third-quarter to build on a 21-20 halftime lead. Taylor Geer and Hess each scored six points in the third quarter.  
Freshman Margo Loutzenhiser and Paige Wilson each scored 18 points for Warren, whose only other loss was to Cardinal O'Hara out of Buffalo, who is ranked No. 8 in New York's biggest classification, Class AA. Keystone held Warren's top player, DJ Hahn, a California (Pa.) commit, to just seven points, all in the first quarter. Hahn appeared to be in foul trouble and finished the game with four fouls.
Keystone will take on host Oil City in Tuesday's title game with Warren facing Venango Catholic in Tuesday's consolation contest.
PORT ALLEGANY 39, SMETHPORT 37
PORT ALLEGANY, Pa. – Behind 18 points and eight rebounds from Autumn Buchsenschutz, Port Allegany got a much-needed win, 39-37, over Smethport in the championship game of the Port Allegany Christmas Tournament Monday night.
The Lady Gators trailed 31-28 going to the fourth quarter but outscored Smethport 11-6 in the quarter thanks to a balanced-scoring effort that was led by four points from Hannah Lathrop, who finished with six. Erin Stauffer also scored six points for Port Allegany.
Emily Treat led Smethport with 11 points with Abbey Woodard and Katie Treat each adding eight.
GALETON 59, AUSTIN 20
PORT ALLEGANY, Pa. – Led by 14 points each from Makaya Shadle and Ashley Cizek, Galeton topped Austin, 59-20, in the consolation game of the Port Allegany Christmas Tournament Monday afternoon.
The Lady Panthers wasted little time taking control of the game and led 17-7 at the end of the first quarter and 32-11 at halftime.
Cortney Parsell added 10 points for Galeton with Laura Parsell and Olivia Pagano each adding eight.
Jordan Brewer paced Austin with nine points, and Madison Hootfallen scored seven.  
REDBANK VALLEY 70, CLARION-LIMESTONE 15
NEW BETHLEHEM, Pa. – Lexi Holt netted a career-high 18 points to lead Redbank Valley to a 70-15 win over visiting Clarion-Limestone in the opening round of the Redbank Valley Christmas Tournament Monday evening.
Brooke Hinderliter added 17 points and 10 steals for the Lady Bulldogs, who saw eight players score. Becca Dougherty and Alyssa Wiant each chipped in with eight points.
Rachel Greeley led C-L with six tallies.
Redbank Valley will play Penns Manor in Tuesday's championship game with C-L facing Greenville in the consolation game Tuesday.  
RANDOLPH (NY) 63, BRADFORD 50
OLEAN, N.Y. – Despite having three players score in double digits, Bradford dropped a 63-50 decision to Randolph (N.Y.) in the consolation game of the IAABO Tournament Monday morning at St. Bonaventure University.
Lee Woodmansee led the Lady Owls with 12 points, Morgam Roggenbaum added 11 and Bri Wells 10.