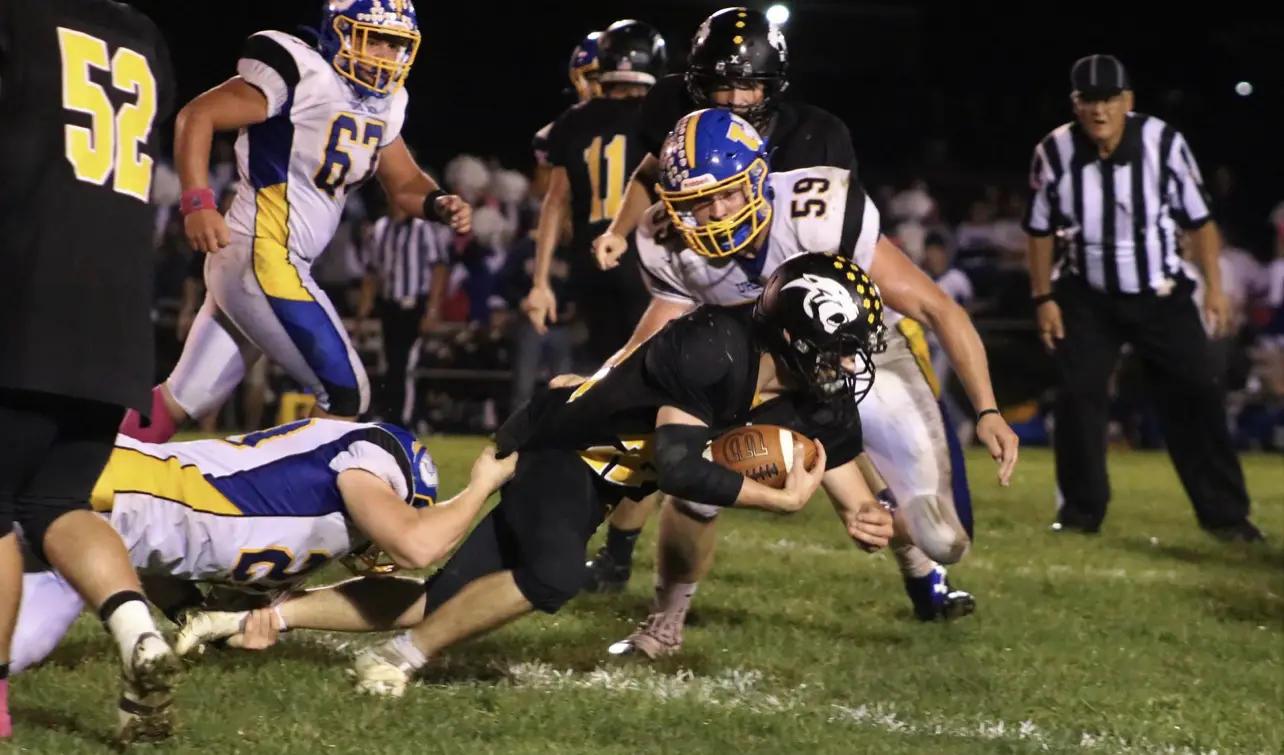 Union/A-C Valley's Brad Dittman, who led a relatively young Falcon Knight team to the District 9 Class A championship against Redbank Valley this week, was named the district's Small School South Division Coach of the Year to highlight a list of all-stars in all three divisions.
Bryson Bain, a senior who joined the football team at Redbank Valley for the first time this season, was named Small School Division co-offensive MVP, sharing the award with Brockway freshman Brayden Fox.
(Above, Union/A-C Valley linebacker Carter Terwint/photo by Shelly Atzeni)
Bain, who will play baseball at Indiana University of Pennsylvania next year, has thrown for 1,632 yards and 27 touchdowns this season for the 10-1 Bulldogs.
Fox made a big impact himself in his first varsity season, passing for 2,568 yards and 23 TDs.
Union/A-C Valley linebacker Carter Terwint nabbed the defensive MVP honor in the Small School Division. Terwint, a senior, has been a terror, racking up 59 tackles for the formidable Falcon Knight defense.
Dittman had led Union/A-C Valley (9-2) to the first two playoff wins since Union and A-C Valley merged football programs in 2016.
In the Small School North Division, Cameron County's Ryan Neyman was named coach of the year. The Red Raider had gone winless in the last two seasons and won just four games in the past four before a breakout year in 2021.
Under Neyman's guidance, Cameron County broke a 20-game losing streak to go 5-4 during the regular season. The Raiders' season ended in a loss to Union/A-C Valley in the first round of the Class A playoffs.
There was no mystery about who would be the North's offensive MVP. That would be Smethport senior Noah Lent, who rushed for 1,574 yards and 29 touchdowns and also threw for 952 yards and 18 TDs.
Lent's teammate, Travis Cooney, was named the North's defensive MVP.
Cooney piled up 106 tackles – 23 for a loss. He added nine quarterback sacks and two interceptions.
In the Big School Division, St. Marys' Chris Dworek earned coach of the year honors.
Dworek led the Dutch to the division title before losing to Clearfield in the Class 3A district title.
Dworek's quarterback, Christian Coudriet, snagged the offensive MVP.
Coudriet, a senior, led the state in passing yards in the regular season and finished with 2,942 yards and 26 touchdowns.
Karns City senior Luke Garing got a lot of attention on offense this season, but Garing was a force on defense as well for the Gremlins, earning him the Large's defensive MVP.
Garing has posted 76 tackles, 13 for a loss, to go with 1.5 sacks, a forced fumble and a blocked field goal.
Following is a list of all the District 9 football all-stars: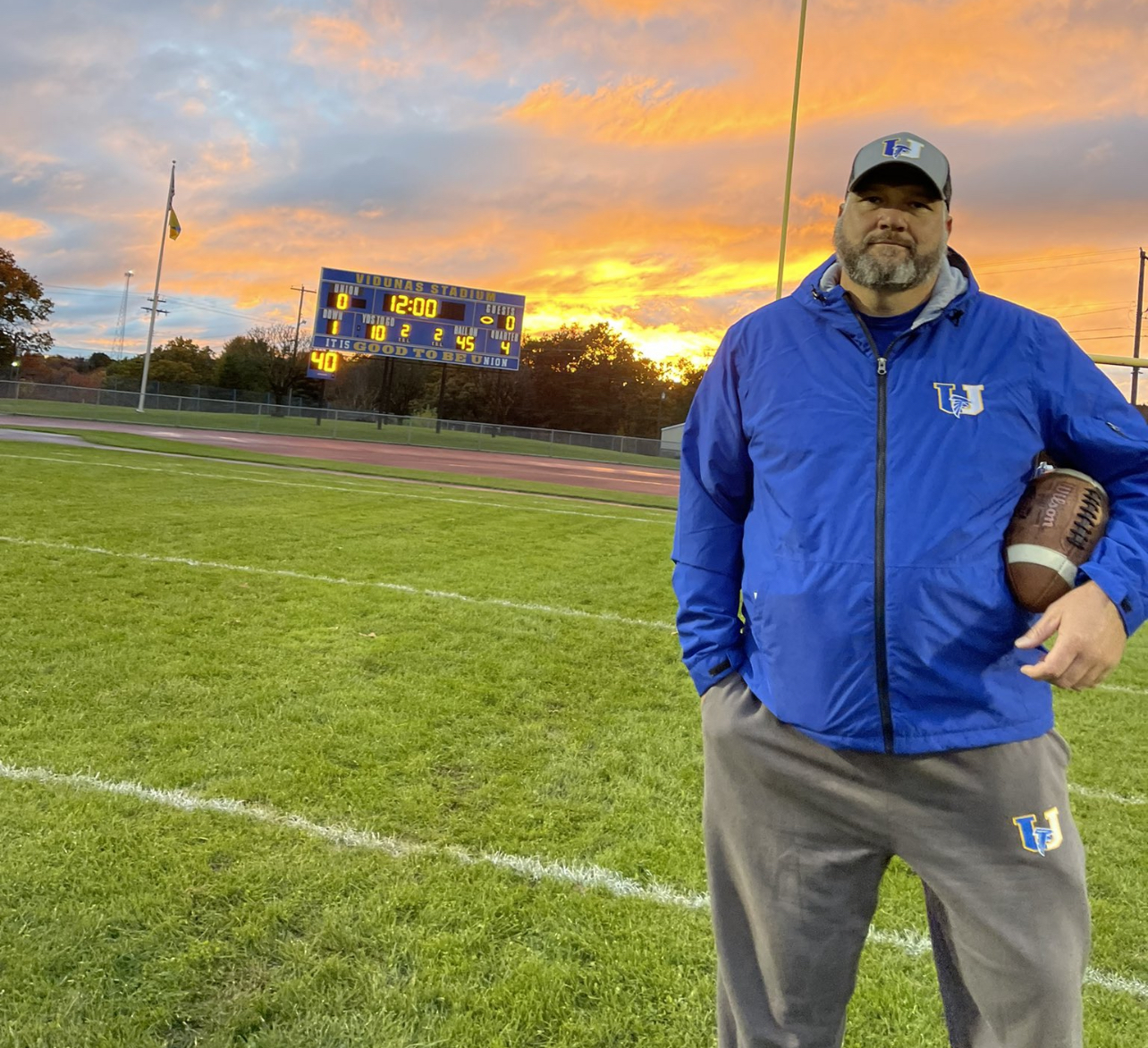 (Union/A-C Valley coach Brad Dittman)
DISTRICT 9
SMALL SCHOOL SOUTH
FOOTBALL ALL-STARS
Offensive Lineman of the Year: Landon Chalmers (Union/A-C Valley)
Defensive Lineman of the Year: Joe Mansfield (Redbank Valley)
Co-Offensive MVPs: Bryson Bain (Redbank Valley) and Brayden Fox (Brockway)
Defensive MVP: Carter Terwint (Union/A-C Valley)
Offensive Interior Line: Landon Chalmers (Union/A-C Valley), Kolby Barrett (Redbank Valley), Landon Hurrelbrink (Keystone), Reese Yahner (Brockway), Carter Terwint (Union/A-C Valley)
Wide Receiver/Slot Back: Chris Marshall (Redbank Valley), Alex Carlson (Brockway), Caden Rainey (Union/A-C Valley), Marquese Gardlock (Redbank Valley)
Running Back/Slot Back: Mike Card (Union/A-C Valley), Kyle Nellis (Keystone)
Tight End: Joe Tettis (Elk County Catholic)
Quarterback: Bryson Bain (Redbank Valley), Brayden Fox (Brockway)
Return Specialist: Caden Rainey (Union/A-C Valley)
Fullback: Hunter Shook (Keystone)
Place Kicker: Nick Cosper (Keystone)
Punter: Iazizh Yarger (Keystone), Ashton Intallura (Bucktail)
Linebackers: Carter Terwint (Union/A-C Valley), Seth Stewart (Brockway), Zach Pick (Bucktail), Brenden Shreckengost (Redbank Valley), Zeldon Fisher (Redbank Valley)
Defensive Line/Ends: Joe Mansfield (Redbank Valley), Mike Card (Union/A-C Valley), Brock Champluvier (Keystone), Colton Murray (Union/A-C Valley), Peyton Maurer (Brockway)
Safety: Zander McHenry (Keystone), Skyler Roxbury (Union/A-C Valley)
Cornerback: Ryan Cooper (Union/A-C Valley), Marquese Gardlock (Redbank Valley)
Honorable mention: Dillon Cross (Bucktail), safety; Ray Shreckengost (Redbank Valley), running back
COACH OF THE YEAR: Brad Dittman (Union/A-C Valley)
Small School South Division Champions: Keystone

(Smethport quarterback Noah Lent)
SMALL SCHOOL NORTH
FOOTBALL ALL STARS
Offensive Lineman of the Year: Miska Young (Port Allegany)
Defensive Lineman of the Year: Jacob Coffman (Otto-Eldred)
Offensive MVP: Noah Lent (Smethport)
Defensive MVP: Travis Cooney (Smethport)
Offensive Interior Line: Miska Young (Port Allegany), Dylan Burdick (Coudersport), Taylor Geitner (Cameron County), Jacob Coffman (Otto-Eldred), Keegan Watson (Smethport)
Wide Receiver/Slot Back: Noah Archer (Port Allegany), Alex Ognen (Smethport), James Culvey (Coudersport)
Running Back/Slot Back: Ryan Love (Otto-Eldred), Dylan Rieder (Cameron County)
Tight End: Brandon Higley (Smethport)
Quarterback: Noah Lent (Smethport)
Return Specialist: Ryan Mason (Smethport)
Punter: Gavyn Ayers (Coudersport)
Place Kicker: Dylan Howard (Coudersport)
Fullback: Blaine Moses (Port Allegany), Xander Brown (Coudersport)
Linebackers: Dylan Hajzus (Coudersport), Isaac Shaw (Otto-Eldred), Travis Cooney (Smethport), Ryan Pelchy (Smethport)
Defensive Line/Ends: Carson Neely (Port Allegany), Kyle Dunn (Coudersport), Chance Palmer (Otto-Eldred), Aiden Hulings (Sheffield), Cole Szuba (Smethport)
Safety: Drew Evens (Port Allegany), Manning Splain (Otto-Eldred)
Cornerback: Devin Fowler (Cameron County), Aiden McKean (Smethport)
Honorable mention: Derek Cherry (Cameron County), offensive line; Kaden Blaniar (Coudersport), offensive line
COACH OF THE YEAR: Ryan Neyman (Cameron County)
Small School North Division Champions: Smethport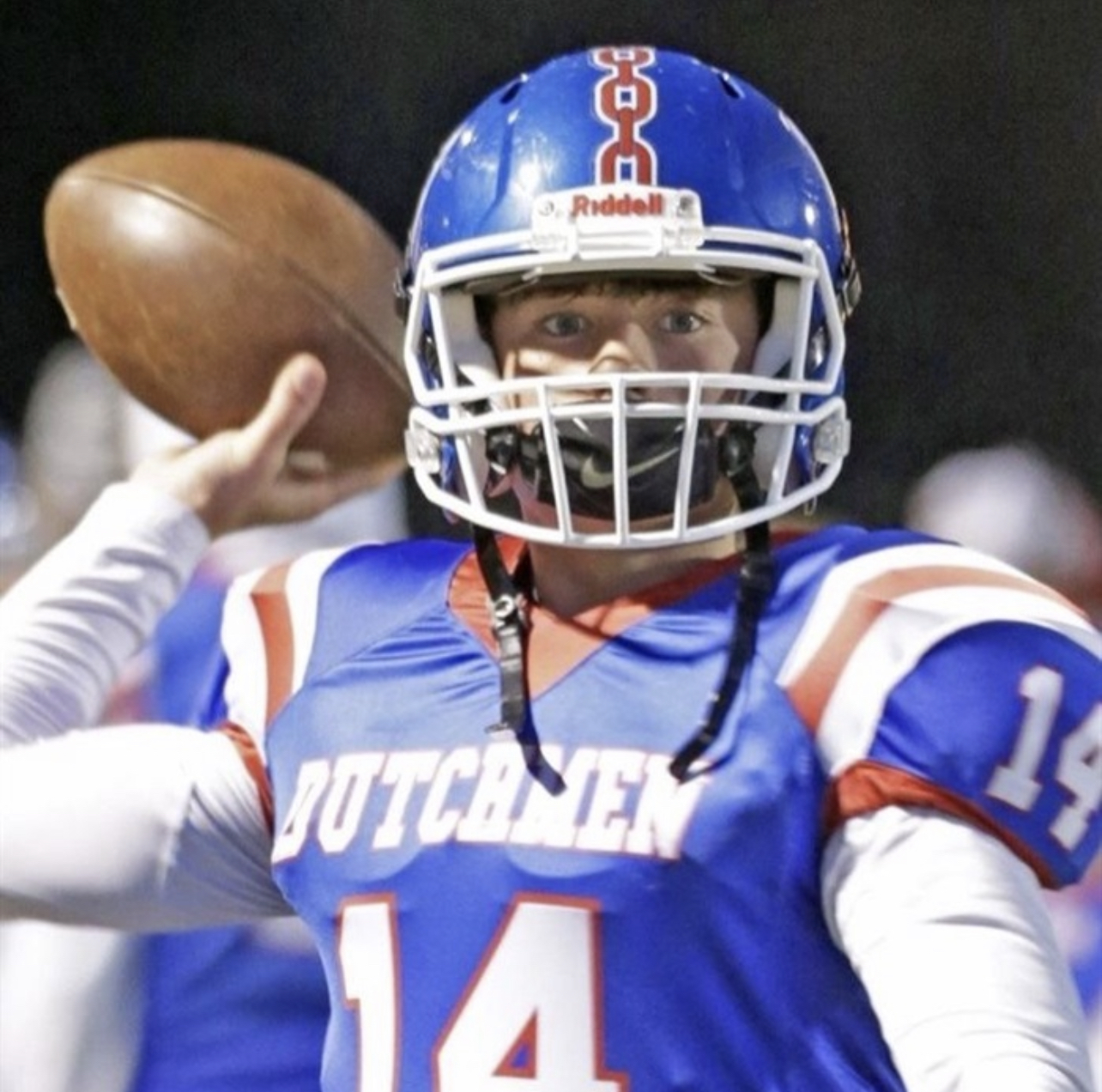 (St. Marys quarterback Christian Coudriet)
LARGE SCHOOL
FOOTBALL ALL STARS
Offensive Lineman of the Year: Connor Bullers (St. Marys)
Co-Defensive Lineman of the Year: Kaoz Baker (Central Clarion), Jake Costanzo (Kane)
Offensive MVP: Christian Coudriet (St. Marys)
Defensive MVP: Luke Garing (Karns City)
Offensive Interior Line: Connor Bullers (St. Marys), Josh Griffiths (Karns City), Jake Costanzo (Kane), Colton Swanson (St. Marys), TJ Vlassich (Karns City), Hunter Smith (Brookville), Cole Wrhen (Central Clarion), Dan Park (Ridgway)
Wide Receiver/Slot Back: Logan Mosier (St. Marys), Dalton Dixon (Bradford), Brayden Kunselman (Brookville), Christian Simko (Central Clarion), Carter Chadsey (St. Marys)
Running Back/Slot Back: Jayce Anderson (Karns City), Dominec Allegretto (Ridgway), Zeke Bennett (Punxsutawney), Ricky Zampogna (Kane)
Tight End: Brycen Dinkfelt (DuBois), Tyler Merritt (Ridgway)
Quarterback: Christian Coudriet (St. Marys), Charlie Krug (Brookville)
Return Specialist: Dominec Allegretto (Ridgway), Brayden Kunselman (Brookville)
Punter: Brycen Dinkfelt (DuBois), Dalton Dixon (Bradford)
Place Kicker: Peyton Hetrick (Punxsutawney), Zach Kelly (Karns City)
Fullback: Luke Garing (Karns City), Matt Martino (Moniteau), Eric Salberg (Ridgway)
Linebackers: Hunter Wall (Ridgway), Luke Garing (Karns City), Conner Straub (St. Marys), Ryan Hummell (Central Clarion), Addison Plants (Kane), Justin Bankovich (DuBois)
Defensive Line/Ends: Kaoz Baker (Central Clarion), Jake Costanzo (Kane), Hunter Smith (Brookville), Waylon Wehler (St. Marys), Dan Park (Ridgway), Aaron Taylor (Karns City), AJ Nicastro (DuBois)
Safety: Dominec Allegretto (Ridgway), Brayden Kunselman (Brookville), Logan Mosier (St. Marys), Ricky Zampogna (Kane)
Cornerback: Carter Chadsey (St. Marys), Nate Garing (Karns City), Landon Darr (Kane), Ashton Rex (Central Clarion)
Honorable mention: Harley Morris (Kane), safety; Cameron Marciniak (Ridgway), running back; Christian Kirk (DuBois), linebacker; Tate Lindermuth (Brookville), running back; Jase Ferguson (Central Clarion), quarterback
COACH OF THE YEAR: Chris Dworek (St. Marys)
LARGE School Division Champions: St. Marys