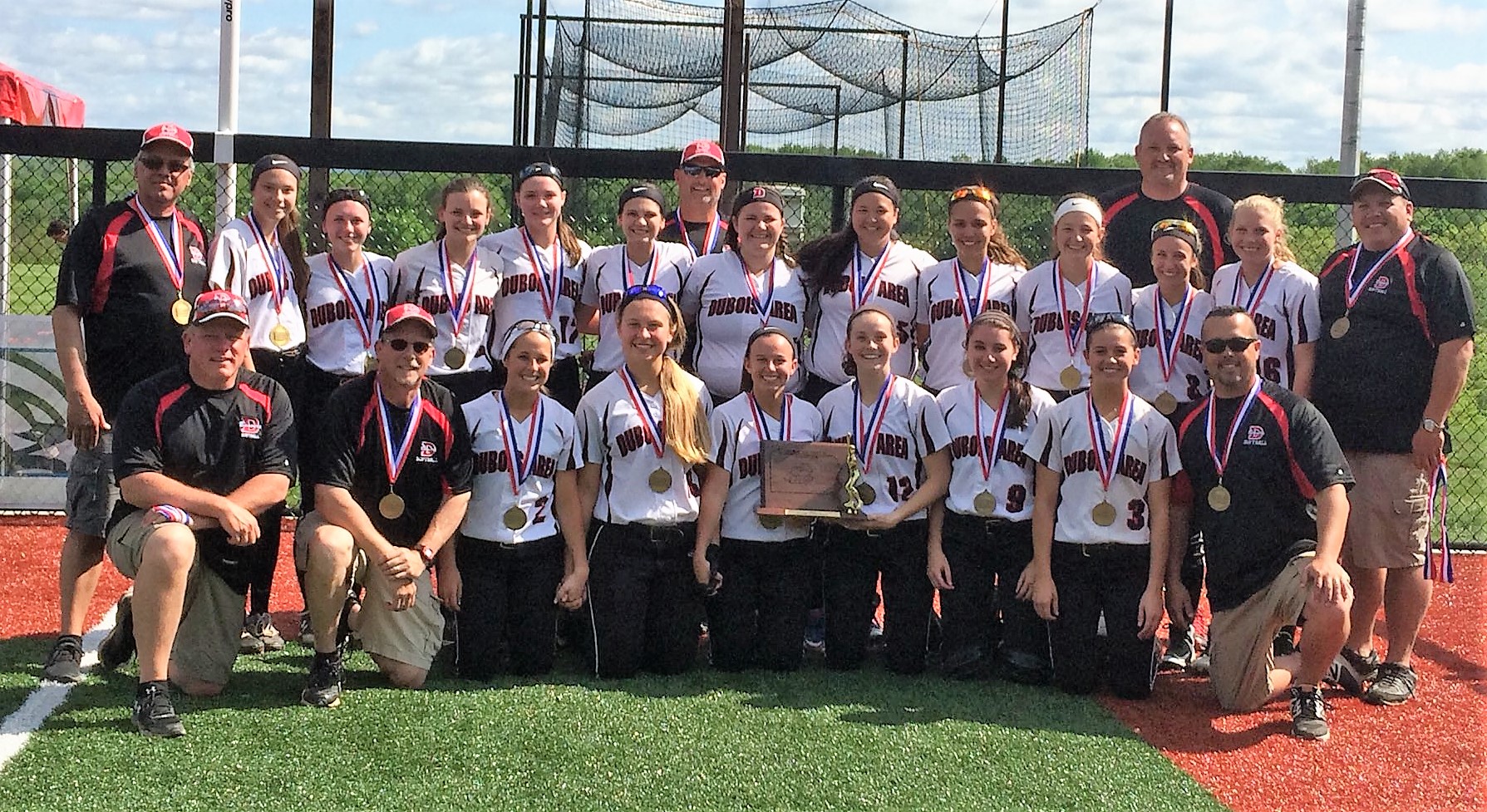 LORETTO, Pa. – Scoring three times with two outs, DuBois won the District 6-9 Class 5A softball title with a 3-2 victory over Central Mountain at St. Francis University in Loretto, Pa.
(Photo courtesy of DuBois Athletics)
"It means a lot," DuBois manager Denny Nosker said. "Mainly, because of the six seniors. I have been associated with them since Minor League softball to travel ball. And to top it all off, my daughter (Molly) s on the team. It means a lot."
DAHS wins it 3-2. District champs! pic.twitter.com/0QOr8gmE5U

— DuBois Area Schools (@DASDBeavers) May 23, 2018
Molly Nosker played a big role in the win as the winning pitcher for the Lady Beavers.
She went seven innings allowing two runs on seven hits and three walks while striking out one.
Two of Nosker's walks came in the seventh inning and could have spelled trouble for DuBois before a somewhat fortunate play allowed the Lady Beavers to turn a double play to end the game and win the title.
With one out in the seventh, Nosker walked the No. 9 hitter Madalyn Bechdel on four pitches and then walked the leadoff hitter Caitlyn Brush on a 3-2 pitch to bring up Josie Dershem, who hit a ball hard right back to Nosker, who somehow caught the ball in self preservation and then doubled the runner off first to end the game.
"She said he had no idea how she caught it," Denny Nosker said. "It turned out to be an easy double play to end the game.
"There third and fourth hitters are really good. I was trying to figure out how we were going to get out of that."
DuBois led 3-0 after four innings thanks to two-out offense.
In the third, Sarah Snyder led off with a single and was sacrificed to second. But Snyder got caught up between second and third on a ground ball to short by Kylee Bundy.
"Sarah is one of our best baserunners," Denny Nosker said. "She broke on the play, and she felt bad about it. But we were able to pick her up."
Pick up Snyder is exactly what DuBois did.
Bundy went to second on a wild pitch and then scored on a single to by Lexi Ray. Ray then went to third on a single by Maddy Ho and scored when Kaylee Sadowski singled – Ho, who had gone to second before the single, was out at home on the play.
Sadowski's single goes in the books like a line drive but in reality was a seeing-eye blooper that landed in no man's land between the centerfielder, shortstop and second baseman.
"It was a real bleeder," Denny Nosker said.
DuBois added to its lead with more two-out lightning in the fourth.
Danessa Allison started the inning with a single and went to second on a sac bunt before taking third on a wild pitch. But she was at third with two outs when Snyder singled to give the Lady Beavers a 3-0 lead.
"Sarah came through in the clutch with two outs," Denny Nosker said. "She ripped a line drive to left field."
Central Mountain didn't go away without a fight.
In the sixth, Morgan Wetzel singled leading off, her third hit of the game, and an out later, Madison Knepp crushed a two-run home run to bring the Wildcats within a run.
Molly Nosker was able to get the next two outs to get out of the inning and then retired the first batter of the seventh before issuing the back-to-back walks.
DuBois will now be off until June 4 when it enters the PIAA playoffs against the third-place team out of the WPIAL.
"I think (the layoff) is good," Denny Nosker said. "They are off the next five days until after Memorial Day. Then we will get back to work, back to practice and refocus and go from there. I think we are battle tested. We have been in some pressure situations this year. We feel hitting wise we have faced some of the top pitchers in the state. No one is going to intimidate us. We have seen them. You can see that tonight. We didn't strike out tonight."