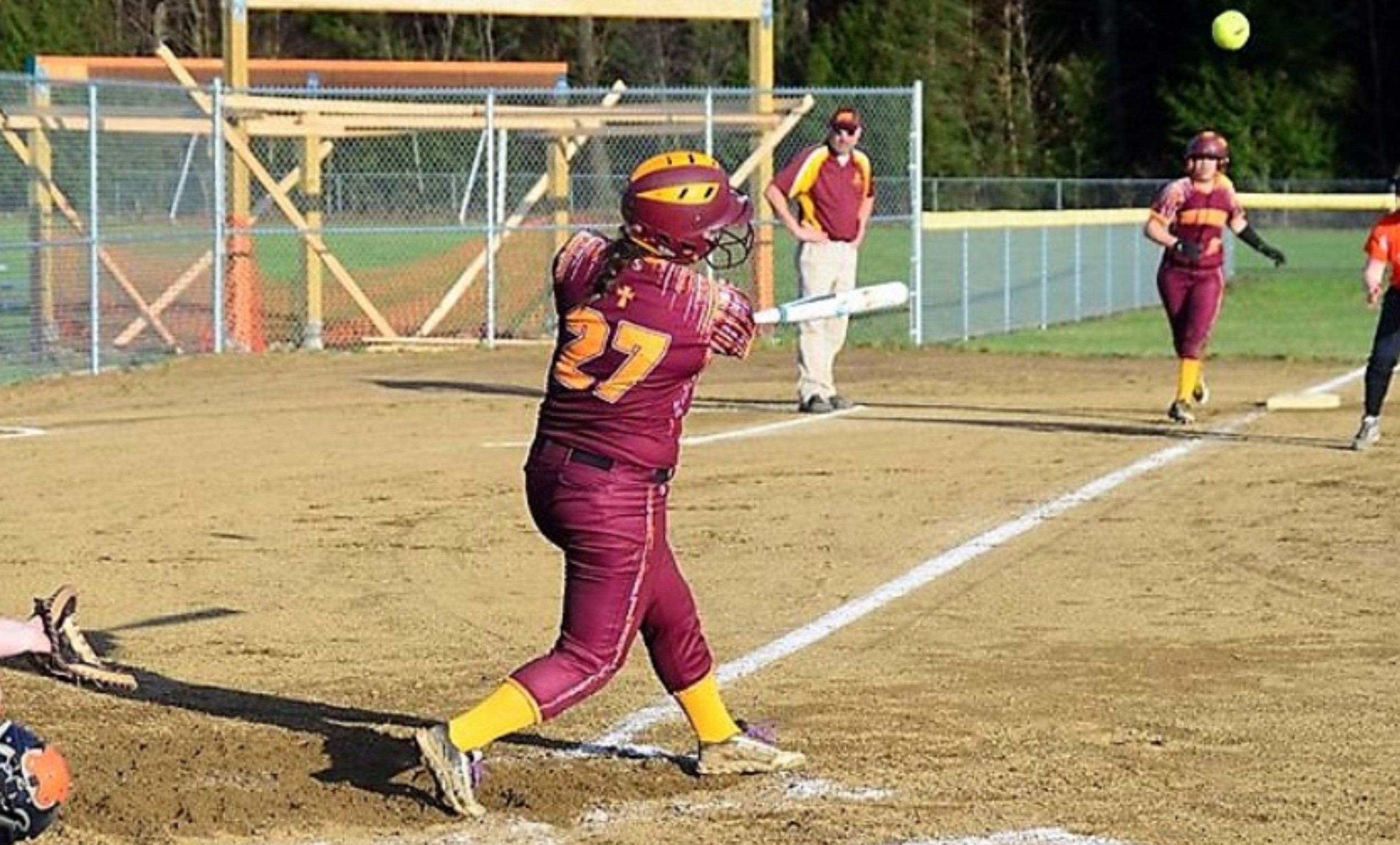 BROCKWAY, Pa. – Michelle Gerber's one-out single to left in the top of the seventh inning scored pinch runner Emily Wolf from second to break a six-all tie, and Elk County Catholic went on to stun two-time defending District 9 Class 1A champion and top-seeded DuBois Central Catholic, 8-6, in the D9 1A semifinals at Brockway Saturday afternoon.
(Photo of Michelle Gerber. Photo by Stephanie Galmish)
It was quite a turnaround for the Lady Crusaders, who lost to DCC, 10-0 in six innings, May 10, and it was only the second loss of the season for DCC with the other being to District 6-9 5A champion DuBois. It's the first time the Lady Cardinals have lost a playoff game to a District 9 opponent since the 2015 1A semifinals when ECC beat them, 7-2.
ECC, which is 5-1 since that loss to DCC in mid-May, rallied twice from multiple-run deficits and then held off a furious Lady Cardinals rally in the bottom of the seventh to advance to the title game, where it will face Coudersport Wednesday, May 30, at Heindl Memorial Field in DuBois.
DCC led 3-0 after an inning only to watch ECC tied the game at three with two in the second and one in the third. The Lady Crusaders then too their first lead, 4-3, with a run in the top of the fifth before the Lady Cardinals answered with three in the bottom of the inning to go back ahead, 6-4.
But ECC rallied again scoring twice in the top of the sixth tying the game at six on a two-run single by Brandi Clyde.
Then in the top of the seventh, Maggie Dinsmore doubled with one out and Wolf pinch ran. Gerber followed with a single to left and went all the way to third on the throw home. Gerber then scored an insurance run when Hannah Barnett grounded out.
DCC didn't go quietly in the bottom of the seventh.
With one out, Alyssa Bittner had a pop fly single to right, and with two outs Jordan Kosko followed with a single to center and went to second on the throw in.
DCC elected to pinch hit for No. 9 hitter Gabby Sabatose with freshman Natasha Kunselman, and while Kunselman got a good piece of the ball it ended up in the glove of Wolf, now playing center, to end the Lady Cardinals reign on to of District 9.
The game-tying runs for ECC in the sixth came with two outs.
After Barnett had walked to start the inning she found herself still at first with two outs when Jenna Weisner kept the inning going with a single to left. A wild pitch moved the runners up 60 feet each, and Clyde tied the game at six with the single to left.
Clyde had given ECC a 4-3 lead an inning earlier when she doubled with two outs and scored on a triple by Josie Smith.
But DCC looked like it had snatched the momentum back in the bottom of the fifth with the three-run inning.
Maia Cogley led off the inning with an infield single, and went to second on an error by the shortstop, Jenna Weisner, before scoring the game-tying run on a Shay Gulvas single to center with Gulvas going to second on the throw and then to third on an error by the pitcher Gerber.
ECC then intentionally walked Ashley Wruble, and Wruble stole second. After Mia Meholick popped out, Carley Semancik lifted a sac fly to right to score Gulvas with the go-ahead run with Wruble moving to third. Wruble then scored on a base hit to center by Bittner to make it 6-4.
DCC struck early for the 3-0 lead after an inning thanks to a two-run single by Semancik with two outs and a single to left by Chelsea Busatto. But ECC came up with what turned out to be a big defensive play when Bittner was thrown out at home trying to second from second.
ECC answered back with two runs in the top of the second thanks to a Dinsmore RBI double and a Brianna Weisner run-scoring single with two outs.
The Lady Crusaders then tied the game in the third on back-to-back one-out doubles by Clyde and Smith.
Clyde, Dinsmore and Smith all had big days at the plate for ECC.
Clyde was 3-for-4 with a pair of doubles, two runs scored and two RBIs, Dinsmore was 2-for-3 with two doubles, a walk and an RBI with Wolf scoring twice running for her and Smith was 2-for-4 with a double, a triple and two RBIs.
Those three combined for seven of ECC's 12 hits, and Gerber, the winning pitcher, added two more hits going 2-for-4 with a run scored and an RBI.
Gerber went the distance in the circle allowing six runs, all earned, on 12 hits and four walks while striking out three.
Bittner and Kosko were both 3-for-4 for DCC with Bittner adding an RBI.
Gulvas was also 2-for-3 with a double, a walk, an RBI and two runs scored with Cogley going 2-for-4 with a run scored and Wruble walking three times while scoring twice.
DCC, which has advanced to the PIAA 1A semifinals in each of the last two seasons, can still make the PIAA playoffs. The Lady Cardinals will take on A-C Valley in the consolation game at a site, time and date to be announced with the winner advancing to the PIAA playoffs.