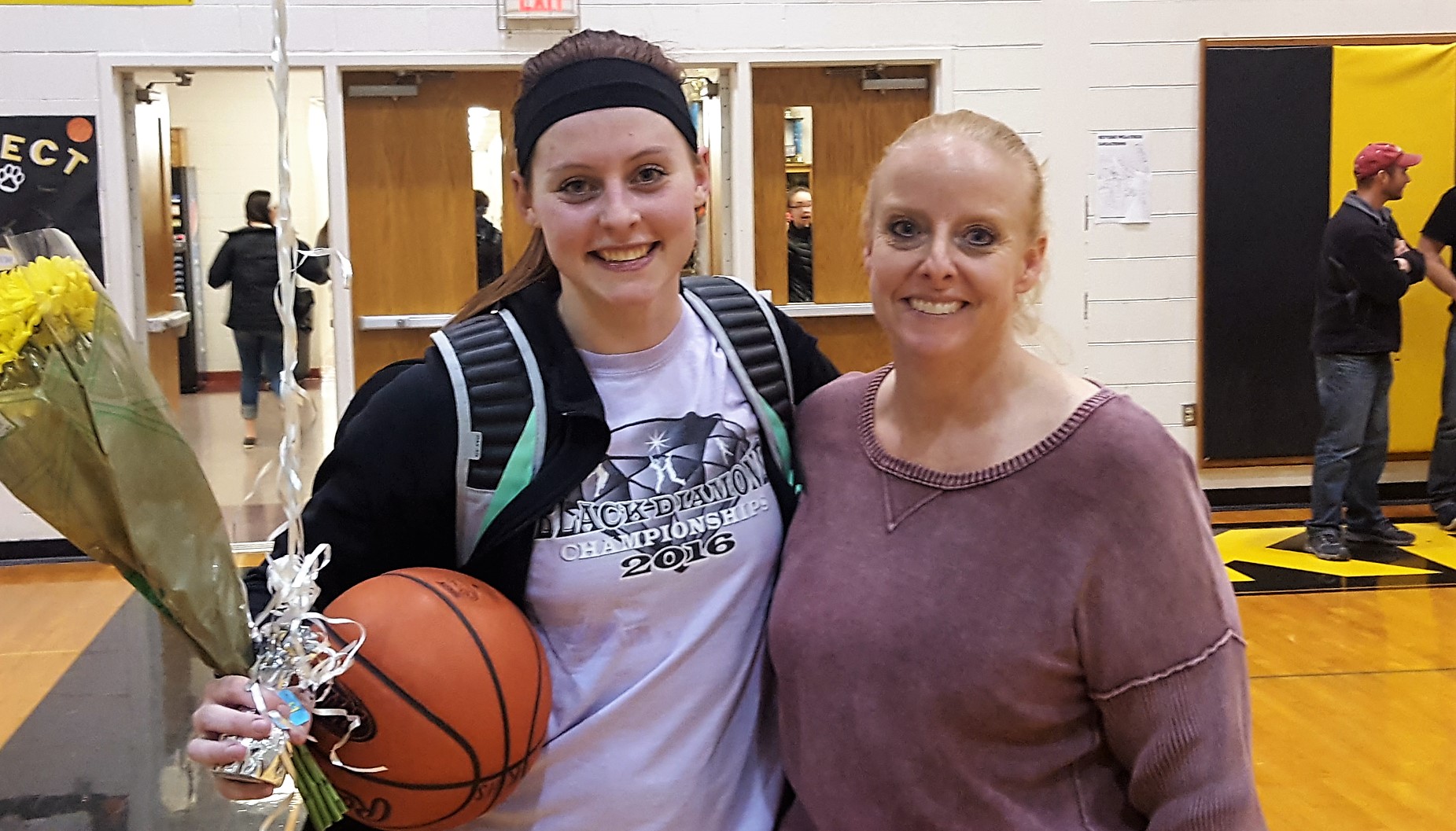 Jan. 13 girls' basketball recaps.
(North Clarion's Tori Obenrader with her mom and assistant coach Terri Obenrader after scoring her 1,000th career point Friday)
NORTH CLARION 65, KEYSTONE 47
KNOX, Pa. – Sometimes special players do special things on special nights.
Friday night was one of those nights.
With three of her fellow teammates out sick along with her head coach, Terry Dreihaup, North Clarion junior Tori Obenrader scored 33 points and grabbed 21 rebounds while also netting her 1,000th career points in a 65-47 win at Keystone, a team that took the She-Wolves to double overtime three weeks ago.
Watch Obenrader score her 1,000th point on a pair of free throws with 1:58 left in the third quarter to put North Clarion ahead 45-23.
Despite missing starters Michaela Higgins and Cassie Wagner as well as reserve Lindsay Zacherl, North Clarion played as a team from the get go.
Seven different She-Wolves scored including a career-high 13 points from Ally Carll, who was in double digits for the first time this season, as well as six points from Gabby Carll, who entered the game scoring just five points in 11 games this season. Ally Carll added six rebounds as did freshman Haley Sherman helping North Clarion out rebound Keystone 53-30.
Keystone, which struggled from the floor all night shooting 33.3 percent (19 of 57) including 10 of 38 (26.3 percent) through three quarters, got a double-double from Alyssa Beichner, who had 12 points and 10 rebounds including eight points and three rebounds in the fourth quarter. Makenzie Byerley also scored 12 points to go with six rebounds, while Taylor Geer added 11 points and six boards despite fouling out with 5:02 to play.
BROOKVILLE 50, BRADFORD 48, overtime
BRADFORD, Pa. – Laken Hergert forced overtime with an offensive putback with 2.5 seconds left in regulation and then hit the game-winning shot in overtime with four seconds to play to lift Brookville to a 50-48 D9 League road win at Bradford.
The Lady Raiders trailed 42-39 late in regulation with Bradford at the free-throw line. The Lady Owls, however, missed the charity shot, and Brookville's Marcy Schindler grabbed the rebound and was fouled sending her to the line with 6.2 seconds left in regulation.
With Brookville out of timeouts, Schindler hit the first shot, and Bradford called time. Brookville head coach Mark Powell then instructed Schindler to miss the second free throw on purpose, which she did with Hergert grabbing the rebound and eventually hitting the game-tying shot.
In overtime, the Lady Raiders took a 48-47 lead, but Bradford tied the game on a late free throw setting up Hergert's second heroic shot of the game, which came after two offensive rebounds by Brookville. Hergert was fouled on the play as well but missed the free throw. Bradford, however, saw time run out.
Brookville led 25-19 at halftime but watched Bradford claw back in the second half outscoring the Lady Raiders 23-17 in the third and fourth quarters combined.
Hergert led Brookville with 13 points, while twins Madison Johnson and Morgan Johnson each scored nine points.
Bri Wells netted 22 for Bradford, including eight in the fourth quarter. Lauren Luther added 11.
KANE 48, DUBOIS CENTRAL CATHOLIC 38
KANE, Pa. – Ella Marconi had 16 points, eight rebounds and five blocked shots to help Kane to a 48-38 win over visiting DuBois Central Catholic in AML action.
Trinity Clark added 13 points and 11 rebounds, Hannah Buhl chipped in 10 points and four assists, Rachael Morgan had three points and nine rebounds and Camryn Cumming six points, five assists and five rebounds for the Lady Wolves.
Gabby Caruso paced DCC with 13 points with Jordy Frank adding 11.
CLEARFIELD 58, PHILIPSBURG-OSCEOLA 55
CLEARFIELD, Pa. – Brooke Cline and Alayna Ryan combined to score 37 points, as Clearfield held off visiting Philipsburg-Osceola, 58-55, in Mountain League action.
Cline netted a team-high 19 points for the Bison, who led 27-19 at halftime, while Ryan added 14.
Ryan and Cline offset a huge night from Philipsburg-Osceola's Halle Herrington, who scored 38 points including 17 of the Lady Mountaineers 20 fourth-quarter point.
A-C VALLEY 59, CLARION 41
FOXBURG, Pa. – Behind 20 points from Ellie Thompson and 17 from Olivia Boocks, A-C Valley topped visiting Clarion, 59-41.
Kylee Eaton added 11 points for the Lady Falcons, while Wendy Beveridge paced Clarion with 20 points. Alexis Constantino chipped in 11 for the Lady Cats.
KARNS CITY 83, CLARION-LIMESTONE 25
KARN CITY, Pa. – Mackenzie Craig and Emily Hegedus both topped 20 points, as Karns City cruised to an 83-25 win over visiting Clarion-Limestone.
Craig led the Lady Gremlins with 25 points with Hegedus adding 22. Livia Andreassi (12 points) and Alyssa Gibson (10 points) also reached double digits for Karns City.
MONITEAU 55, CRANBERRY 34
WEST SUNBURY, Pa. – Kristina DeMatteis and Alazia Greaves combined to score 30 points, and Emma Bair had a strong night on the glass to lead Moniteau to a 55-34 win over visiting Cranberry.
DeMatteis netted a game-high 16 points with Greaves adding 14. Bair, meanwhile, had 17 rebounds, five assists and four blocked shots to go with seven points.
Malliah Schreck paced Cranberry with 11 points and 11 rebounds. Bree Swartzfager added nine points.
RIDGWAY 61, SHEFFIELD 13
SHEFFIELD, Pa. – Behind 28 points, 13 rebounds, eight steals, four blocked shots and three assists from Emily Fullem, visiting Ridgway rolled past Sheffield, 61-13.
Hannah Park added 11 points, four rebounds, four assists, two blocks and two steals for the Lady Elkers, who also got 10 points, four rebounds and four steals from Karley LaBenne.
Mya Grubbs paced Sheffield with six points.
PUNXSUTAWNEY 62, REDBANK VALLEY 35
NEW BETHLEHEM, Pa. – Leah Miller had 21 points and 16 rebounds, as visiting Punxsutawney pulled away from Redbank Valley in the second half for a 62-35 win.
Redbank Valley, which trailed by seven, 25-18, at halftime, was within five early in the third quarter before the Lady Chucks pulled away ultimately outscoring the Lady Bulldogs 37-17 in the second half.
Freshman Tara Hinderliter had a career-high 12 points for Redbank Valley with Lexi Holt and Kera Fink each adding nine.
UNION 52, FOREST AREA 34
RIMERSBURG, Pa. – Lexey Shick scored 19 points, came away with nine steals and grabbed six rebounds to lead Union to a 52-34 win over Forest Area.
The Golden Damsels trailed 16-10 at the end of the first quarter but led 23-21 at halftime before outscoring the Fires 29-13 in the second half.
Frankee Remmick added 13 points and seven rebounds for Union with Hannah Atzeni contributing 12 points, six rebounds and four helpers.
Jasmine Ginnery led Forest Area with 16 points and seven rebounds. Cassie Cochran added 10 boards.