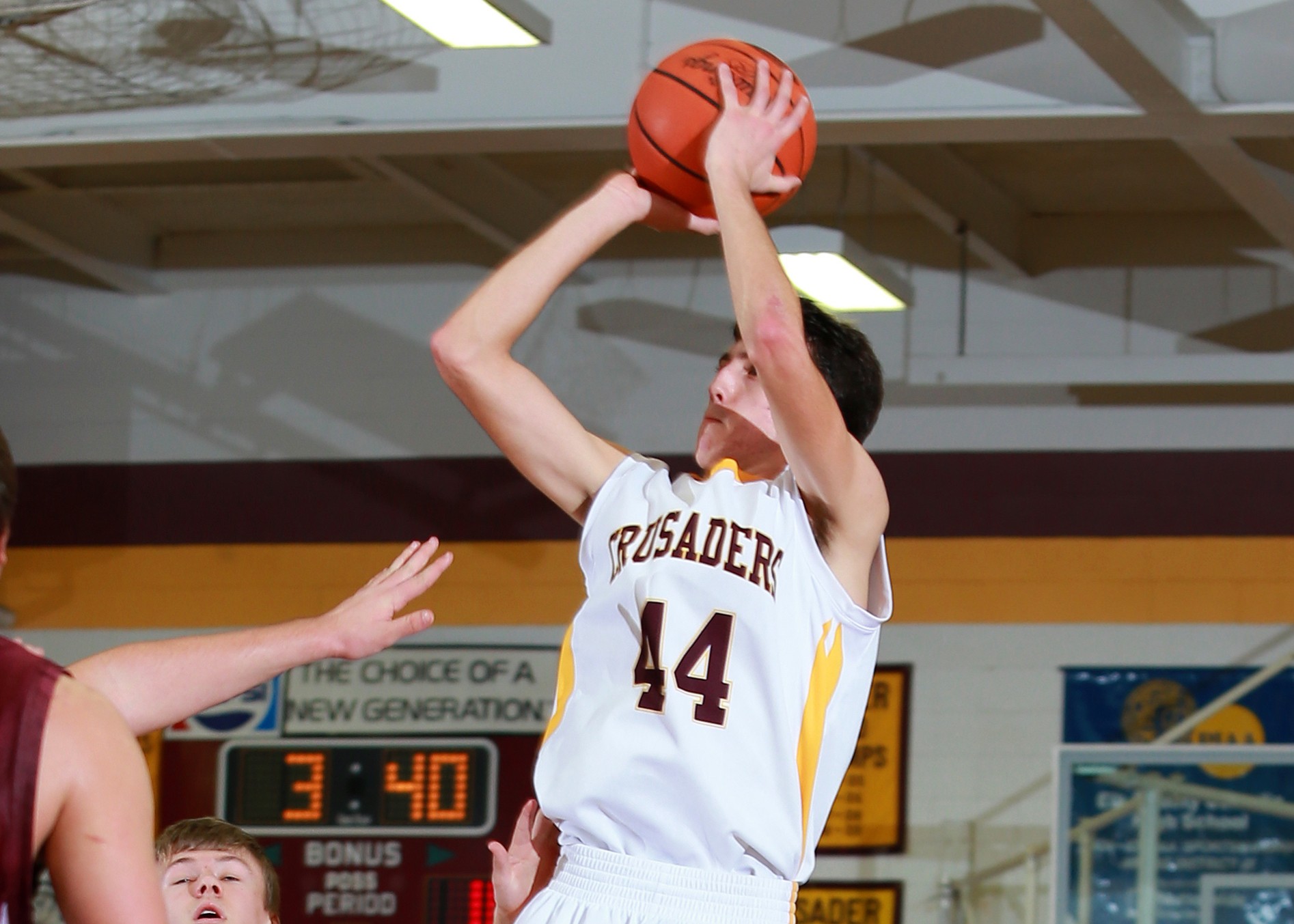 ELK COUNTY CATHOLIC 36, BRADFORD 33
BRADFORD, Pa. – Unbeaten Elk County Catholic outscored Bradford by six in the second half to rally from a 3-point halftime deficit and claim a 36-33 D9 League road victory.
The Crusaders were down 18-15 at the break in large part because they were outscored 11-3 by the Owls in the first quarter.
But ECC got within two, 26-24, at the end of three quarters before outscoring the home team, 12-7, in the fourth quarter behind four points each from Nate DaCanal and Dan Stauffer.
DaCanal finished with a team-best 12 points, while Stauffer had six. Gabe Kraus chipped in seven for the Crusaders, while Kyle Huff also recorded six tallies.
Deondre Terwilliger led Bradford with 12 points, while Tyler Nuzzo added 10. John Eakin had a team-high 10 rebounds.  
ST. MARYS 78, COUDERSPORT 67
ST. MARYS, Pa. – Parker Housler exploded for 30 points to help St. Marys knock Coudersport from the realm of the unbeaten, 78-67, at St. Marys.
Housler scored 11 of his points in a 19-point third quarter for the Dutch helping them expand an 8-point halftime lead, 44-36, into double digits, 63-51, by the end of the quarter.
Brady Bauer added 17 points for St. Marys, which also got 10 from Jeff Wehler, nine from Jordan Romain and eight from Matt Marconi.
Darren Keglovits and Owen Chambers each scored 15 for Coudersport with Derek Keglovits adding 12 and Aaron Wolfinger 11. The Falcons were without two starters including point guard Zach Layag as well as Jared Green.
PUNXSUTAWNEY 65, BROOKVILLE 52
PUNXSUTAWNEY, Pa. – Dylan Huey scored 13 points to lead a balanced effort for Punxsutawney in a 65-52 D9 League win over visiting Brookville.
Ethan Riley chipped in 10 points for the Chucks, while Brandon and John Matthews each had eight for the Chucks, who got scoring from 12 different players.
The game wasn't nearly as close as the final score indicated, as Brookville trailed 49-25 going to the fourth quarter before outscoring the Chucks 27-16 in the final eight minutes.  
Kurt Schindler led Brookville with 11 points with Jimmy Moore adding eight.
CLEARFIELD 92, HUNTINGDON 48
HUNTINGDON, Pa. – Will Myers scored 24 points while grabbing seven rebounds and dishing out four assists, as visiting Clearfield rolled past Huntingdon, 92-48, in Mountain League action.
Evan Brown added 19 points and three assists for the Bison with Tommy Hazel recording a monster double-double with 14 points and 15 rebounds while dishing out seven helpers. Also for Clearfield, Cody Spaid had a double-double with 13 points and 16 rebounds while adding eight helpers, Caleb Strouse added seven points and eight rebounds and Dave McKenzie nine points and six boards.
OTTO-ELDRED 60, SMETHPORT 51
SMETHPORT, Pa. – A strong second quarter helped Otto-Eldred avoid an upset at Smethport with the Terrors pulling out a 60-51 North Tier League victory.
Otto outscored the Hubbers 19-13 in the second quarter but managed to win the other three quarters by just three points.
Heath Stewart had seven of his game-high 22 points in the second quarter for the Terrors, who also got  eight points from Trevor Carlson.
Bryce Nelson, who hit three 3-pointers, and Austin Crooks each scored 10 points to lead Smethport with Caleb Lutz adding nine.
CAMERON COUNTY 66, AUSTIN 29
AUSTIN, Pa. – Behind 20 points from Derek Rieder, Cameron County picked up a 66-29 win at Austin in North Tier League action.
Adam Shaffer and Trae Smith each added 12 points for the Red Raiders.
Anderson Nicka and Hunter Stuckey paced Austin with 11 points apiece.
OSWAYO VALLEY 66, GALETON 39
GALETON, Pa. – Visiting rims didn't seem to affect Oswayo Valley's Brandon Brabham, as the senior hit seven 3-pointers on his way to a game-high 29 points in a 66-29 Green Wave win at Galeton.
Brabham scored 12 points in each of the first two quarters including drilling four second-quarter long balls to help Oswayo Valley gain a 40-12 halftime lead.
Theo Henry chipped in 12 points for the Green Wave.
McKinley Ward led Galeton with 13 points with Isaiah Shuemaker adding 10 for the Tigers.  
DUBOIS 69, BROCKWAY 52
BROCKWAY, Pa. – A 14-point third-quarter advantage helped DuBois rally past Brockway for a 69-52 win at Brockway in non-conference play.
The Beavers trailed 27-20 at the break but outscored the Rovers 22-8 in the third quarter to take a 42-35 lead at the end of the frame. The two teams then exploded for 54 points – 27 each – in the fourth quarter with DuBois shooting 16 of 22 from the free-throw line including a 10 of 10 performance from Brent Mazary to hold off Brockway.
Zach Sloan scored a game-high 24 points, nine in the pivotal third quarter, for the Beavers with Nick LaBrasca adding a double-double of 14 points and 10 rebounds. He had six third-quarter points. Braydn Schwabenbauer chipped in 12 points with Mazary coming in with the 10 tallies, all from the free-throw line in the final quarter.
John Oberlin also added nine tallies for DuBois and was 5 of 6 from the line in the final quarter.  
Jake Wineberg paced Brockway with 23 points, and Jarrett Esposito added 15 for the Rovers.