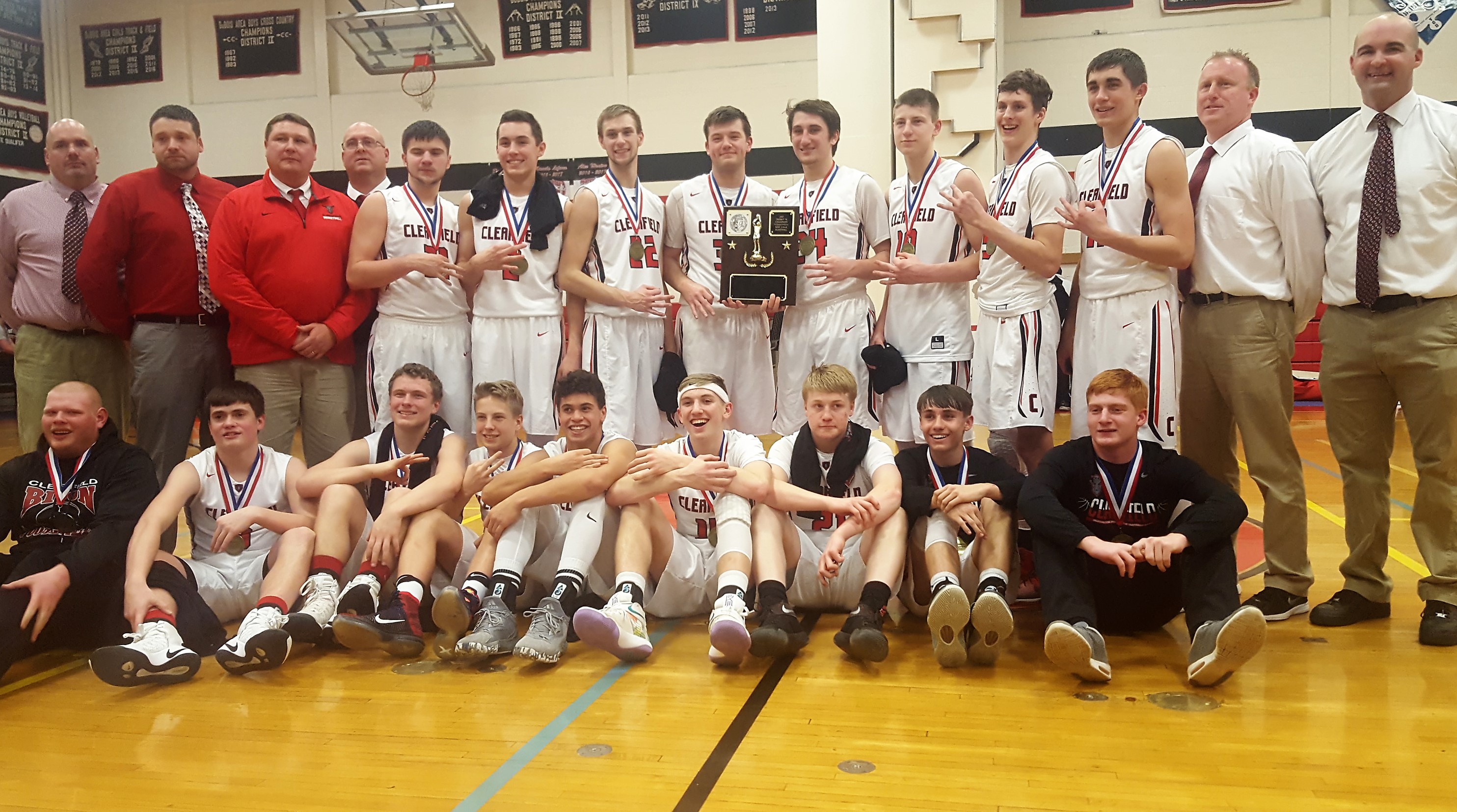 DUBOIS, Pa. – Up four late in the first half, Clearfield used a 17-4 run that bridged halftime to win its third consecutive District 9 title and it's first in the new Class 4A under the six-classification system with a 59-45 win over Punxsutawney at DuBois High School.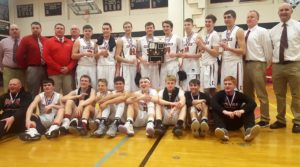 "It's great to be the first team (from Clearfield) that has got back-to-back-to-back district championships," Will Myers, a senior and the school's all-time leading scorer who scored 10 points in the victory, said. "It feels awesome, and hopefully we get to go further in states."
The Bison led 28-24 after a basket by Punxsy's Devin Kelly, who finished with a game-high 20 points, with 1:02 to play before the half before a pair of free throws by Dave McKenzie, who had six points and nine rebounds, and a charity shot from Ryan Chew pushed the lead to 31-24 at halftime.
Clearfield then scored 10 of the first 12 points of the second half with Tommy Hazel hitting a pair of 3-pointers and Evan Brown adding a three of his own to blow the game open taking a 15-point, 41-26, lead with 5:23 left in the third quarter.
"We took away their second-chance opportunities in the third quarter," Clearfield head coach Nate Glunt said. "I thought that was the biggest difference. We were playing solid defense in the first half, but we weren't finishing possessions. Once we started finishing possessions, playing good defense we were able to get some transition baskets and a couple of threes early in the third quarter which enabled us to get the lead and win the game."
Punxsutawney girls' win D9 4A title
Brown, who finished with 13 points, added two more quick baskets to get the Bison lead to 17, 45-28, with 2:41 to go in the third, and Clearfield led by 20, 51-31, by the end of the quarter.
"(The halftime message) was just to come out, keep boxing out and play our game," Hazel, who had a double-double with 14 points and 10 rebounds, said. "We knew we would come out, and that's exactly what happened."
Watch the interview with Hazel, Myers and Brown.
Clearfield was only in a position to pull away in the second half because of the team-wide effort in the first half.
With both Myers and Hazel, the two top scorers, in foul trouble – Myers had three in the first half and Hazel two – other players had to step up.
Ryan Chew was one of them scoring nine points in the half including eight in the first quarter. This from a player who entered the game averaging 1.2 points per game having not scored in 15 of the 22 contests he had played in this season (19 of the 35 points Chew has scored on the year have come in two of the last three games after he netted a career-high 10 points vs. Philipsburg-Osceola).
"Someone needs to step up in these championship games," Glunt said. "Ryan did that tonight."
It wasn't just Chew, as Clearfield got scoring from seven different players in the opening half allowing the Bison to score 31 points despite Myers and Hazel only accounting for seven of those.
"Oh my goodness," Glunt said. "You want to talk about our bench. Will and Tommy had (seven) points in the first half and we scored 31 points. That's a credit to all of our kids and their effort. It was a team win today in a true sense of the word, a team win."
Clearfield meets the fifth-place team out of the WPIAL, either McGuffey or South Fayette, in the opening round of the PIAA playoffs March 11 at a District 9 site to be determined.
"What an environment," Glunt said. "It was a packed house. The Clearfield community came and supported us. We are so thankful for that. I was talking to some middle school kids before the game. We had alumni coming back from college, It was packed. It was an unbelievable high school basketball game.
"To get the three-peat is a credit to so many people. To the elementary coaches working with the kids coming through, to these kids work ethic in the offseason and how they work at practice and getting good grades. All the intangibles are there. So many people are involved. I'm so thankful."
CLEARFIELD 59, PUNXSUTAWNEY 45
Score by Quarters
Punxsutawney 13 11 7 14 – 45
Clearfield 17 14 20 8 – 59
PUNXSUTAWNEY – 45
Jake Weaver 1 0-0 3, Devin Kelly 8 4-4 20, Brandon Matthews 2 3-5 7, Jake Horner 1 0-2 2, Ethan Riley 4 0-0 8, Ethan Blose 1 2-2 5, Tyler Richardson 0 0-0 0, Pat Fedigan 0 0-0 0, Tanner Zimmerman 0 0-0 0, Kevin Constant 0 0-0 0, Tyler Getch 0 0-0 0, Isaac Stouffer 0 0-0 0. 17 9-13 45
CLEARFIELD – 59
David McKenzie 1 4-4 6, Evan Brown 4 4-5 13, Reese Wilson 1 3-3 5, Tommy Hazel 6 0-0 14, Will Myers 2 5-7 10, Ryan Chew 3 1-2 9, Jon Gates 1 0-0 2, Ethan McGinnis 0 0-0 0, Keagan Hess 0 0-0 0, Taye Lynch 0 0-0 0, Ryan Lazauskas 0 0-0 0, Wyatt Porter 0 0-0 0, Cade Walker 0 0-0 0, Jarrit Wagner 0 0-0 0, Bill Kline 0 0-0 0. Totals 18 17-21 59.
Three-pointers: Punxsutawney 2 (Weaver, Blose). Clearfield 6 (Hazel 2, Chew 2, Brown, Myers).