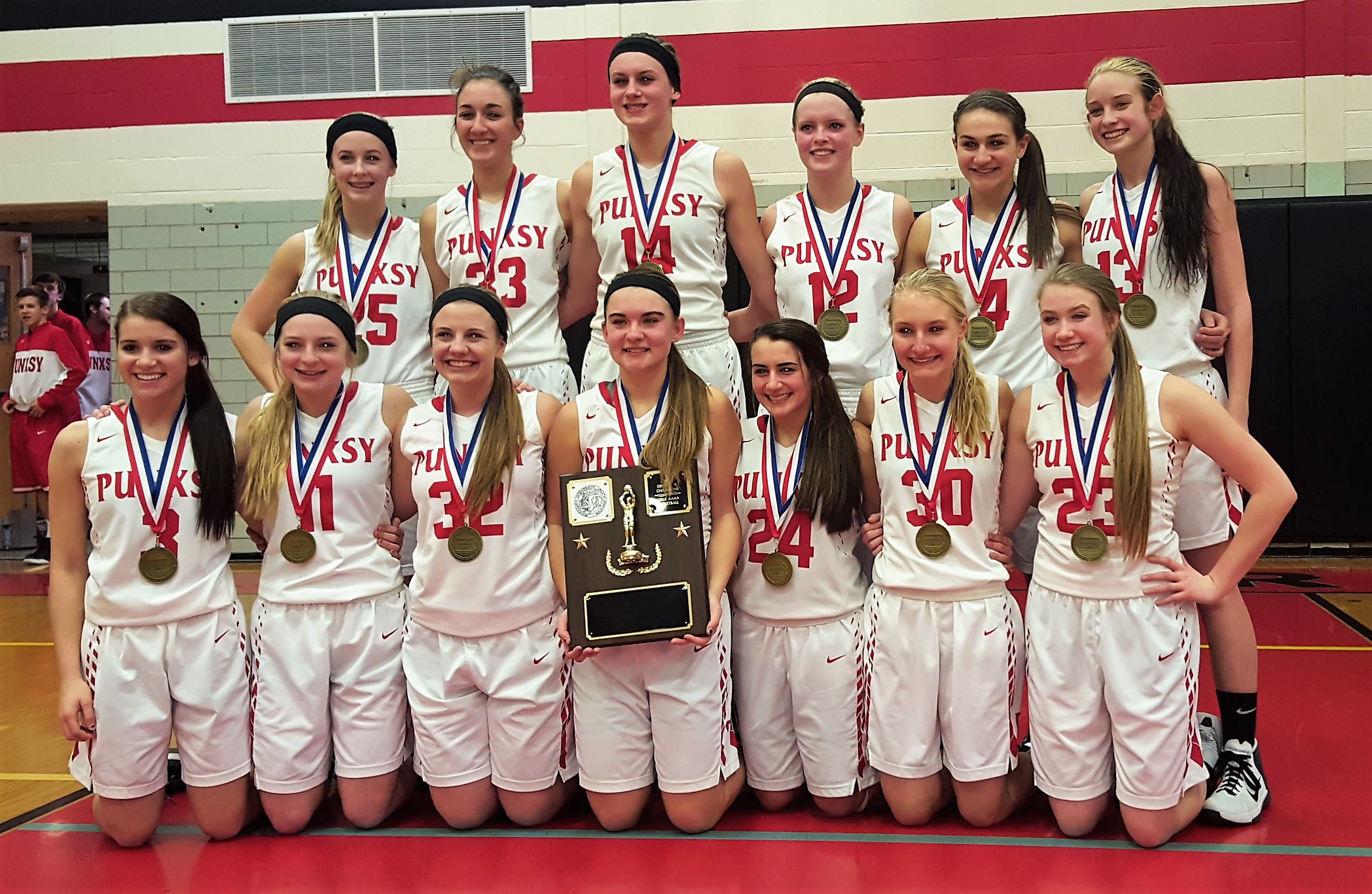 DUBOIS, Pa. – For three quarters Clearfield kept Punxsutawney's Leah Miller pretty much under wraps, and thus the Lady Bisons found themselves in a tie game after 24 minutes with the favored Lady Chucks in the District 9 Class 4A girls' championship game at DuBois High School.
But Miller, who netted just nine points through three quarters, came alive in the fourth going on a personal nine-point run to break help Punxsy to its third straight D9 title (the first two were in 3A under the four-classification system) with a 37-30 win.
"It was too close," Miller said. "I just wanted it to start going."
The teams were tied at 26 after three quarters, but in the fourth, thanks in large part to Miller, the Lady Chucks outscored Clearfield 11-4.
"We haven't been playing our best ball here to wrap up the season," Punxsutawney head coach Mike Carlson said. "But that's taking nothing away from (Clearfield). I thought they had a game plan. I thought they varied how they played that zone against us and kind of took away our strengths. Luckily, we have a tough bunch of kids."
Clearfield boys' win Class 4A boys' title
Those kids include Miller, who finished with 18 points. 26 rebounds, 11 on the offensive end, and five blocked shots and Kate Horner, who added 14 points and gave Punxsy the lead for good, 28-26, when she scored 25 seconds into the fourth quarter.
"Clearfield, they are going to put up a fight," Miller said. "But we just came out and tried to push our best and there were some rough spots but we pushed through."
Watch Miller's post-game interview.
After Horner's basket, Ally Lindstrom hit one of two free throws to bring Clearfield back within one, 28-27.
At that point, Miller took over.
She scored four straight baskets over the next 2:45 to put Punxsy up 36-27 with 3:30 left.
"It wasn't a Leah game until that fourth quarter," Carlson said. "Luckily, she did when she needed to on the offensive and defensive end. It's nice to have those kids, especially your leaders, be able to do that."
Clearfield started strong and led 15-11 after the first quarter thanks to six points from Nikki Brossard.
Punxsy fought back in the second quarter thanks to a three-pointer followed by a basket off a turnover by Horner that pushed the Lady Chucks into the lead, 16-15.
"Kate is a very solid player at point guard," Carlson said. "I thought in that first half she really kept us in it and played well and continued into the second half.
At halftime, the game was tied at 18, and throughout the third quarter, it remained within two points the entire quarter.
"It's not an easy thing (winning a district title) even with four teams," Carlson said. "It's no small task. Clearfield, for example, hadn't been to the championship game since 2009. I tell them that. It may be four teams, but you still have to the job done."
Punxsutawney moves into the PIAA playoffs where it will meet the fifth-place team out of the WPIAL, either Central Valley or Freeport March 10 at a District 9 site to be determined.
PUNXSUTAWNEY 37, CLEARFIELD 30
Score by Quarters
Clearfield 15 3 8 4 – 30
Punxsy 11 7 8 11 – 37
CLEARFIELD – 30
Nikki Brossard 3 1-2 7, Nikol Chew 0 0-0 0, Brooke Cline 3 4-4 10, Alayna Ryan 1 2-4 4, Ally Lindstrom 3 3-4 9, Tesa Miller 0 0-0 0, Karlie Gisewhite 0 0-0 0. Totals 10 10-14 30.
PUNXSUTAWNEY – 37
Kate Horner 6 0-0 14, Morgan Vanleer 1 1-2 3, Elyse White 0 0-0 0, Alli Lunger 0 2-3 2, Leah Miller 8 2-6 18, Kaitlyn Ray 0 0-0 0, Kaitlin Doverspike 0 0-0 0, Laney Monroe 0 0-0 0. Totals 15 5-11 37.
Three-pointers: Punxsutawney 2 (Horner 2).