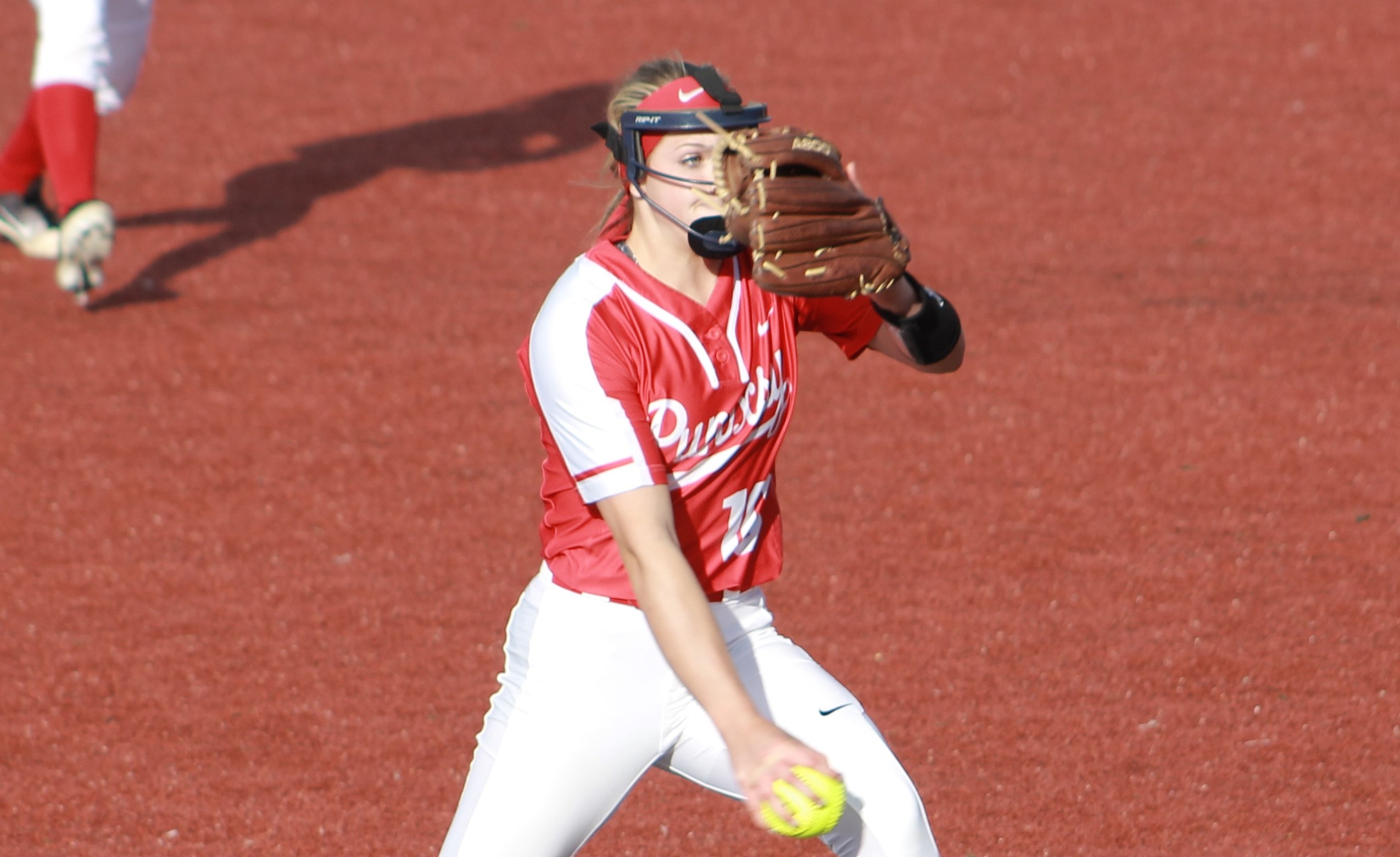 MILESBURG, Pa. – Working in tandem, the Punxsutawney youngsters and upperclassmen led the Lady Chucks to the PIAA Class 4A semifinals with an 8-0 blanking of West Perry Thursday afternoon at the Milesburg Little League Complex.
(Photo of Punxsutawney pitcher Kylee Lingenfelter, who struck out 18 in the quarterfinal win Thursday. Photo by Jared Bakaysa of JB Graphics. See more of Bakaysa's work here)
Senior Kylee Lingenfelter struck out 18 and freshman Kendal Johnston had two hits, including a home run and a double while driving in four to give Punxsutawney its first semifinal appearance since 2006.
"It means the world to them," Punxsutawney head coach Alan Pifer said when asked what making the PIAA semifinals meant to the team's three seniors – Kylee Lingenfelter, Toya Jones and Mia Lingenfelter. "The nice things is they have embraced the underclassmen, embraced them and made them feel welcome and you are seeing the result."
Kylee Lingenfelter continued her dominate postseason running her postseason scoreless streak to 19 consecutive innings while recording 47 strikeouts during that time and allowing just four hits. She limited West Perry to one hit while walking one, the leadoff hitter.
"You get spoiled by performances like this," Pifer said. "She has picked it up another gear in the playoffs. Any athlete, in the regular season they don't always have their best, but she has certainly saved her best for now."
The Punxsutawney offense has also picked the right time of the season to have its best stretch of the season.
After the 10-hit, 8-run performance against West Perry, the Lady Chucks have now scored 26 runs in three playoffs games.
"It's just another example of these kids being gamers, as one of my assistant coaches said about the younger kids," Pifer said. "These kids are gamers. They get up for the games. The hitting has been up and down the lineup for the most part. Someone's stepping up different each game. That is what you need. That is a mark of a team that is clicking on all cylinders."
While Johnston was front-and-center in the offense, she was one of four Punxsutawney players to record two hits on the day.
Freshman Sarah Weaver was 2-for-4 with two runs scored, junior Grace Aikens was 2-for-3 with a walk and a run scored and sophomore Madison Stonbraker was 2-for-4 with an RBI. Lingenfelter also helped herself by going 1-for-4 with a run scored and an RBI.
"We are getting timely hitting," Pifer said. "You feel if you get (Kylee) maybe a two-run lead, sometimes that is enough when she is locked in like she is right now."
Punxsutawney wasted little time getting Lingenfelter a multiple-run lead scoring three times in the bottom of the first after their ace, who is headed to Penn State next season, struck out the side in the top of the first after issuing a leadoff walk.
Weaver and Aikens got things started in the first with back-to-back one-out singles, and after Stonbraker moved them up 60 feet each with a groundout, Johnston crushed a three-run home run to left to give the Lady Chucks a 3-0 advantage.
In the second, Punxsutawney took advantage of a couple of West Perry gifts to score three more runs and take a 6-0 lead.
Abby Gigliotti led off the inning by reaching on an error by shortstop Jordan Santopietro. One out later, Riley Presloid was hit by a pitch putting runners on first and second, and a wild pitch moved each runner up a base. Lingenfelter followed with an RBI single to center and stole second. Sarah Weaver then hit a pop fly that left fielder Kayla Weaver couldn't handle scoring Presloid to make it 5-0, and after Aikens walked, Stonbraker singled to center to make it 6-0.
While Punxsutawney was scoring in bunches, West Perry couldn't touch Lingenfelter.
After the leadoff walk to start the game, the Lady Chucks righty retired seven in a row, all via the strikeout, before a Lyndsay McCurdy spoiled the no-hit bid with a double to left with one out in the third. But Lingenfelter struck out Tiara Johnson and got Haylee Reisinger to pop out to Mia Lingenfelter at second to end the threat.
That started a string of nine in a row retired by Lingenfelter, who retired 14 of the final 15 she faced, including striking out the final four batters she faced.
Just for good measure, Punxsutawney added a pair of runs to its tally scoring in the fourth on a two-out double by Johnston and again in the fifth when Kylee Lingenfelter reached on an error.
Punxsutawney will now take on WPIAL third-place finisher Mt. Pleasant, the defending PIAA Class 4A champion. The Lady Chucks are looking for a berth in the PIAA title game for the first time since being the Class 3A runner-up in 2006.
"If I am in their (Mt. Pleasant's) shoes, I am reminding them they are still the champs until someone knocks you out," Pifer said. "We still have to beat them. All those WPIAL teams are tough. We haven't gotten this far in several years, and a lot of the time, especially lately, we were going down to WPIAL teams in round one. They are very tough. We will give it all we've got. The nice thing is we are peaking at the right time."
PUNXSUTAWNEY 8, WEST PERRY 0
Score by Innings
West Perry 000 000 0 – 0
Punxsy 330 110 – x – 8
WEST PERRY – 0
Tiara Johnson cf 2000, Haylee Reisinger 3b 3000, Cori Ritter p/1b 3000, Cheyenne Shughart c 3000, Jordan Santopietro ss 3000, Katelyn Zeigler 2b 2000, Rachel Gingrich 1b/p 3000, Gretchen Frederick lf/dp 2000, Lyndsay McCurdy rf 2010, Kayla Weaver lf 0000. Totals 23-0-1-0.
PUNXSUTAWNEY – 8
Kylee Lingenfelter p 4111, Kylee Shoemaker cr 0000, Sarah Weaver cf 4220, Grace Aikens 1b 3120, Madison Stonbraker c 4021, Allie Meko cr 0000, Alyssa Fairbanks cr 0000, Kendal Johnston dp 4124, Toya Jones rf 4000, Abby Gigliotti lf 3100, Holly Hartman 3b 3000, Riley Presloid ss 1100, Elliott Ferrent ph 1110, Mia Lingenfelter 2b 0000. Totals 31-8-10-6.
LOB: West Perry 3. Punxsutawney 7. Errors: West Perry 4. Punxsutawney 1. 2B: McCurdy. Johnston. HR: Johnston. HBP: Presolid by Ritter.
PITCHING
West Perry
Cori Ritter 1 ⅓ IP, 4 H, 6 R, 3 ER, 1 BB, 1 K, 1 HP
Rachel Gingrich 4 ⅔ IP, 6 H, 2 R, 1 ER, 0 BB, 4 K, 0 HP
Totals: 6 IP, 10 H, 8 R, 4 ER, 1 BB, 5 K, 1 HP
Punxsutawney
Kylee Lingenfelter 7 IP, 1 H, 0 R, 0 ER, 1 BB, 18 K
WP: Kylee Lingenfelter
LP: Cori Ritter