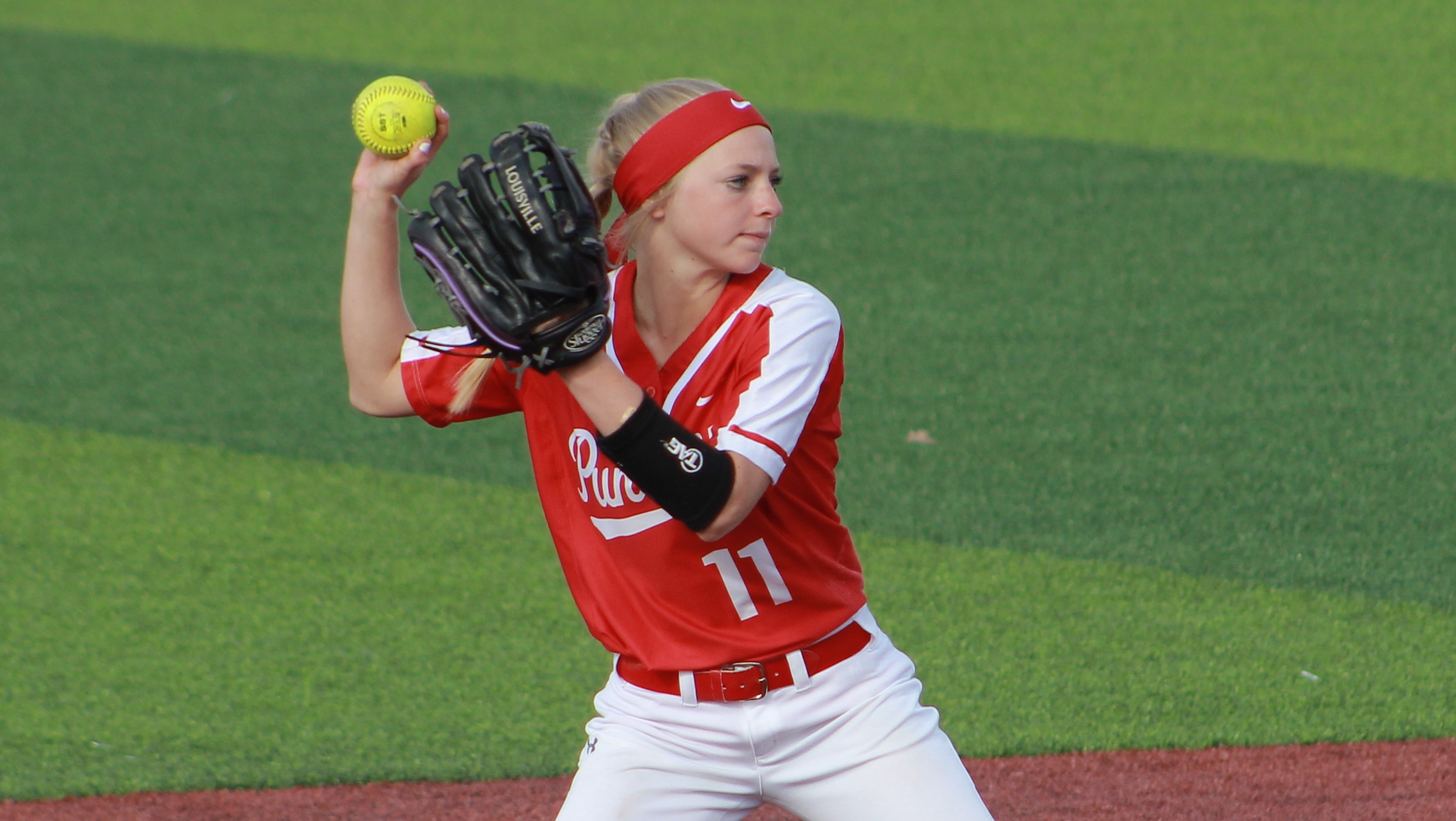 LORETTO, Pa. – Punxsutawney hopes to ride the right arm of senior Kylee Lingenfelter and the bats of some younger players to its first PIAA championship-game appearance since 2006.
(Photo of Punxsutawney senior second baseman Mia Lingenfelter. Photo by Jared Bakaysa of JB Graphics. See more of Bakaysa's work here)
The Lady Chucks (17-3), the District 9 champions, face defending PIAA Class 4A champion Mt. Pleasant (19-1), the third-place finisher in the WPIAL, in the semifinals at 2:30 p.m. Monday, June 11, at St. Francis University in Loretto.
The game promises to be a good one with both teams very strong in the circle.
Mt. Pleasant, which avenged its only loss of the season (1-0 to Belle Vernon in the WPIAL semifinals) by beating Belle Vernon 3-2 in the quarterfinals Thursday will try to topple a Penn State-bound pitcher for the second straight game after beating the Leopards Bailey Parshall.
On Monday, its Lingenfelter that stands in the way of a second straight title-game berth for Mt. Pleasant.
To say the Punxsy senior is on fire right now would be an understatement.
Lingenfelter has tossed 19 scoreless innings in the playoffs allowing five hits and five walks while striking out 47.
On the season, Lingenfelter has an ERA of 0.76 that is actually inflated because of six runs in the season opener against Clearfield. Since that game, she has given up five earned runs in 94 ⅔ innings of work (0.37 ERA). On the season, in 101 ⅔ innings, she has struck out 212 while allowing 22 walks and 39 hits. Again, take out the Clearfield game and those numbers are 203 strikeouts, 16 walks and 30 hits.
Lingenfelter will have to be at her best against a Mt. Pleasant team that has allowed just 14 runs all season (5 in the postseason).
The Vikings rely on two pitchers with Carolyn Alincic and Meadow Uncapher.
Alincic is 10-1 on the year with a save and a 0.60 ERA. In 70 ⅔ innings of work, she has struck out 107, walked 12 and allowed 29 hits.
Uncapher is nearly as good going 7-0 on the season with three saves and a 0.88 ERA. In 47 ⅔ innings of work, she has struck out 64, walked nine and allowed 29 hits.
While the pitching matchup looks even, Punxsutawney's bats might be a tad hotter than Mt. Pleasant's right now with the Lady Chucks averaging 8.67 runs per game in three postseason contests vs. 4.0 runs per game for the Lady Vikings, but in all fairness, two of those games were against Parshall.
Junior left-handed hitting first baseman Grace Aikens continues to rake for Punxsutawney hitting .592 with five doubles, three home runs and a team-best 20 RBIs, while Lingenfelter is hitting .475 with 10 doubles, a triple, a home run and 17 RBIs.
A new addition to the lineup, freshman Kendal Johnston, has been on fire in eight games hitting .533 with three doubles, a home run and eight RBIs. One of the doubles and the home run came in the 8-0 quarterfinal win over West Perry Thursday.
Another freshman, Sarah Weaver is hitting .442 with four doubles, a home run and 14 RBIs, and keeping with the youngster theme, sophomore catcher Madison Stonbraker checks in at .424 with three doubles and 16 RBIs, freshman Riley Presloid is hitting .316 with 10 runs scored and five RBIs, sophomore Abby Gigliotti is batting .310 with four doubles, 12 runs scored and six RBIs and sophomore Holly Hartman is hitting .292 with three doubles, a home run and 13 RBIs. The homer came in an 8-0 win over Elizabeth Forward in the opening round of the PIAA playoffs.
Chloe Poulich and Haylie Brunson are the top two hitters for Mt. Pleasant.
Poulich is hitting .469 with 30 RBIs and 28 runs scored with Brunson checking in at a team-leading .481 with 34 RBIs and 16 runs scored.
Also for the Vikings, Addy Kubasky is hitting .400 with 18 runs scored and eight RBIs, Courtney Poulich is hitting .395 with 13 RBIs and 16 runs scored and Mary Smithnosky is batting .310 with 11 RBIs.
The winner gets the winner of the other semifinal game between District 11 champion Bethlehem Catholic and District 2 runner-up Nanticoke in the PIAA title game at 1:30 p.m. Friday, June 15, at the Nittany Lion Softball Park on the campus of Penn State University.
NOTES – Punxsutawney is trying to become the first District 9 softball team to reach the PIAA championship game since Moniteau in Class 2A in 2016 and the third in four years after Elk County Catholic won the Class 1A title in 2015 … Overall, seven District 9 girls' softball teams have made the PIAA championship game with all coming since 2006 … Punxsutawney is the 13th District 9 team to reach the PIAA semifinals. D9 is 6-6 all-time in PIAA semifinal contests.
District 9 Softball Teams to reach PIAA Championship Game
2016 – Moniteau (Class 2A) – Lost to Holy Redeemer, 9-3
2015 – Elk County Catholic (Class 1A) – Beat Conemaugh Valley, 7-0
2011 – Clarion (Class 1A) – Lost to Minersville, 6-1
2009 – Curwensville (Class 1A) – Beat Old Forge, 1-0
2007 – Curwensville (Class 1A) – Beat Upper Dauphin, 7-3
2006 – Punxsutawney (Class 3A) – Lost to Donegal, 3-0
District 9 Softball Teams in PIAA Semifinals
2018 – Punxsutawney vs. Mt. Pleasant – TBA (Class 4A)
2017 – West Greene 9, DuBois Central Catholic 5 (Class 1A)
2016 – Moniteau 3, South Park 0 (Class 2A)
2016 – West Greene 5, DuBois Central Catholic 2 (Class 1A)
2015 – Elk County Catholic 2, Cochranton 1 (Class 1A)
2014 – Souderton 2, DuBois 0 (Class 4A)
2011 – Clarion 3, Chartiers-Houston 2 (Class 1A)
2009 – Curwensville 4, Vincentian Academy 0 (Class 1A)
2007 – Curwensville 4, Cambridge Springs 0 (Class 1A)
2006 – Punxsutawney 10, Corry 0, 5 innings (Class 3A)
2006 – Iroquois 1, Smethport 0 (Class 1A)
2004 – Sto-Rox 8, Smethport 0 (Class 1A)
1988 – Linesville 1, Brockway 0 (Class 1A)