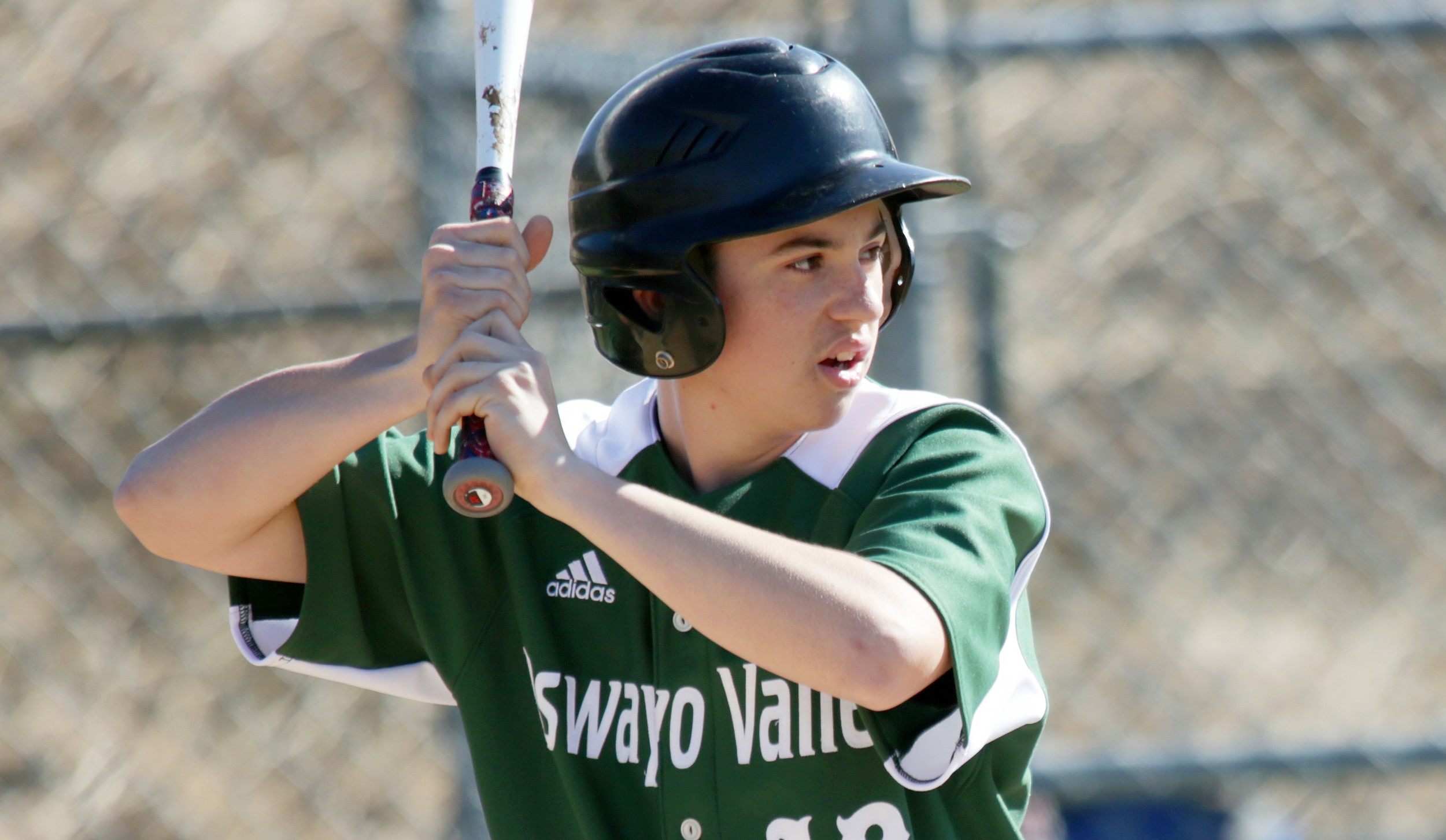 DUBOIS, Pa. – Scoring seven runs in its final two at-bats, WPIAL champion Vincentian Academy rolled to a 10-0, five-inning win over Oswayo Valley in the PIAA Class 1A quarterfinals Thursday at Showers Field in DuBois.
(Photo of Oswayo Valley's Gunner Bean. Photo by Paul Burdick. Check out more of Burdick's work here)
Up 3-0 after three innings, the Royals broke the game open with a four-run fourth and then ended the contest with three more in the fifth.
A bases-loaded, bases-clearing double in the fourth by Aidan Thomson was the big blow of that inning giving Vincentian Academy a 7-0 lead.
And an error on center fielder Ryan Graves led to the game's final two runs in the fifth.
The Royals needed just eight hits to score their 10 runs taking advantage of four Oswayo Valley errors and eight walks – three intentional.
Kyler Fedko scored four times for the Royals hitting a solo home run and scoring all three times he was intentionally walked.
Meanwhile, Thomson drove in five runs going 2-for-3 with a double and a walk, while Dan Morgano was 1-for-3 with two runs scored, two RBIs and a walk.
Mark Yakim also had two hits and scored two runs for the Royals, while Jared Katz was 1-for-3 with two runs scored.
That was plenty of support for Vincentian pitcher Stephen Turzai, who gave up just four hits and a walk while striking out two in five innings of work.
Jacob Karr had a double for Oswayo Valley.
The Green Wave went with a surprise starter in Gavin Babcock, making his first start of the season after recovering from surgery last year.
Babcock was solid in his 2 ⅔ innings of work allowing three runs on four hits and three walks while striking out one.
Karr relieved but was snakebitten.
He gave up seven runs, but only one earned, on four hits and five walks while striking out two.
A two-run, two-out single by Thomson in the first gave Vincentian Academy a 2-0 lead. Fedko then blasted a solo home run to center with one out in the third to make it 3-0.
Down 2-0, Oswayo Valley had a chance to get back into the game when it had three singles in the third.
But after back-to-back leadoff singles by Colton Gietler and Gunner Bean, Gietler got picked off second by catcher Mark Yakim.
Then, with two outs, Ryan Graves singled with Bean moving to second but Garren Black grounded out to end the inning.
Karr's one-out double in the fourth looked to get something going for the Green Wave, but Camden Graves lined out and Theo Henry grounded out.
In the bottom of the fourth, after Oswayo Valley elected to walk Fedko to load the bases, Karr issued a bases-loaded walk to Morgano to make it 4-0, and Thomson followed with the three-run double to center.
VINCENTIAN ACADEMY 10, OSWAYO VALLEY 0, 5 INNINGS
Score by Innings
Oswayo Valley 000 00 – 0
Vincentian Academy 201 43 – 10
OSWAYO VALLEY – 10
Gage Babcock ss 3000, Ryan Graves rf/cf 1010, Garren Black 1b 2000, Gavin Babcock p/lf 2000, Jacob Karr cf/p 2010, Camden Graves c 2000, Theo Henry 3b 2000, Colton Gietler lf/rf 2010, Gunner Bean 2b 2010, Carter Steadman pr 0000. Totals: 18-0-4-0.
VINCENTIAN ACADEMY – 10
Mark Yakim c 4220, Jake Stotsky 2b 4000, Kyler Fedko ss 1411, Dan Morgano 3b 3212, Aidan Thomson cf 3025, Nathan Christian 1b 1000, Nate Stover rf 2000, Josh Musher ph 1000, Sean McGrail dh 3010, Jared Katz lf 3210, Stephen Turzai p 0000. Totals: 25-10-8-8.
LOB: Oswayo Valley 4. VA 7. Errors: Oswayo Valley 4. VA. 1. 2B: Karr. Thomson. HR: Fedko. SB: Ryan Graves. Thomson. PO" Gietler. DP: Oswayo Valley (Gage Babcock to Bean to Black).
PITCHING
Oswayo Valley
Gavin Babcock 2.2 IP, 4 H, 3 R, 3 ER, 3 BB, 1 K
Jacob Karr 2.0 IP, 4 H, 7 R, 1 ER, 5BB, 2 K
TOTALS: 4.2 IP, 8 H, 10 R, 4 ER, 8 BB, 3 K
Vincentian Academy
Stephen Turzai 5.0 IP, 4 H, 0 R, 0 ER, 1 BB, 2 K
Winning pitcher: Stephen Turzai
Losing pitcher: Gavin Babcock