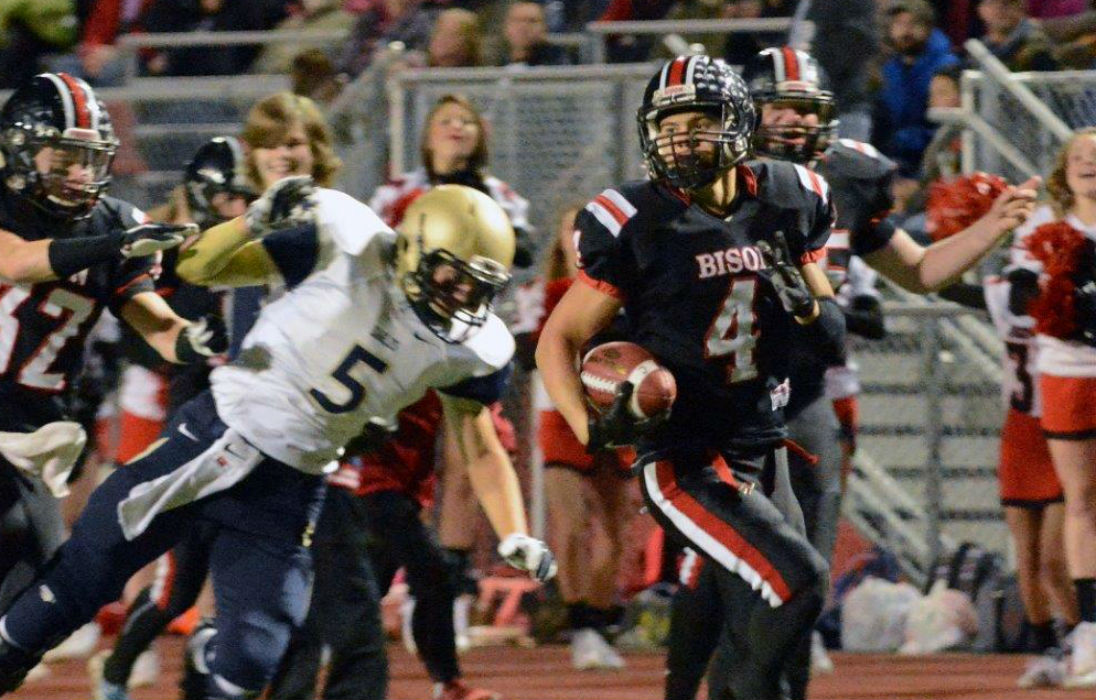 By Rich Rhoades
The District 9 regular season wraps up this week with 12 Friday night games and one Saturday afternoon matchup. Which games mean the most?
In Class A, only two have a direct impact on filling out the two remaining playoff spots.
— Clarion at Brookville and Keystone at Penns Manor.
If the Bobcats win, they're in. If they lose, they're out and Keystone is in. If both lose, idle Coudersport and Keystone are in. If both win, the Bobcats and Panthers are in.
Here's the story helping sort things out.
The six teams already in the Class A bracket are Redbank Valley, Port Allegany, Kane, Brockway, Curwensville and Elk County Catholic. We know that Redbank Valley is seeded No. 1 in the preseeded bracket while the Kane-Port Allegany winner gets the No. 2 seed. The rest of the seedings will be sorted out after this weekend's schedule.
Speaking of Kane and Port Allegany, the two will meet for the second time this year in Friday night's Allegheny Mountain League Championship game in Kane. The other title game on the docket is the Class AAA Championship game between Clearfield and Punxsutawney.
These are the big games for finishing the Class A playoff picture
Clarion (5-4) at Brookville (2-7)
The Bobcats have a run of seven straight playoff seasons going and they'll need to beat the Raiders to keep it going. Clarion has missed the postseason just four times since 1995 and the first part of that stretch came when only four teams went to the Class A playoffs.
Colton Rapp leads the Bobcats' running game with 550 yards and five touchdowns and they'll challenge a Raiders' defense that gave up 436 yards in a 34-7 loss to Bradford.
The Bobcats have beaten the Raiders the last three years by a combined margin of 140-19, including 50-0 last year.
Keystone (5-4) at Penns Manor (9-0)
The Panthers were underdogs last year when the playoff-bound Comets and nearly knocked them off in a 14-13 loss. They'll be underdogs again when they travel to the unbeaten Comets in Clymer Friday night.
Through eight games, the Comets had three running backs over 500 yards, led by Bailey Mumau who was at 770 yards and 12 touchdowns. He ran for over 1,000 yards last year, including 104 yards and a touchdown against the Panthers.
Keystone's Jake Weaver, who had 18 yards on nine carries against the Comets a year ago, became the school's all-time leading rusher last week. He's rushed for 1,408 yards and 15 touchdowns.
Class A Seeding Outlook
Those two games and the AML Championship will set the Class A bracket. Here are the first-round possibilities:
If Kane wins AML title:
(8) Keystone or Coudersport (Wild Card 2) at (1) Redbank Valley (KSAC-1)
(5) Elk Co. Catholic (AML-3) at (4) Brockway (AML-2)
(7) Port Allegany (Wild Card 1) at (2) Kane (AML-1)
(6) Curwensville (AML-4) at (3) Clarion or Keystone (KSAC-2)
If Port Allegany wins AML title:
(8) Keystone, Curwensville or Coudersport (Wild Card 2) at (1) Redbank Valley (KSAC-1)
(5) Brockway (AML-3) at (4) Kane (AML-2)
(7) Curwensville or Keystone (Wild Card 1) at (2) Port Allegany (AML-1)
(6) Elk Co. Catholic (AML-4) at (3) Clarion or Keystone (KSAC-2)
That being stated, if Kane beats a Port Allegany team it defeated by 44 points earlier this season again Friday night, the two will square off AGAIN in the first round of the playoffs, once again, at Kane for the third time this season.
In the Port Allegany winning the AML title game scenario, how Curwensville does against Blairsville determines whether they'd be the first or second wild card.
AML Championship
Port Allegany (6-3) at Kane (8-0)
It's the 30th version of the conference championship game and it's the first time that the Gators and Wolves are meeting for the title. Kane is looking for its second crown in three years while Port Allegany won back-to-back titles in 2011 and 2012. Kane is 4-0 in the AML finals while Port is 4-2.
Back in Week 4, Kane racked up 529 yards of offense in its 66-22 rout of Port. Senior Tyler Rolick ran for 204 yards and scored four touchdowns, three of them rushing, and Erik Delong ran for 146 yards and a touchdown.
Those two and Tyler's twin brother, Shane, provide the focus of Kane's run-dominated offense. Tyler (997 yards, 11 TDs), Shane (761 yards, 15 TDs) and Delong (737 yards, 6 TDs), a sophomore, average 9.2 yards per carry and have scored 38 of the team's 45 TDs.
Tyler leads the team with 1,469 all-purpose yards (offense plus return yardage) with a team-high four interceptions along with 28 point-after kicks. Delong leads the defense with six sacks and tackles.
Port Allegany quarterback Tre Garzel (782 yards, 9 TDs), Mac Tanner (652 yards rushing, 6 TDs), Josiah Ramadhan (342 yards rushing, 4 TDs) and Dylan Baumgarner (221 yards rushing, 4 TDs; 22 catches, 439 yards, 8 TDs receiving) lead the Gators.
Tanner leads the defense with 9.2 tackles per game.
Port's 22 points scored against the Wolves in the blowout are the most scored by any Wolves opponent this season. The Gators are 5-0 since then, all of them wins against the AML-North with three of them shutouts.
Class AAA Championship
Clearfield (8-1) at Punxsutawney (3-6), at Brockway, 7 p.m.
The Bison gun for their sixth straight Class AAA title and meet the Chucks for the second straight year for the district title.
Remember, this game has no affect on either team's future playoff plans as teams qualify through the District 5-6-8-9 sub-regional setup. The Bison obviously are playoff-bound at 8-1 while the 3-6 Chucks are eliminated since the sub-regional foursome is already set with the Bison, Somerset, University Prep and Johnstown.
Since 1998, Clearfield has won 10 of the 17 D9 Class AAA championships while Punxsutawney beat the Bison for its lone title in 2009. Clearfield beat the Chucks for the title in 2002, 2010 and 35-8 last year.
Junior running back Seth Caldwell (1,110 yards, 11 TDs), senior quarterback Cody Spaid (1,111 yards, 12 TDs) and junior Ryan Lezzer (541 yards rushing, 8 TDs; 29 catches, 472 yards, 4 TDs) lead the Bison offense.
Junior linebacker Matt Collins leads Clearfield's defense with 14.7 tackles per game. Senior lineman Travis Ogden has 9.5 sacks and Lezzer leads the team with five interceptions.
The Chucks, losers of three straight and five of their last six games, were limited to 87 yards of offense in their 62-6 loss to unbeaten Karns City last week. Senior quarterback Ryan Jones (1,267 yards, 10 TDs passing; team-best 393 yards rushing, 3 TDs) leads the Chucks' offense. His top receivers are junior Ethan Riley (36 catches, 396 yards, 4 TDs), junior Jacob Weaver (20 catches, 296 yards, 2 TDs) and junior Devin Kelly (25 catches, 281 yards, 1 TD).
Defensively, junior linebacker Joey Dipietro leads the team with 9.3 tackles per game. Senior Brandon Douthit has six sacks while Jones leads the team with three interceptions.
In other games, sorted by postseason relevance and matchup quality:
Curwensville (6-3) at Blairsville (2-7)
The Tide are in, but the outcome of their trip to Indiana County could affect who they play in the opening round if Port Allegany upsets Kane in the AML Championship game.
Senior quarterback Jakob Terry (1,222 yards, 15 TDs), sophomore running back Nick Stewart (1,373 yards, 18 TDs) and senior receiver Quamone Newkirk (34 catches, 635 yards, 11 TDs) lead the Tide offense.
Blairsville's lone wins are against Marion Center (28-19) in Week 2 and Saltsburg (27-12) in Week 8. The Bobcats lost to unbeaten Penns Manor (62-14) in Week 7. The Bobcats beat Redbank Valley, 52-6, last year to cap an unbeaten regular season before finishing 12-1.
Quarterback Ryan Shirley has thrown for 1,390 yards and 11 TDs, but didn't play last week in a 23-7 loss to United.
Union (4-5) at Moniteau (4-5)
By virtue of its 29-28 win over St. Marys last week, it's hard to think that the Warriors won't enter the Class AA playoffs next week considering they'll play the Dutch again with Karns City getting a first-round bye.
But they may have to beat Union, which was eliminated from the Class A playoff picture even though it beat Clarion-Limestone last week.
Warriors quarterback Derek Boben (986 yards passing, 6 TDs; 731 yards rushing, 3 TDs) is the center of the Moniteau offense.
1,000-yard rusher Dugan Gallagher (1,084 yards, 7 TDs), Cole Morris (23 catches, 319 yards, 3 TDs receiving; 326 yards, 3 TDs rushing) and sophomore quarterback Lucas Bowser (489 yards, 5 TDs) lead the Knights.
DuBois (5-4) at Karns City (9-0)
In their first-ever meeting last year, the Beavers beat the Gremlins 35-31 in DuBois, so it's now a matchup in Butler County for the rematch.
The unbeaten Gremlins are rolling along, coming off a 62-6 rout of Punxsutawney last week. Other than a 48-40 double overtime struggle of a win against Keystone in Week 8, the Gremlins have been impressive defensively. They outgunned Central Tech, 58-34, in Week 7, but other than that, they've limited their other seven opponents to just five touchdowns and 33 points.
Offensively, Karns City averages 415 yards of offense, sporting two quarterbacks with nearly identical passing numbers and four players with 400 or more rushing yards.
In the backfield, Collin Dunmyre (603 yards, 6 TDs), Chandler Turner (500 yards, 7 TDs), Maverick Kelsea (489 yards, 11 TDs) and quarterback Cullen Williams (432 yards, 6 TDs) have all gotten carries. Williams (24-for-45, 423 yards, 3 TDs) and Jacob King (32-for-51, 465 yards, 6 TDs) have taken similar snaps at quarterback.
Evan Stitt (23 catches, 352 yards, 2 TDs) is the top receiver.
Defensively, Kelsea leads the team with 7.4 tackles per game. Turner has a team-high five interceptions, tie for the district lead. They'll have their hands full against a high-flying Beavers offense averaging 540 yards per game.
By the way, Beavers quarterback Matt Miller may have quietly done something that was once unheard of in the district not so long ago as he went over 3,000 passing yards for the season last week. It's just the seventh time it's happened in district history, but it's the fifth straight season and sixth time in the last seven years it's been accomplished. See below, in chronological order:
3,000-yard seasons
Matt Miller, DuBois (2015)            3,114
Gabe French, DuBois (2014)            3,571
Alec Shaffer-Doan, Brockway (2013)        3,080
Matt Bodamer, Port A. (2012)        3,951
Matt Bodamer, Port A. (2011)        3,530
Derek Buganza, Brockway (2009)        3,824
Chad Kroell, Clearfield (1994)        3,224
Miller, who missed the Beavers' opener, has at least two more games to build on that as the Beavers will play in the District 6-9 Class AAAA playoffs. He's thrown for 28 touchdowns with seven interceptions, completing 61 percent of his passes.
Three receivers are over 700 yards, led by 1,000-yarder Dante Dawson (59 catches, 1038 yards, 9 TDs), Colin Read (41 catches, 837 yards, 8 TDs) and Zach Sloan (36 yards, 776 yards, 6 TDs).
Braden Paulinellie (801 yards, 13 TDs) is the team's leading rusher.
St. Marys (6-3) at Ridgway (4-5)
The Class AA playoff-bound Dutch meet the Elkers for the first time since beating them at home, 49-32, back in 2004.
While Christian Steffan, Matt Marconi and Nathan Straub pace the Dutch running game, junior quarterback Pat Schlimm turned in a career-high 240-yard passing game in their loss to Moniteau last week. Schlimm had 482 yards going into the game.
The Elkers have lost five of six games. Sophomore Neil MacDonald (282 yards, 5 TDs) leads the running game that has four players over 200 yards. Sophomore quarterback Johnny Mitchell has thrown for 371 yards and 3 TDs.
Brockway (7-2) at Mercer (1-8)
The Rovers lost 43-14 at home last year to the Mustangs who were also 1-8 at the time, so it's doubtful they'll take the road trip likely. Mercer hasn't won since a Week 1 41-14 rout of Eisenhower, a District 10 playoff team.
Brockway has won three straight, including a 35-12 last week against Elk County Catholic. Junior quarterback Hunter Miller (909 yards, 10 TDs passing; 530 yards, 3 TDs rushing) leads the Rovers. Junior running back Mark Latuska (581 yards, 7 TDs) and junior receiver Jake Gorham (22 catches, 298 yards, 4 TDs) help lead the offense.
Bradford (1-8) vs. Warren (2-7)
Both longtime cross-district rivals wrap up tough seasons.
Warren's two wins have come against Titusville (39-33) in Week 2 and Grove City (26-22) in Week 9. The Dragons' played two common opponents with losses to Central Tech (44-8) in Week 1 and Meadville (68-14) in Week 7.
Owls sophomore running back John Eakin (888 yards, 7 yards) is within striking distance of a 1,000-yard season.
Eisenhower (5-4) at Sheffield (0-9)
It's the lone Saturday afternoon game on the schedule as the Warren County schools meet for the second straight year after last year's matchup, won by Sheffield, 22-21, was the first since 2005.
Knights quarterback Louie Head has thrown for 924 yards and rushed for 703 yards.
Cowanesque Valley (2-7) at Otto-Eldred (1-8)
The Terrors have beaten the District 4 Indians 12 straight times in their annual season-ending matchup, including 8-6 last year.
Cochranton (3-6) at A-C Valley (0-9)
The Falcons try to end the season on a winning note against the District 10 Cardinals, who beat the Falcons last year at home, 35-0.
Cochranton beat Union City, Saegertown and Youngsville, who have a combined four wins with three of them coming from Union City. Cardinals freshman quarterback Curtis Freyermuth (605 yards, 7 TDs) also leads the team in rushing with 668 yards and 5 TDs.